The University of Chicago and its students are known for being ultrasmart and hyper-serious. But the old cliché that the storied school is "where fun goes to die" gets challenged every May, when googly eyes end up on gothic buildings and well-manicured lawns play host to unusual showdowns that might not be traditional sport, but are definitely entertainment.
The reason for all of this unusual activity is explained in the new book "We Made Uranium! And Other True Stories from the University of Chicago's Extraordinary Scavenger Hunt."
The book's editor Leila Sales joins "Chicago Tonight" for a conversation. She's a University of Chicago graduate and a former participant and judge in the annual scavenger hunt. Sales will be at the Seminary Co-op in Hyde Park at 3 p.m. Saturday.
Below, an excerpt from "We Made Uranium!"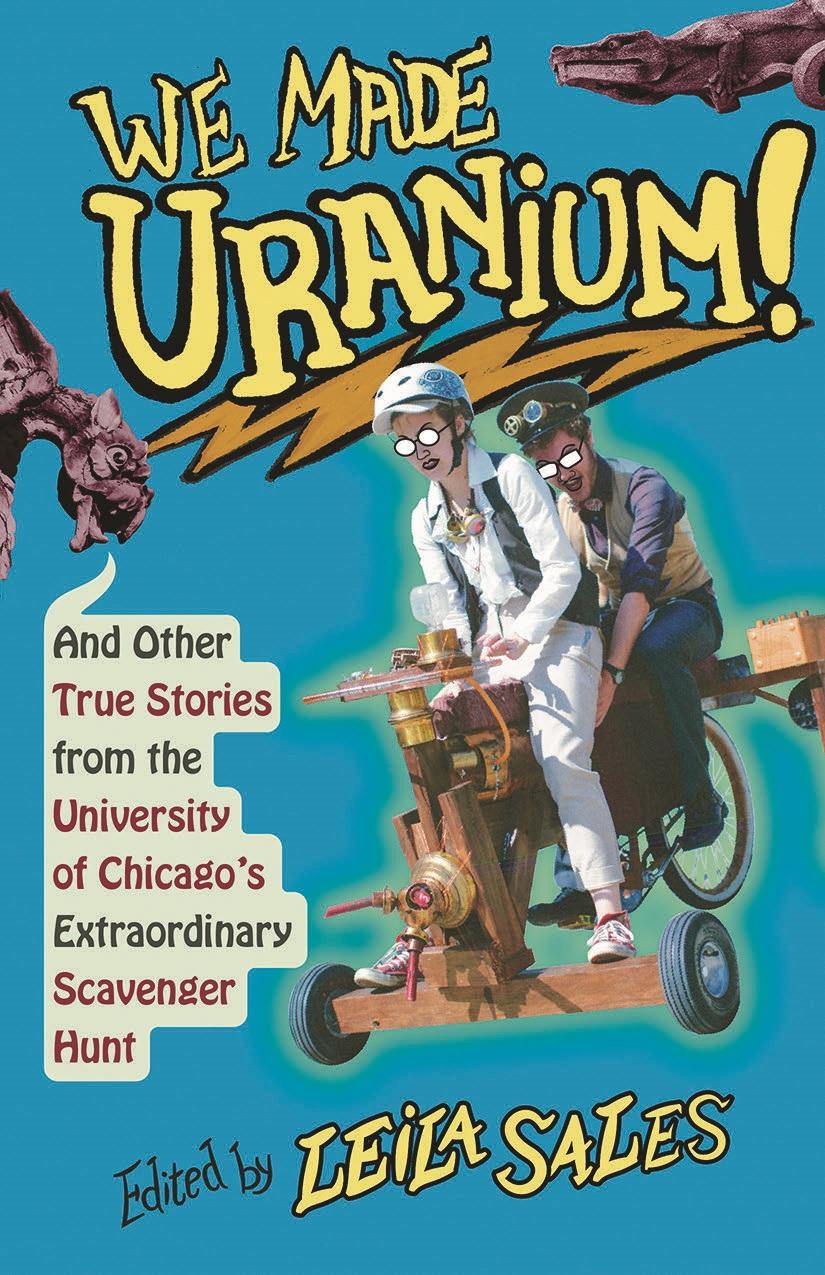 In the spring of 1987, on the campus of the prestigious University of Chicago, a group of students held a scavenger hunt. It was, generally speaking, a normal scavenger hunt. The list asked for some standard items (e.g., item 39: "A four-leaf clover," or item 106: "A pinecone"); some harder-to-find items, especially since this was in the days before the internet (e.g., item 165: "A ball and chain," or item 142: "A completed Sunday New York Times crossword puzzle"); and a few impossible but humorous items (e.g., item 6: "Bruce Willis (my roomie wants him, she will pay a bonus for him)").
Some of the items were kind of geeky in their wording (e.g., item 7: "An item that contains Sodium Monourophosphate"—solution: toothpaste), but that wasn't a surprise. This was, after all, the University of Chicago, which prides itself on being a welcoming home for nerds, with eighty-nine Nobel laureates to its name, a school where on a Friday night you'll find a more impressive scene at the library than at a frat house. According to the T-shirts, the U of C is "where fun comes to die," and this scavenger hunt was an attempt to revive some fun in a spring quarter that otherwise felt much too long, cold, and academically challenging.
But that wasn't where the scavenger hunt stopped. Not even close.
Over the past three decades, the University of Chicago scavenger hunt—now called Scav Hunt—has grown and morphed into one of the most bizarre, outrageous annual traditions at any university. Disregard anything you might remember from childhood birthday party activities, and forget about four-leaf clovers and pinecones. Scav Hunt is now a four-day extravaganza of barely controlled chaos. Hundreds of students and alumni compete to fulfill 300-plus items, all of which can be achieved within a 1,000-mile radius of campus. And simply finding things is only a small part of it. Many items must be invented, built, or performed.
Over the years, competitors have shown that there's very little they won't do for Scav. For Scav, people have gotten married, spent four days handcuffed together, gotten permanent tattoos, eaten their own umbilical cords, taken planes without knowing where they were going or why, dragged elephants on to the university campus, been circumcised, built a working nuclear reactor . . . the list goes on. Participants have poured their literal blood, sweat, tears, and other bodily fluids into Scav. If Scavvies have never killed for points, it's only because the Judges haven't asked them to.
At this point you might be asking why. Why would these presumably intelligent young adults, students at one of the top-ranked colleges in the world, devote their brainpower and resources to building a human-sized game of Mouse Trap or a piano that plays alcoholic beverages? Surely there must be a huge prize to make all this effort worth it?
No. There's not. The winning team may get a couple hundred bucks, but I can't swear to that, and even if they do, it just goes straight into funding the team's Scav efforts for the next year. I competed as a Scavvie for three years before becoming a Judge, and my team won one or maybe two of those years, and all I remember getting was some Häagen-Dazs and a T-shirt that I still sometimes wear to the gym. The question of whether your team wins is generally so unimportant that I can't even remember if mine did it once or twice.
The point of Scav is not to win a big prize, and to some extent it's not about winning at all. The point of Scav is to do cool shit. That's it.
Reprinted with permission from We Made Uranium! edited by Leila Sales and published by The University of Chicago Press. © 2019 Leila Sales All rights reserved.
---
Related stories:
Cancer Diagnosis Leads to Donation of 400 Rare, Valuable Books
Neil Shubin Hunts Fossils in Antarctic 'Graveyard'
UChicago Researchers Get $3.4M to Develop Brain-Controlled Prosthesis
---