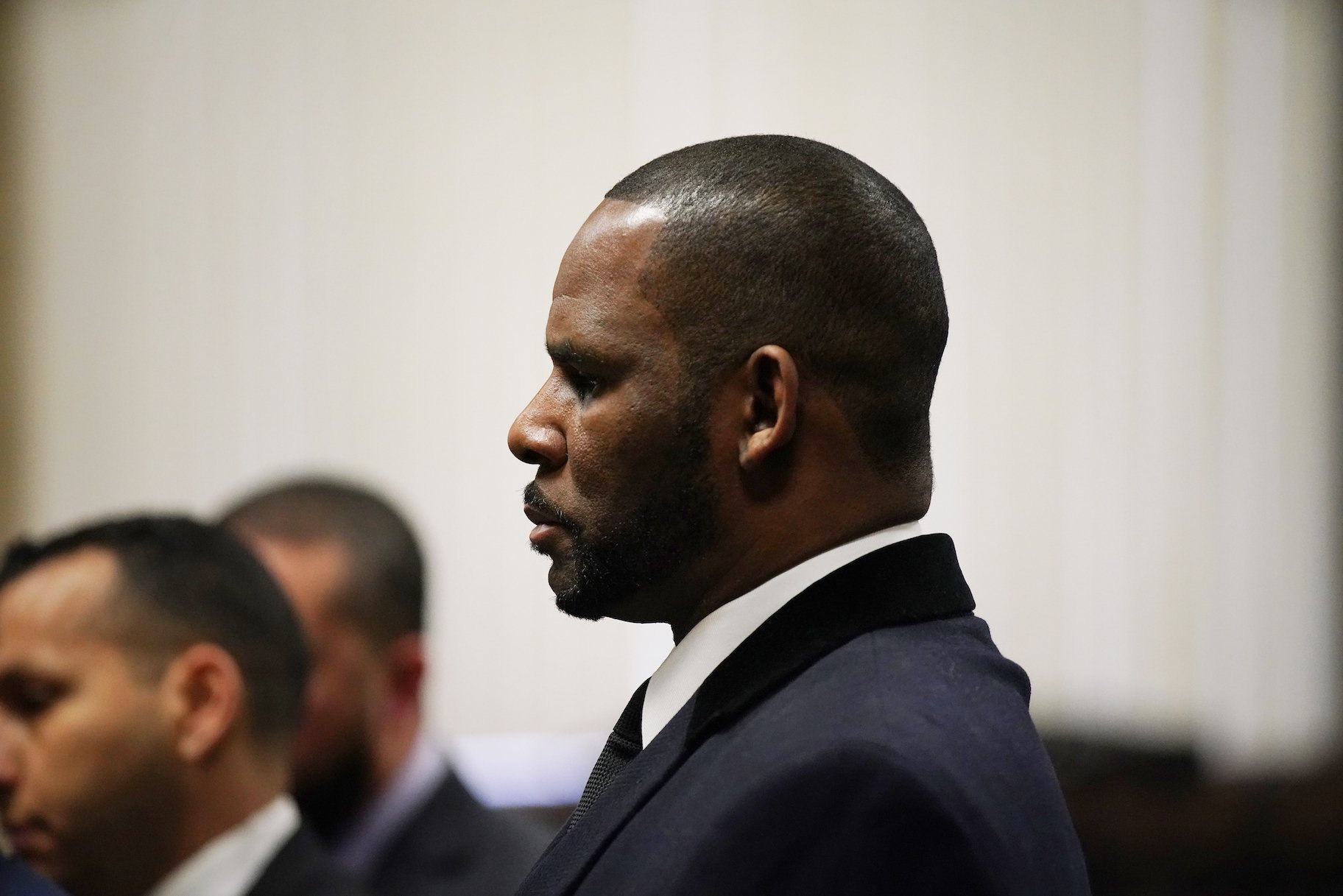 R. Kelly appears at a hearing Tuesday, May 7, 2019 before Judge Lawrence Flood at the Leighton Criminal Court Building in Chicago. (E. Jason Wambsgans / Chicago Tribune / Pool)
Cook County prosecutors say they've already turned over hundreds of pages of discovery to lawyers for R&B superstar R. Kelly in his sexual abuse case. But the defense says it's still waiting to get its hands on a copy of a tape that allegedly shows Kelly engaged in sexual intercourse with an underage girl.
During a brief appearance Tuesday morning, Kelly's lead attorney Steve Greenberg said he has still not seen the tape. Cook County Assistant State's Attorney Jennifer Gonzalez said her office is in the process of duplicating the video, which dates back several years.
Kelly was charged earlier this year with 10 counts of aggravated criminal sexual abuse. He has pleaded not guilty.
The alleged abuse occurred between 1998 and 2010 and involved four separate victims – three of whom were minors. Prosecutors allege Kelly can be seen having sex with a 14-year-old girl on a videotape recorded in the late 1990s. Other victims include a 16-year-old girl Kelly met outside his 2008 child porn trial and another teen he met while she was celebrating her 16th birthday.
In another case, Kelly allegedly tried to force his hairdresser to perform oral sex. When she refused, prosecutors said Kelly spit on her and masturbated onto her.
The video only involves one of those victims. Greenberg has cast doubt on the validity of the alleged sex tape, which was turned over to prosecutors by high-profile attorney Michael Avenatti. 
Greenberg filed a motion last month asking a judge to order Cook County prosecutors to preserve all communications with witnesses, attorneys and Chicago police in the case against his client. Specifically he wanted to know if Cook County State's Attorney Kim Foxx was "bullied" or "manipulated" into filing the charges against Kelly.
Greenberg insinuated Foxx may have been influenced by Avenatti, who said he represented at least two of Kelly's alleged victims. Avenatti has since found legal troubles of his own after he was hit with federal fraud and embezzlement charges in March and April.
Gonzalez said in a previous response that Greenberg's claims are "lacking in factual support." Her office said it's already required to preserve communications as part of the Freedom of Information Act and "intends to comply with its statutory obligations."
Cook County Court Judge Lawrence Flood ordered Greenberg and Gonzalez to continue working on that request. If discussions fall apart, Greenberg will be allowed to file a supplement to his motion with the specific communications he's seeking.
Among the discovery documents that were turned over to the defense were bank records related to settlement agreements, or "extortion efforts" as Greenberg called them, involving two of Kelly's alleged victims.
Kelly is due back in court for a hearing June 26.
Contact Matt Masterson: @ByMattMasterson | [email protected] | (773) 509-5431
---
Related stories:
R. Kelly Attorney Seeks Communications Between Kim Foxx, Michael Avenatti
R. Kelly Defense Emerges, Including Saying Accusers are Lying
R. Kelly Seeking Permission to Travel to Dubai for Concert Performances
Attorney: Tape Appears to Show R. Kelly Sexually Abusing Girls
R. Kelly: 'We're Going to Straighten All This Stuff Out'
R. Kelly Cries, Calls Accusers 'Liars' in Sex Abuse Case
---