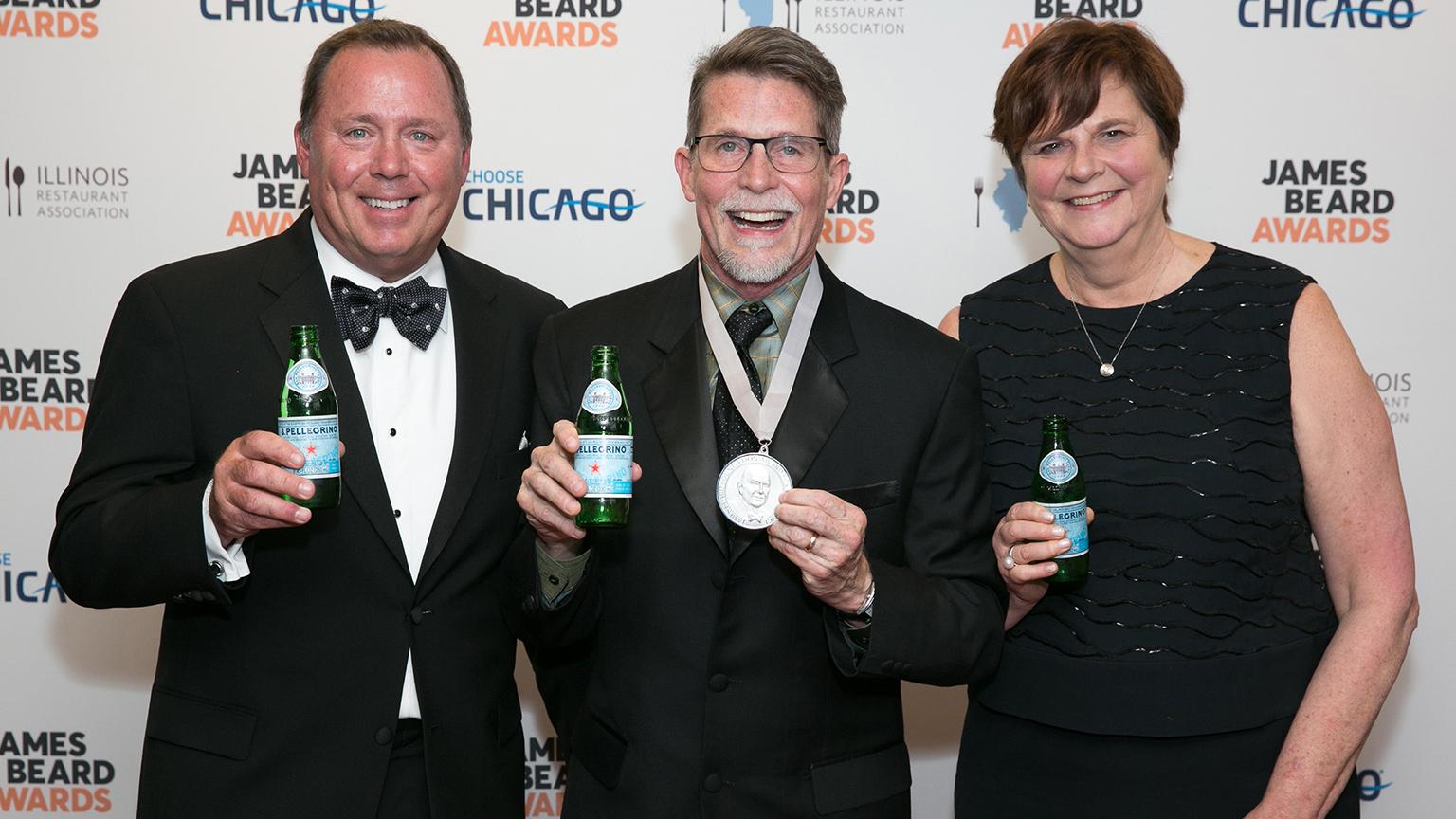 Rick Bayless, center, poses with his wife and business partner, Deann, and Dave Hardie, director of San Pellegrino. (Credit: Huge Galdones)
The Windy City will continue to serve as host to the annual awards event that dishes out honors to the best in the food and restaurant industry through 2027.
The annual James Beard Awards were first held in Chicago in 2015, marking the first time the event was held outside of New York City. The 2015 event was supposed to be a one-time event, but was extended through 2021. On Monday, Mayor Rahm Emanuel announced the event will be staying in Chicago even longer.
"This is an exciting moment for the city of Chicago and for all people that are part of the culinary scene in the city of Chicago," Emanuel said at a Monday morning press conference. "It's a recognition of what's happening in Chicago."
"Our decision to move the James Beard Awards to Chicago in 2015 has been validated by the extraordinary success of the Awards program over the past several years," said Fred Seegal, James Beard Foundation Board Chair, in a statement. "We are happy to be extending this dynamic partnership."
The 2019 James Beard Awards celebrations will begin in New York City on April 26, 2019, with the James Beard Media Awards, before moving to Chicago in May.
The James Beard Leadership Awards Dinner will be held on May 5, 2019 and will recognize honorees for their work in creating a more healthful, sustainable and just food world, according to a press release.
The James Beard Awards Gala will be held on May 6, 2019 at the Lyric Opera of Chicago and will honor chefs and restaurants in a variety of categories, along with special achievement awards. A gala reception will immediately follow, featuring top chefs and beverage professionals from across the country.
"The Oscars will stay in L.A. The Tony's will stay in New York, but the James Beard Awards will stay here in the city of Chicago," Emanuel said. "Once you're here, weren't going to let you go."
Contact Kristen Thometz: @kristenthometz | [email protected] | (773) 509-5452
---
Related stories:
From 'Top Chef' to Best Chef, Local Restaurateur Wins Big at Beard
Rick Bayless, Sarah Grueneberg Win Awards at 'Oscars' of Food Industry
Bon Appetit Names Chicago 'Restaurant City of the Year'
---