For the launch of this exhibition, the Museum of Science and Industry went with an actual … launch: The inventor of a new customized jet suit – complete with mini-turbines and an in-helmet display with flight data – took off on the front lawn of the museum.
We get the curator's tour of a show called "Wired to Wear."
TRANSCRIPT
Brandis Friedman: Inside, you'll find the jet suit – plus more than 100 inventions that focus on wearable technology.
The exhibition aims to lift the veil on clothing and accessories that can boost your health and wellness – or just express your creativity.
Anthony Vitagliano, Museum of Science and Industry: Now we're in an era and time where science and technology and engineering is able to be crafted in our garages.
Friedman: Welcome to a brave new world of wearable tech.
Kathleen McCarthy, curator, "Wired to Wear": Our clothes are about to dramatically shift, and it's a lot to do with changes in material science. Electronics are getting flexible. We're getting used to digital devices and so fashion designers starting out are really blending their digital world with the clothing that they're making.
Friedman: The sensors on these motion-tracking gloves interpret the wearer's gestures and speak the message out loud.
That bracelet on the right can improve the handwriting of a person with Parkinson's disease.
Heart problems? These garments allow your doctor to listen in. This defibrillator vest can save a life.
McCarthy: So one of the real benefits of clothing with embedded technology will be our health. The clothing can gather a lot of biometric data that will improve our health by giving us warning signs early on that something is wrong and just giving us coaching.
Friedman: It's the Fitbit of the future. This athletic wear has built-in sensors to evaluate your performance in real time.
Some of the inventions are just for fun, like these stick-on smart tattoos that make music.
Vitagliano: One of my favorites is called Iridescence, and it is a true example of the mashup between creativity and engineering. It's a collared piece that has all of these motors in it, 200 individually addressed motors, that react to your facial expression, so as you approach the dress it starts to react in a beautiful way.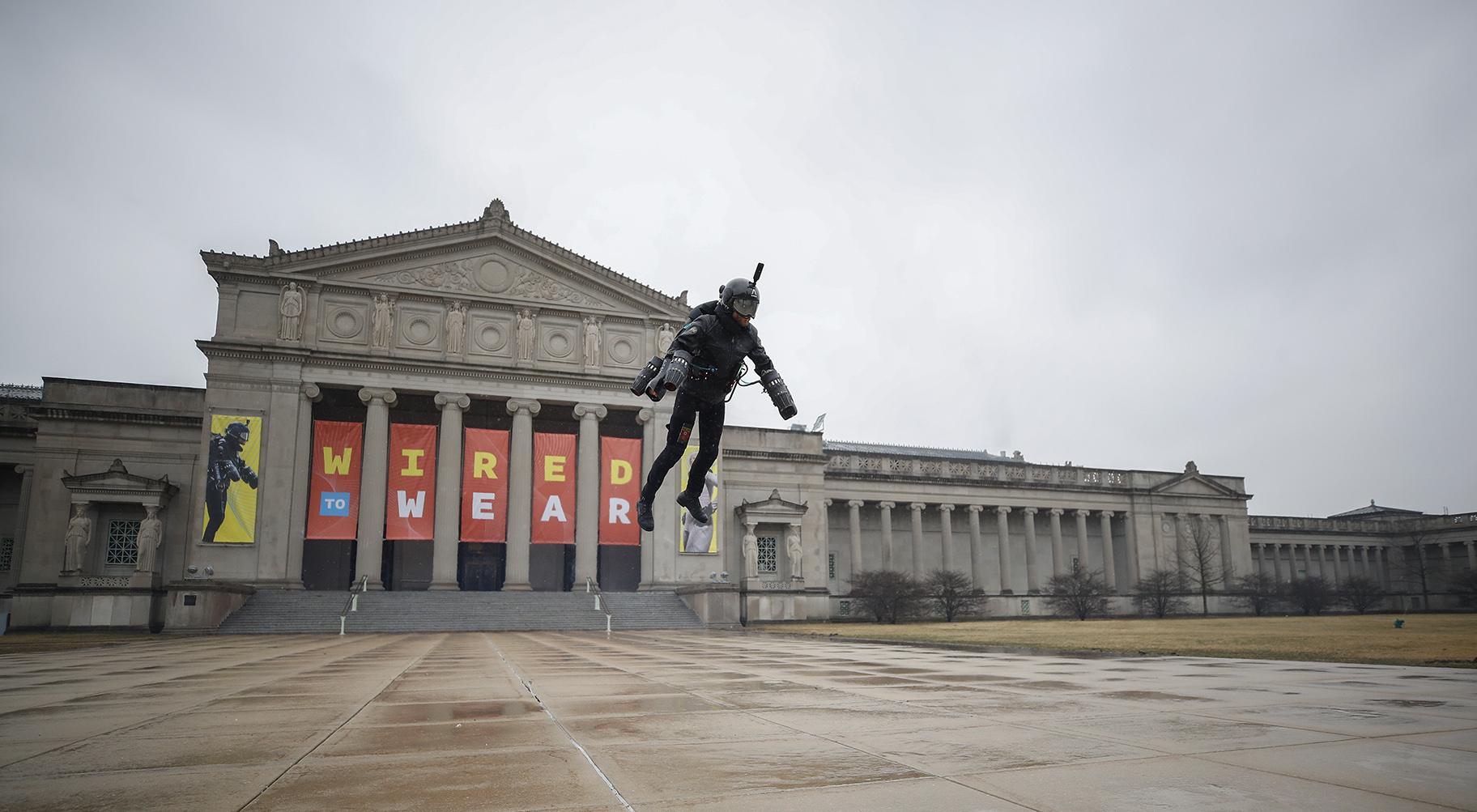 Richard Browning of Gravity Industries demonstrates his Jet Suit as he takes off from the steps of the Museum of Science and Industry in Chicago. (Courtesy of MSI Chicago)
Friedman: This dress and matching headwear display your brainwaves as a neon light show.
This one is based on an idea by actress Marlene Dietrich 60 years ago – she wanted a dress that could glow and be interactive.
Many of these are prototypes – such as this blinged-out prosthetic leg that comes with rhinestones and a built-in stereo.
Others are new to the market. That jet suit can be yours for about $375,000.
Vitagliano: We like to talk about how your closet will never be the same anymore – and that's totally true right now.
McCarthy: Things are about to change. This is going to be a disruptive technology on the scale of like our smartphones were, laptops were, personal computers were, and so this is just the beginning.
---
More on this story
"Wired to Wear" is on display at the Museum of Science and Industry through Jan. 5, 2020. For more information, visit the museum's website.
Note: This story was first published on April 30, 2019. It has been updated.
---
Related stories:
'Brotherland' Photographer Documents Conflict, Life in Ukraine
Photographer Laurie Simmons Captures Lifelike Dolls, Fake People
'Extreme Ice' at MSI Takes Dramatic Look at Climate Change
---