For the past five years, the young American photographer Brendan Hoffman has lived in Kiev, Ukraine, where he has been an eyewitness to events in the region, including the conflict between Russia and Ukraine that started in 2014.
We spoke with him about capturing history with a touch of artistry.
TRANSCRIPT
Brandis Friedman: At the Ukrainian Institute of Modern Art, a photography exhibition presents images of a complicated war in Eastern Europe, where a field of sunflowers can hide civilian casualties, where women and children are evacuated, and where people survive in the midst of conflict.
Victoria Cooper, Ukrainian Institute of Modern Art : He understands the formal elements of photography as an art form, you know: color, composition. His work is visually beautiful, and his work draws you in, and you don't even always realize what you're looking at, and then you understand that you're actually looking at a horrible scene. So while the content is disturbing, his photography is beautiful as an artform.
Brendan Hoffman, photographer: The way the people just adapt to these really difficult situations is one of the things that's been fascinating for me to observe.
People are adaptable and they do adjust very quickly to situations that quite honestly are not normal and shouldn't be treated as such.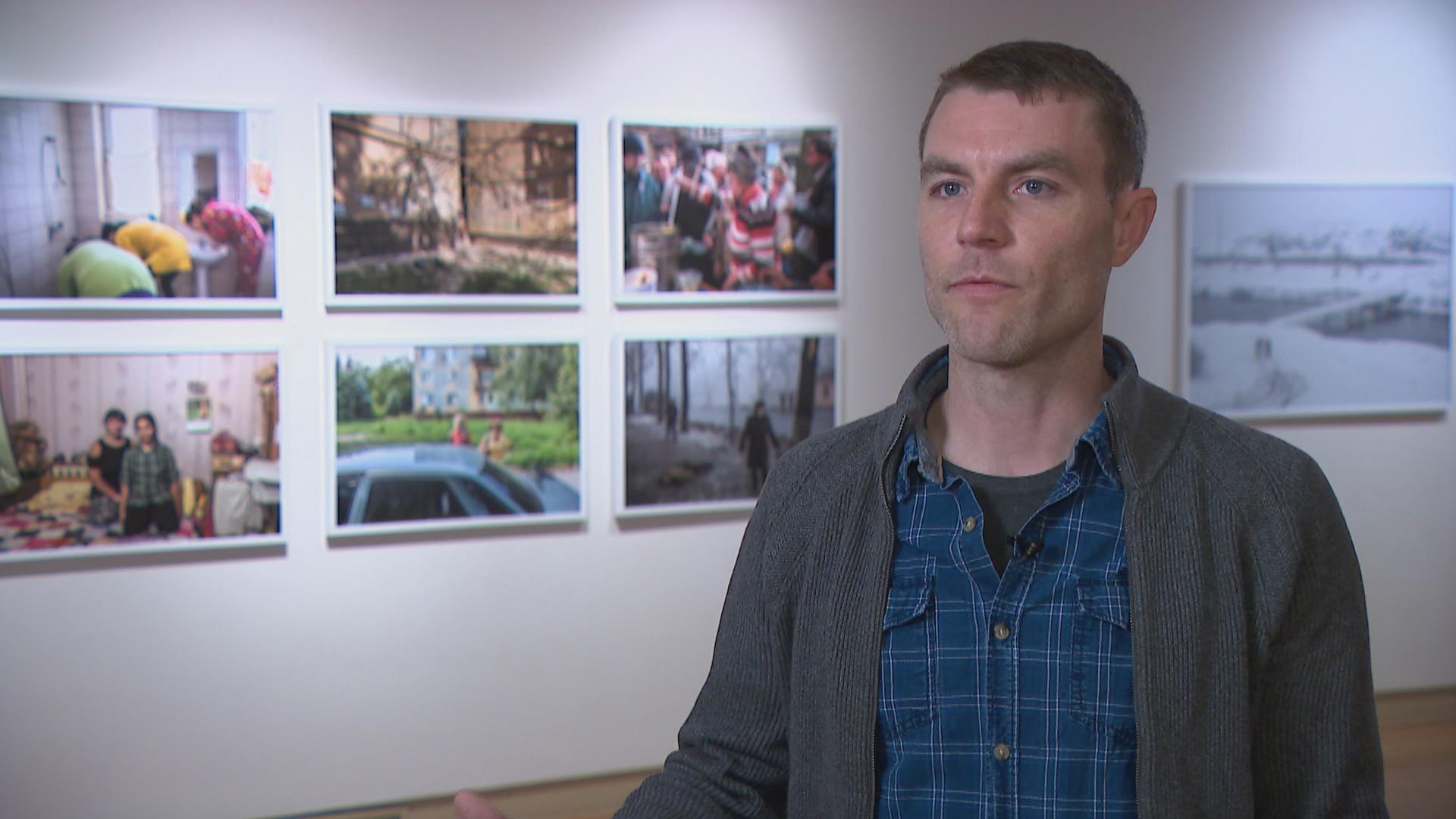 Photographer Brendan Hoffman speaks with WTTW News about his exhibition, "Brotherland: War in Ukraine."
It's a bit of trope to sort of highlight the resilience of people, which maybe oversells it and makes them a little bit more noble then this is just a thing that happens, because it's survival. But yeah, the way that life can be absolutely ordinary while also in the middle of chaos is really interesting to me. Sort of the way that war forces those really extreme situations into juxtaposition with really ordinary, everyday things.
Friedman: Hoffman has also photographed coal miners, local entertainers and the crash site of a passenger plane downed in an area controlled by pro-Russian rebels.
The causes of the war are rooted in popular protests after the Ukrainian president suspended an agreement with the European Union.
Hoffman: In short, the people of Eastern Ukraine, who tend to be more oriented toward Russia for historical and cultural reasons, were a little put off by the revolution that was perceived as being more oriented toward Western Ukrainians and got nervous about what that would mean for their own local culture and way of life. And also there was an involvement from Russia in terms of propaganda and sort of encouraging that discontent that ultimately turned into an armed rebellion and a war.
Friedman: Hoffmann grew up in Albany, New York. He worked in Washington, D.C., and Moscow before moving to Ukraine, where he's done assignments for National Geographic and the New York Times.
Hoffman: Where I live in Kiev honestly is much safer than places I've lived in the United States. Of course, it's dangerous when you go to the east and you're in the war zone but even there you can pretty finely calibrate how much risk you want to take. And I've taken risks and survived it and been fine, but it's not something I feel driven to do any more than necessary.
Cooper: This is a photo exhibit about a painful subject for many Ukrainians … It's a visually compelling show, and it's emotionally charged as well. It's a visceral reaction to his photography but yet you can still appreciate the beauty of it.
Hoffman: As a photographer, my only tool is visual. I have to use that to draw people's eye and draw their attention and so yeah, you do search for beauty, but I think there's something in that. The fact that beauty does exist, even in some of these really difficult situations, is worth remembering.
---
More on this story
The exhibition "Brotherland: War in Ukraine" is on view at the Ukrainian Institute of Modern Art through June 2, 2019. For more information, visit the museum's website.
---
Related stories:
The Wild Life of Nature Photographer Thomas Mangelsen
Chicago Music Fan Turns Weekend Hobby Into Second Career
Newly Discovered Photos Reveal Childhood of Groundbreaking Journalist
---