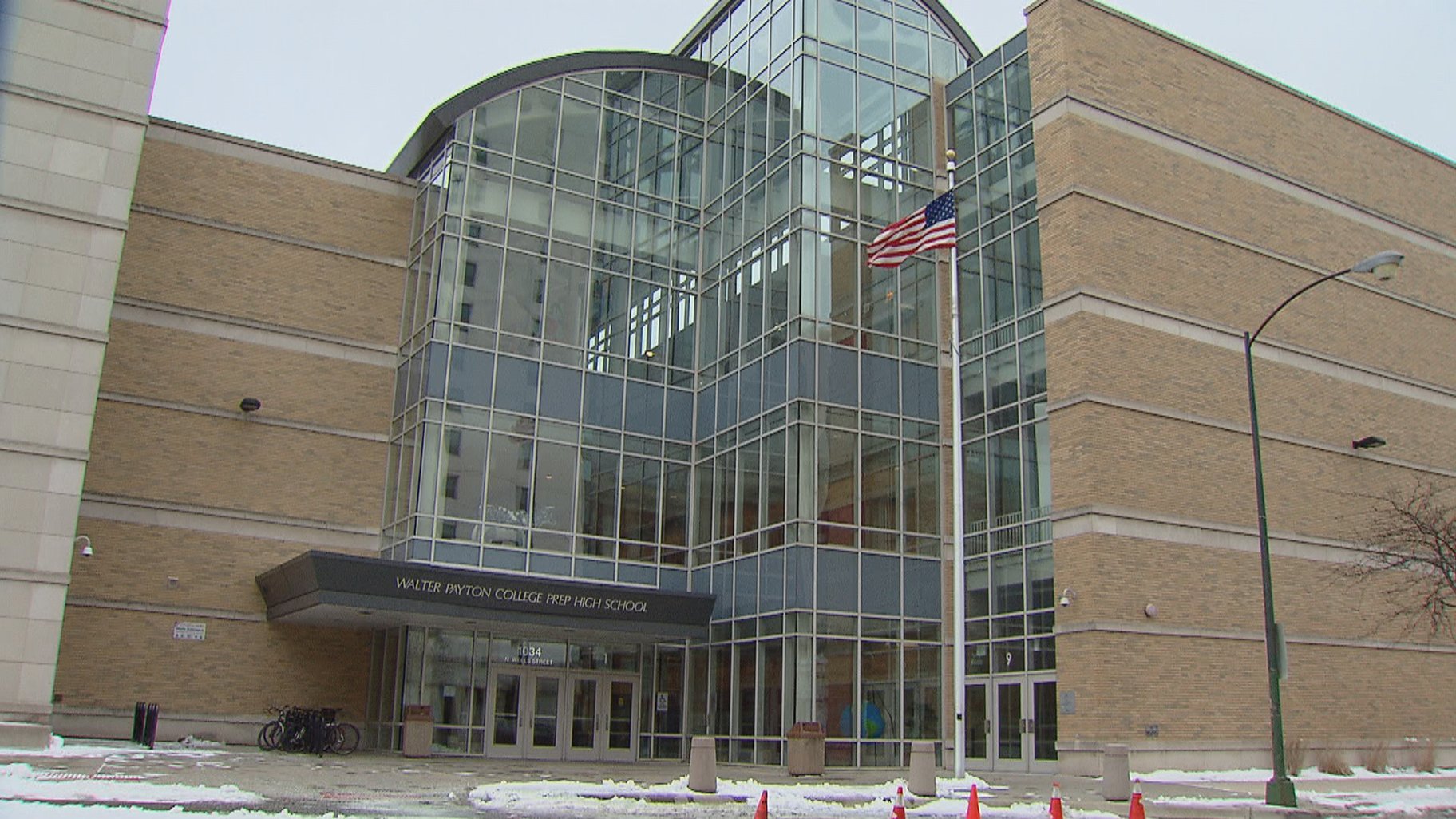 Walter Payton College Preparatory High School (WTTW News)
Five Chicago public high schools are ranked among the top 100 in the nation, including one in the top 10, according to the latest rankings from U.S. News & World Report.
Chicago Public Schools once again scored the top five public high schools in the state of Illinois, according to the annual Best High Schools list from the self-proclaimed "global authority" in education rankings. All five of those schools were also included among the top 100 nationally.
Walter Payton College Prep was tabbed as the top Illinois high school for the second consecutive year. But the selective enrollment school on the Near North Side made a big move in the national rankings, jumping from No. 52 last year to No. 9 in 2019 – the only CPS or Illinois school to crack the top 10 nationally.
Payton was followed by Northside College Prep (No. 23 nationally, No. 2 in Illinois), Lane Tech (No. 69, No. 3), Whitney Young (No. 71, No. 4) and Jones College Prep (No. 91, No. 5). Brooks College Prep and the Phoenix Military Academy were also among the top 10 Illinois schools, but ranked outside the national top 100.
---
U.S. News 2019 Top High Schools
"CPS continues to represent the best schools in Illinois and is among the ranks of the greatest schools in the country, which is testament to our students, families, and dedicated staff," CPS CEO Janice Jackson said in a statement. "These schools represent just a sampling of the many high-quality schools throughout our great city that prepare students to succeed far beyond graduation."
CPS has had at least the top five schools in Illinois in each of the last three years of the publication's rankings. Adlai E. Stevenson High School in Lincolnshire was the highest-ranked non-CPS high school in Illinois, finishing sixth in the state rankings. Proviso Math and Science Academy in west suburban Forest Park (No. 7) and Libertyville High School in Libertyville (No. 10) rounded out the statewide top 10.
The Academic Magnet High School in North Charleston, South Carolina, topped the 2019 national rankings. The Maine School of Science and Mathematics in Maine finished second and BASIS Scottsdale in Arizona was third.
The scope of this year's rankings is far greater than in years past, according to U.S. News, which says it included more than 17,000 high schools in 2019 compared to just 2,700 last year. That's due to a revamped methodology the organization introduced this year that it says will make the rankings more thorough and produce more "historically comparable" results moving forward.
"Since the methodology changed so significantly this year," the group said in a press release, "a school's ranking in the 2019 Best High Schools ranking can't be compared with its rankings in any previous U.S. News ranking."
Schools in the past had criticized U.S. News' old rankings system, which some felt relied too heavily on Advanced Placement and International Baccalaureate exam scoring.
The new methodology assigns each school a weighted score on a scale from zero to 100 that's based on six indicators of school quality: college readiness, college curriculum breadth, math and reading proficiency, math and reading performance, underserved student performance and graduation rate. That overall scores depicts how well a given school did on a national percentile basis. For instance, a school that earned a score of 90 performed in the 90th percentile of all schools in the rankings.
Each of the five CPS schools in the top 100 recorded scores in the 99th percentile.
"Our mission with the Best High Schools rankings has always been to educate families about the schools in their district," Anita Narayan, managing editor of education at U.S. News, said in a statement.
"By evaluating more schools than ever before, the new edition expands that focus so all communities can see which schools in their area are successfully serving their students – including historically underserved populations."
Contact Matt Masterson: @ByMattMasterson | [email protected] | (773) 509-5431
---
Related stories:
Why Are Some Schools Left Out of the US News Rankings?
Chicago Has State's Top 6 Public High Schools: US News Rankings
CPS Scores Top 5 Public High Schools in New Rankings
CPS Named as College Board's AP District of the Year
---