The 1930s were a defining decade for the United States, as the Great Depression and the nation's response to it shaped the course of history. The Chicago History Museum has a new exhibit exploring part of that era's history you might not think of: fashion, and how Hollywood created a new look for American women.
It all starts in Paris. (Well, the fashion does, anyway.) For decades, Paris was the city of love, the City of Light, and the city that rich ladies visited to buy gowns. So that's where the Chicago History Museum's new costume exhibit starts: with the work of designers like Coco Chanel and Elsa Schiaparelli.
"Very wealthy Chicagoans, New Yorkers, other Europeans, would flock to Paris to get their clothes custom built," said Virginia Heaven, an associate professor of fashion studies at Columbia College Chicago and the curator of "Silver Screen to Mainstream." "They'd have special fittings, and it was a very customized and a wonderful experience."
In the early years of American fashion, the styles mostly trickled down from whatever the French designers were doing. But in the 1930s, an increasingly ubiquitous new medium started to make its presence known.
"Going to Paris was class-related," Heaven said. "If you were incredibly poor and had a nickel, you could go to the movies and spend your time there suspending reality."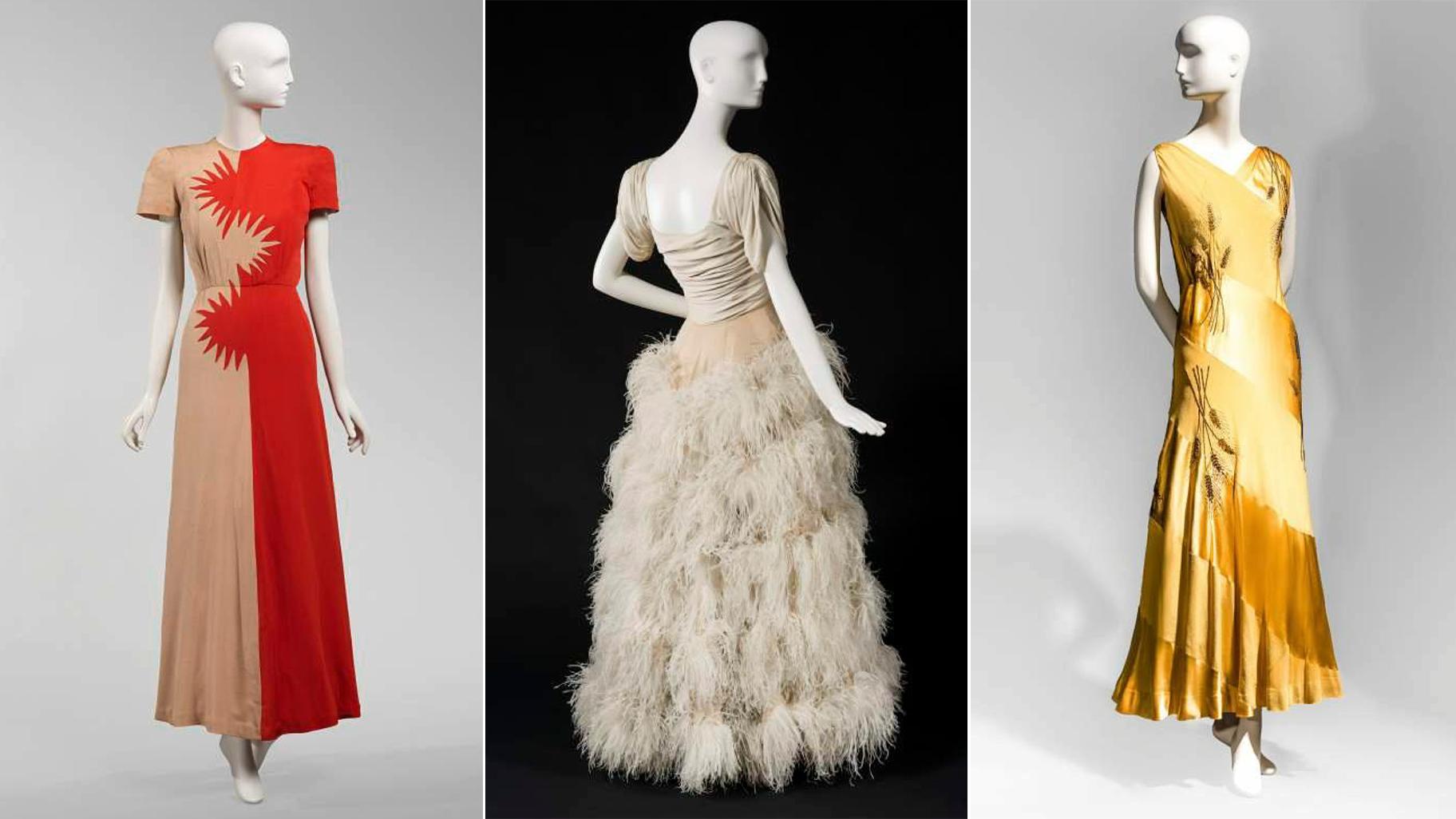 From left: Evening dress designs by Howard Greer; Jacques, Chicago; and Jenkins. (Courtesy Chicago History Museum)
A trip to the movies offered an escape for many Americans in the tumultuous years between the Great Depression and World War II. And movies offered inspiration for American women's clothing, shifting some of the focus away from high-end Parisian designers.
"They (were) artisans and artists, and so they were often experimental in the way they approached attire," Heaven said. "American designers really focused on entertainment, certainly in the movies and making the star of the film look gorgeous."
American women wanted to look just as gorgeous as stars like Joan Crawford, Marlene Dietrich and Bette Davis. And depending on your income level, Hollywood had different options for you.
In 1931, the Hollywood Pattern Company was founded, releasing movie-inspired designs for people of limited means to create homemade dresses. "They featured a star or starlet on the envelope, so when a person bought that pattern they were sort of buying into the Hollywood story," Heaven said.
People who were a little better off could order Hollywood-inspired looks from catalogs.
"Chicago was a center of the catalog industry, and they did accessories and clothing that were supposedly autographed by the star, meaning worn by the star," Heaven said. So, if you loved Fay Wray in "King Kong," why not own a purse bearing her seal of approval?
For the rich who hung onto their money during the Depression, stores like Marshall Field's and Saks Fifth Avenue carried all the satin and sequins needed to get through a rough decade.
"It was a way of projecting composure at a time when things were certainly not very composed because of the terrible privations most people suffered during that time," Heaven said.
Heaven's favorite piece in the exhibit is a perfect illustration of the "Silver Screen to Mainstream" idea. It's designed by Illinois native Howard Greer, who began his career in Chicago and eventually ended up crafting Hollywood costumes. Greer – like some of his fellow movie designers – saw an opening and branched out, launching his own label in 1927.
"There's a piece that is palm leaves overlapping, designed in 1940. It's sort of a dinner dress. The same year, he did the costumes for a movie called 'My Favorite Wife' with Irene Dunne and Cary Grant, and there's a version of that dress in that movie," Heaven said.
Even though the dresses might hail from a black-and-white era, Heaven says they're not stuffy artifacts. "They're very contemporary in silhouette. We've had people come in and look around and say, 'You can wear that now!' Absolutely, you could. I would say that everything in this exhibition you could wear now."
---
More on this story
"Silver Screen to Mainstream" is on display at the Chicago History Museum through Jan. 21, 2020. For additional details, visit the museum's website.
Note: This story was first published April 15, 2019. It has been updated.
---
Related stories:
Renée Fleming: The Diva and Her Gowns
South Side Home Movie Project Aims to Fill in Historical Gaps