If there's one wish Harriette Moody would like to come true, it'd be for her grandchildren to see her late father living.
"My oldest granddaughter asked me once, 'Nana, did you have a daddy?' And it's like I do, I did. So I took her to the cemetery so she could see his grave, but I would love for her to see him alive and in his prime," said the 65-year-old Auburn Gresham resident.
So it was a pleasant surprise when Moody, who was at the time cleaning out her late sister's basement, found reels of home movies recorded between the 1950s and '70s in Englewood. Moody suspected there was footage of her father on those reels but she didn't have the equipment to watch them, so the films went unseen.
That changed when Moody met Jacqueline Stewart, founder and director of the South Side Home Movie Project.
"The South Side Home Movie Project is an effort to build an alternative visual archive of the South Side," said Stewart, a professor at the University of Chicago Department of Cinema and Media Studies.
"It's a project that's really inspired by the belief that people have always documented their own lives in really intimate and powerful ways," she said.
Stewart began building the archive in 2005 with a goal to show what life was like on Chicago's South Side in the mid-20th century. The archive includes donations of home movies shot on 8mm, Super8mm and 16mm film, and recorded on the city's South Side. 
Stewart said another important goal behind the project is to fill in gaps in history.
"I think that one of the reasons why marginalized communities don't get the same kind of historical attention is because we don't have the same kind of presence in the official archival record," Stewart said. "So one of the really valuable things about collecting visual materials, whether that's photographs or films in our case, is that it opens up a realm of documentation beyond the written word."
In the project's 14 years, Stewart and her team have collected, preserved, and digitized more than 300 home movies, which can be found in the project's digital archive. The project also showcases films during public screenings with donors narrating their own home movies at times.
"I would say that we have the largest collection mid-century African-American home movies in the country," said Candace Ming, project manager and archivist for the South Side Home Movie Project.
Ming is responsible for preserving the donations the project receives. That work includes inspecting and cleaning the film, and then converting it into a digital file.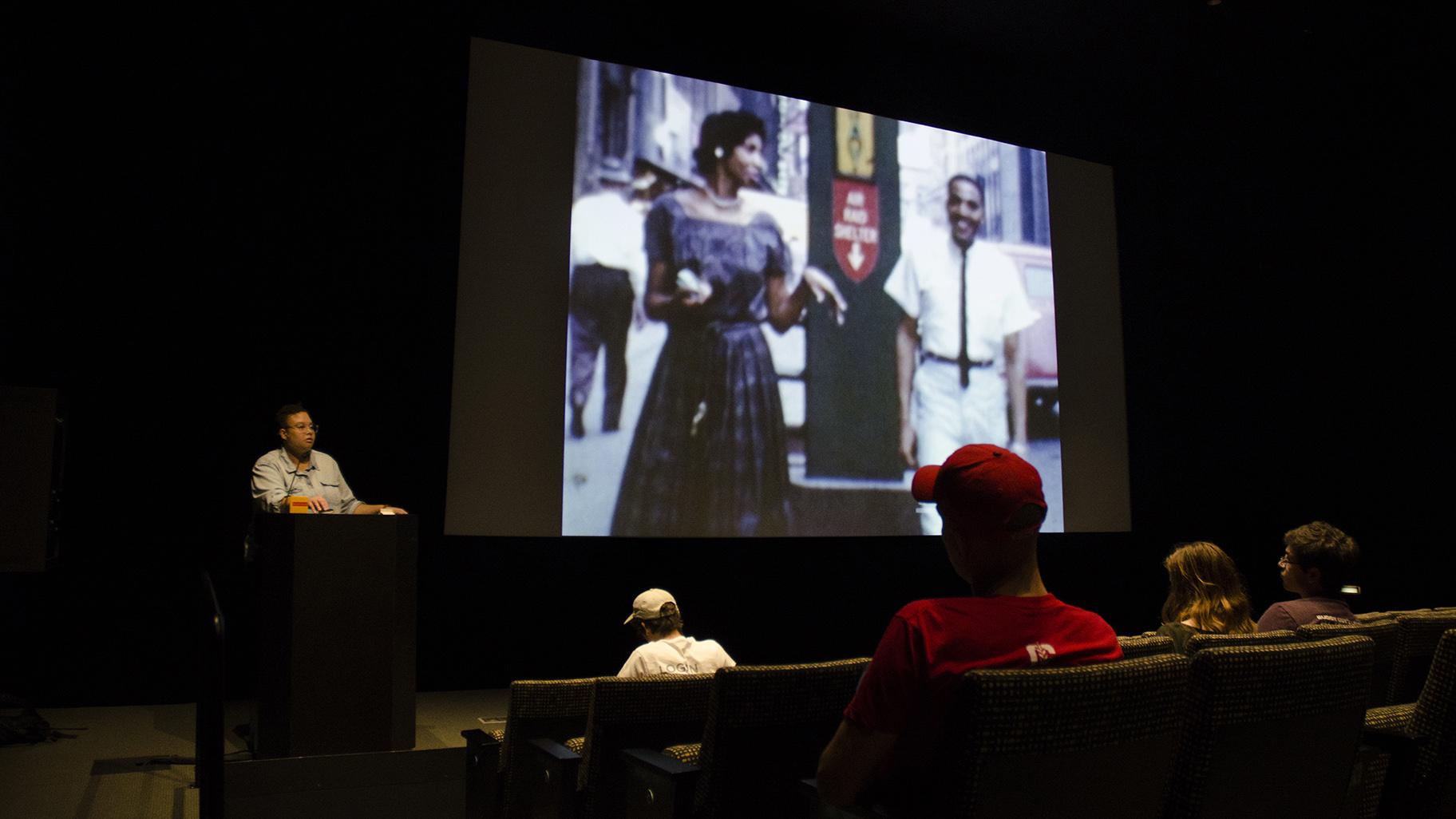 Candace Ming exhibits footage with a donor at the Five Year Anniversary Bash at the Logan Center for the Arts at the University of Chicago, October 7, 2017. (Courtesy South Side Home Movie Project)
"It's interesting working with home movies because there's always something the same across them," Ming said. "There's always a Christmas, there's always a birthday party, there's always dancing. But to me it's always unique just because of the people, the way it's shot."
Moody donated 18 reels of home movies, which, along with the other donations, are stored in a temperature-controlled vault designed to hold film so it doesn't deteriorate.
Once a donor's films are preserved and digitized, they're ready for viewing. For Moody, that day was Feb. 22.
Moody brought her husband, Allyn, and eldest daughter, Latasha Paterno, to watch the digitized films with her at the University of Chicago's Center for the Study of Race, Politics and Culture.
"I'm hoping to see my first communion," Moody said before watching her films.
"I remember my husband was in the Air Force and we bought a Super 8mm camera, so we took a lot of footage when we were stationed in Okinawa, Japan. So I'm looking forward to seeing my oldest daughter Latasha's first day at school [there]," she said.
But above all, Moody said she was most excited to see whether there was footage of her father.
As it turns out, there was.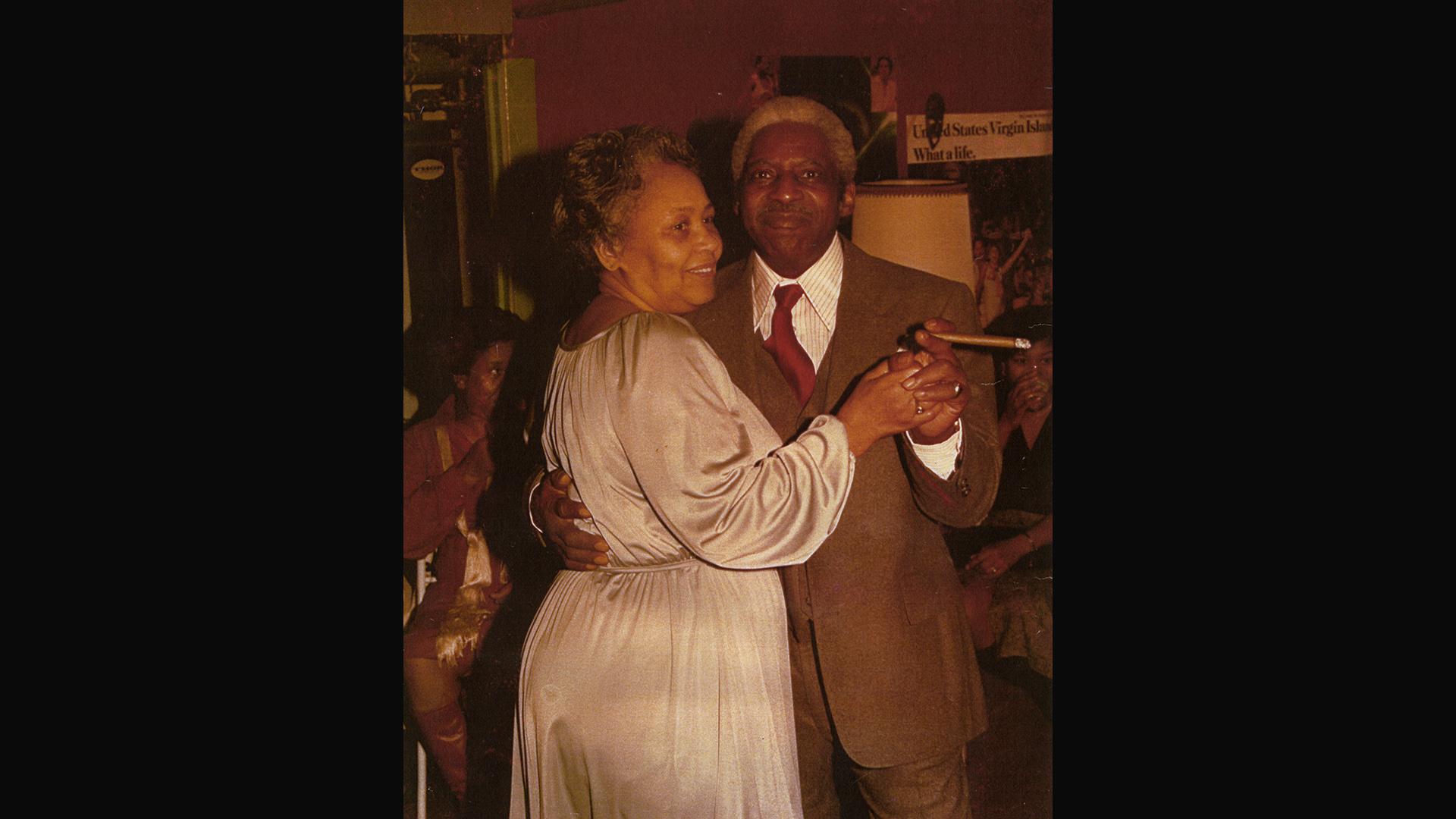 Harriette Moody's late parents, Paul and Louise Buford, at their 45th wedding anniversary. (Courtesy Harriette Moody)
In one of the first reels Moody and her family watched that night, there were a few seconds of video showing her father, Paul Buford, walking one of Moody's older sisters, Coretta, to the church where she's getting married. The year is 1961.
"I am so overwhelmed. I'm just so pleased … seeing my dad with my older sister, just seeing my dad move around," Moody said after the screening.
"I miss him and I sometimes feel that the other generations in my family missed a great man. So to be able to see him on film and see the man who brought our family together – it's because of him," she said.
"I've seen hundreds and hundreds of home movies. I think Hariette's films are remarkable," said Stewart, who also attended the screening.
"We have this combination of material from the South Side, but then (it) also documents their experience in Japan when her husband was stationed there in the Air Force. So that combination of local and international footage makes it really special," Stewart said.
The experience was also enlightening for Moody's daughter, Latasha.
"It's humbling to see the giants whose shoulders I stand on," she said. "I foresee these videos prompting stories that the younger generation had no idea about, so I can see this for many years to come, talking about these videos and subsequent stories afterwards."
And the biggest takeaway for Moody?
"How important family is and to capture every moment if you have the opportunity to pass it onto the next generation," she said.
Click here to donate films to the South Side Home Movie Project.
---
Upcoming screening
The South Side Home Movie Project will host the event, "South Side Sisterhood," at 2 p.m. May 5, at the Logan Center for the Arts, where home movies featuring sisters growing up together will be shown. SSHMP will invite the girls – now women – who appear in the footage to join in a public conversation about the importance of creating "sisterhood." The event is free and open to the public.
---
Related stories:
New Film 'The Public' Explores How Libraries Can Help the Homeless
1898 Silent Film Represents Earliest Depiction of On-Screen Black Love
Skateboarders Grapple with Adulthood in New Documentary 'Minding the Gap'
---