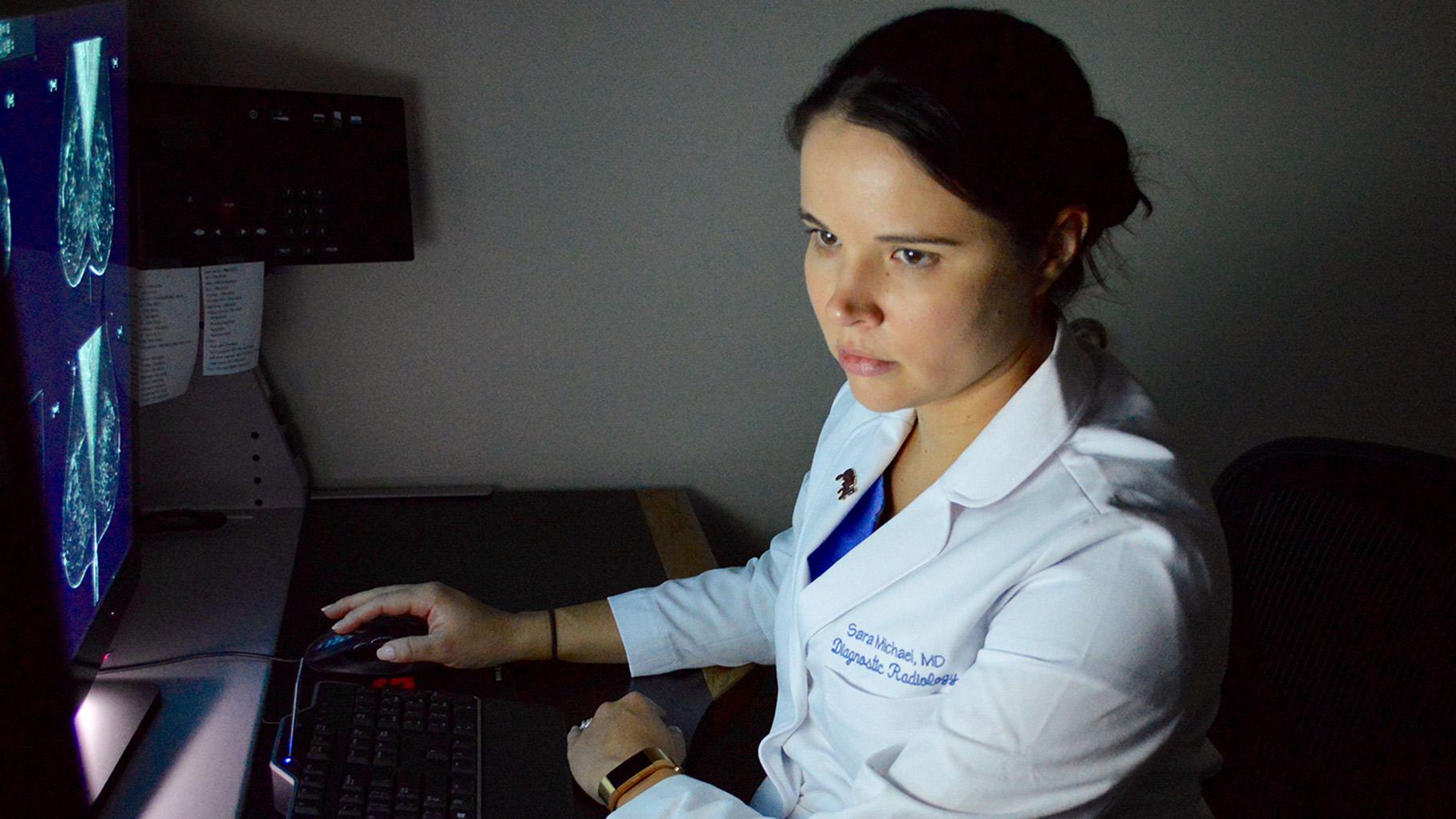 Diagnostic radiologist Maj. Sara Michael reviews a mammogram at Blanchfield Army Community Hospital to look for any abnormalities in the breast tissue. (Photo Credit: Maria Yager)
Dense breast tissue is a risk factor for breast cancer. And it's fairly common: More than half of women ages 40 and older have dense breasts, according to the U.S. Food and Drug Administration.
But it's also somewhat elusive. Dense breast tissue is only seen on mammograms – it's not detectable based on how a woman's breasts feel, according to the American Cancer society.
In an effort to inform more women that they have dense breast tissue, the FDA is proposing a rule that would require mammography centers to notify patients who have it. More than 30 states currently have such a rule in place, including Illinois. 
"We believe the proposed rule would help empower patients and health care professionals by proposing improvements to the information facilities communicate to them, helping to facilitate the sometimes difficult conversations about potential risks for breast cancer," said FDA Principal Deputy Commissioner Amy Abernethy, in a statement.
Dr. Georgia Spear, who was instrumental in getting Illinois' breast density notification law passed, called the FDA proposal "great news."
"I think not informing patients of (their breast density) is a disservice because they have a right to know," said Spear, who heads NorthShore University HealthSystem's department of breast imaging. "Women have a right to know this information that can have an impact on their life and early detection (of breast cancer)."
The FDA proposal would also require that patients are informed of appropriate next steps, including any extra screening they need, because breast cancer is harder to detect in dense breast tissue. Illinois' law takes that proposed requirement one step further by guiding patients where to go for more information and supplemental testing, says Spear.
"I think the way the federal (proposal) is written is for patients to seek out more information from a doctor … We're actually guiding women to breast imaging providers," she said. "I think that guidance is key because an obstetrician-gynecologist or primary care provider might not know all the information associated with breast density … that a breast imaging specialist would know."
In addition to the notification law, Illinois has laws requiring insurance companies to provide coverage of breast tomosynthesis (or 3-D mammography), as well as provide an ultrasound (SB1365) or MRI (SB0314) if a woman is found to have dense breast tissue.
Radiologists classify breast density into four categories that range from almost all fatty tissue to extremely dense with very little fat and higher percentages of fibroglandular tissue, which appears white on a mammogram and can make it hard to see tumors.
Last year, more than 260,000 women were diagnosed with breast cancer and more than 40,920 died of the disease, according to estimates by the National Cancer Institute. Aside from skin cancer, breast cancer is the most common cancer among women and the second leading cause of death.
"Breast cancer is one of the most worrisome health concerns facing women," said FDA Commissioner Scott Gottlieb in a statement. "The FDA plays a unique and meaningful role in the delivery of quality mammography to help patients get accurate screening to identify breast health problems early, when they can be effectively addressed."
The proposed rule would also modernize mammography standards and improve regulation of mammography facilities, including the ability to notify patients and health care providers that testing did not meet the FDA's quality standards.
"This is intended to help ensure important information that could affect decisions about patient care – such as the potential need for further evaluation or a repeat of a mammogram – is communicated as quickly as possible," said Jeff Shuren, director of the FDA's Center for Devices and Radiological Health, in a statement.
The rule will be open for public comments for the next 90 days.
Contact Kristen Thometz: @kristenthometz | [email protected] | (773) 509-5452
---
Related stories:
For First Time, FDA Approves Drug for Treating Postpartum Depression
State Bill on Dense Breast Notifications Signed into Law
Cancer Survivor Pushing for State Law on Dense Breast Notifications
---