Video: Amanda Vinicky reports on the latest in the Jussie Smollett case.
---
"Empire" star Jussie Smollett entered pleas of not guilty Thursday morning on more than a dozen new felony charges a grand jury returned last week stemming from a racist, anti-gay attack he allegedly staged on himself.
Smollett appeared at the Leighton Criminal Court Building for the second time this week, days after he was hit with 16 additional counts of disorderly conduct for allegedly lying to investigators following the hoax attack.
The actor's case was assigned to Judge Steven Watkins. In his initial appearance before the judge, an attorney for the 36-year-old actor formally entered not guilty pleas on all charges against him. Smollett said little in court besides answering questions from Watkins.
Smollett reported to Chicago police that he had been attacked in the early morning hours of Jan. 29 by two men in the Streeterville neighborhood. Early police statements indicated the two suspects had yelled racial and homophobic slurs at Smollett before they hit him in his face, poured "an unknown chemical substance" on him and wrapped a "rope" around his neck.
Smollett allegedly told detectives the attackers also yelled that he was in "MAGA country" in reference to President Donald Trump's "Make America Great Again" campaign slogan.
Police now believe Smollett paid two brothers $3,500 to stage the attack. Chicago Police Superintendent Eddie Johnson said Smollett orchestrated the hoax because he was upset with his current salary on the hit television series. Following his arrest, he was written out of the final episodes of the show's latest season.
Prosecutors have alleged the actor gave detailed instructions to the two brothers who helped stage the attack – telling them what slurs and statements to shout and pointing out a nearby surveillance camera he believed would record the beating.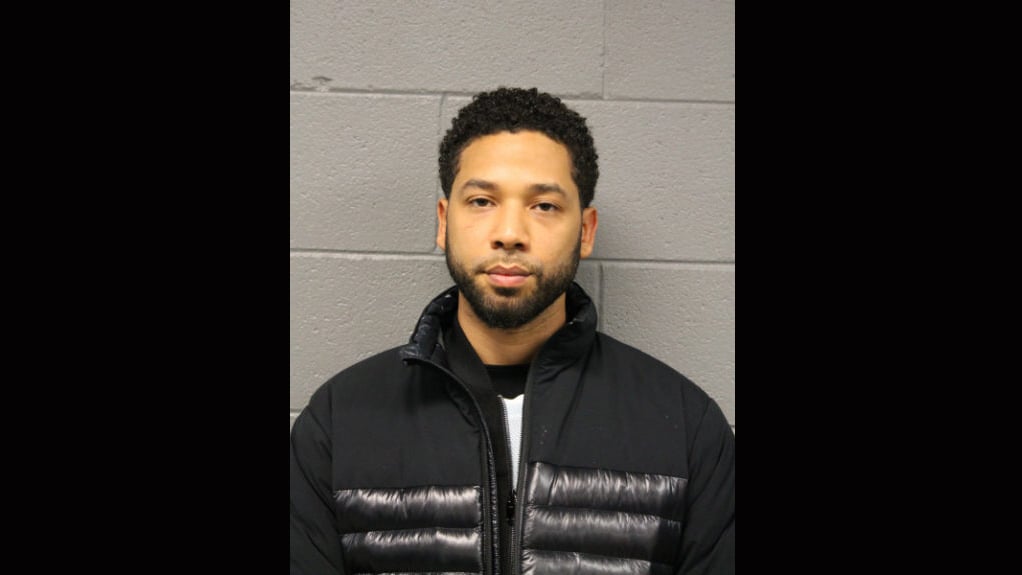 Jussie Smollett (Chicago Police Department)
Smollett's attorneys have called the charges "prosecutorial overkill." The actor himself has maintained his innocence.
Smollett's bond was set at $100,000 during his first court appearance last month. He was required to post 10 percent of that amount, or $10,000, to be released, and did so the same day.
Prosecutors and defense attorneys agreed to allow cameras inside the courtroom during Thursday's hearing. Watkins will now decide if the same coverage will be allowed in upcoming hearings and at trial.
No ruling was made on that front Thursday, but the judge did grant Smollett permission to leave Illinois to travel to his attorney's law offices in California and New York as long as he gives 48 hours notice.
The charges are all Class 4 felonies punishable by probation or up to three years in prison. Smollett is due back in court April 17.
The Associated Press contributed to this report.
---
Related stories:
'Empire' Actor Jussie Smollett Facing 16 New Charges
Brothers in Smollett Case Say They Have 'Tremendous Regret'
Judge Allows Smollett to Travel to Meet with Attorneys
Prosecutor: Jussie Smollett Gave Detailed Instructions for Fake Attack
Police: Jussie Smollett's Staged Attack a 'Slap in the Face' to Chicago
'Empire' Actor Jussie Smollett Charged with Disorderly Conduct
---