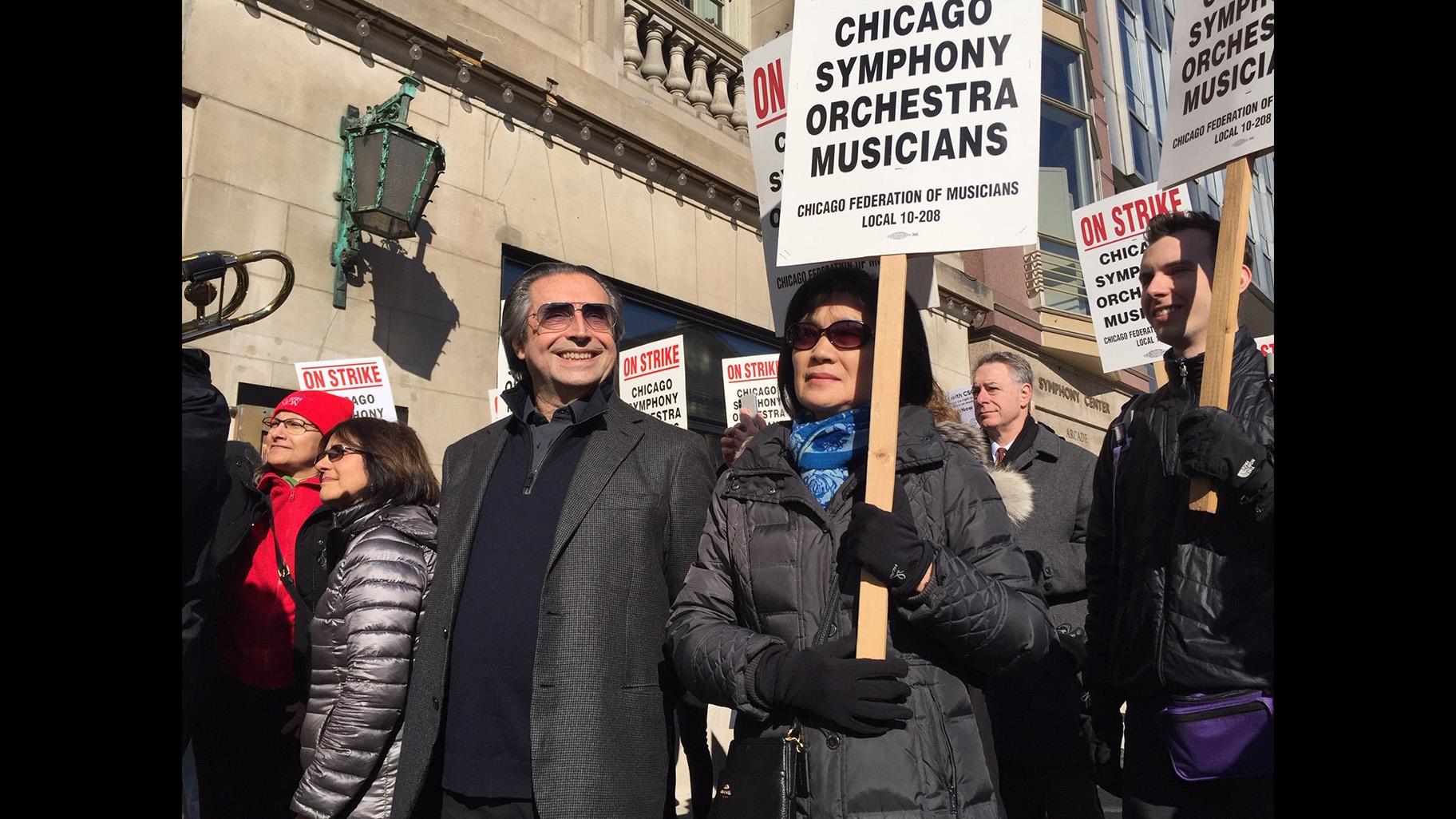 Conductor Riccardo Muti joins striking Chicago Symphony Orchestra musicians Tuesday, March 12, 2019 outside Symphony Center. (Eddie Arruza / WTTW News)
At 10 a.m. Tuesday, the Chicago Symphony Orchestra was supposed to be in rehearsal with their superstar conductor Riccardo Muti for performances at Symphony Center this weekend. Instead, most of the orchestra's 106 musicians and Maestro Muti joined forces on the sidewalk outside the concert hall.
"The responsibility of these musicians is a responsibility in front of the world," Muti said. "The entire musical world is listening to what happens in Chicago."
In a high-profile act of solidarity, Muti threw his not inconsiderable support behind the striking CSO players while emphasizing that he was "not against the board, the trustees, the donors." As the musicians battle for a new contract that includes significantly higher salaries and retention of a defined benefit pension plan, Muti asked CSO management to budge toward the players' demands.
"I would like [them to] understand and listen more carefully to the needs of musicians who represent one of the great orchestras in the world," Muti said.
Conductor Riccardo Muti speaks outside Symphony Center on Tuesday, March 12, 2019. (Eddie Arruza / WTTW News)
The Chicago Symphony Orchestra Association (CSOA) has offered its musicians a 5-percent pay raise spread out over a three-year contract that would raise the minimum pay to $167,000. The players are asking for a 12.5-percent increase for a starting salary of $178,000. According to the CSOA, more than a third of the veteran musicians already earn $187,000 and many take on added work at Symphony Center that elevates their income beyond $200,000.
But the far more contentious issue that has left both sides sharply at odds is management's insistence that a defined benefit pension plan the musicians have enjoyed for decades needs to go. CSOA Chairman Jeff Alexander says the current plan has skyrocketed in cost by 21 percent in the last two years to nearly $4 million per year and will continue rising by about $1 million every year.
In a statement issued Monday, Helen Zell, the chairwoman of the CSO Board, said: "We believe we must secure both the musicians' future and that of the Association's by updating our pension structure and agreeing on a complete compensation package that is sustainable. It would be irresponsible for the Board to continue to authorize a pension program that jeopardizes the Orchestra's future."
"We don't believe this is a lack of resources or a failure of our orchestra in any respect," said Stephen Lester, a double bassist with the orchestra and chair of the negotiating committee. "We have a $300 million endowment, a $60 million investment fund. The question is why can't this work?"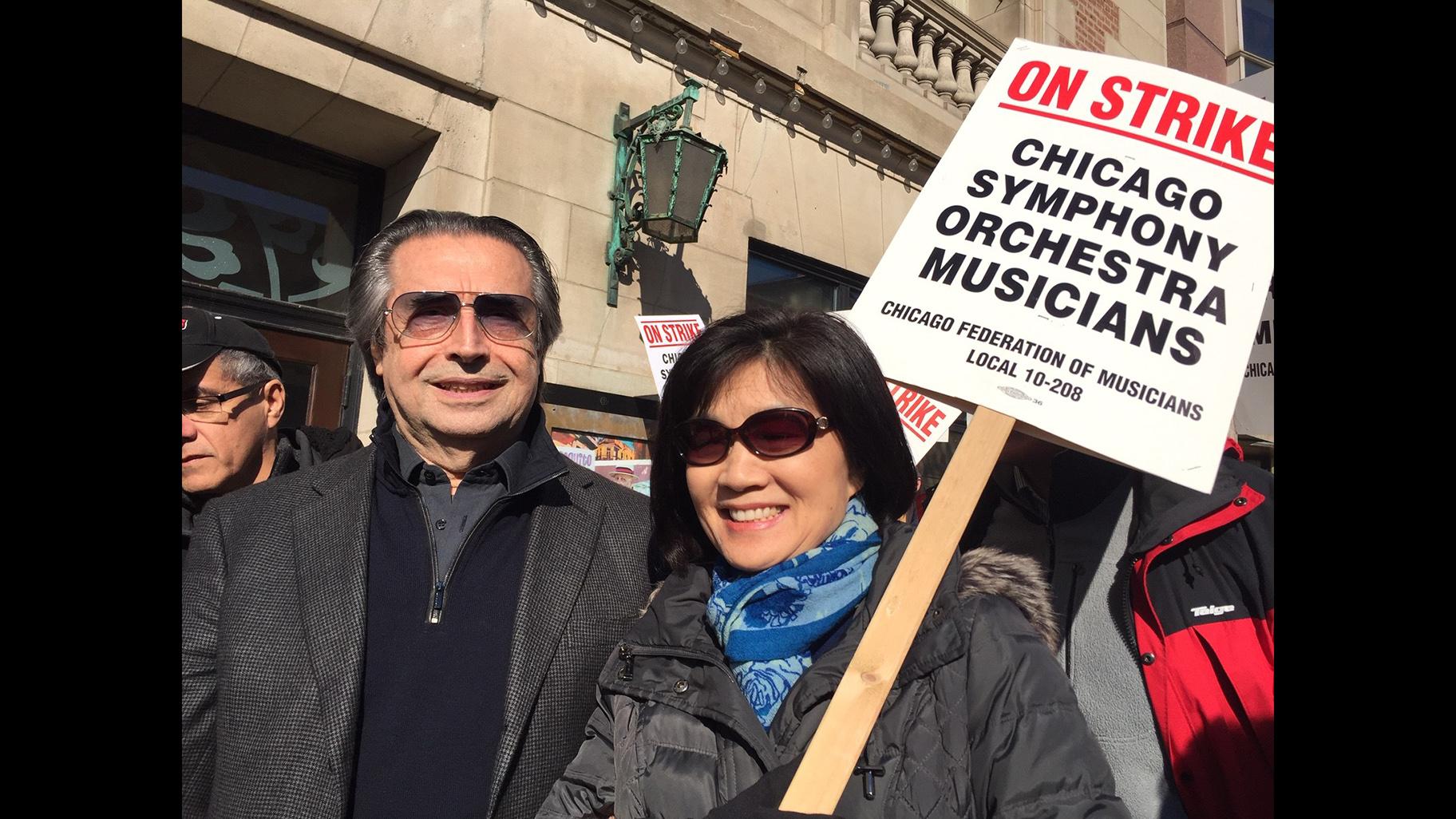 Conductor Riccardo Muti joins striking Chicago Symphony Orchestra musicians Tuesday, March 12, 2019. (Eddie Arruza / WTTW News)
Tuesday afternoon, CSO management cancelled the orchestra's three performances scheduled for March 14-16 as well as the Symphony Center Presents jazz concert on Friday evening. Instead, the orchestra's negotiating committee and management are set to meet with an "independent, third party" actuary to work through some of the ramifications of the pension issues that are at the heart of the standoff.
Muti's appearance with his striking players Tuesday could also move the needle toward a resolution. "I am here with my musicians, proud of my musicians," he said, "and I will try to reconcile these two elements for the good of everybody.
"Conflict happens in families, too, between partners, between fathers and sons. So this is a moment of crisis," Muti said. "But I'm sure with intelligence and good will, this will be solved."
---
Related stories:
Chicago Symphony Orchestra Goes on Strike as Contract Talks Collapse
Lyric Opera Orchestra Ratifies New Contract
Lyric Opera Chicago Orchestra Goes on Strike
---