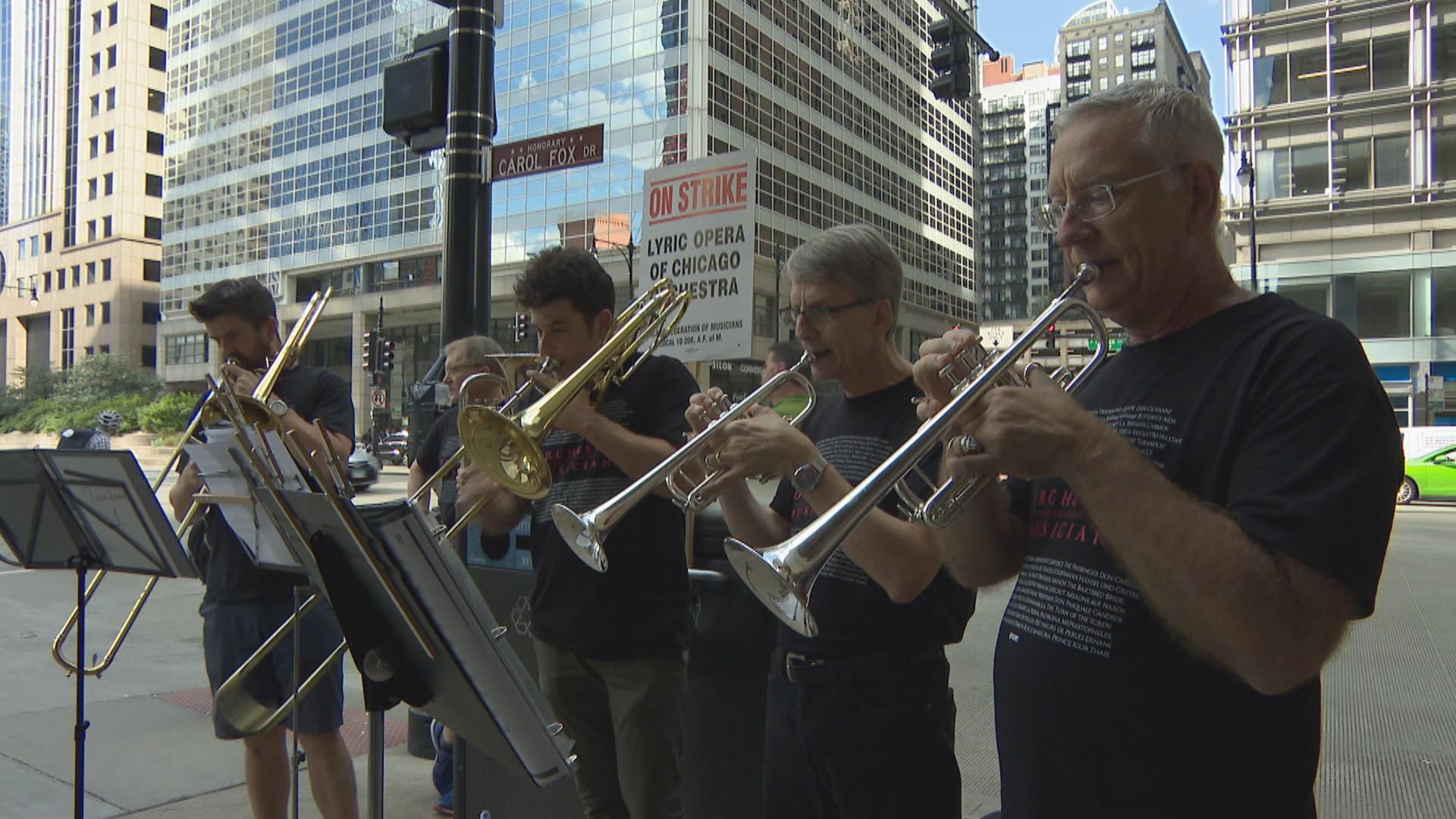 Members of the Chicago Lyric Opera Orchestra strike on Oct. 9, 2018. (Chicago Tonight)
Following a five-day strike that forced the cancellation of three performances at Lyric Opera of Chicago, the company's orchestra ratified a new contract Sunday. 
The main terms of the three-year deal include a pay increase and only a slight reduction in the number of players, but a member of the orchestra says some musicians felt they had to accept a "disappointing" contract.
"It's not what we hoped for," said violinist Kathleen Brauer, "But ultimately [the strike] was not only hurting us but others."
In cancelling performances, Lyric Opera said it was being forced to lay off technicians and members of its chorus, each of which is covered by other unions that reached contract deals with Lyric earlier this year.
According to a press release issued by the orchestra, musicians will receive a 5.6-percent increase in weekly salary over the three-year term but in coming seasons the current 74 positions in the orchestra will be reduced by four musicians. Originally, Lyric Opera management had wanted to bring down the size of the orchestra by five members. Additionally, the contract guarantees that 37 musicians (or about half of the orchestra) will be hired for the spring musical Lyric Opera added to its performance schedule six years ago.
Lewis Kirk, a bassoonist who's been with the Lyric Opera Orchestra for 31 years, says he's relieved by one significant change in Lyric's original proposal. "I'm happy we don't have to take cuts of up to 43 percent that until recently were still part of the offer," Kirk said. "There wasn't a lot of movement from their last, best offer, but both sides did compromise some. I think the strike sent a very strong message and we felt that we made enough gains not to cause any more suffering for [other employees at Lyric]."
Kirk says the Sunday afternoon ratification meeting with the orchestra's union, the Chicago Federation of Musicians, was marked by a "very spirited discussion with a lot of emotion in the room." But the final vote was conducted by secret ballot and the margin of yeas to nays was not revealed.
Lyric Opera management did not respond to requests for a comment following the ratification of the orchestra's contract.
In guaranteeing work for 37 members of the orchestra in its spring musical, Lyric agreed to hefty 6.6 percent pay increases during the four-week run. The deal also ensures the hiring of orchestra musicians for Joffrey Ballet productions at the Civic Opera House beginning in 2020.
One significant point of contention in the contract negotiations: the number of weeks musicians were guaranteed per season. Management pushed for and got a reduction of two weeks, from 24 to 22. General Director Anthony Freud says the company could no longer afford to pay for work not done. In recent years Lyric Opera has shortened its season and reduced the number of performances as ticket sales have fallen.
But violinist Brauer says the outpouring of support the musicians received while on the picket line raises questions about any assertion that opera is losing fans. 
Kirk, meanwhile, says while the contract dispute might be over, there's a long-term battle ahead. "We will continue to fight to make Lyric Opera the vital, world-class organization that it should be with the world-class orchestra that we are and will continue to be," he said. "All of us love this art form; a lot of us have had opportunity to go other places but we stay because we want to see it succeed," he said.
The strike caused two performances of Puccini's "La Bohème" to be cancelled (and one performance of Mozart's "Idomeneo"). Puccini's heartbreaking melodies will relaunch the Lyric season on Wednesday night at 7 p.m.
---
Related stories:
Lyric Opera Chicago Orchestra Goes on Strike
Chicago Hotel Workers Strike Persists at 2 Hotels
Chicago's Minimum Wage is Rising, But is it Enough to Live On?
---