While saying their negotiations have been "respectful and cordial," the musicians of the Chicago Symphony Orchestra and their management dug in Monday in what could be a prolonged strike. It comes as the more than 100 full-time members of one of the world's most prestigious orchestras failed to reach an accord by a Sunday deadline after nearly a year of negotiations. The orchestra's contract expired last September but the two sides agreed to a six-month extension to continue talks. In that time, however, only marginal progress has been made.
It's the first walkout by the orchestra since a two-day strike in September 2012 and CSO musicians say salary and pension issues are at the heart of it. Players say it's as much about being properly compensated as it is about maintaining the high quality of musicianship for which the orchestra is renowned. The biggest obstacle, say musicians, is a demand from CSO management to move away from a defined pension plan toward a direct contribution plan.
"We've taken the time, during the 11 month [negotiation] period, to study some of their concerns," said Stephen Lester, a bassist with the orchestra and chairman of the negotiating team. "We've looked into alternative types of pension plans. And probably the most efficient way to provide the key benefits is to maintain our defined benefit plan."
But Jeff Alexander, president of the Chicago Symphony Orchestra Association (CSOA), says the long-term financial stability of the orchestra depends on some radical changes to the pension plan.
"It's become extremely expensive over the last several years and our projections on how to fund it into the future shows that it's almost untenable," said Alexander.
In a statement, Helen Zell, chairwoman of the Chicago Symphony Board, said: "We believe we must secure both the musicians' future and that of the Association's by updating our pension structure and agreeing on a complete compensation package that is sustainable. It would be irresponsible for the Board to continue to authorize a pension program that jeopardizes the Orchestra's future."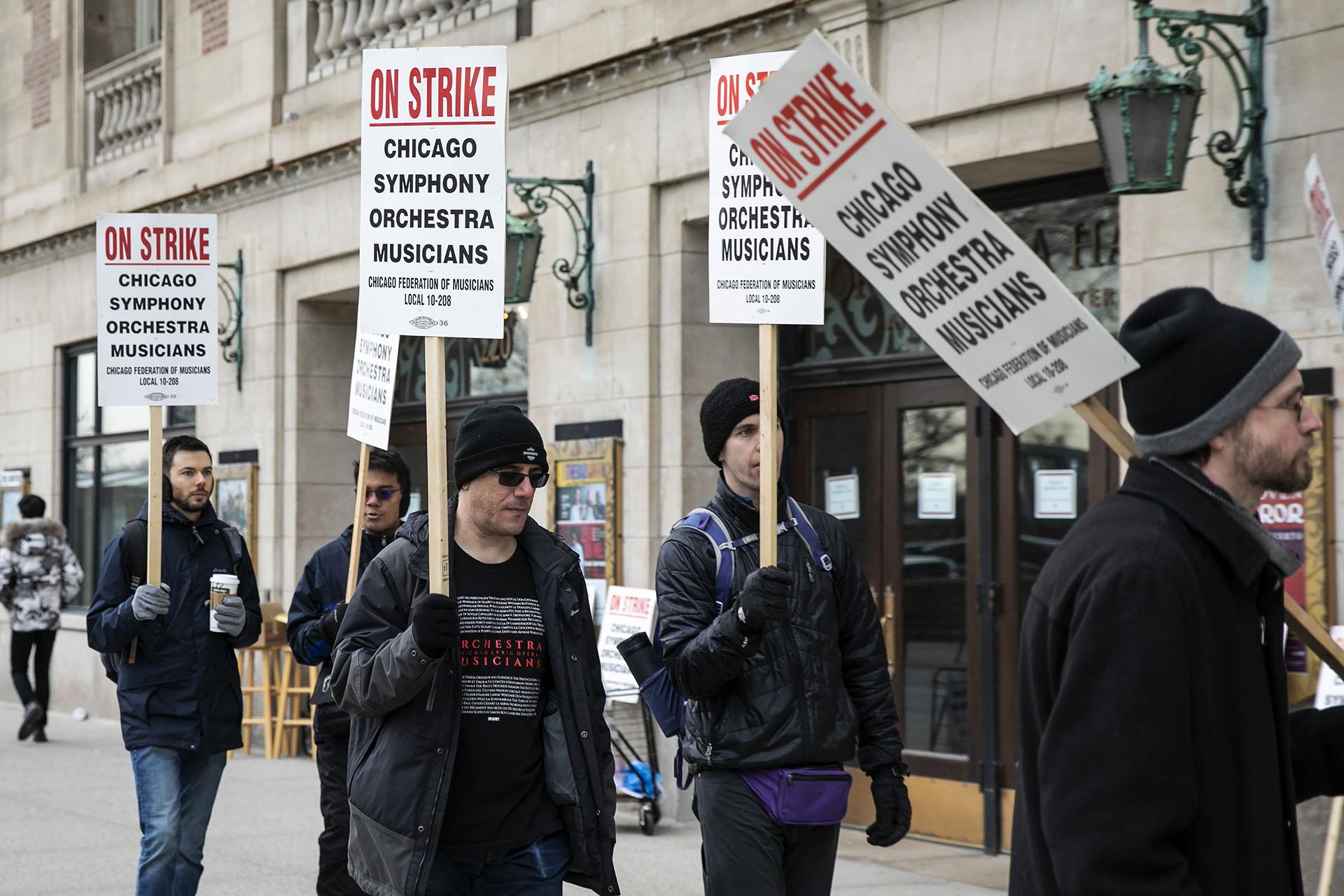 Musicians of the Chicago Symphony Orchestra go on strike and walk the picket line outside the doors of Orchestra Hall on Michigan Avenue, Monday, March 11, 2019. (Ashlee Rezin / Chicago Sun-Times via AP)
Also at issue is salary. Once the highest paid orchestral musicians in the country, CSO players, who are represented by the Chicago Federation of Musicians, say they now lag behind their counterparts in Los Angeles and San Francisco, where musicians also get a housing allowance. In the CSOA proposal, players' base pay would increase by 5 percent over the next three years to $167,000. The musicians are asking for an increase of 12.5 percent for a starting pay of $178,000. Musicians point to record-setting ticket sales in 2018 of more than $23 million. But CSO management says box office sales pay for only a fraction of overall operating costs and contributions account for much of the rest.
"They do have the money for it," says principal percussionist Cynthia Yeh. "I really do feel like it's a case of priority. We are the product – the CSO on stage. If we are the priority there is money for it."
"The gap between Chicago and the West Coast orchestras is still small enough that the purchasing power of musicians in Chicago, considering the cost of living, is much lower here," Alexander said. "The musicians in Chicago, we believe, have a much better lifestyle, much better net income, than their counterparts on the west coast."
Management adds that about 30 to 40 percent of veteran CSO musicians make about $187,000 and those who take on added work at Orchestra Hall – such as chamber concerts – are making about $209,000.
But musicians insist that the highest quality musicians, including some in their ranks, are likely to look elsewhere if the CSO doesn't remain at the very top of orchestral compensation.
"We've had open positions in key principal positions," Lester said. "We've had turnover in key principal positions, and situations where prior to [recent years] have not occurred."
The orchestra's operating deficit is also improving, dropping about half a million dollars from $1.4 million to $900,000 between 2017 and 2018. Still, the CSO insists that it needs to focus on the future of the organization.
"I am disappointed that the union decided to go on strike as opposed to continuing our discussions," Alexander said. "We'll do everything we can to continue to meet with them."
The next scheduled negotiation session is set for Friday, which means a performance Thursday night is likely to be cancelled but as yet has not been. Patrons with tickets should check the CSO website for updates.
Note: An earlier version of this story incorrectly identified Jeff Alexander. The story has been corrected.
---
Related stories:
Lyric Opera Orchestra Ratifies New Contract
Lyric Opera Chicago Orchestra Goes on Strike
Chicago Charter Teachers Announce Tentative Agreement Ending Strike
---