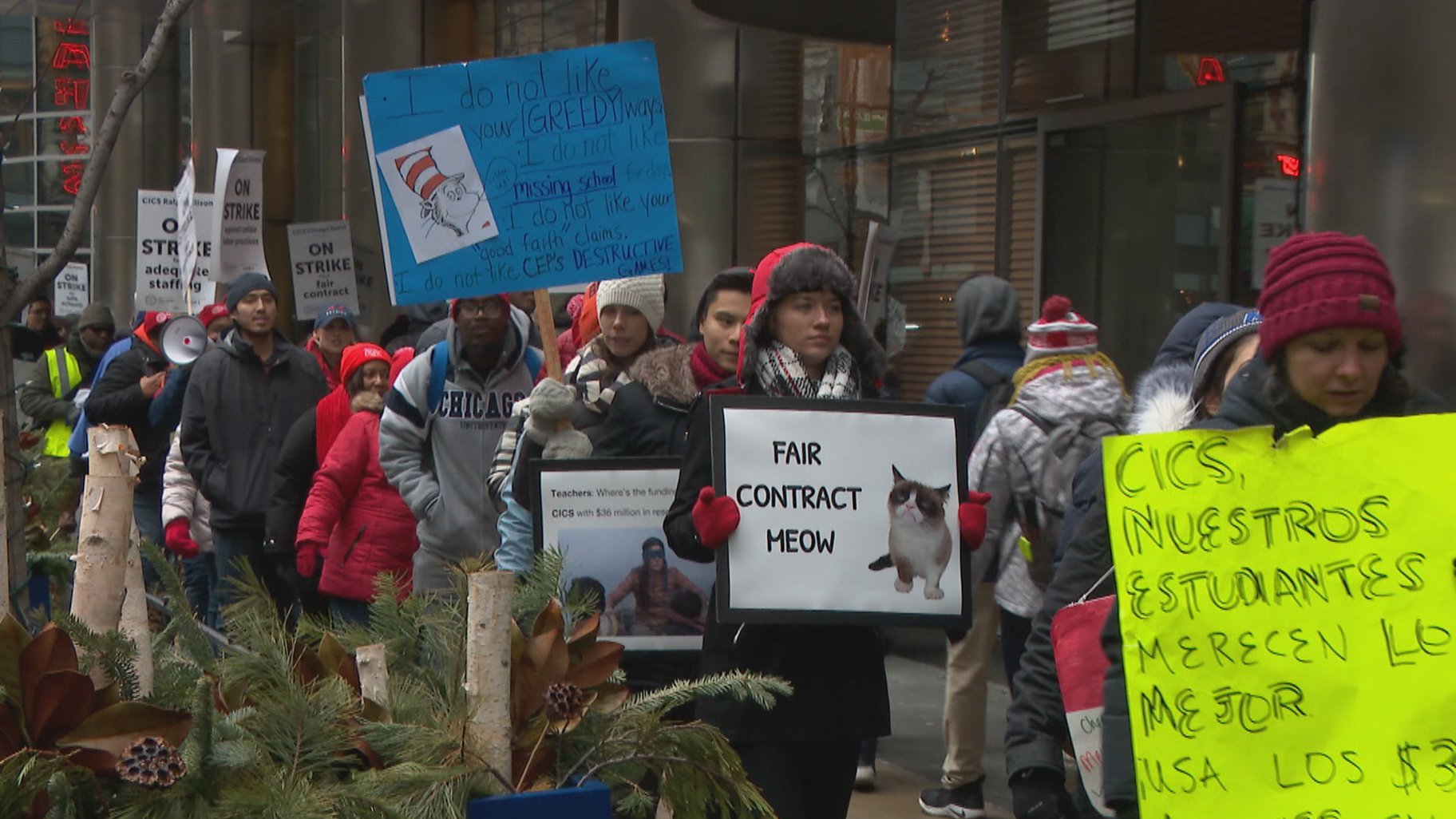 Chicago International Charter School educators picketed outside CW Henderson on Feb. 6, 2019. (Chicago Tonight)
Educators at four Chicago charter school campuses announced early Monday morning they've suspended their two-week strike after reaching a tentative agreement with their charter operator on a new contract.
Classes will resume Tuesday at four Chicago International Charter Schools after educators there tentatively agreed to a four-year deal they say will cap class sizes and increase teacher and paraprofessional pay.
"We are relieved that 2,200 public school students can resume learning and families can resume their normal lives," the CICS administration said in a statement. "The past two weeks have brought heightened emotions, divisions and challenges. Now, the entire community of students, parents and teachers at CEP has the opportunity to come together and heal."
Striking CTU teachers and paraprofessionals suspend #CICS strike, winning CPS pay schedules, class size reductions, and guarantees on social workers and counselors. https://t.co/y0lLUAfln0

— ChicagoTeachersUnion (@CTULocal1) February 18, 2019
---
Civitas – which employs unionized staff at CICS Wrightwood Elementary and CICS Northtown, CICS ChicagoQuest and CICS Ralph Ellison high schools – reached the agreement with the Chicago Teachers Union at 3 a.m. Monday. CICS also operates 10 other campuses which were not affected by the strike.
The two sides had been negotiating for months before the strike began. But the deal came only after two weeks of missed classes and increased pressure from elected officials to end the strike and reach an agreement.
All told, the educators say they'll receive pay raises of more than 30 percent over the life of the deal.
---
---
The new contract gives CICS teachers an immediate 8-percent raise and places them on a salary schedule offering extra pay raises for advanced degrees. The CTU says these teachers will "meet or exceed" Chicago Public Schools salary standards before the deal expires.
Educators also ensured their schools will see smaller class sizes. Civitas set a goal of 28 students per classroom and have barred any classroom from holding more than 30 students.
Additionally, Civitas will pick up 7 percent of  teachers' pension costs and teachers will receive more affordable health care coverage for their families.
But charter leaders say the cost of fulfilling this deal will likely take a toll elsewhere within its schools.
"With the limited funding that is an unfortunate reality in public education, in order to pay for such a significant salary increase, we will be forced to make certain cuts and compromises," CICS administrators said. "For example, we will likely need to limit the number of instructional coaches, assistant principals and other valuable support staff members."
CICS and CTU staff spent the last two weeks on picket lines outside their schools and charter offices. During that time, teachers received increasing support from lawmakers including state Sen. Andy Manar, U.S. Sen. Tammy Duckworth and the City Council's Latino Caucus.
The new contract must still be ratified before it becomes official. CICS was founded more than 20 years ago. It has around 8,500 predominantly minority students and nearly 600 teachers across its 14 schools.
Contact Matt Masterson: @ByMattMasterson | [email protected] | (773) 509-5431
---
Related stories:
Teachers at 4 Chicago Charter Schools Go On Strike
Teachers Union: Tentative Deal to End Charter Schools Strike
Union: Chicago Teachers Stage 1st US Charter School Strike
CPS Recommends Closing 2 Charter Schools, Rejecting Proposals for 3 Others
---