Kristin Dvorak, an assistant lead bird keeper at Lincoln Park Zoo, recently traveled to South Africa as part of an international effort to rehabilitate 1,800 abandoned flamingo hatchlings. (Courtesy Lincoln Park Zoo)
A severe drought earlier this year forced a large group of flamingos to flee a nesting site in South Africa, leaving some 1,800 flamingo chicks abandoned and without water.
That's when Lincoln Park Zoo and other wildlife conservation groups from around the world stepped in, coordinating a massive rescue mission that has continued over recent weeks.
The rescue effort began at Kamfers Dam, a privately owned body of water in the middle of South Africa. A combination of extreme heat and low rain levels caused the 1,200-acre lake to dry up, destroying the flamingos' local food course, according to the zoo.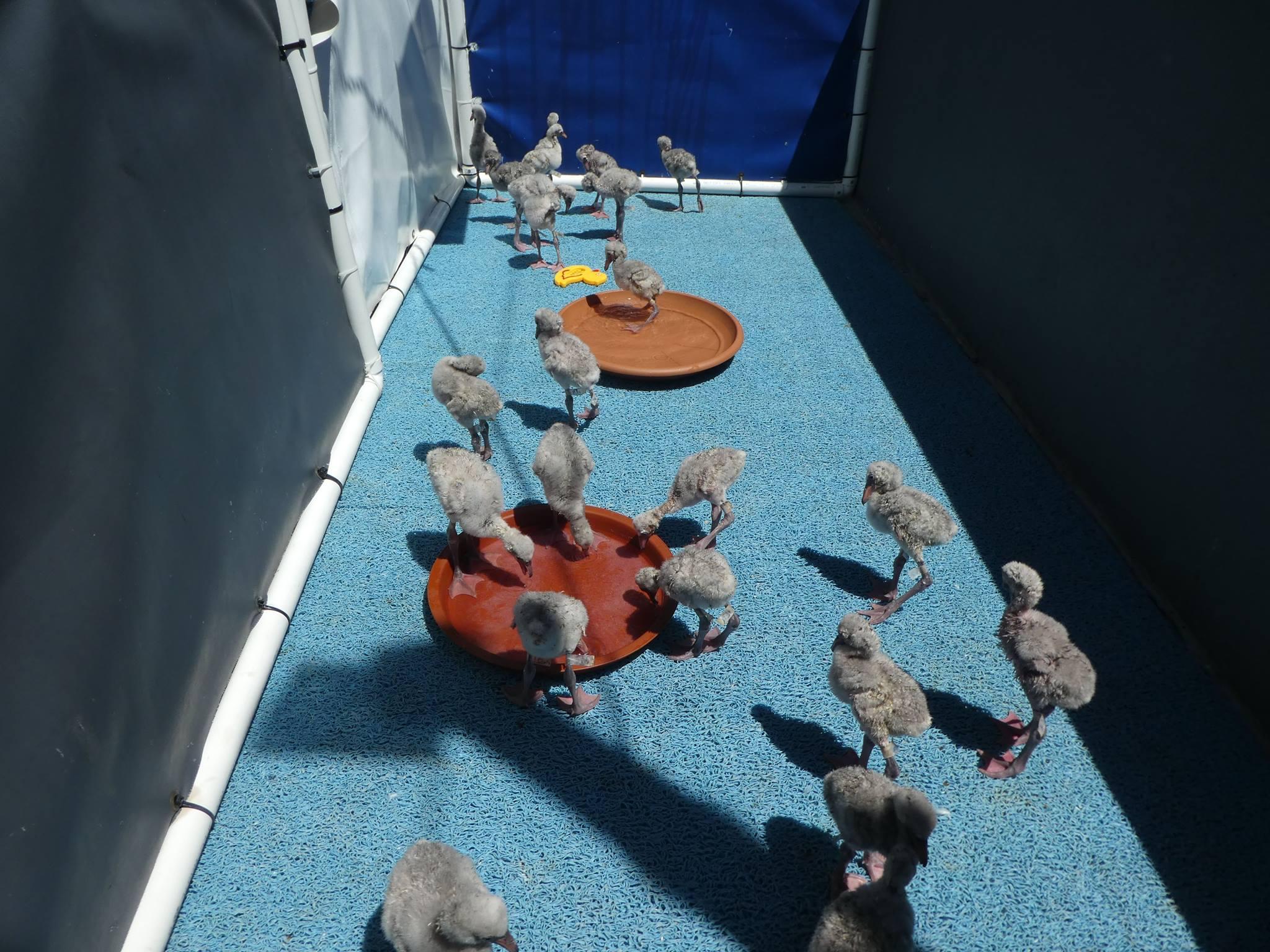 Flamingo chicks rescued after a drought in South Africa (Courtesy Lincoln Park Zoo)
The abandoned chicks, which belong to a species known as lesser flamingos, were transported from the Dam – one of the species' only nesting sites in the world – to various facilities in South Africa.
Last month, Kristin Dvorak, an assistant lead bird keeper at the zoo, spent two weeks at one of those sites, the Southern African Foundation for the Conservation of Coastal Birds, or SANCCOB. Dvorak teamed up with other bird experts to rehabilitate the nearly 300 chicks that were sent to the site for potential release.
At SANCCOB, located in the port city of Cape Town, Dvorak and others prepared food for the chicks, hand-fed them using a syringe and checked each bird for health issues.
Lincoln Park Zoo bird keeper Kristin Dvorak feeds a rescued flamingo chick in South Africa. (Courtesy Lincoln Park Zoo)
Lesser flamingos are native to sub-Saharan Africa and some parts of India. Although the chicks are grey and fuzzy at birth, they develop their iconic pink plumage after three to four years. The birds measure about 3 feet tall once fully grown.
According to the zoo, the species' population is declining because of a shortage of viable breeding sites, some of which have been threatened by human activities. The International Union for Conservation of Nature classifies lesser flamingos as "near threatened."
Contact Alex Ruppenthal: @arupp | [email protected] | (773) 509-5623
---
Related stories:
Lincoln Park Zoo Assists in Arrest of Notorious Elephant Poachers
Lincoln Park Zoo Hosts Conference on Reintroducing Endangered Species
Scientists at Lincoln Park Zoo Working to Save Puerto Rican Parrot