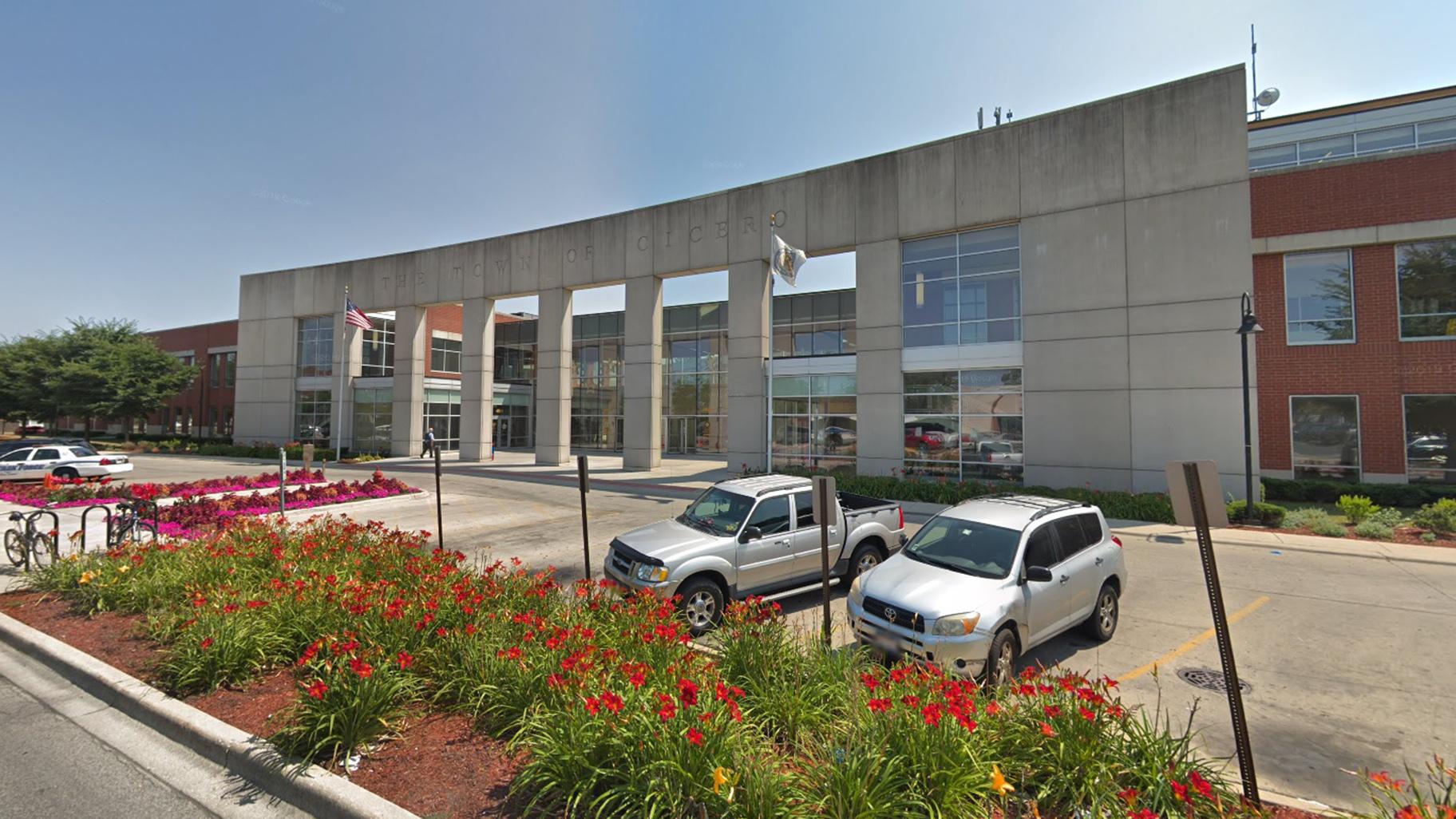 Town of Cicero (Google Maps)
A female auxiliary police officer working in a western suburb of Chicago claims her department "turned a blind eye" after she was forced into sex and sexually harassed by her superiors for years.
Nadia Bull filed a federal harassment lawsuit last month against the Town of Cicero and three of her department superiors, claiming she's been the victim of sexual discrimination and retaliation since she joined the force two years ago. 
Bull claims she experienced "continuous sexual harassment and gender discrimination" from male employees who "repeatedly and routinely made sexual, discriminatory and harassing remarks and gestures" toward her.
"The discriminatory and harassing behavior directed at (Bull) was part of a custom, pattern and practice of unlawful harassment and discrimination against female employees at Cicero Police Department," Bull's attorneys state in a 21-page federal complaint filed late last month.
Document: Read the full complaint
Bull began her employment with the Town of Cicero Police Department in February 2017. But she claims the harassment started before she even accepted the position.
One made superior repeated sexual advances toward Bull at her initial in-person interview and continued doing so for months after she was hired, according to the lawsuit. He also allegedly made discriminatory comments to Bull, telling her, "It is your job to be a lady, not a soldier" and, "You will do well here. Just smile and hold the door open."
Eventually, he promised Bull a promotion to a full-time position and said he would pay her rent if she moved into his building and engaged with him in a sexual relationship, the complaint states. She says she rejected his requests.
Another male superior asked Bull to come to his home to discuss a possible promotion. There, he allegedly forced Bull to have sex with him and told her she'd lose her job if she complained to anyone.
A police commander also made repeated sexual comments to Bull at work and sent her inappropriate sexual texts, according to the suit. He too promised a promotion in exchange for a sexual relationship, Bull claims. When she rejected the offer, he allegedly came to her home and groped and digitally penetrated her.
The commander threatened Bull, telling her not to reveal what happened, and then tried to force her into leaving the department, according to the complaint. She eventually did come forward and disclose the harassment to her supervisors and human resources personnel, but claims the town "failed to promptly remedy" the situation.
Bull claims she still suffers harassment from male employees who mock her complaints and make inappropriate jokes and gestures around her.
Co-workers have also told Bull she's "too pretty" to be a police officer, the complaint states. Others have allegedly said she's "too nice to be in law enforcement" and that she would "have to become a bitch."
"(Bull) has suffered damages, including lost wages and emotional distress," the complaint states, "as a result of having to endure this offensive, unwanted workplace environment."
Through her suit, Bull is seeking a full-time position she says was promised to her in 2017 before she complained of her harassment.
She's also seeking back pay, compensatory and actual damages, and an order compelling the town to "implement effective steps to eliminate and remediate harassment and discrimination in the workplace."
Contact Matt Masterson: @ByMattMasterson | [email protected] | (773) 509-5431
---
Related stories:
5 Chicago Paramedics 'Fed Up' Over Sexual Harassment, Sue City
Woman Accusing Madigan Aide of Sexual Harassment Speaks Out
Madigan Fires High-Ranking Aide Amid Sexual Harassment Claims
New Watchdog to Investigate Ethics Complaints in Springfield