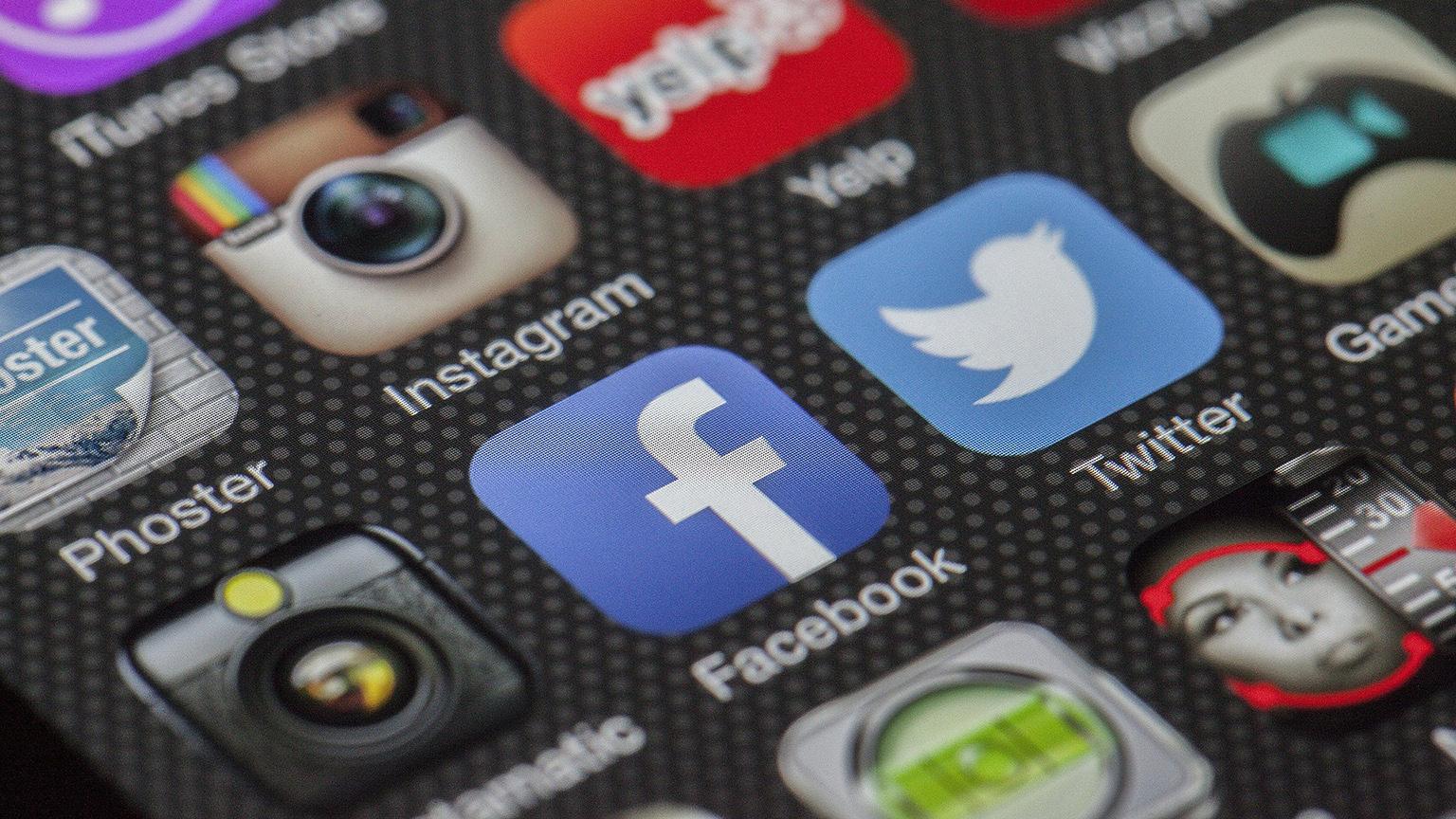 (LoboStudioHamburg / Pixabay)
Over the past five years, Chicago police have contracted with a company backed by U.S. intelligence agencies to monitor the social media accounts of city residents, according to newly released records obtained by the American Civil Liberties Union of Illinois.
The documents were released Wednesday after a legal battle between CPD and the civil liberties group, which sued the department last year in Cook County Circuit Court after it refused to provide records related to its use of social media monitoring software.
On Thursday, ACLU of Illinois called on CPD to end its use of "spying software" to secretly monitor social media activity of residents, and potentially non-residents who spend time in the city.
"This invasive program should be suspended immediately until there is time for full, public airing of the reach, power and use of the tool," said Karen Sheley, police practices project director for ACLU of Illinois, in a statement. "We need time for a new mayor and City Council to ensure that there is an open process to discuss how this tool works and whether it should be used at all." 
From 2014-18, city invoices show that CPD spent nearly $1.5 million on surveillance software called Dunami, which has reportedly been used by the FBI to mine social media "to determine networks of association, centers of influence and potential signs of radicalization."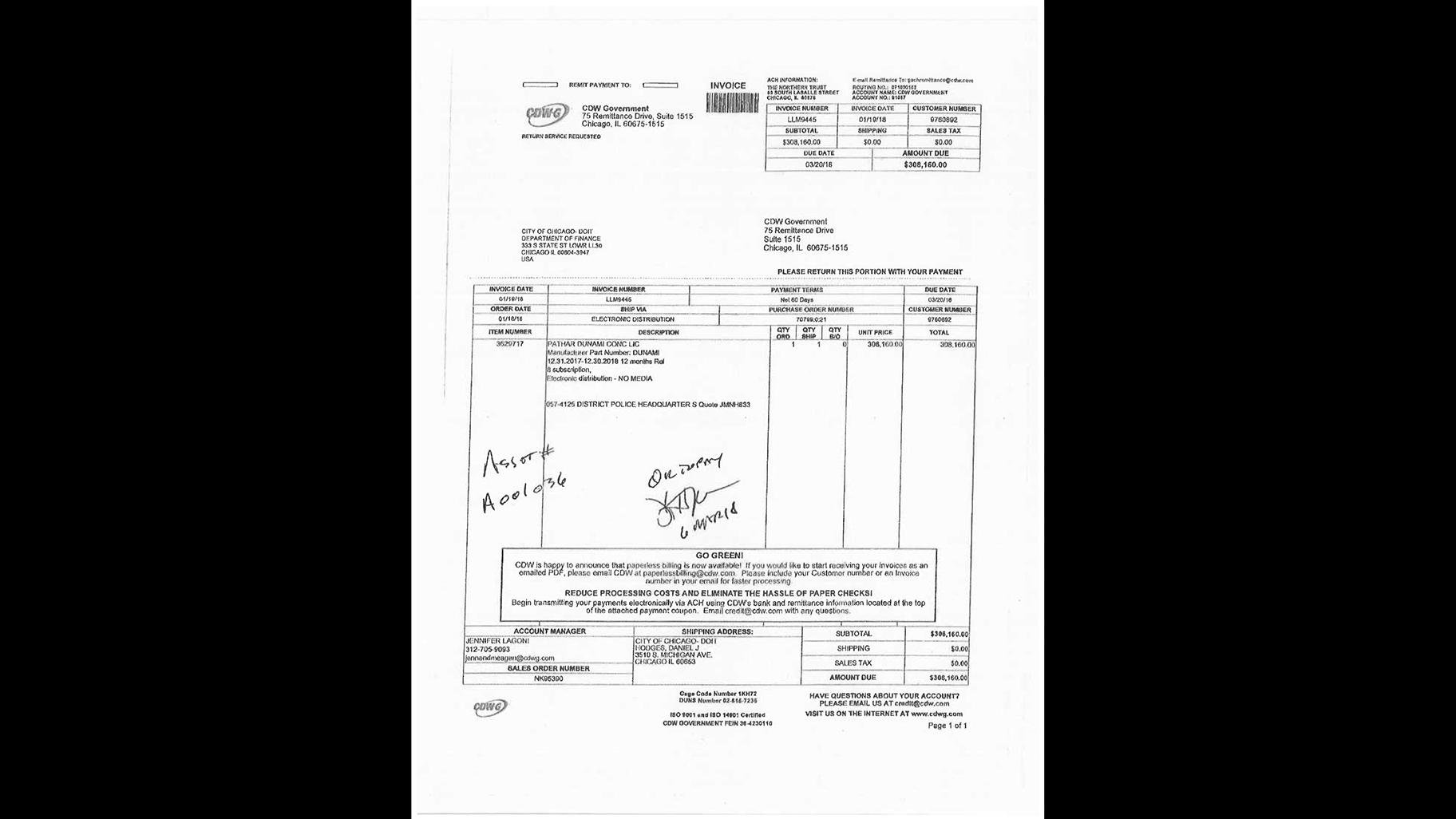 City invoices, including this one from 2018, show that Chicago police spent nearly $1.5 million for the use of the social media monitoring software Dunami. (ACLU of Illinois)
Dunami has reportedly received funding from a venture capital firm used by the CIA and national security agencies to accelerate the development of technology used for intelligence gathering and other purposes.
Dunami has also been used by Chicago Public Schools to analyze students' online conversations as part of a $2.2 million federal grant aimed at preventing violence and identifying gang affiliations.
Although CPD provided records of its contract with Dunami, the department did not provide any records explaining how officers use the software to monitor social media, Sheley said. 
"These are really powerful technologies," Sheley told WTTW. "We don't know the full scope of Dunami's capability, but we generally know that social media monitoring software uses algorithms that are hidden. They're capable of monitoring and identifying [people] when protests happen, [establishing] connections between groups of people and really taking mass amounts of data … and making connections that paint really detailed pictures of groups and people."
In its lawsuit against CPD, ACLU of Illinois cited records showing that the department used social media to monitor protests of President Donald Trump's inauguration in January 2017. The records include a CPD document authorizing the monitoring effort, which identified protesters at Trump Tower in Chicago as "persons or groups to be investigated." The records do not indicate whether CPD used surveillance software during the monitoring, which took place from Jan. 20-21, 2017.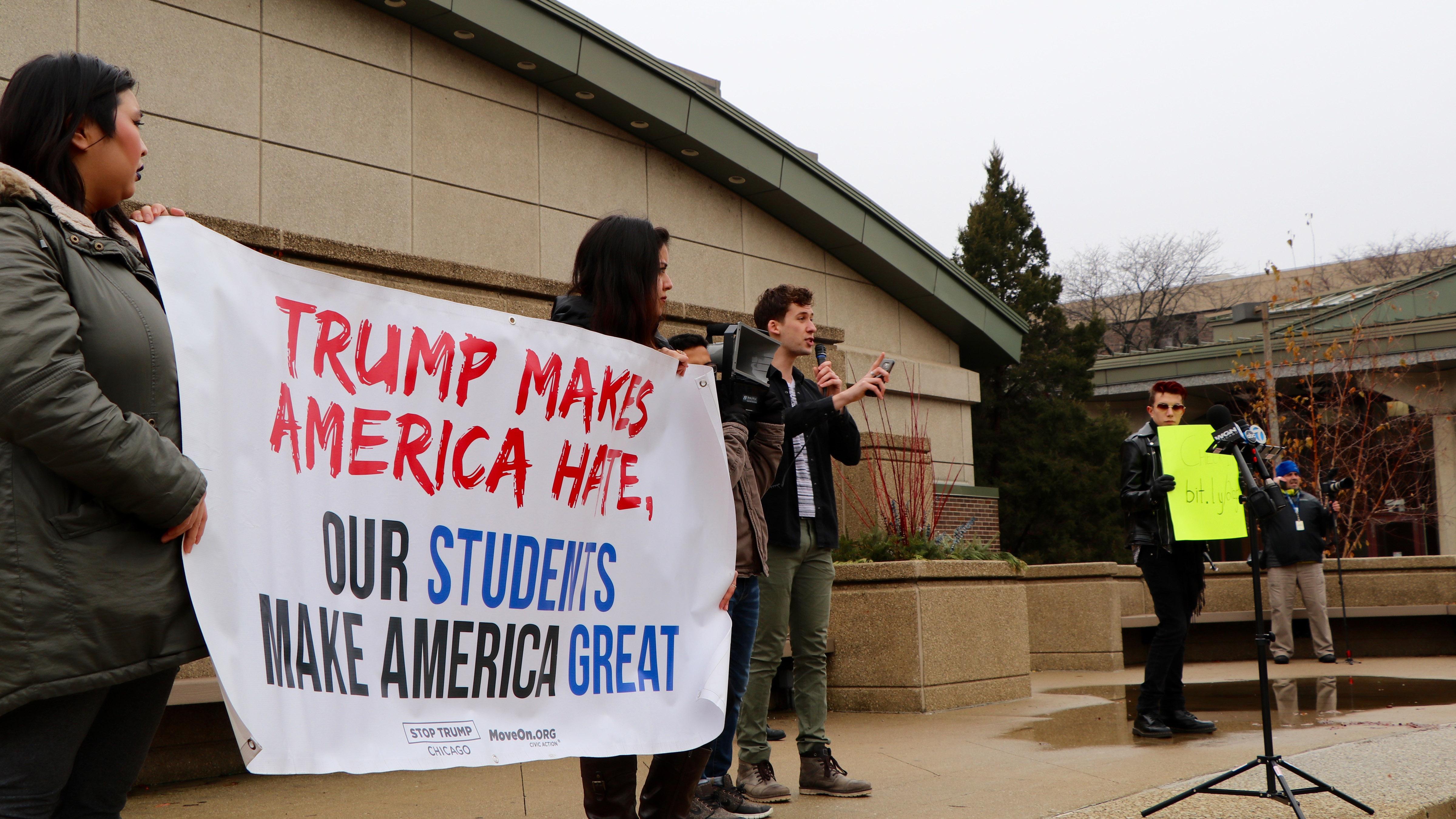 Records show that Chicago police used social media to monitor protests of President Donald Trump's inauguration in January 2017. Here, University of Illinois at Chicago students protest Trump's inauguration after walking out of class on Jan. 20, 2017. (Evan Garcia / Chicago Tonight)
In court, Sheley said CPD initially argued that it should not be required to identify Dunami as its provider of monitoring software. CPD's argument, Sheley said, was based on its experience from 2016, when another social media monitoring company came under fire for marketing its platform to law enforcement as a tool for monitoring protesters.
CPD acknowledged using software from the Chicago-based company, Geofeedia, to monitor social media during "special events and functions," including sports games and marathons. The department said at the time that any investigation or monitoring related to protected First Amendment speech requires a special request and is overseen by CPD's Office of General Counsel.
Geofeedia's practices drew widespread criticism from civil liberty and privacy advocates nationwide and, eventually, prompted Facebook and Twitter to end their data-sharing agreements with the company.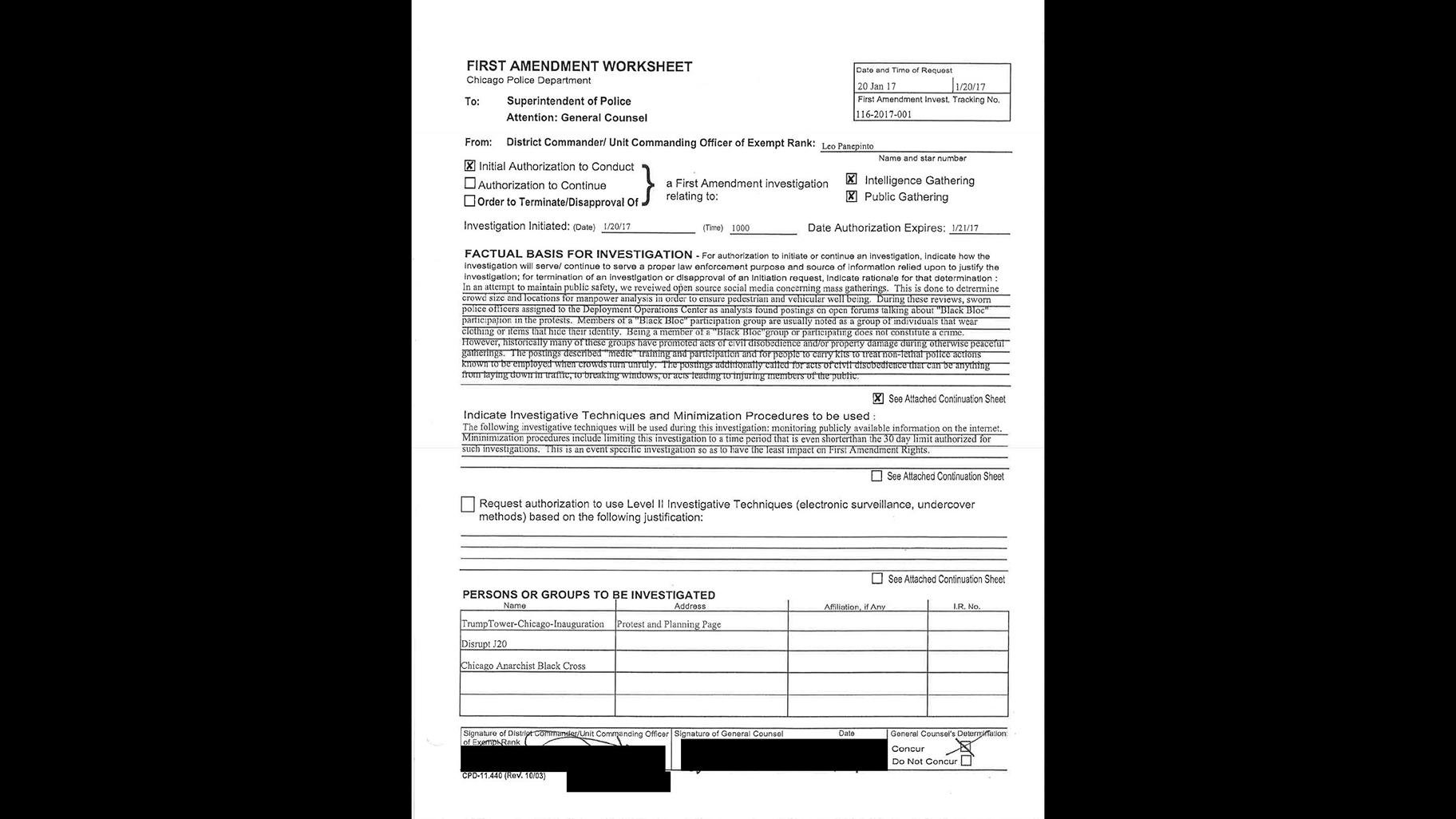 A CPD document authorizing police's use of social media to monitor protests against President Donald Trump in January 2017 (ACLU of Illinois)
Although CPD ended its partnership with Geofeedia, recent documents obtained by ACLU of Illinois show that CPD used Dunami for social media monitoring through the end of last year. CPD has yet to provide records in response to a request by ACLU of Illinois for any current contracts for social media monitoring software, Sheley said. 
"That kind of powerful technology shouldn't be used in the dark," Sheley said about CPD's use of Dunami and other monitoring software. "The city shouldn't hide the name of who they are contracting with, and before they use this kind of technology or other invasive technology, they should be willing to have a public debate about whether it's appropriate to use it at all."
CPD issued the following statement in response to questions about its use of Dunami:
"There is nothing more important to the Chicago Police Department than protecting the public safety and constitutional rights of all Chicagoans. Like every law enforcement agency in the country, the Chicago Police Department references open source and public-facing social media platforms to safeguard the city against potential threats and criminal activity as that is what is required in today's digital age. We understand and support constitutional protections of personal privacy and work to ensure that all of our operating policies are in strict accordance with state and federal law."
In addition to Geofeedia and Dunami, records show that CPD has also used LexisNexis software to monitor social media.
"What we do know about these programs is they collect vast amounts of social media information and then use algorithms that aren't made public to make inferences about people," Sheley said. "Those kinds of connections can lead to the government putting together information about an individual or a group of people that people posting on social media would never expect to be made."
Contact Alex Ruppenthal: @arupp | [email protected] | (773) 509-5623
---
Related stories:
What Social Media Posts Can Tell Us about Gang Violence
The Dark Side of Social Media: Is Your Data Safe?
Social Media, Videos Fuel Gang Violence, Notoriety
---