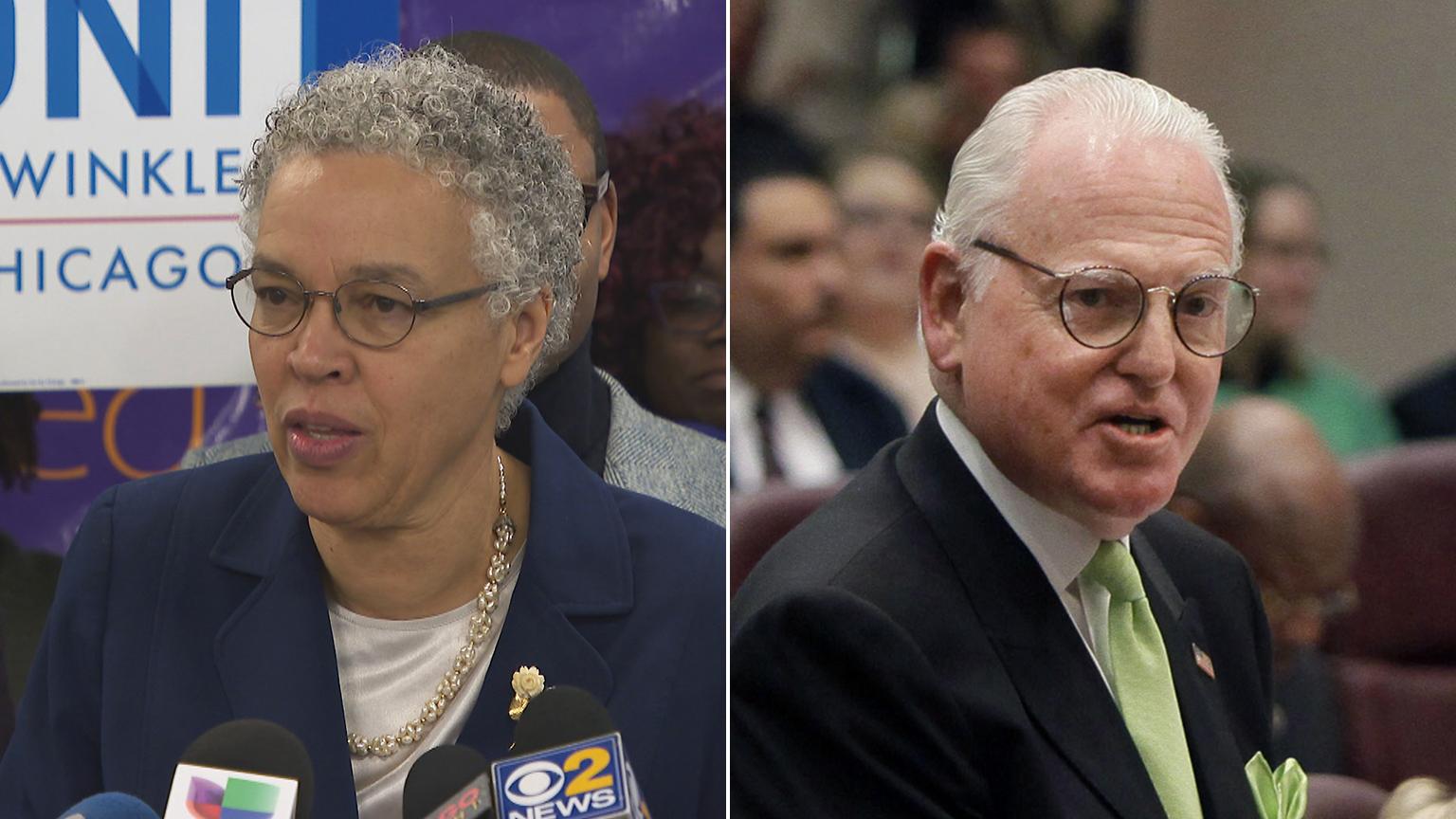 Cook County Board President Toni Preckwinkle (Chicago Tonight file photo) and Ald. Ed Burke (AP Photo / M. Spencer Green, File)
A mere footnote – three sentences in the 37-page criminal complaint accusing Ald. Ed Burke of attempted extortion – is causing a headache for Cook County Democratic Party chair Toni Preckwinkle as she seeks to become Chicago's next mayor.
Her campaign is at odds with the suggestion made by an FBI agent in that complaint that it's secretly holding onto $5,600 from a wealthy fast food businessman identified as "Individual A," who Burke allegedly coerced into financially backing Preckwinkle's successful campaign last year for a third term as president of the Cook County Board.
Preckwinkle's aides say it doesn't have the money. But the complaint disagrees, stating "correspondence" exists that "reflects … the contribution was made."
According to the complaint unsealed Thursday, Burke met with "Individual A" and "Individual B" and "asked them to attend a fundraiser for another politician" – later evinced to be Preckwinkle, for whom Burke hosted a January 2018 fundraiser at his home.
"Individual A felt it necessary to attend, or at least give a donation because, otherwise, Burke would not support Individual A's efforts to do business in Chicago," the complaint reads.
Preckwinkle's campaign made that contribution public for the first time Thursday, after the complaint was filed against Burke.
Two filings with the state elections board are described as a "clarification of rejected contribution from Shoukat Dhanani," the CEO of Tri-City Foods, Inc., which owns Burger King franchises across the country, including one in Burke's 14th Ward on Chicago's Southwest Side.
The first filing shows a $10,000 contribution from Dhanani to Preckwinkle last January; the second filing shows that Dhanani was refunded $10,000 within 10 days.
The Preckwinkle campaign provided its own screenshots of its campaign fundraising software showing electronic transactions that mirror that description.
Preckwinkle does not know Dhanani, her senior staff say, and has had no known conversations or interactions with him.
According to the criminal complaint, Dhanani did not actually attend the January 2018 fundraiser at Burke's Gage Park home due to the weather.
Donation flagged
Preckwinkle's political opponents in the crowded race for mayor have seized on the public accounting – a year after the fact – as a sign of something amiss: State campaign finance law requires the disclosure of contributions above $1,000 within five days.
But Preckwinkle senior advisor John Hennelly said campaign officials in 2018 immediately flagged Dhanani's $10,000 donation "as a problem" because it was over the $5,600 amount state law permits individual contributors to give.
Hennelly said the campaign attempted to reach out to Dhanani to ask what he wanted done with his contribution, and when it never heard back, "We just credited it back to his card."
The contribution was immediately returned in full, essentially as if it had never been deposited.
"So the staff member who does our filing at the time just saw it as a non-event, because the money was never accepted," Hennelly said.
Preckwinkle disclosed both transactions on Thursday, following the uproar over the criminal complaint, for transparency's sake.
Hennelly declined to provide copies of any correspondence last year between the campaign staffer and Dhanani or his aides.
But what about the $5,600 that Dhanani could have legally contributed to Preckwinkle's campaign, and which the agent suggests was made?
"Based on public information disseminated by the Illinois State Board of Elections, it appears that Individual A's contribution was limited by law to $5,600. Law enforcement has reviewed records filed by the committee in question. They do not reflect a contribution made by Individual A, although correspondence provided by Individual A and Individual B reflects that (the "Preckwinkle for President" fund) confirmed the contribution was made," the footnote on page 35 of the complaint reads.

Hennelly said he knows nothing about it, that it does not exist.
"I am unaware of any donation of $5,600 from this gentleman," he said. "I don't know what the federal prosecutors have. I know what we have. And it shows that we received $10,000 on Jan. 10 (2018) and we returned $10,000 on Jan. 16 (2018)."
Regardless of Preckwinkle's explanations, or her stance on Burke's political career (she has called on him to step down as alderman), her opponents in the crowded race for mayor have pounced. None, however, have gone beyond public grousing to take action that would trigger a state elections hearing process probing Preckwinkle's campaign funds.
Mayoral candidate Dorothy Brown – the clerk of Cook County's Circuit Court who is herself the subject of an ongoing federal probe into illegal hiring at that office – wants the Illinois State Board of Elections to audit Preckwinkle's campaign funds. 
"How many other contributions have not been reported? What else is Toni Preckwinkle's campaign fund hiding? How many other businesses have donated under duress?" Brown aside in a press release. "Campaigns are to report all contributions received. Therefore, the Illinois State Board of Election must investigate and mete out any fines required and audit all of the campaign funds of Toni Preckwinkle."
Former Ald. Bob Fioretti, who ultimately failed in his 2018 run against Preckwinkle for the county board presidency – the race at the heart of the campaign transparency and criminal complaint controversy – said Preckwinkle should withdraw from the mayor's race over the contribution.
"Preckwinkle's insidious relationship with Ed Burke, and her half-baked attempt to cover up her involvement in Burke's ongoing legal troubles, raises more questions than it answers," Fioretti, who now is also running for mayor, said in a statement.
Mayoral candidate Paul Vallas, who previously led Chicago Public Schools, called on state and local authorities to investigate Preckwinkle's campaign fundraising for "further taint."
Preckwinkle "owes the voters a full explanation, not only for this contribution, but for all contributions raised or given by Burke. We know that machine politicians like Burke and Preckwinkle do not give each other wads of cash without expecting something in return – so what was the favor traded at the expense of a restaurant owner, forced to 'pay-to-play' for the remodeling permit his business needed?" Vallas said in a statement.
But none of them filed a D-4 complaint with the Illinois State Board of Elections.
"The board is aware of the federal criminal complaint but at this time the State Board of Elections hasn't received any complaint related to the reporting issues alleged," ISBE assistant executive director Bernadette Matthews said.
Preckwinkle's latest amendments to her 2018 fundraising could be subject to routine review by elections officials, but those reviews are limited in scope.
"The routine review is aimed more toward a contribution limitation violation, a timing of the reporting violation, not necessarily a factual investigation," Matthews said. "The D-4 complaint process is aimed more to look into that."
Dhanani did not respond to a request for comment left at his Tri-City Foods, Inc. corporate office; a receptionist said she had been asked to take down the names and contact information for all callers.
A 2016 article in Forbes described Dhanani as publicity-shy; its headline reads: "Entrepreneur Shoukat Dhanani Runs One Of America's Largest Private Businesses – Very, Very Quietly."
Follow Amanda Vinicky on Twitter: @AmandaVinicky
---
Related stories:
Ald. Ed Burke Loses City Council Power
Firearms Found in Ald. Ed Burke's Office: Who Can Carry Guns in City Hall?
Ald. Ed Burke Charged with Attempted Extortion
---