Among the extraordinary details that came to light Thursday after Ald. Ed Burke was charged with attempted extortion was the fact that federal investigators had located nearly two dozen firearms inside the powerful alderman's offices during a series of November raids.
Burke, Chicago's longest serving and most powerful alderman, was charged in federal court Thursday with attempted extortion after he allegedly tied up the permitting process for a Southwest Side Burger King in an effort to force its owners to solicit business from his property tax law firm.
He faces up to 20 years in prison if convicted on that charge. But in setting bond Thursday, U.S. Magistrate Judge Sheila Finnegan also ordered Burke to give up 23 firearms that federal investigators located inside his City Hall and ward offices when they were raided late last year.
Those include usable weapons, according to federal sources, including some long guns, which must now be turned over to U.S. Marshals.
Burke was given 48 hours to do so. But should those weapons have ever been allowed to be stored in his public offices to begin with?
Burke now facing judge. His charge carries a max penalty of 20 years in prison and $250k fine. Burke is free on $10,000 bond and must forego at least 23 firearms in his or his office's possession

— Paris Schutz (@paschutz) January 3, 2019
---
Concealed carry license holders are not allowed to carry weapons inside City Hall or any government building in Illinois. But Burke – a former Chicago police officer and current licensed private detective – is allowed to carry a concealed weapon.
As a former officer, he is entitled to carry a firearm under both the Illinois Retired Officer Concealed Carry and federal Law Enforcement Officers Safety Act programs, according to Chicago Police Department spokesman Anthony Guglielmi.
And state law allows aldermen to act as so-called "conservators of the peace," meaning they can carry concealed firearms, enact arrests and in many ways act as police officers once they complete a required state training course.
Aldermen who complete that course are then exempt from Chicago's "Firearms in the Workplace Policy" for city employees.
Enacted in 2016, that human resources policy prohibits "all non-peace officer employees from carrying or possessing firearms inside buildings owned or controlled by the City." That line echoes Illinois' Concealed Carry Act, which similarly prohibits concealed carry license holders from carrying firearms into "any building or portion of a building under the control of a unit of local government."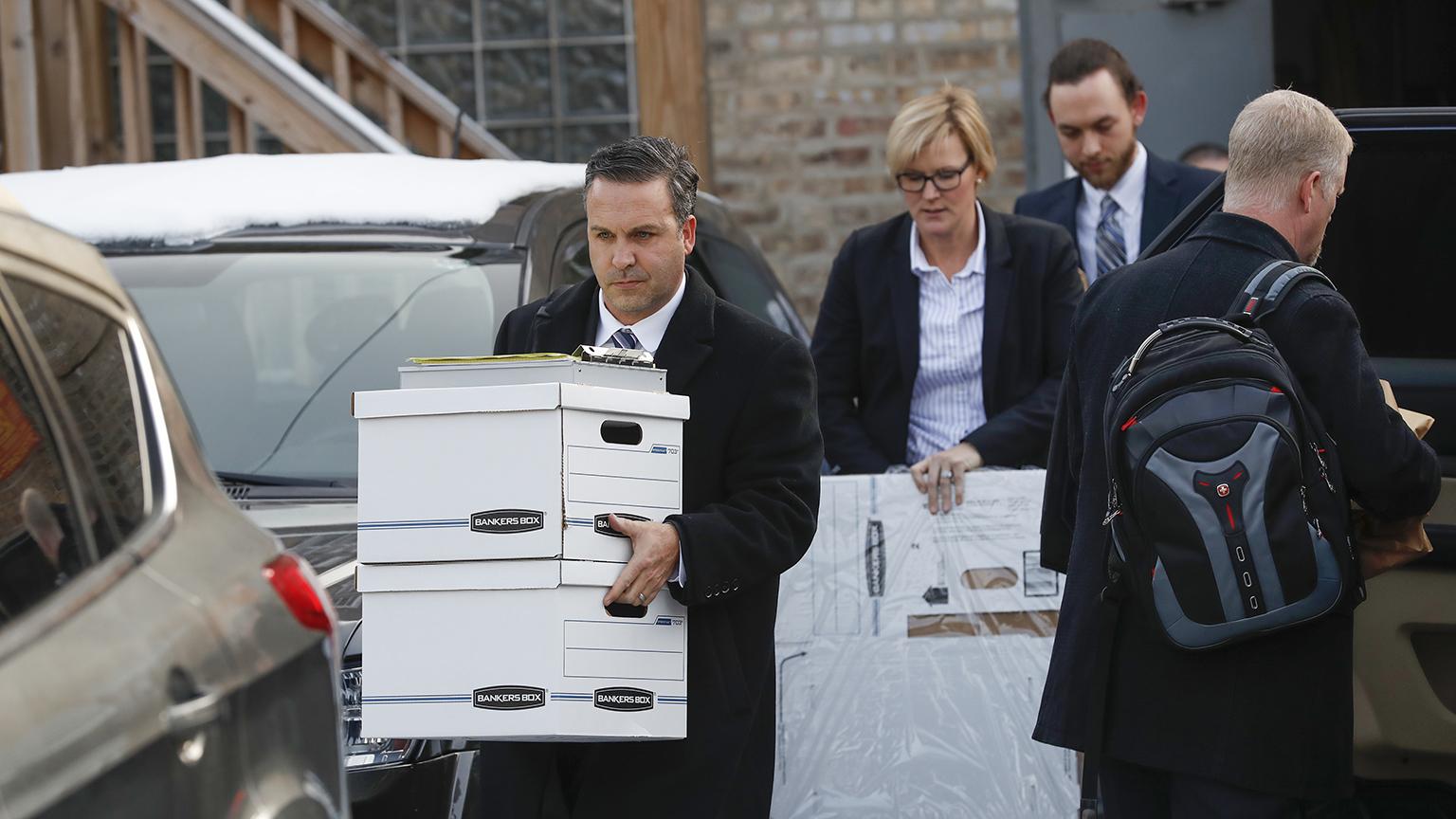 Investigators carry boxes away from Ald. Ed. Burke's 14th Ward office on the city's Southwest Side on Thursday, Nov. 29, 2018. (Jose M. Osorio / Chicago Tribune via AP)
The city policy also bars non-peace officer employees from possessing firearms "while on duty in any area where firearms are prohibited by law." Violations are considered a "serious offense that endangers the safety of City employees and visitors to City facilities" and employees who don't comply with the policy face discipline "up to and including discharge."
U.S. Marshals will take possession of Burke's firearms once he turns them over.
The alderman was not charged with any crimes stemming from his firearm possession and has avoided answering questions on the topic in the past.
"That's not a subject matter that I would respond to," he told WBEZ back in 2017 when asked if he carries a firearm.
Contact Matt Masterson: @ByMattMasterson | [email protected] | (773) 509-5431
---
Related stories:
Ald. Ed Burke Charged with Attempted Extortion
Former Federal Prosecutor Talks Charges Against Ald. Ed Burke
Political Journalists React to Powerful Alderman's Legal Trouble
Ald. Ed Burke Holds High-Dollar Fundraiser Amid Federal Probe
FBI Raids Offices of 14th Ward Ald. Ed Burke
What FBI Raid Could Mean for Chicago's Most Powerful Alderman
---