John Koch says that when he was a child, everyone, it seems, wore gloves. "My mother had drawers full of gloves, as did my grandmother," he remembers. "There was something very elegant about them, very refined."
Since 1975, Koch has been making hundreds of stylish, highly decorated women's gloves. Every stitch is sewn by hand and each is an eye-catching work of art.
"They're for a woman who is very sure of herself," Koch says with a smile. "They're great arm candy. You have to think of this as a bracelet gone berserk."
Koch, who closed up his studio workshop last year, can stitch up gloves at his kitchen table on the North Side. Each pair requires a lot of time: 12 hours for the undecorated gloves, and another 60-80 hours to add the embellishments.
But before he started making gloves, Koch created women's hats, some stylish, and some quite offbeat. His best guess is that he has made nearly a thousand hats. Again: all handmade, and each one unique.   
Denise Stefan is a longtime customer who has bought more than 20 of Koch's hats. She prefers the more whimsical hats, like a poodle head hat, a wedding cake hat or one with butterflies escaping from a top hat.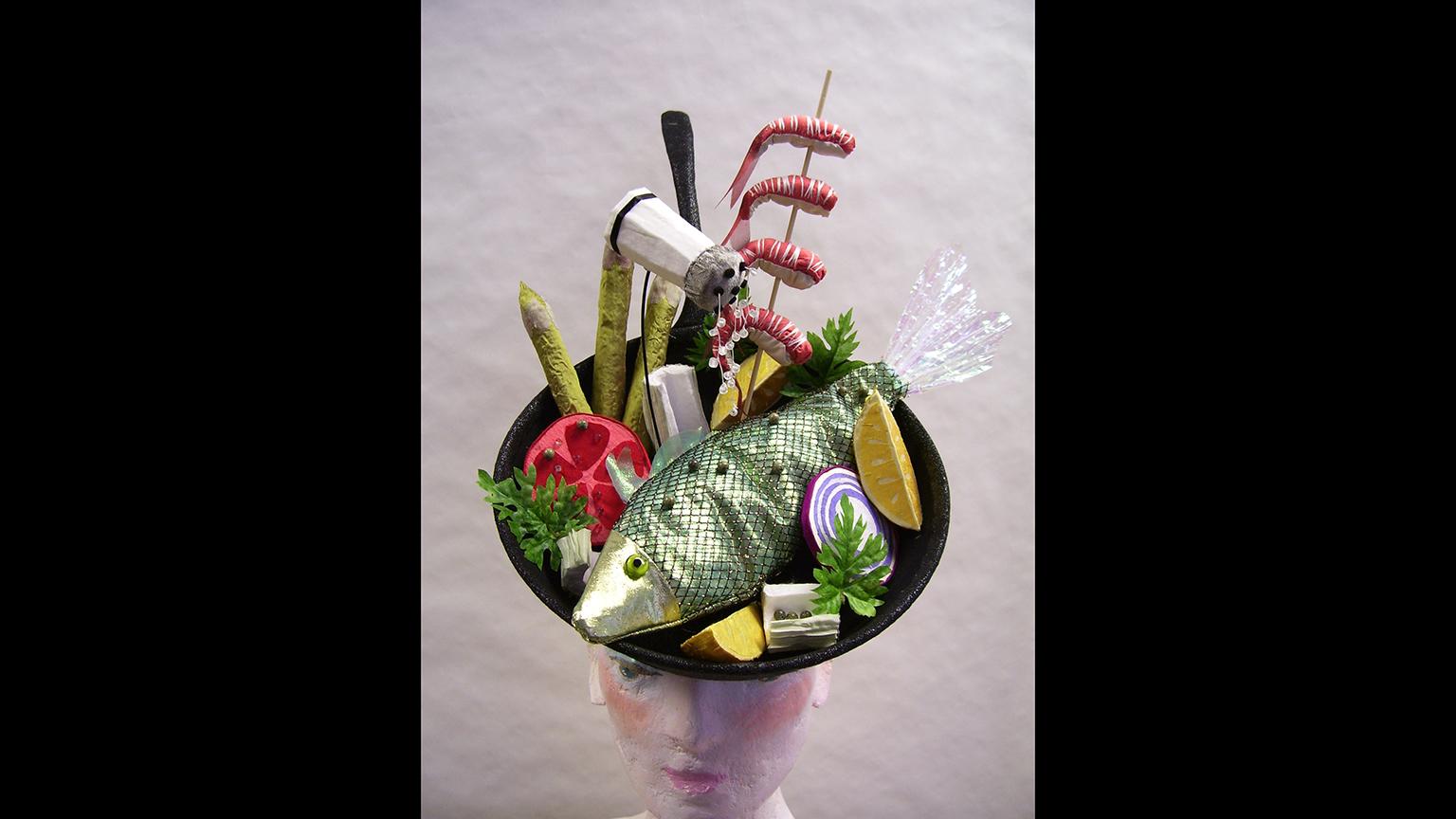 (Courtesy John Koch)
Koch says his love of hats began with his grandmother. "My grandmother always wore a hat with a veil," he remembers. "I can still remember kissing her goodbye as a child, kissing her through her veil and smelling her face powder. Those days are long gone"
While Koch's gloves and hats are meant to be eye-catching and to put the wearer at the center of attention, the artist himself is rather shy and quiet.
"I'm not as flamboyant as my work," he says. "I don't know. I guess I'm too self-conscious, I want to disappear into the shadows."
But luckily for those with a taste for "arm candy," he's found a quiet way to step boldly into the limelight.
You can contact Koch here.
---
Related stories:
West Town Textile Studio Finds Common Threads with Community
Anatomy Class 'More Memorable' With Knitted Eyeballs, Organs
One Year Later, Chicago Jeans Makers Size Up and Keep Humming Along