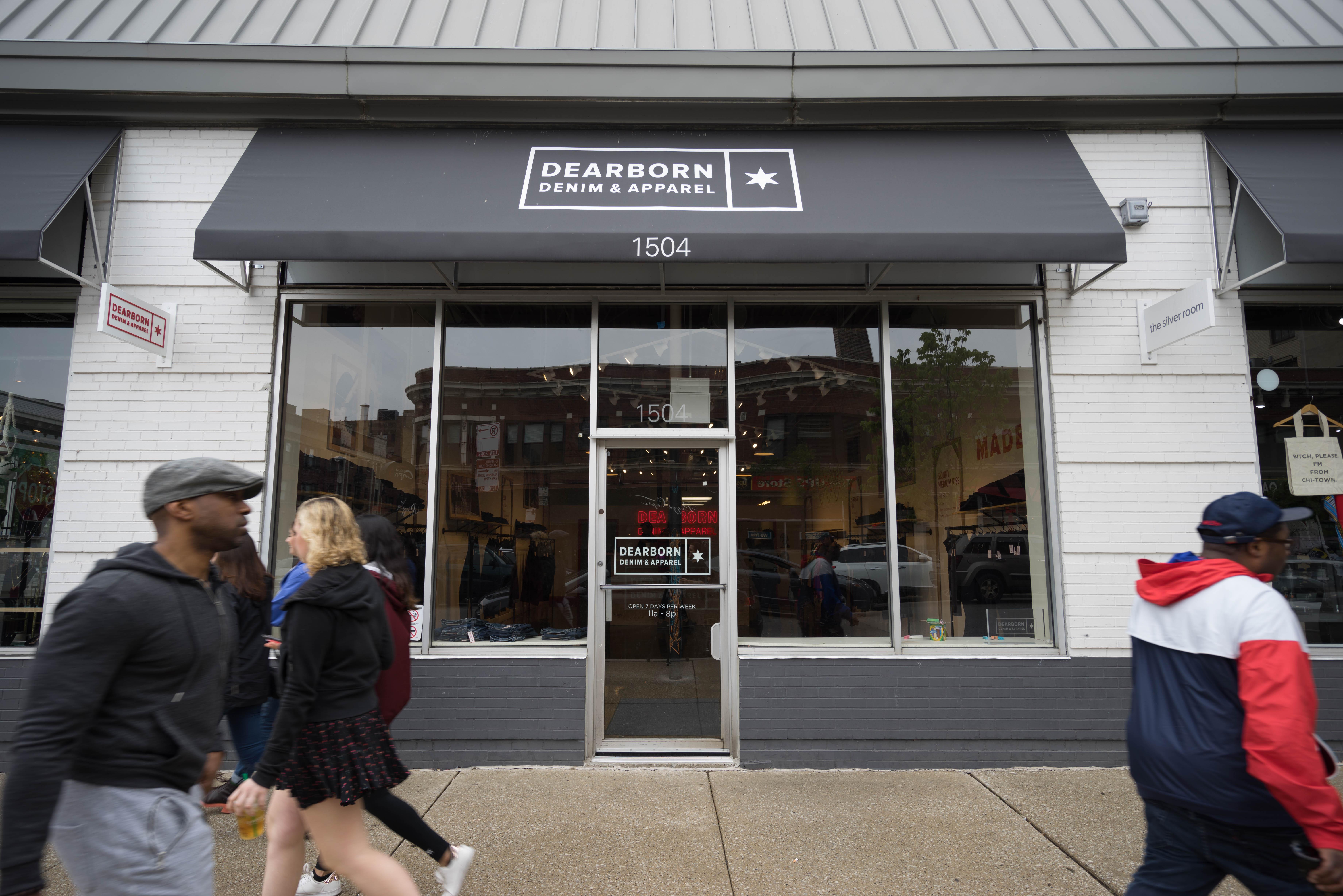 (Credit: Get it Got)
A year after launching their business making jeans in a Garfield Park factory, things are starting to look a little different at Dearborn Denim.
For one, prices have been hiked in order to fund production ramp-ups. Their jeans now start at $59 (they cost $49 a year ago). They've also increased their sewing staff – from six to 17 – and increased their product offerings. Perhaps most visibly, they've opened a retail location in Hyde Park.
Related: West Side Factory Aims to Beat the Pants Off Apparel Industry
While custom-hemming a pair of jeans at the Hyde Park store, Dearborn Denim CEO Rob McMillan explains the decision to open a retail outlet. "We're still primarily an ecommerce company, but only 15 percent of retail sales are done online. We're a Chicago company, so we thought we should have a retail store."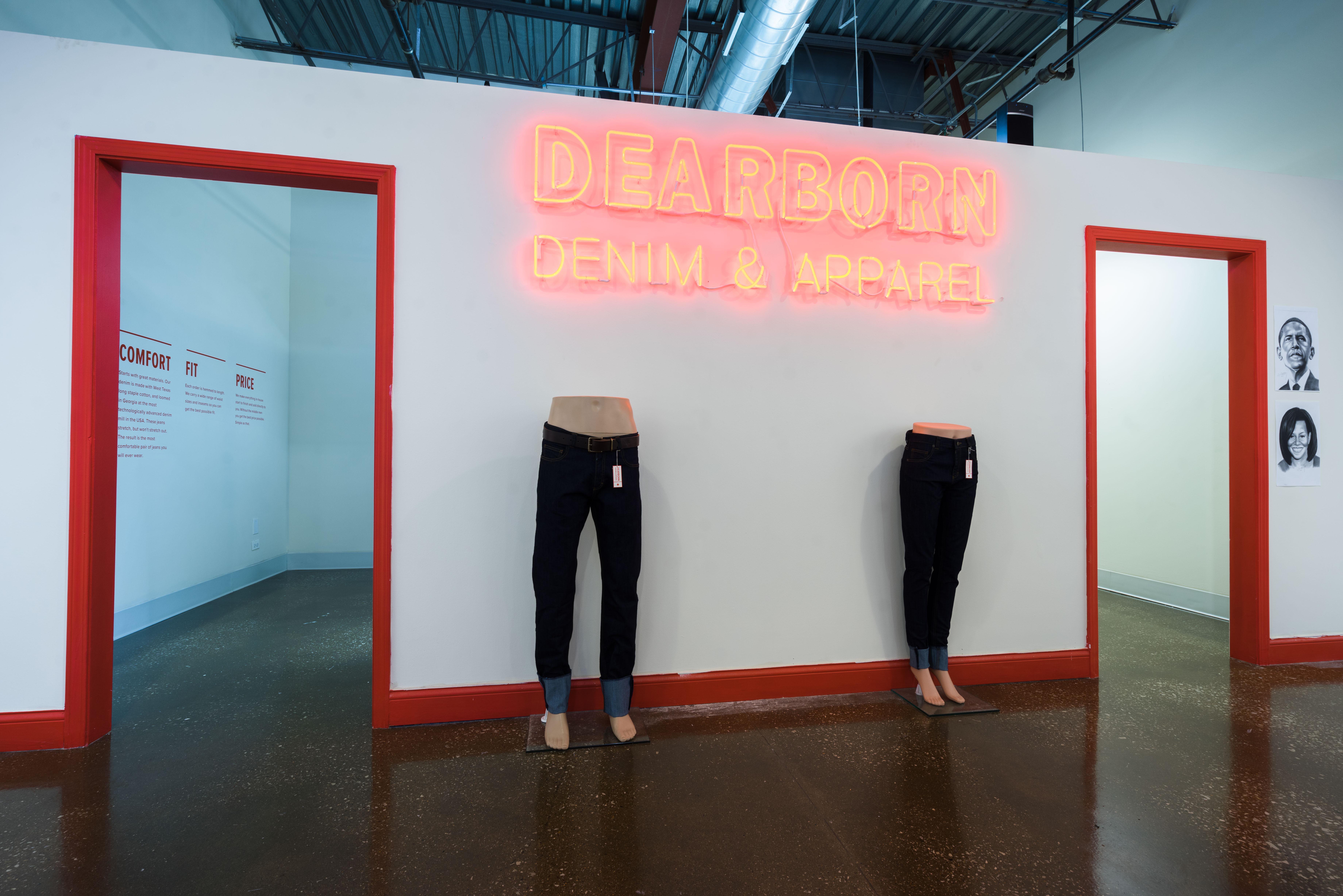 (Credit: Get it Got)
Kaleb Sullivan, head of retail, says that on-site hemming "is a draw because everyone's a different size. We always have a huge reaction from taller or shorter people."
Dearborn Denim is now offering different fit options and colors. "We have T-shirts coming in about two months, made from American-made materials in our factory. We've had new products designed and ready to go for a lot of things, but we don't have the production capacity," says McMillan. "I've got 17 people now, it's a good group. We were able to partner up with Refugee One and hired Syrian refugees who used to be tailors, so we're happy they're able to put that experience to work. But we still really need to invest in training people, so I'm working on that."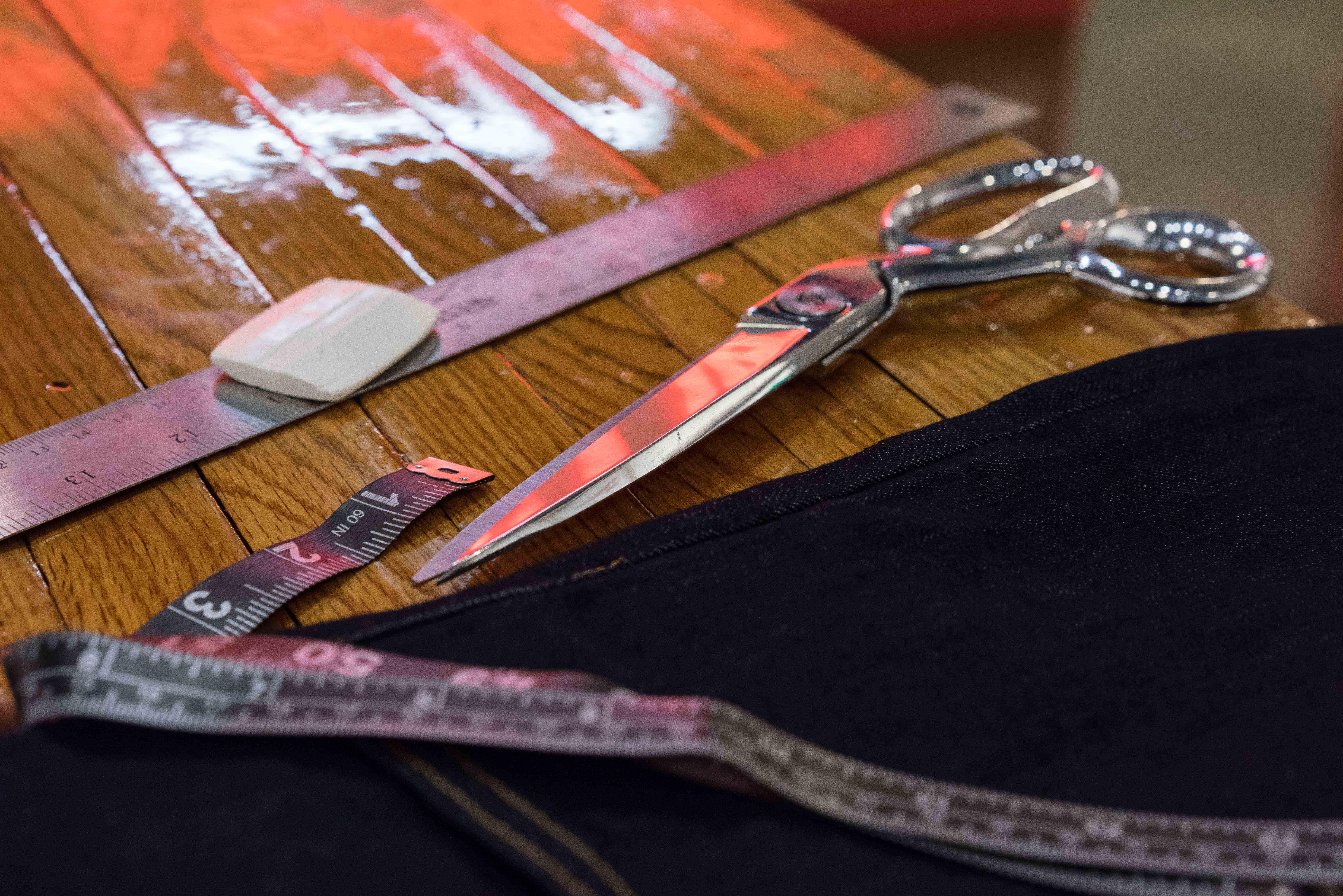 (Credit: Get it Got)
Asked if he's found Chicago to be a challenging environment for starting and growing his business, McMillan says, "I haven't had any problems starting a business in Chicago. I mean, we had to pass a fire inspection. We have to pay higher wages than elsewhere in the U.S., but we want to do that, so that's not a problem. And we pay above Chicago's minimum wage anyway. I really haven't found it to be especially difficult. Keep your head down and keep working, and good things come."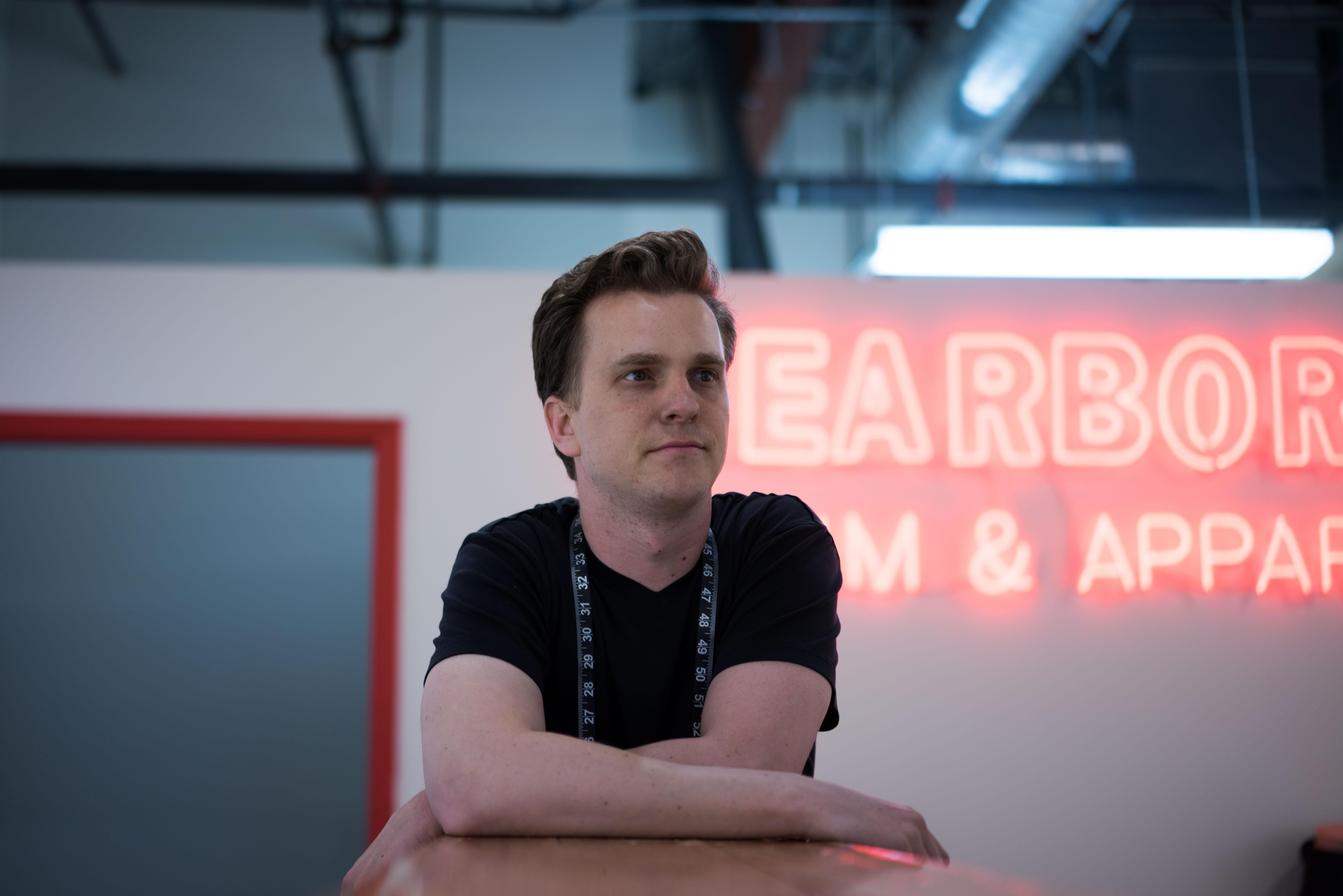 Dearborn Denim CEO Rob McMillan (Credit: Get it Got)
But that doesn't mean the company's growth has been seamless. Dearborn has struggled to scale up production to keep up with demand, and the textile mill that manufactured Dearborn's denim announced in December they were ending denim production. "They weren't selling enough denim, so they are closing own their denim manufacturing side, and focusing on advanced textiles. So we had to go out and find a new mill that could do the fabric we like so much. Our last delivery will hold us through May, roughly, and then we'll be onto our new mill's fabric. And [the new mill] for all intents and purposes, is the last denim manufacturer in the U.S. We're not their only customer, they're a big operation, but that's the last one. Since part of our thing is that our jeans are entirely made in the USA, and they're effectively a monopoly, that puts us at a pricing struggle. When we started out there were three mills, and then two closed within three months of each other. I did not foresee this as a problem," admits McMillan.
But, he says, that just makes McMillan think bigger. "Long term, my strategy has now shifted to, we have to get big enough to start our own mill. That's so far in the future, that's just me talking fancy … but aim high, right?"
---
Related stories: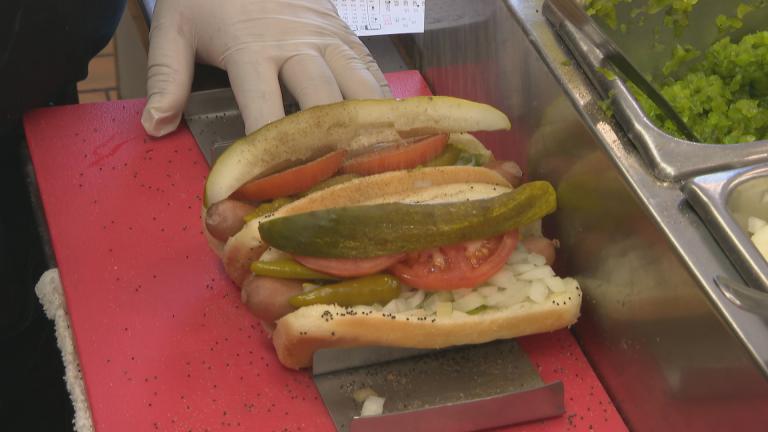 These Commercial Bread Bakeries Set the Stage for Chicago's Favorite Foods
Feb. 8: We have some fun on a bun in commercial bakeries that make the bread for two iconic Chicago foods.
---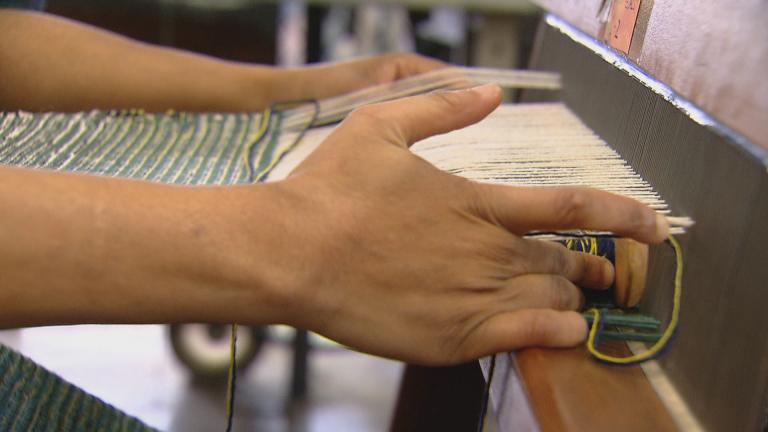 West Town Textile Studio Finds Common Threads with Community
Jan. 10: On Chicago's West Side, an artist-run production weaving mill and a social service agency work together to weave adults with intellectual disabilities into the fabric of their community.
---
West Side Factory Aims to Beat the Pants Off Apparel Industry
Feb. 28, 2017: We visit a small company in Garfield Park that is hoping to revive the Chicago apparel industry with a combination of American materials and immigrant know-how.
---