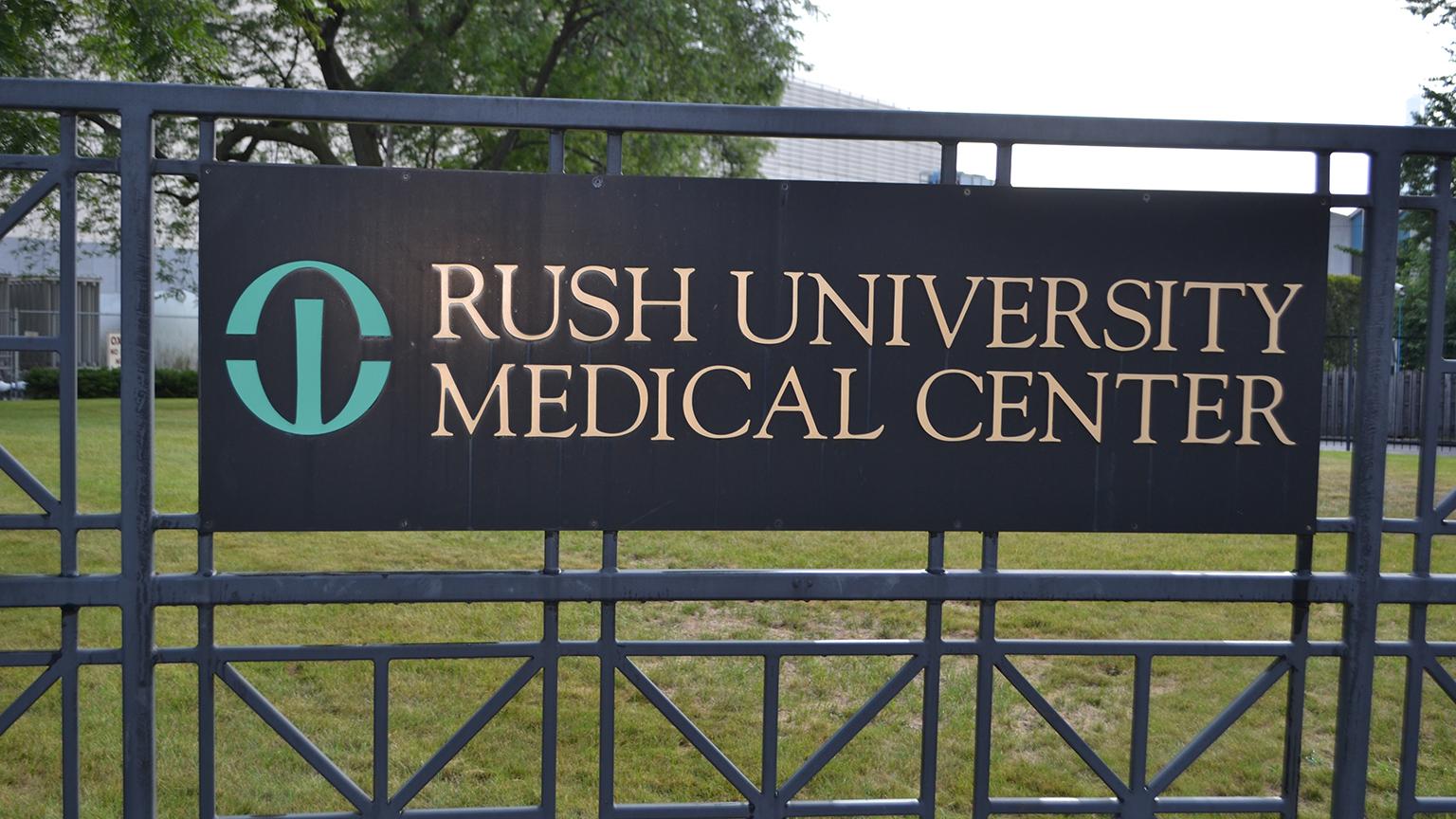 (Kristen Thometz / Chicago Tonight)
Rush University Medical Center has received a $5 million donation for cancer immunotherapy research from Chicago philanthropists Robert and Emily King.
"Our hope is that this gift will contribute to the momentum behind immunotherapy research and will result in a cure for certain kinds of cancers," said Robert King, who is being treated for brain cancer at Rush, in a statement. "That would be terrific and worth every bit of the money."
The donation is expected to increase much-needed early stage clinical trials at Rush over the next five years, according to a press release.
The Robert and Emily King Cancer Immunotherapy Research Program will complement current research efforts at Rush aimed at using immunotherapy, which is a relatively new way to treat cancer that is more targeted than traditional cancer treatments, such as radiation and chemotherapy.
"With nearly 2,000 immunotherapy trials in progress, this treatment form harnesses the body's capability to use its own powerful immune system effectively against cancer, a medical breakthrough recently celebrated with the Nobel Prize. The ability to offer these novel therapies requires capital and knowledge — infrastructure that the Kings' generosity will help Rush put in place," said Dr. Jochen Reiser, the Ralph C. Brown professor of internal medicine and chair of internal medicine at Rush, in a statement.
To date, immunotherapy has been most effective in tackling hematologic cancers, such as lymphoma, leukemia and myeloma. Immunotherapy has the potential to work across different cancer types and may be effective against even the most advanced and hard-to-treat cancers, but more research is needed. The donation will advance research that will initiate more phase 1 clinical trials that help bring new immunotherapy treatments to patients faster.
"The Kings' gift has the potential to have a huge impact," said Dr. Parameswaran Venugopal, director of the section of hematology at Rush, in a statement. "Rush physicians and patients get the benefit of novel therapies, and our research findings will be beneficial to the greater cancer community. Rush will be able to further the conversation with scientists across the globe as we seek to understand the full potential of immunotherapy."
The Kings' donation will also be used to establish and sustain an endowed professorship to support immunotherapy at Rush, and create a dedicated fund for nursing research and education in hematology.
"Nurses and nurse practitioners are the backbone of clinical trials," Venugopal said. "Specialized training in hematology for our nurses will benefit the immunotherapy program as we enroll and treat more patients."
The donation will support an immunotherapy nursing care symposium that will provide specialized training to nurses at Rush and other institutions.
"We did not want to leave out nurses because they're very important not just for treating patients but also for managing clinical trials," Emily King said in a statement. "Rush nurses' interpersonal skills and the way they have cared for Bob has been terrific.
"If we can combine nursing education with an increase in clinical trials and move just a little bit forward in the realm of immunotherapy research  — if we have the capacity to do it — we should offer to help."
Contact Kristen Thometz: @kristenthometz | [email protected] | (773) 509-5452
---
Related stories
Experts Revise Recommendations on Cervical Cancer Screenings
State Bill on Dense Breast Notifications Signed into Law
How Chicago Hospitals are Addressing the Opioid Epidemic
---