When Al Westerman's grandparents bought a farm in Northern Illinois in 1911, it came with a house, a barn and an apple orchard.
"In those days, nearly every homestead in our area had an apple orchard," Westerman said. "But over the years all those family orchards are gone." 
Westerman grew up on the farm. When he finished college in the mid-1970s, his father was ready to retire from farming. And Al Westerman had an idea.
"I wanted to establish an orchard that would reflect what it was like back in the 1900 era," he remembers. "So then I went out searching for apple trees."
Westerman has made it his mission to find and save old trees and bring them back to his farm. "So for the last 40 years, I've been driving all around looking for these old orchards," he said. When he sees an old tree, he asks the owner if he can take a cutting.
So far, Westerman has collected 124 types of apples. They have names like Hubberston Nonesuch, Pixie Crunch and Westfield Seek-no-further.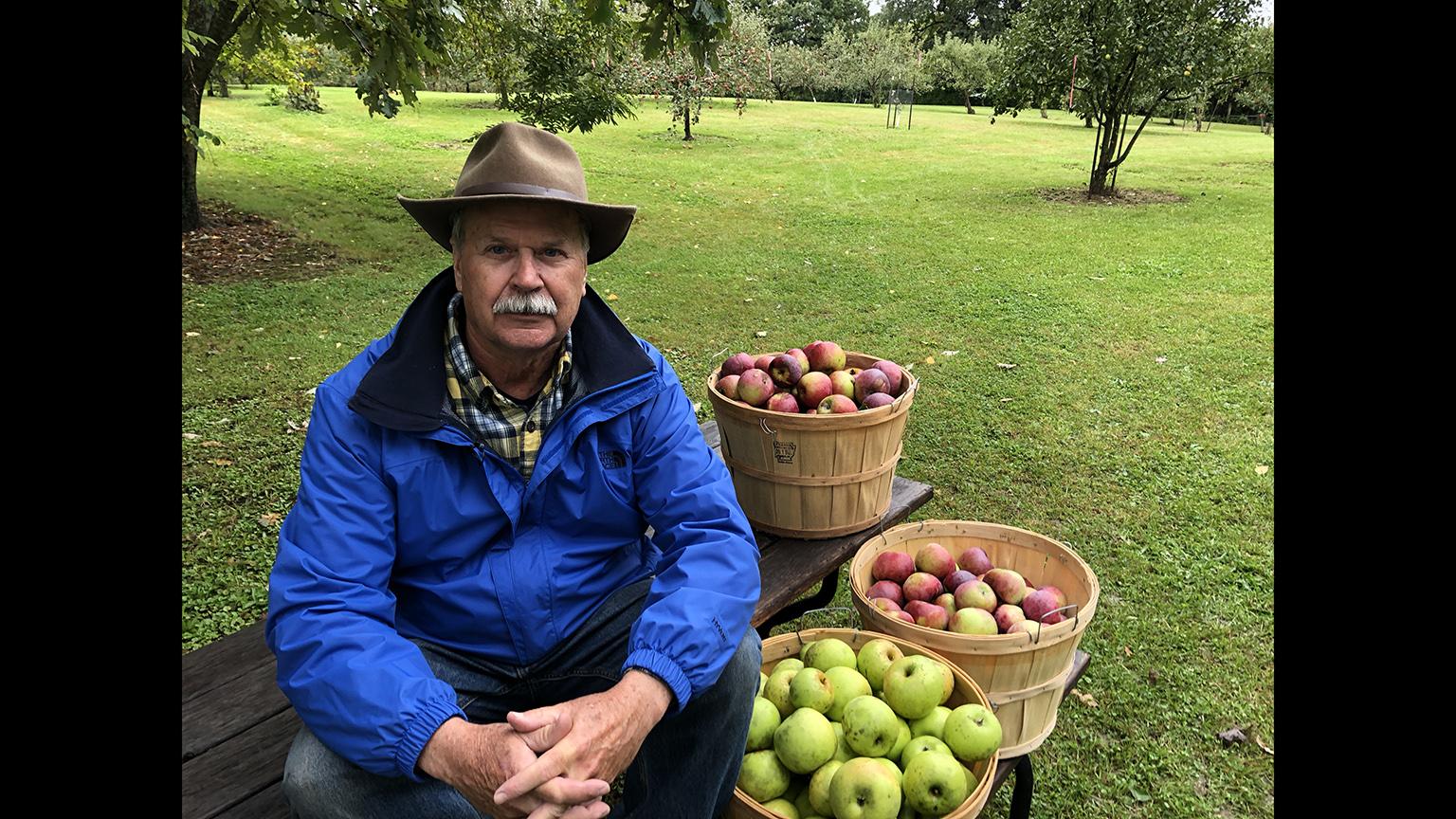 Al Westerman with three of the 124 apple varieties growing in his orchard. (Jay Shefsky / Chicago Tonight)
Westerman has had a lifelong love of trees of all kinds. He has a master's degree in forest pathology. He was a naturalist with the Lake County Forest Preserve, and later, its president. And for many years, he had a commercial tree nursery on the farm.
But identifying heirloom varieties of apples can be tough.  
"Some of them, I've never been able to identify," he said. "I've even sent them off to some of the experts and they weren't able to identify them."
Still, of the 124 varieties in his orchard, he has been able to name more than 100 of them.
Among all those apples, Westerman has a clear favorite, the King David apple. "Its flavor is unexcelled by any other apple that I know of. It's like having a glass of wine when you eat it," he said.
Unfortunately for the rest of us apple lovers, Westerman does not sell any of his apples. He gives some to friends and family and the rest go to food pantries.
Note: This story was first published Oct. 24, 2018. 
---
More from Jay Shefsky:
Mickey Alice Kwapis Wants You to Love Taxidermy As Much As She Does
Joel Paterson, Master of Classic Guitar Styles, Takes on the Beatles
As a Young Man, He Traveled with 'Railroad Tramps' and Documented Their Lives
---