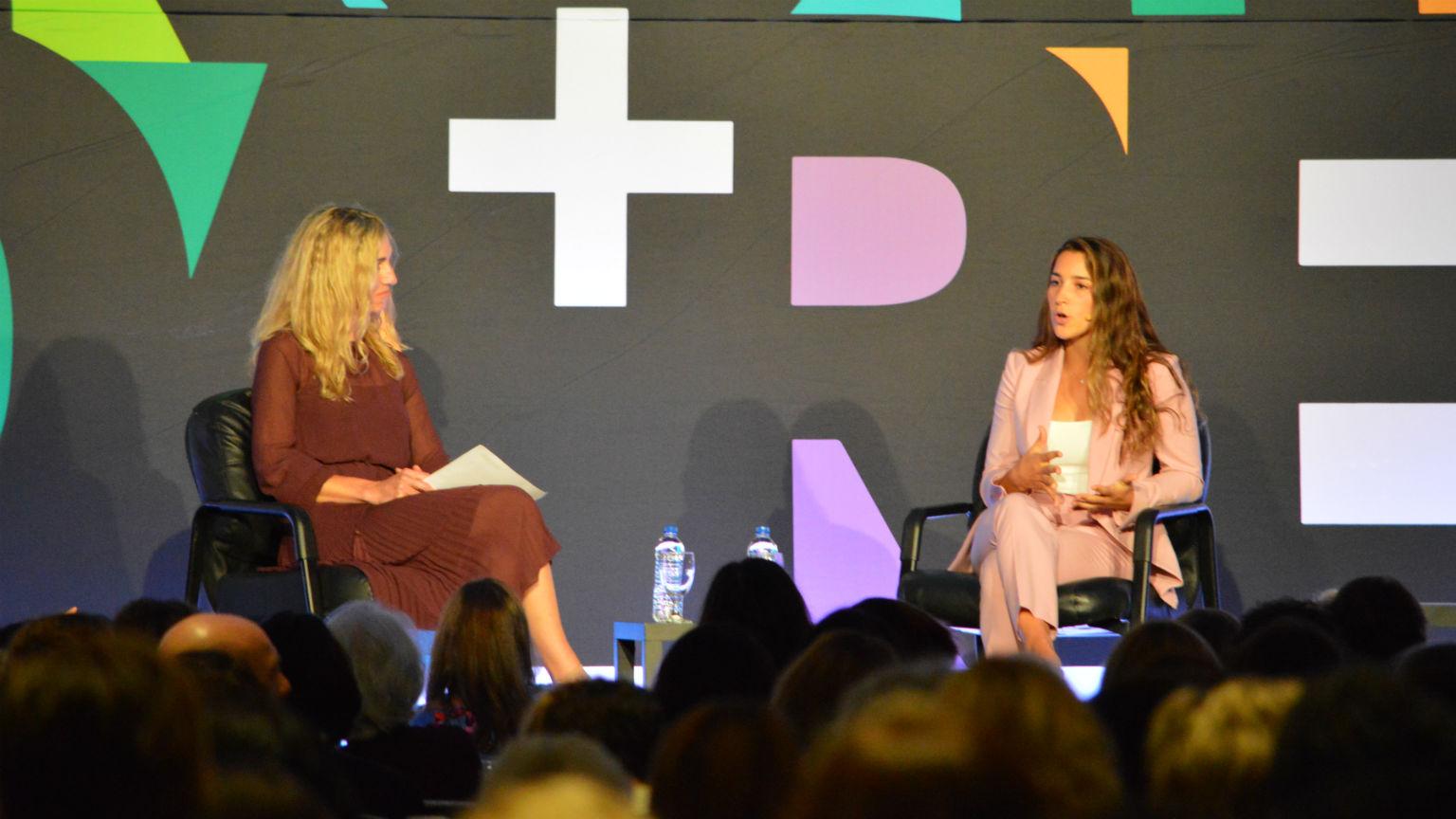 Olympic gymnast Aly Raisman, right, speaks with Chicago Tribune columnist Heidi Stevens on Tuesday, Sept. 18, 2018 during the Chicago Foundation for Women's 33rd annual symposium. (Kristen Thometz / Chicago Tonight)
Since the #MeToo campaign took social media by storm a year ago, stories of sexual abuse and harassment have come into focus – including those from public figures, celebrities and world-class athletes.
In January, Olympic gymnast Aly Raisman confronted her abuser, Dr. Larry Nassar, who worked as a doctor for U.S. Olympics and USA Gymnastics. Nassar was given a sentence of up to 175 years in prison in January after more than 150 women and girls said he sexually assaulted them over the past two decades.
Raisman says she first reported the abuse to authorities in 2015, but at that time she wasn't ready to speak publicly about it. "Everyone processes what they go through on their own and on their own time," she said Tuesday during the Chicago Foundation for Women's 33rd annual luncheon and symposium. "Some people might never feel comfortable coming forward."
As survivors of sexual abuse and harassment become empowered to share their stories – sometimes years or even decades later – Raisman hopes they're treated with empathy.
"When someone comes forward, don't assume that they are making it up. Actually listen to them, hear their story and understand how common abuse is and be empathetic to what they've been through because we've all been through something," Raisman said. 
One of the reasons survivors delay coming forward – or never come forward at all – is out of fear they won't be believed, Raisman said. "It's horrible to be abused and imagine not being believed," she said. "It's very bizarre to me that for some people their first reaction is to stick up for an abuser of a survivor. It doesn't make sense to me. But I wish we lived in a world where people were afraid to not report the abuse rather than afraid to report it."
But Raisman said survivors shouldn't be bullied into coming forward, and that people should be more mindful when sharing their opinions, especially on social media. "There's a difference between respectfully disagreeing with someone and being unkind to them on Twitter and social media," she said. "Some people are so unnecessarily mean. You weren't there for that woman's experience. … You don't have all the information."
Raisman stressed the need for continued conversations and education. "It drives me nuts that I have to sit up here and explain to people to keep your hands to yourself and be respectful. I don't understand why everyone doesn't get that and why it's such a battle," she said.
Raisman acknowledged that "men are not the problem," and that men and boys have been victims of abuse and that women have been accused of abuse as well. She encouraged everyone who has been through something to tell someone about it. "If that person doesn't listen, there are others who will," she said.
Contact Kristen Thometz: @kristenthometz | [email protected] | (773) 509-5452
---
Related stories
New Law Aims to Improve Medical Care for Sexual Assault Survivors
'That's Not Where it Hurts': Gymnast's Former Coach Under Investigation for Sexual Abuse
UIC Cutting Men's and Women's Gymnastics Teams
---