Police dashcam footage captured the shooting of Laquan McDonald, center, on a South West side street in 2014.
It's been nearly four years since Chicago police Officer Jason Van Dyke shot and killed teenager Laquan McDonald in the middle of a Southwest Side street.
The high-profile case has dominated headlines, sparked political upheaval and remained entrenched in the public consciousness years after the shooting and subsequent criminal charges. Police initially said McDonald had lunged at officers, but dashcam video published more than a year later showed he was actually walking away from Van Dyke when the officer opened fire. (See a full timeline of events here.)
Van Dyke now faces murder charges in McDonald's death. With jury selection slated to begin this week, here are the key names to know before the trial gets underway.
Jason Van Dyke
Jason Van Dyke (Antonio Perez / Chicago Tribune / Pool)
A member of the Chicago Police Department since 2001, Jason Van Dyke is currently suspended without pay and has worked as a janitor for the Fraternal Order of Police at its union headquarters since 2016.
Van Dyke is a native of Hinsdale, Illinois, and a graduate of Chicago's St. Xavier University. He is married and has two children.
On the night of Oct. 20, 2014, Van Dyke was among a handful of officers responding to a report of a teen carrying a knife and burglarizing trucks near 41st Street and Kildare Avenue in the Archer Heights neighborhood. Van Dyke and his partner confronted the suspect, 17-year-old Laquan McDonald, as the teen walked along South Pulaski Road nearby.
Shortly after arriving, Van Dyke fired 16 shots at McDonald, killing him. No other officer on the scene fired a shot.
During his career, Van Dyke has been the subject of 20 civilian complaints, ranging from verbal abuse and operation violations to illegal searches and use-of-force issues. Half of those complaints were either not sustained or deemed unfounded and Van Dyke had never been disciplined by the department prior to the McDonald shooting.
He is charged with first-degree murder as well as official misconduct and 16 counts of aggravated battery – one count for each bullet fired at McDonald. It is believed Van Dyke's attorneys will claim he acted in self-defense and argue the shooting was justified.
Laquan McDonald
Born in 1997 on the West Side of Chicago, Laquan McDonald turned 17 years old just a month before he was fatally shot by Jason Van Dyke.
McDonald lived a short, troubled life, moving between multiple homes and schools as a boy, and bouncing in and out of juvenile centers for petty crimes and drug use as a teen. Juvenile court records show he became a ward of the state at age 3, but would later live under the care of his mother, Tina Hunter, and then his great-grandmother.
McDonald suffered from learning disabilities and was diagnosed with post-traumatic stress disorder, according to the Chicago Tribune. He was enrolled at Sullivan House High School, a public charter school in Avalon Park, at the time of his death and was described by those close to him as friendly and funny.
He had the hallucinogenic drug PCP in his system the night he died, according to his autopsy, and was armed with a three-inch knife as he wandered along South Pulaski Road on Oct. 20, 2014. After attempting to burglarize vehicles in a truck yard, McDonald slashed at a police patrol vehicle and ignored repeated demands to drop his weapon, according to police.
The release of police dashcam footage of the shooting – which showed McDonald walking away from Van Dyke before shots were fired – sparked widespread protests throughout Chicago more than a year after the teen's death.
Judge Vincent Gaughan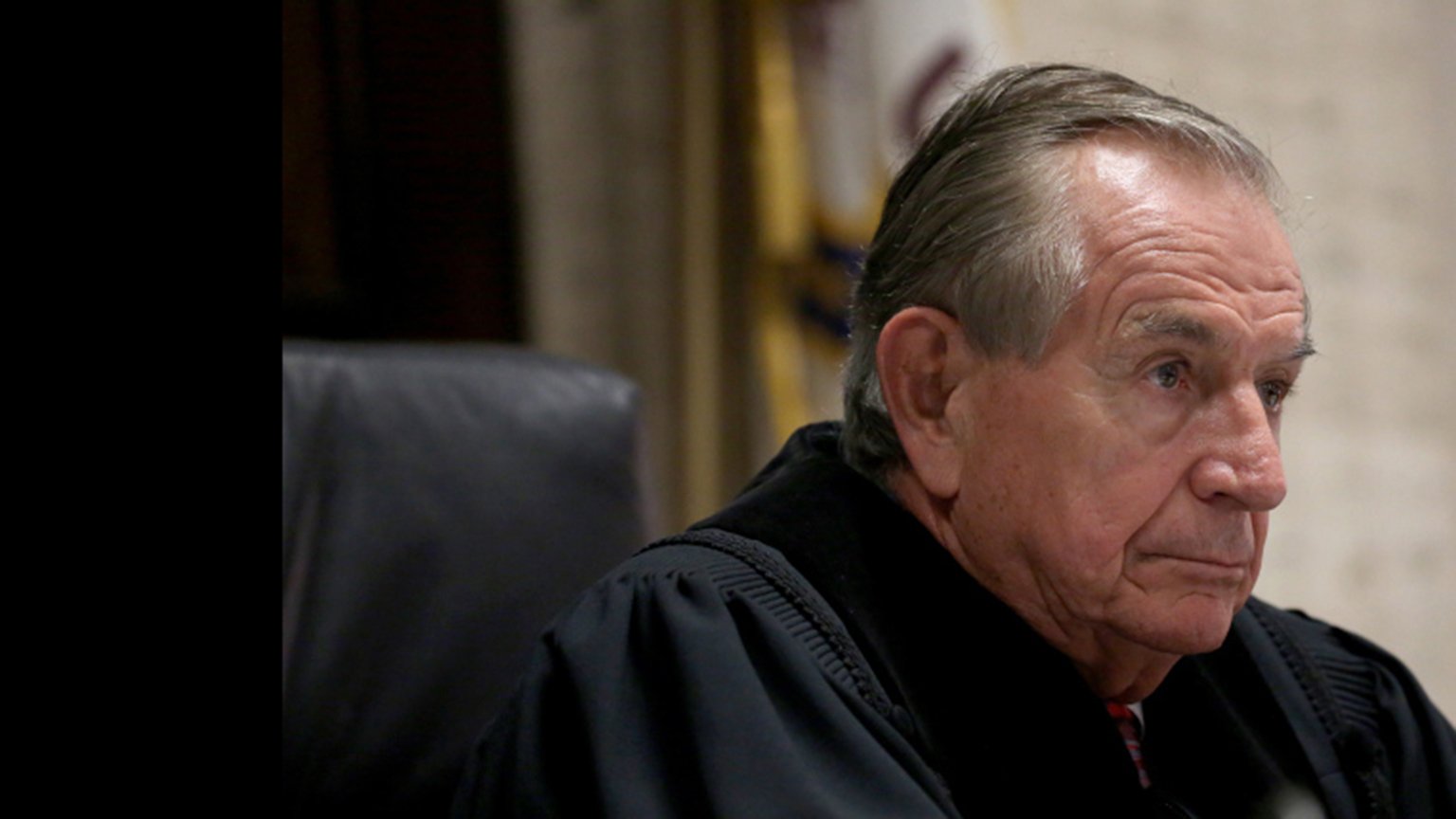 Judge Vincent Gaughan (Nancy Stone / Chicago Tribune / Pool)
Cook County Criminal Court Judge Vincent Gaughan will preside over Jason Van Dyke's murder trial.
A veteran judge who has sat on the bench for more than 25 years, Gaughan, 77, has extensive experience in high-profile criminal cases – most notably the trials of two suspects in the Brown's Chicken massacre and the child pornography case against hip-hop artist R. Kelly.
A Vietnam War veteran, Gaughan is known both for his strict courtroom demeanor and secretive dealings during cases. He had previously withheld almost all court filings from public view in the Van Dyke case, requiring attorneys to file motions and other documents in his chambers. The Illinois Supreme Court eventually put a stop to that practice, which Gaughan said was necessary to ensure Van Dyke receives a fair trial.
Gaughan still regularly holds "informal case management" discussions with attorneys on the Van Dyke case in his chambers behind closed doors, away from both the public and the media.
Joseph McMahon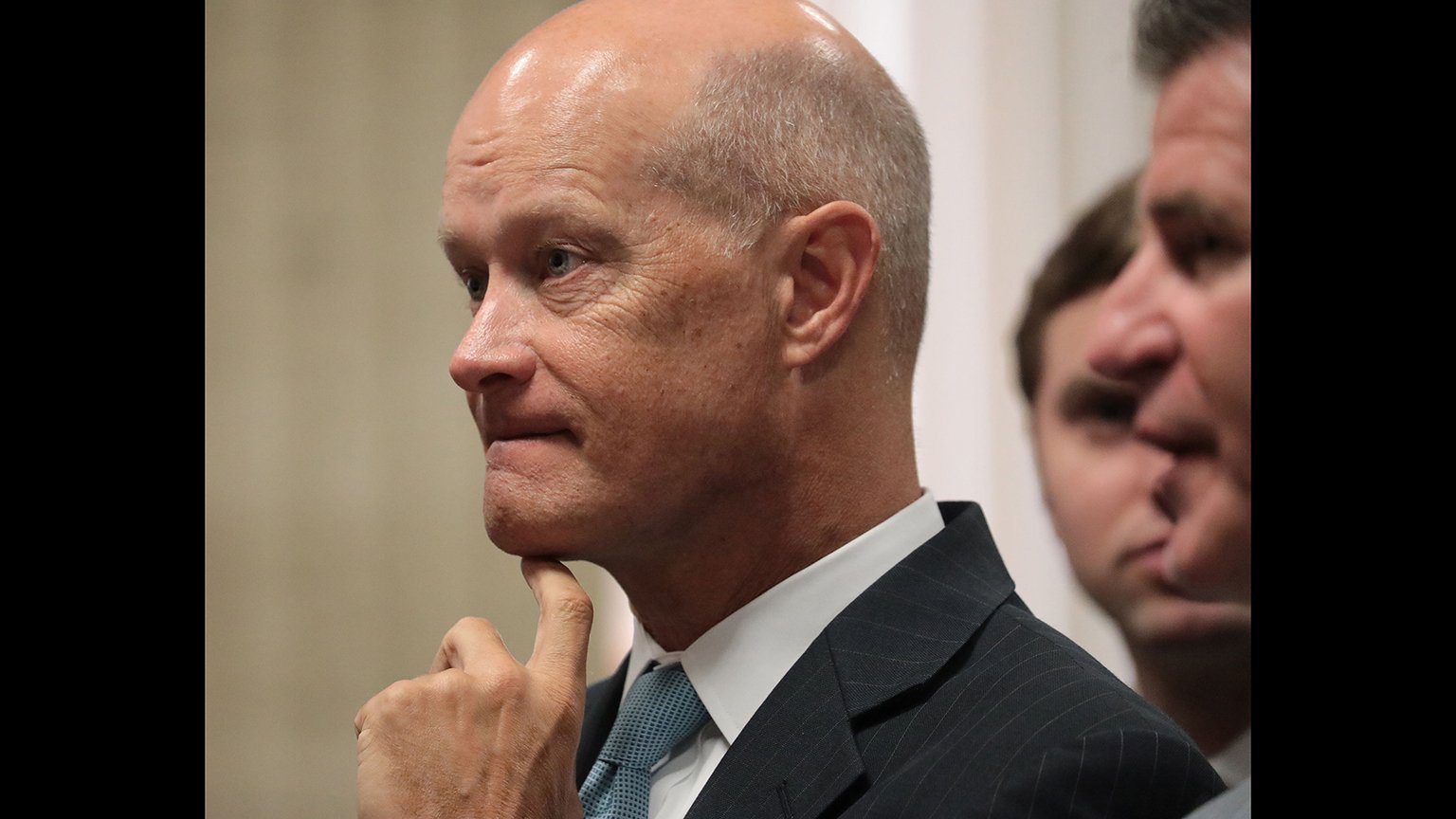 Joseph McMahon (Antonio Perez / Chicago Tribune / Pool)
Kane County State's Attorney Joseph McMahon and his team were appointed as special prosecutors in the Van Dyke case more than two years ago.
McMahon, 52, was born in Carpentersville, Illinois, and attended both the University of Iowa and the John Marshall Law School in Chicago. He first began working in the Kane County State's Attorney's Office in the early 1990s and became its top prosecutor in 2010. He has previously prosecuted Elgin police in cases involving identity theft, obstruction of justice and theft, according to the Daily Herald.
Then-Cook County State's Attorney Anita Alvarez first brought charges against Van Dyke in 2015. But after she was voted out of office the following spring, she recused her office from the case and requested a special prosecutor be named in her stead.
Judge Gaughan appointed McMahon to that role in August 2016.
Daniel Herbert
Daniel Herbert, center. (Antonio Perez / Chicago Tribune / Pool)
A former police officer, Daniel Herbert has served as Jason Van Dyke's defense attorney since criminal charges were filed in 2015.
A North Side native, Herbert began his career as a Chicago police officer in 1991. During his time there he also studied at Lewis University and the DePaul University College of Law. He worked as an officer for a decade before moving to the Cook County State's Attorney's Office, where he worked as a prosecutor for more than four years.
Herbert left that office in 2005 and became an attorney for the Chicago Fraternal Order of Police before entering private practice and opening The Herbert Law Firm in 2008. He told the Chicago Reader last year that the Van Dyke case represents his first-ever murder trial.
His father was also a police officer. Herbert says he was named after his dad's first partner, Daniel Quinnan, a patrolman who was fatally shot in the line of duty during an armed robbery in 1966.
Tina Hunter
Tina Hunter (Courtesy WGN News)
The mother of Laquan McDonald, Tina Hunter was the recipient of a $5 million settlement from the city of Chicago stemming from her son's death.
Hunter was 15 when she gave birth to McDonald. She has avoided the public eye since the shooting and has not spoken about it publicly.
What role, if any, Hunter has in the trial remains to be seen. She had previously dodged defense subpoenas calling her to testify about McDonald's "violent and aggressive nature" – evidence that could be used in support of Van Dyke's claim of justification.
She finally appeared at a pretrial hearing in September after Judge Gaughan threatened to bar her from attending the trial is she didn't show. But the courtroom was sealed from the public before she offered any testimony and it's unclear if she will be called as a witness at trial.
Get full coverage of the trial. Below, a timeline of events. (Back to top.)
Contact Matt Masterson: @ByMattMasterson | [email protected] | (773) 509-5431
---
Related stories:
A Timeline of the Laquan McDonald Shooting
Van Dyke Case: McDonald's Mother Must Appear in Court or Face Trial Ban
Van Dyke Case: Trial Venue Won't Be Decided By New Judge
Van Dyke Case: Defense Believes Judge Too 'Prejudiced' to Decide Trial Venue
Van Dyke Case: Defense Seeking New Trial Venue, But Request a Tall Order
Van Dyke Case: Citing 'Serious Safety Concerns,' Judge Seals Courtroom for Witness Testimony
---