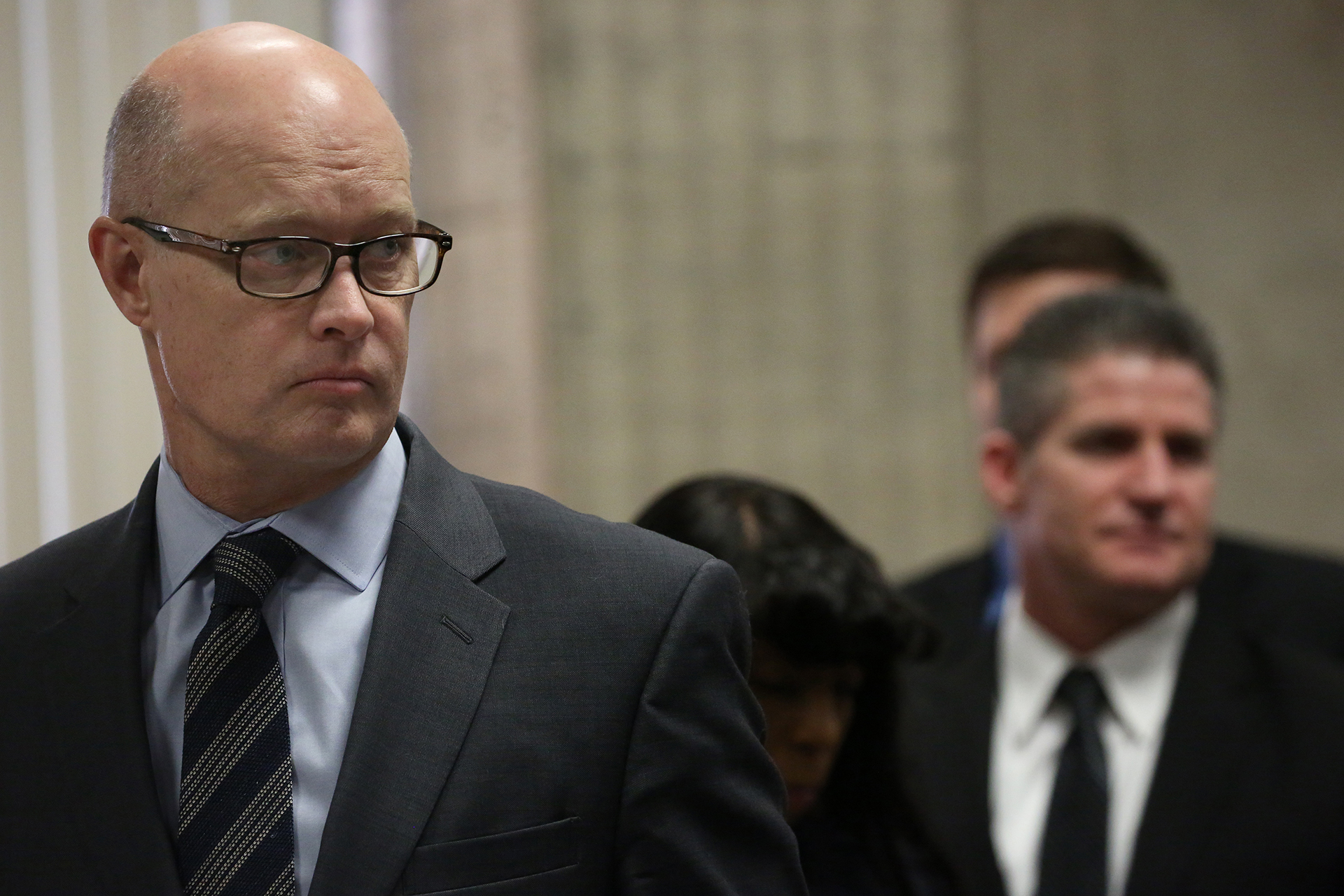 Special prosecutor Joseph McMahon, left, and defense attorney Daniel Herbert approach the bench at a hearing for Jason Van Dyke hearing at the Leighton Criminal Court Building in Chicago on Thursday, March 8, 2018. (Nancy Stone / Chicago Tribune / Pool)
Special prosecutors in the upcoming Jason Van Dyke murder trial say the suspended Chicago police officer should be held in jail on increased bond after they say he violated a judge's order to remain silent about the case.
Kane County prosecutors in a motion filed Thursday say Van Dyke should be held in contempt after he gave two public interviews with local media this week, which they say violated Cook County Judge Vincent Gaughan's decorum order.
By speaking publicly about the case and how he felt about the shooting of teenager Laquan McDonald, special prosecutor Joseph McMahon claims Van Dyke "engaged in conduct calculated to embarrass, hinder, or obstruct the court in its administration of justice."
Van Dyke has been out on bail since Nov. 30, 2015, a week after he was charged in McDonald's death, when his father posted 10 percent of the officer's $1.5 million bond.
Read the prosecutor's motion here
But prosecutors now say Van Dyke violated a court decorum order that forbids prosecutors, defense attorneys and Van Dyke himself from speaking out about the case in public, following a pair of on-the-record interviews held this week with local media.
Van Dyke spoke with reporters from the Chicago Tribune, and later Fox 32 News, breaking what had been a yearslong silence since he was first charged in McDonald's death.
In the interviews, Van Dyke stated that he came home after the shooting and sat "in the shower until the water went cold," that he was a "political scapegoat" and the victim of social media scorn, and that he fears a long prison sentence if convicted. He also talked about his state of mind during the shooting.
"I never would have fired my gun if I didn't think my life was in jeopardy or another citizen's life was," he told Tribune reporters.
In his memo, McMahon states the court has the authority to revoke or increase Van Dyke's bond if prosecutors can prove his statements constitute a "breach by a criminal defendant of any condition of his bail bond."
Van Dyke's attorneys called this request an "egregious abuse of power" and claim he was only trying to exercise his First Amendment rights by speaking out.
"Mr. Van Dyke was very careful not to discuss evidence in the case or the shooting itself in his interviews," lead defense attorney Daniel Herbert said in a statement Thursday. "He expressed his personal feelings, the impact this had had on his family and his hope that protests will be peaceful and no one will be hurt in the city."
Herbert said Van Dyke fears for his life and the safety of his family due to "constant threats" and that he believed the Tribune interview could be "his only opportunity to express his feelings."
Van Dyke is charged with first-degree murder in the death of McDonald, who he shot 16 times as the teen walked along a Southwest Side road carrying a knife in October 2014.
A hearing to discuss the prosecutor's motion will be held Saturday morning. Jury selection in the trial is scheduled to begin next Wednesday.
Below, a timeline of events following the October 2014 shooting.
Contact Matt Masterson: @ByMattMasterson | [email protected] | (773) 509-5431
---
Related stories:
Van Dyke Case: People to Know in the High-Profile Murder Trial
A Timeline of the Laquan McDonald Shooting
Van Dyke Case: Trial Venue Won't Be Decided By New Judge
Van Dyke Case: Defense Believes Judge Too 'Prejudiced' to Decide Trial Venue
Van Dyke Case: Defense Seeking New Trial Venue, But Request a Tall Order
Van Dyke Case: Citing 'Serious Safety Concerns,' Judge Seals Courtroom for Witness Testimony
---