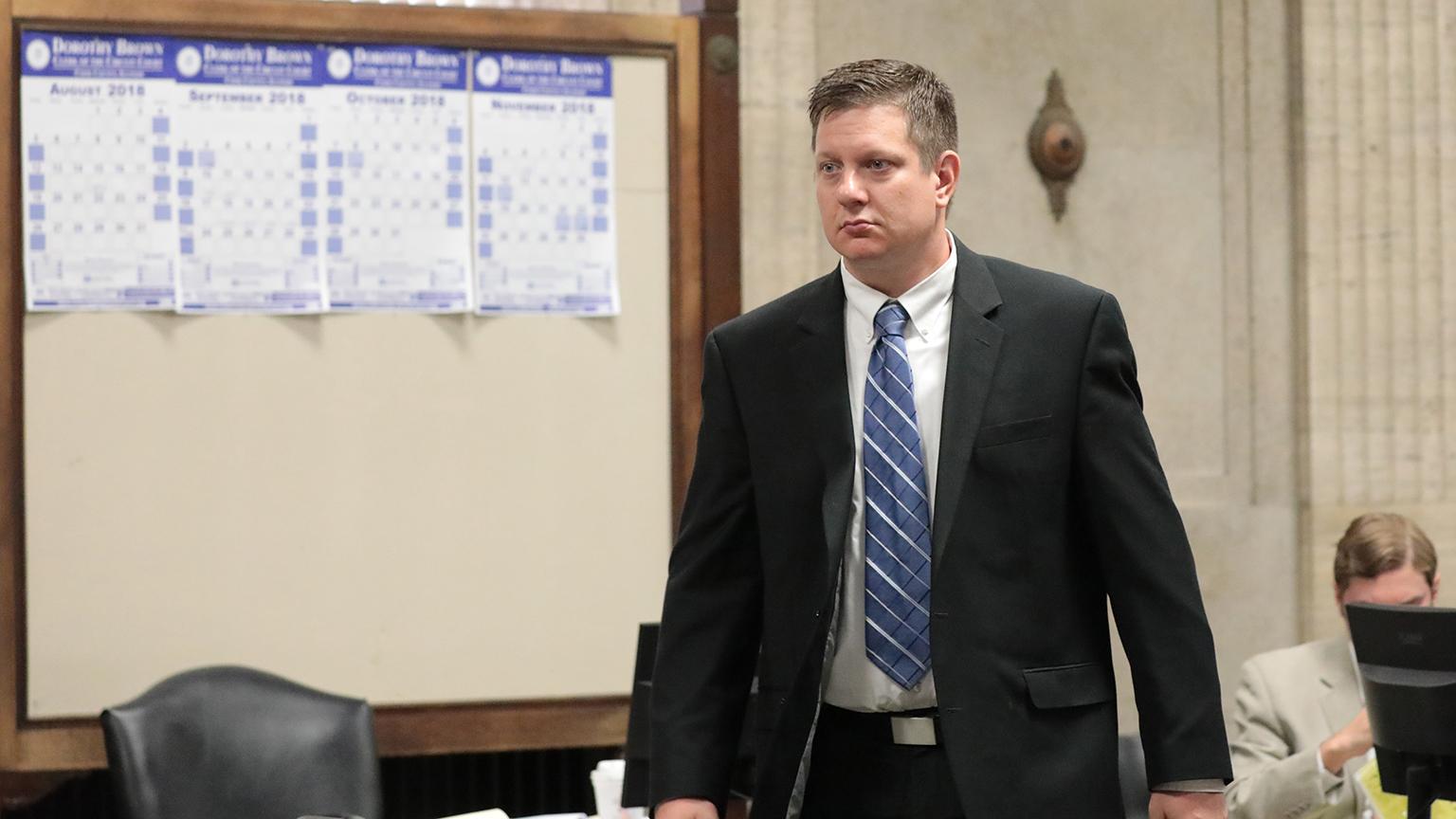 Chicago police Officer Jason Van Dyke approaches the judge's bench at a hearing for the shooting death of Laquan McDonald, at the Leighton Criminal Court Building on Wednesday, Aug. 15, 2018. (Antonio Perez / Chicago Tribune / Pool)
Prosecutors in the murder trial of Chicago police Officer Jason Van Dyke will be allowed to refer to teenager Laquan McDonald's death as a homicide, but a judge has barred them from referring to him as a "victim" during arguments.
Attorneys debated nearly two dozen defense motions during a Tuesday morning hearing regarding specific evidence and testimony Van Dyke's defense team has sought to keep out of the high-profile murder trial.
Among those motions were defense requests to bar special prosecutors from referring to McDonald – who was shot 16 times – as a "victim" or to his death as a "homicide."
In allowing the latter, Cook County Judge Vincent Gaughan said the medical examiner's autopsy specifically uses the word "homicide" in reference to the manner of McDonald's death. But because the defense will likely argue Van Dyke fired the shots in self-defense, Gaughan ruled prosecutors may not refer to McDonald as a victim with the potential exception of closing arguments.
"Here we have the defense of self-defense," Gaughan said. "So if it's justified use of force, then there is no victim. Certainly there is a person that is dead as a result of this tragic situation, but that doesn't mean that the person is a 'victim' legally."
Prosecutors are also barred from specifically referencing a police "code of silence" and cannot to bring up previous citizen complaints made against Van Dyke in his career as an officer.
They will, however, be allowed to present evidence of spent shells and metal fragments recovered at the scene of the shooting and discuss the state of mind of Van Dyke and other officers at the scene who did not immediately provide McDonald first aid as he lay on the ground after the shooting.
Van Dyke is charged with first-degree murder and 16 counts of aggravated battery in McDonald's death. The teen was shot 16 times as he walked along South Pulaski Road in October 2014 after Chicago police received reports he was carrying a knife and attempting to break into trucks near 41st Street and Kildare Avenue.
The incident was captured on a police dashcam, which showed McDonald walking away from Van Dyke just before the shooting, contradicting initial police reports that he had lunged at the officer.
Defense attorney Randy Rueckert also sought to bar prosecutors from arguing that on the night of his death, McDonald did not commit a forcible felony – meaning a crime under state law that justifies use of deadly force. He argued McDonald committed burglary and attempted to flee police with a deadly weapon, making the shooting a justifiable homicide.
"He was in a truck, that's what started this whole thing," Rueckert said. "A guy saw him in the truck attempting to steal something and called the police. Burglary is a forcible felony."
Gaughan delayed ruling on that request.
During the upcoming trial, prosecutors will likely focus on the dashcam footage, which they called a "central piece of the evidence in the case." They'll present versions of that video that are slowed down or include markers highlighting McDonald's movements and injuries. They'll also seek to introduce some 600 photos to the jury, some of which include entry and exit wounds on McDonald's body.
The trial is scheduled to begin Sept. 5. Attorneys are due back in court Thursday morning where they may hear testimony from McDonald's mother Tina Hunter.
Below, a timeline of events related to the shooting.
Contact Matt Masterson: @ByMattMasterson | [email protected] | (773) 509-5431
---
Related stories:
Van Dyke Case: McDonald's Mother Must Appear in Court or Face Trial Ban
Van Dyke Case: Trial Venue Won't Be Decided By New Judge
Van Dyke Case: Defense Believes Judge Too 'Prejudiced' to Decide Trial Venue
Van Dyke Case: Defense Seeking New Trial Venue, But Request a Tall Order
Van Dyke Case: Citing 'Serious Safety Concerns,' Judge Seals Courtroom for Witness Testimony