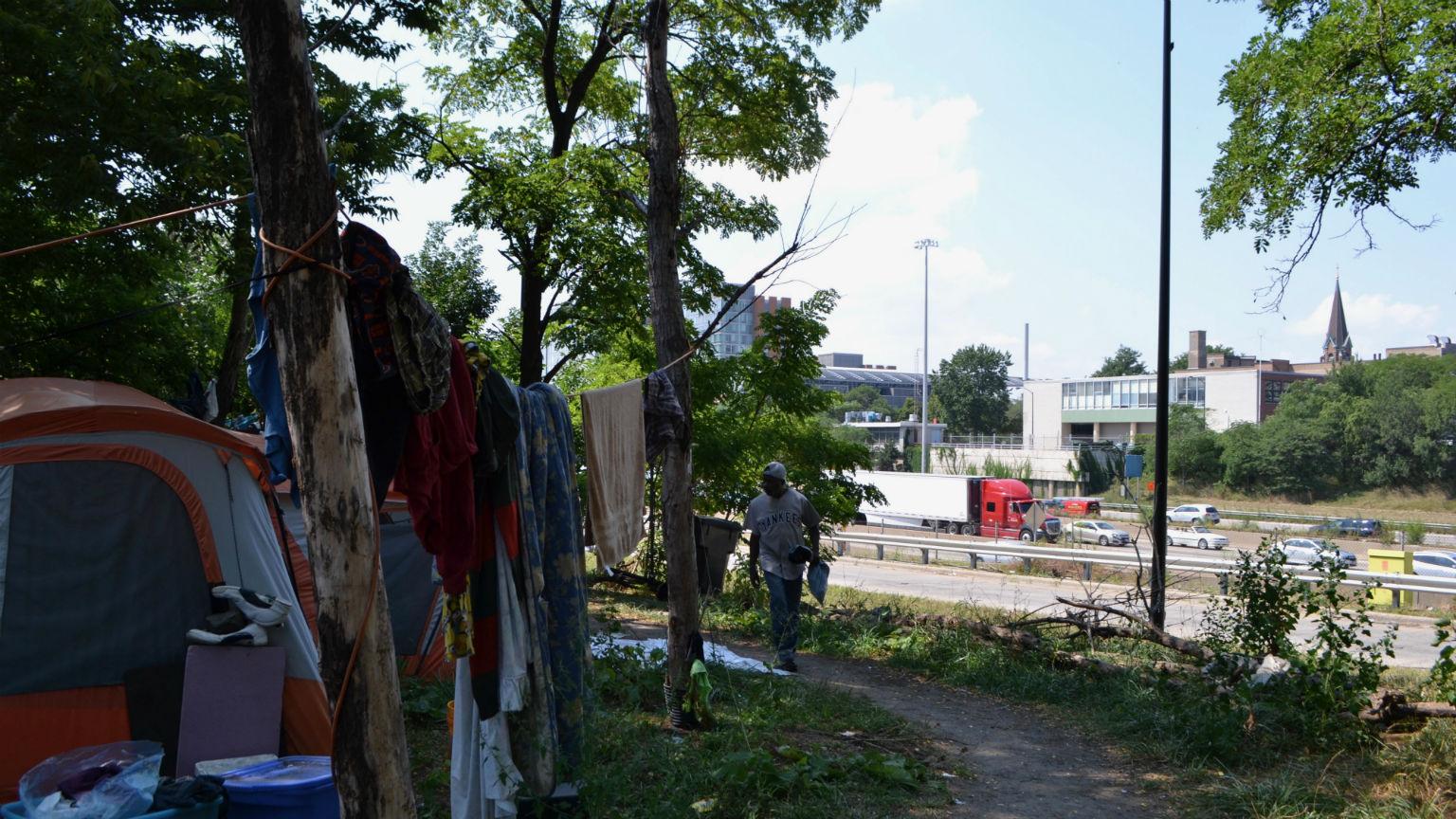 (Kristen Thometz / Chicago Tonight)
Just east of the roaring Dan Ryan Expressway, in an undeveloped patch of trees and grass along DesPlaines Street north of Roosevelt Road, exists a community where dozens of people have set up shelters with tents and blankets.
"It's an interesting situation," said Mark Lightfoot, a senior mental health service provider at Heartland Alliance Health, as a van filled with outreach coordinators made its way to the encampment Friday morning. "It's a bad situation, but they're making it work for them with limited resources."
Heartland Alliance Health staff began visiting the area about six months ago after a colleague spotted the tents from the street on their way to work.
The encampment spans roughly two blocks and houses between 20 and 25 people, according to HAH staff. (Those living in the encampment say as many as 40 people stay there, depending on the day.)
HAH staff visit the area monthly to provide people living there with toiletries, gift cards and hygiene kits, among other items. They also work on connecting those who are experiencing homelessness with housing.
"They want a place to live, and we get to help them with that," said Chris Robinson, manager of the HAH outreach team.
Don Gorobegko says he "opened" the camp. He's been living there off and on for the past seven years, he said, but has resided there consistently since last July. "It was just me," he said. "One morning I woke up and there were other people here."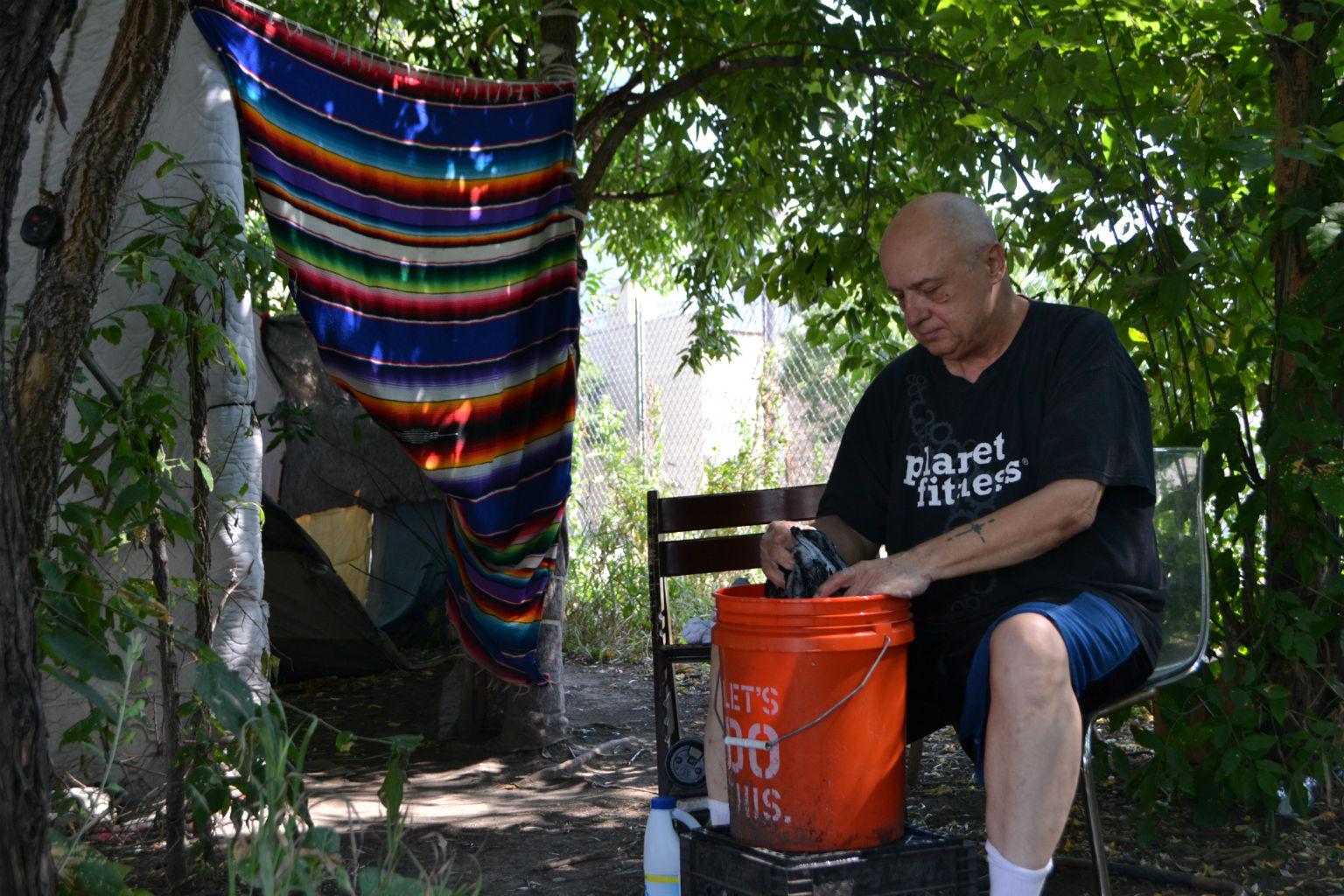 Don Gorobegko washes clothes Friday, Aug. 10, 2018, in a homeless encampment along DesPlaines Street. (Kristen Thometz / Chicago Tonight)
Sandra Gibson is newer to the area. She says she arrived in April after being forced out of an area near the Old Post Office. "I know other people here," she said. "It's like family."
Maurice Patton, who's lived in the area for four years, agrees. "Everybody knows each other and takes care of each other and shares information," he said. "We look out for each other."
Like others in the camp, Gibson and Patton would like a place to call home. "I don't want to be here," said Gibson, who is working with HAH to secure housing. Patton filled out paperwork with Lightfoot on Friday to begin the housing process.
A representative from the Chicago Department of Family and Support Services, or one of its delegate agencies, visits the site weekly to provide those interested with information about shelters, as well as transportation to those shelters, said Cristina Villarreal, DFSS communications director.
While DFSS says it's working to build relationships with the community, Gorobegko said he doesn't want to go to a shelter and expressed mistrust of city employees visiting the site. "The government wants us out of here," he said.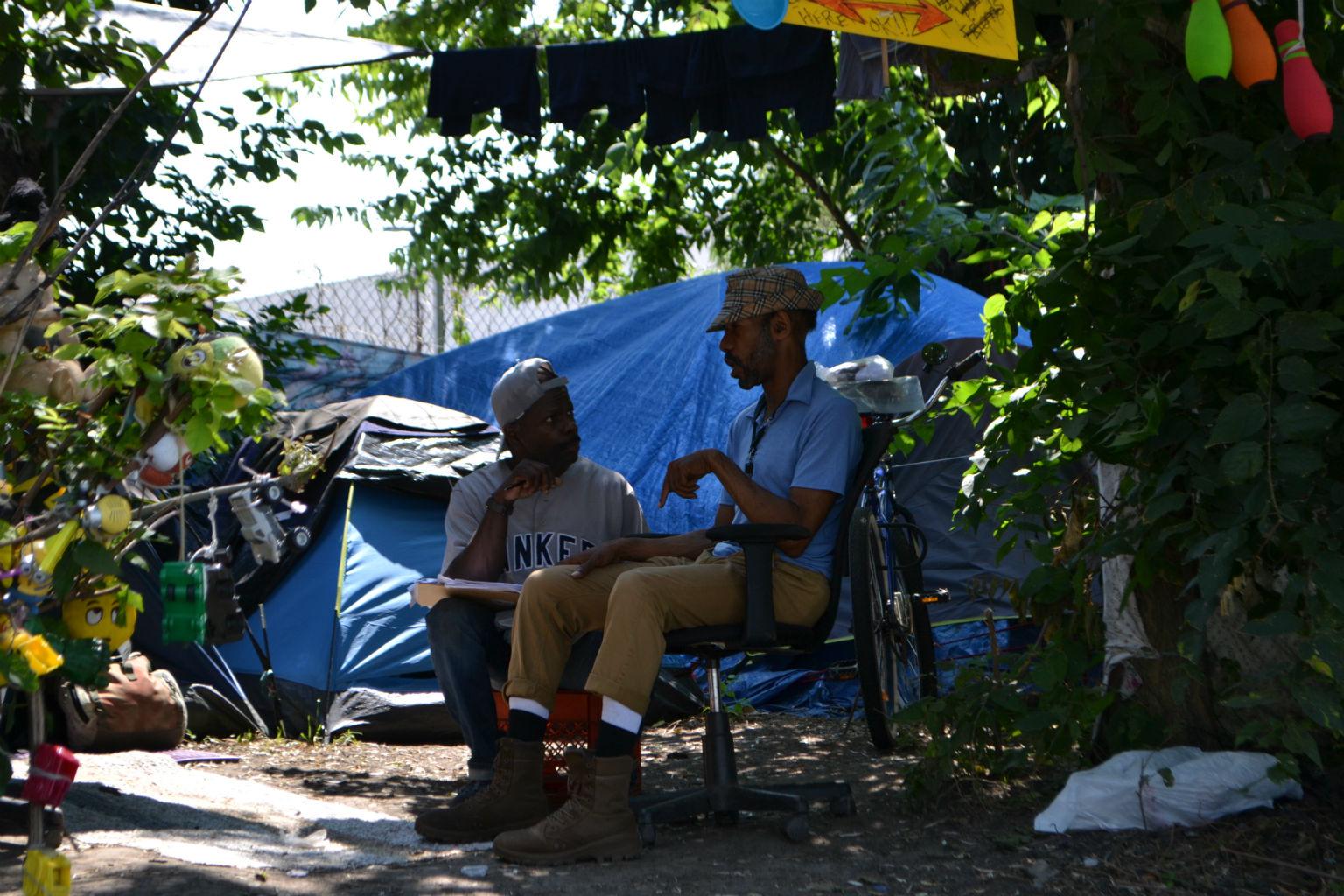 Mark Lightfoot, left, helps Maurice Patton fill out paperwork Friday, Aug. 10, 2018 to connect him with housing services. (Kristen Thometz / Chicago Tonight)
In addition to the outreach HAH provides, the organization also has staff that helps individuals with everything "from assessment to being physically housed," said Ricardo Navarro, a HAH system navigator. "We assist people in any way we can to make sure they are housed."
So far, HAH staff have helped two individuals who had been living in the encampment find permanent housing. "There are reasons why people are out here and in this situation," Robinson said, adding many of those living along DesPlaines Street "shy away" from traditional social services, making outreach that much more important.
"If you come to an encampment and your heart's not in it, they'll know right away. But they know we're here to help," he said. "So many people experiencing homelessness won't come to us. We have to come to them."
Contact Kristen Thometz: @kristenthometz | [email protected] | (773) 509-5452
---
Related stories
Lockers for Homeless Youth Meet Critical Needs
Citypak Provides Cover, Storage for Those With No Place to Call Home
The Night Ministry Offers Aid, 'Human Connection'
---