A seemingly abandoned white truck, left on an Englewood street, wasn't abandoned at all. It was a trap, an operation of the Norfolk Southern railroad with assistance by the Chicago Police Department. 
Anyone who presumed the truck was ripe for the picking – and tried to steal it – was arrested. 
In a city where dozens were shot last weekend and tensions between police and minorities living in impoverished South and West Side neighborhoods are already at a pitch, residents are outraged, and view the so-called bait trucks as a method of entrapment that is further straining, rather than repairing, relations. 
In light of the backlash, Chicago Police Superintendent Eddie Johnson said Thursday that the department will take a "hard look" at the practice "and see if there's something we can do better."
"At the end of the day, just because it's out there and it's not yours doesn't mean you're supposed to take it," Johnson said, noting that CPD regularly assists local law enforcement agencies in such operations.
According to railroad spokeswoman Susan Terpay, three individuals (aged 21-59) were apprehended after breaking into the trailer, who she said in an emailed statement "saw a parked, unmarked trailer and then proceeded to cut open the safety seal with box cutters, broke into the back of the trailer and only then did they find retail shoes in unmarked brown boxes, previously secured and hidden inside."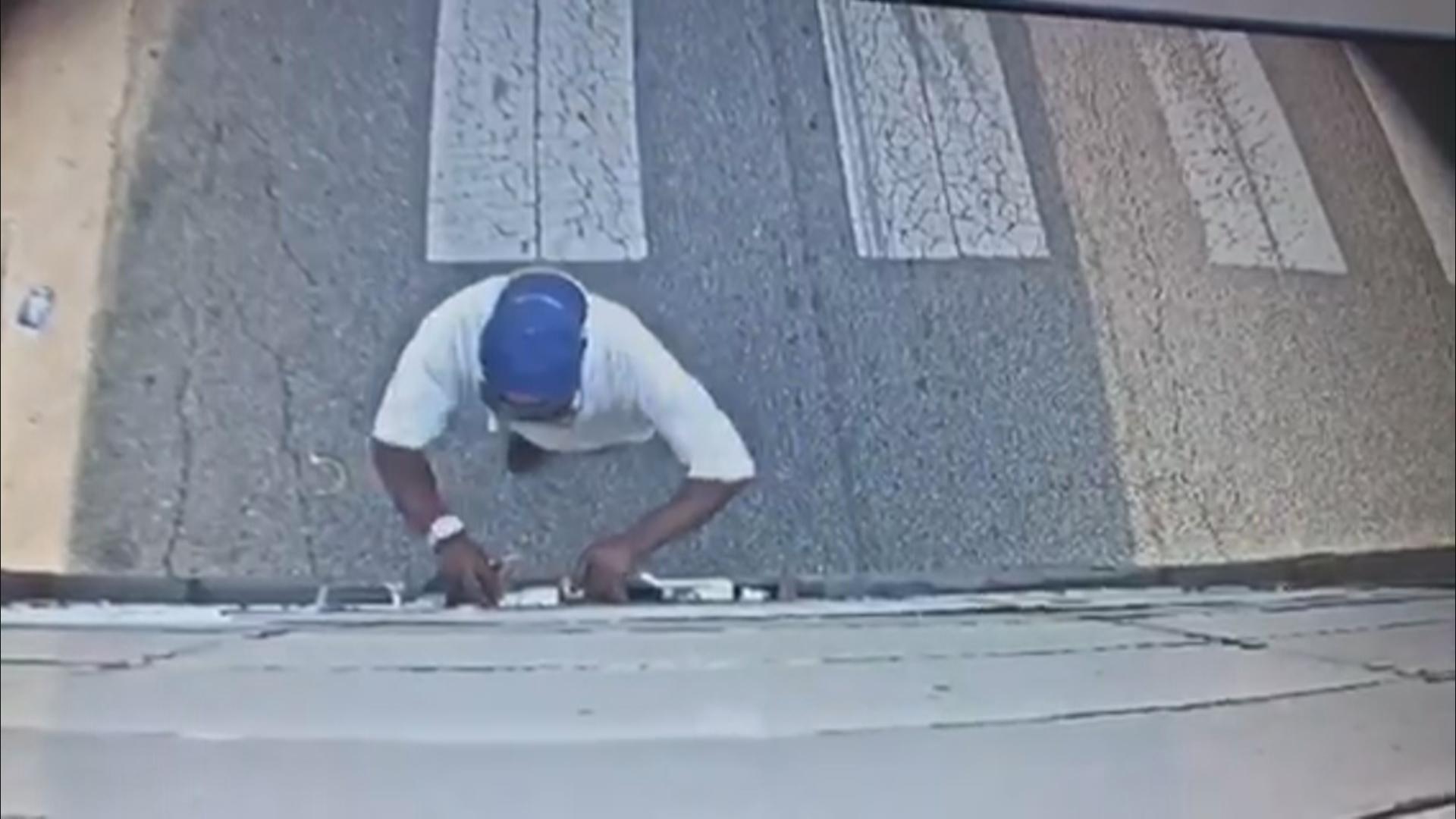 (Courtesy Norfolk Southern Surveillance Camera)
Terpay said the railroad conducted the operation – a standard means of surveillance to deter freight theft, she said – after an increase in stolen cargo, including guns and ammunition.
"All too frequently individuals break into parked freight containers in the Chicago area, stealing a range of consumer goods – at times this included guns and ammunition in transit. Norfolk Southern has the responsibility to ensure the freight we are transporting is safely delivered and does not pose a risk to the communities in which we operate. This week's police operation was intended to directly combat such unacceptable thefts," she wrote.
But to community residents, it was a targeted attack.
"We don't have no trust (in police)" said community activist Charles McKenzie, whose video of a bait truck in Englewood went viral. 
McKenzie called it a "setup" and said that while "we have some great officers" in the neighborhood, "someone has to be responsible for this."
Jedidiah Brown, a community activist who leads the organization JUSTICE, came to the scene when he saw a live Facebook broadcast last Friday from his friend Martin Johnson, also a known community activist – both warned passersby to stay away, rather than be lured by the "bait."
Brown approached police, and told them the operation was "bogus" they were "entrapping black people" and they were preying on kids when "there's a whole lot of real stuff" going on.
In the video, police can be heard telling Brown "we got more time to kill than you."
"It was infuriating to hear the police say that they have time to create scenarios to entrap citizens that they're supposed to be protecting – especially black and brown, which the relationship is completely already in shambled. It was insulting as a citizen," Brown said Thursday.
Brown said he is working to vacate the arrest warrants for anyone who was apprehended in the scheme, and he's hoping to work with the American Civil Liberties Union to file a lawsuit. He wants the practice banned in the future, and he's planning to organize a sort of vigilante sting operation, in which activists plant seemingly abandoned property in other neighborhoods and recording what happens.
Rashanah Baldwin, a journalist who writes positive stories about her community on her "Good in Englewood" platform, said the bait truck was a waste of "resources that could be allocated to addressing serious issues in the community."
Chair of the Chicago City Council Black Caucus, Ald. Roderick Sawyer (6th Ward) was likewise outraged, and plans to hold hearings on the matter next month when the City Council next convenes.
"We're having enough problems right now with community and police relations. We had a weekend of horrific violence. Our resources are stretched as it is. And we're creating crime? I just don't see … why would we do that?" he asked. "This just further separates us instead of bringing us together."
Follow Amanda Vinicky on Twitter: @AmandaVinicky
---
Related stories:
Police Superintendent Johnson Under Pressure After Violent Weekend
Family of Man Killed During Police Pursuit File Wrongful Death Suit Against City
As City Adds Cops, Communities Call for More Comprehensive Solution to Violence
---