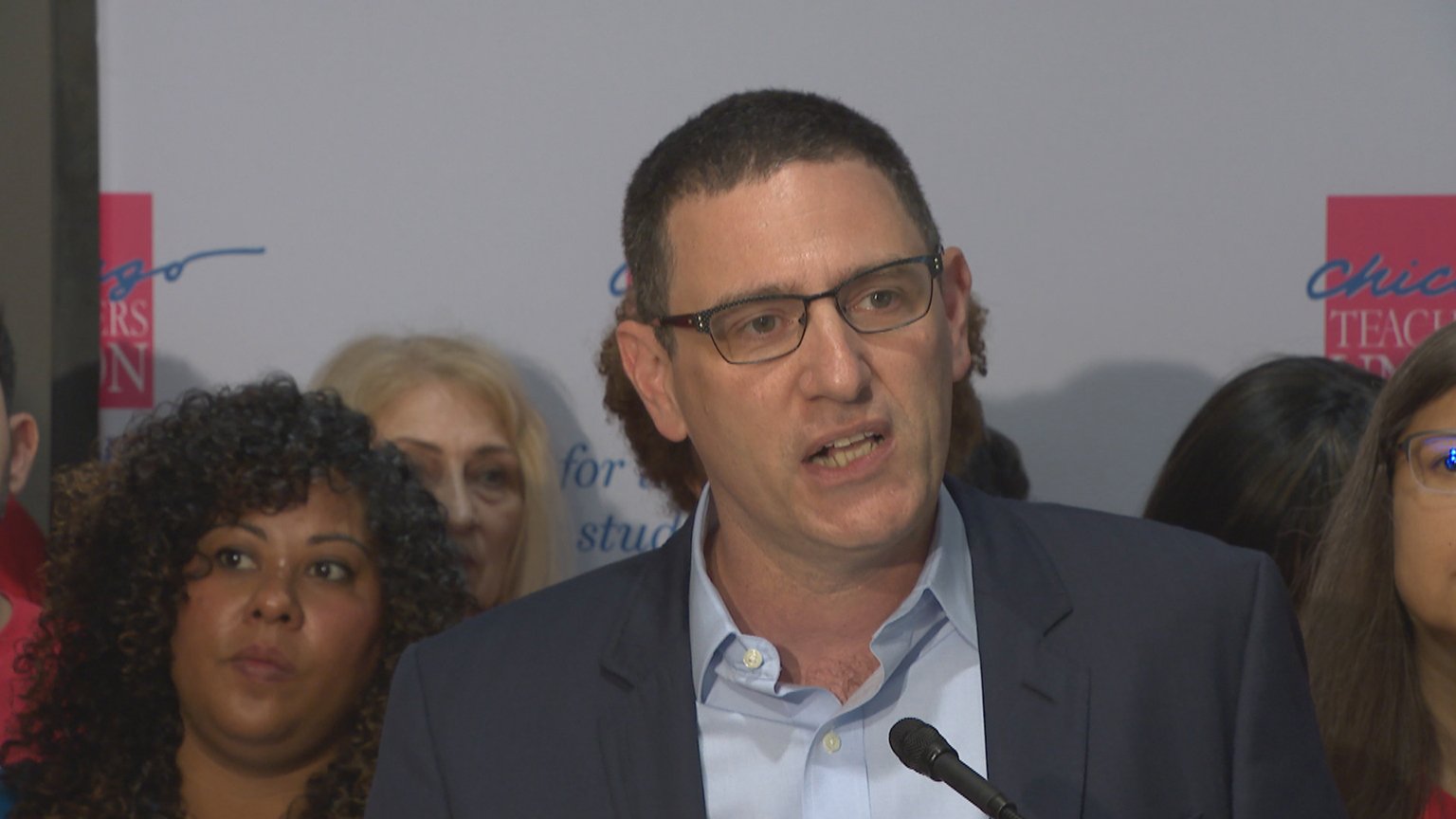 CTU Vice President Jesse Sharkey speaks during a press conference at union headquarters on Aug. 8, 2018. (Chicago Tonight)
Twenty Chicago public elementary and high schools will split $10 million in a new pilot program aimed at connecting school communities with local after-school, health and family engagement services.
Chicago Public Schools this week announced it is launching the Sustainable Community Schools Initiative, a new pilot program the district promises will connect these schools with neighborhood organizations to connect families with additional academic and non-academic services in their communities. This comes after the Chicago Teachers Union says it fought to include just this type of program in its current labor contract with CPS.
"Today is a good day for our schools, it's a good day for community education and it's a good day for the working class communities that make up the backbone and the heart of this city," CTU Vice President Jesse Sharkey told media Wednesday morning.
These schools, which are mainly located on the South and West sides of the city, will each receive $500,000 in district funding for the upcoming school year. CPS said that money will be used to help build supportive classroom environments that work with social support services to strengthen student achievement. 
---
"By bringing together community members and educators under the shared mission of strengthening the supports our students and families need to thrive, the Sustainable Community Schools Initiative has the power to transform communities and create new opportunities for our students," CPS CEO Janice Jackson said in a statement this week.
The Board of Education approved program funding at its June meeting. It is expected to launch in October.
But what exactly are "sustainable" community schools? Jaribu Lee, a coordinator with the Kenwood Oakland Community Organization, said the model is built on six tenets: engaging curriculum, high-quality teaching, wrap-around supports, restorative justice discipline, parent engagement and inclusive school leadership.
The district already offers many of these services, but teachers say this initiative differs both in funding levels and leadership strategy, as students, parents and administration will be the ones making decisions about how the program will work at each school.
The goal, teachers say, is to make these schools into anchors of their respective communities.
"Parents and youth will be those physical connections between the walls of the schools and the families in our neighborhoods," said Jhoanna Maldonado, a diverse learner teacher at Yates Elementary, one of the schools participating in the new program.
"Our families expect that when you send their baby to school, that they will not only be educated, but they will get loved and they will be safe. Schools should be a space where families get the services that they need – housing, immigration, mental health services."
CPS says a 20-member task force comprised of district and union officials will also meet regularly to help implement the new initiative.
In order to be considered for the program, CPS said schools had to be open enrollment and located in low-income communities where more than 80 percent of students qualify for free or reduced lunches.
While the Sustainable Community Schools Initiative has funding in place for the 2018-19 school year, its future beyond that point remains murky, according to CTU officials, who say the district hasn't yet put in place long-term funding to continue the program in subsequent years.
CTU's current contract with the school district expires this year and Sharkey called Wednesday's press conference an "opening salvo" in the upcoming negotiations between the two sides. Beyond the continuation of this initiative, Sharkey said the union will push for additional raises and increased job security for school-based clerks and clinicians.
"We intend to advocate for dignity and respect for people who work in those schools," he said, noting that similar contract fights are on the horizon for 11 of the 12 charter districts CTU represents. "We want to see fair raises, we want to see benefits and we want to see the respect that we deserve for the people who do the work."
Contact Matt Masterson: @ByMattMasterson | [email protected] | (773) 509-5431
---
Related stories:
Mayor Expands Early Learning, But Critics Are Skeptical
CPS Plans For New High School, Full-Day Pre-K and Facility Improvements in $1B Capital Budget
Local School Councils: What They Do, What Challenges They Face