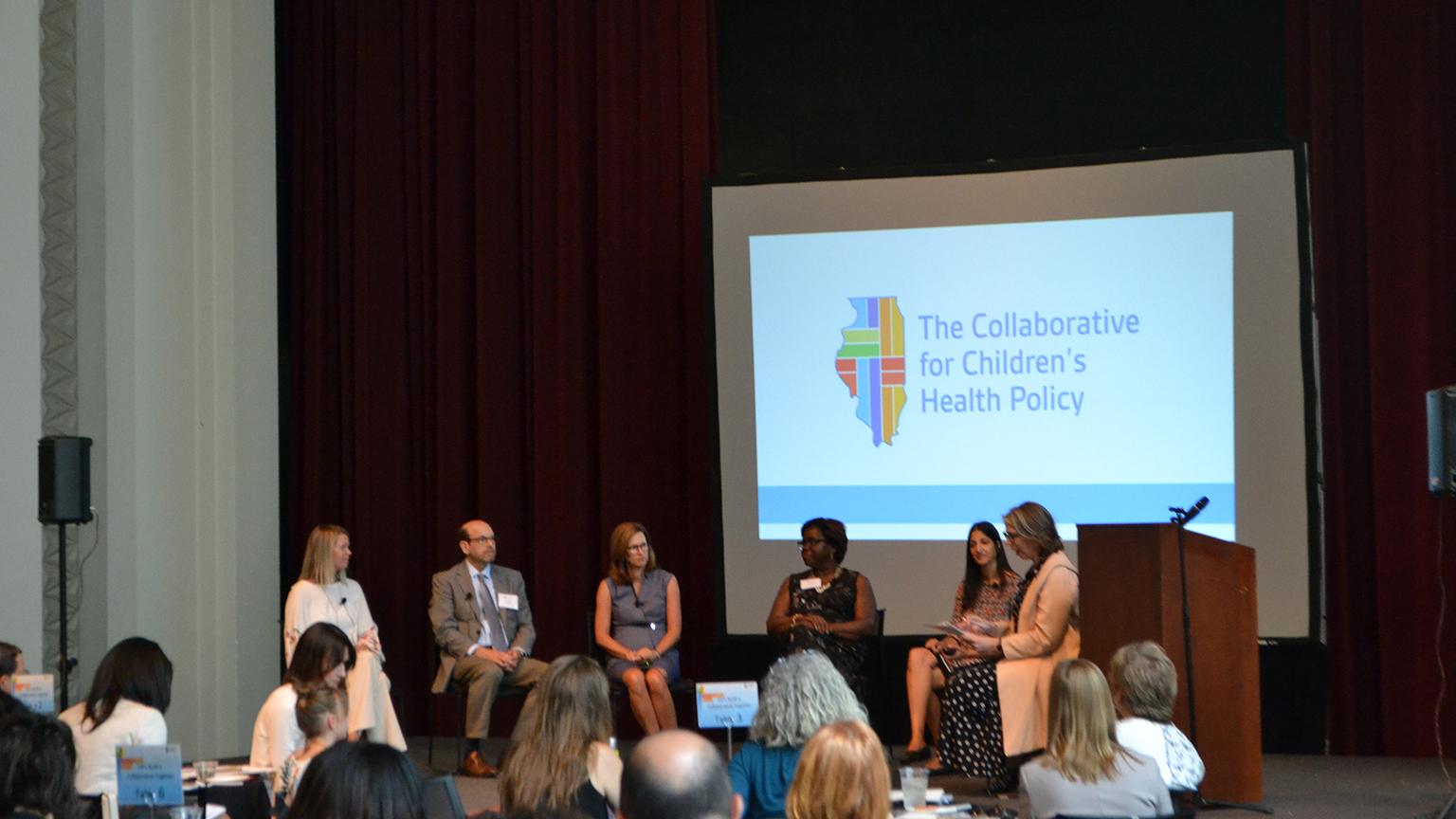 Panelists discuss inequity in child health at Wednesday's launch of the Collaborative for Children's Health Policy. (Kristen Thometz / Chicago Tonight)
Caring for a child with special needs or a complex medical condition can be challenging. For Kim Lechner, it meant leaving her career to care for her daughter. "It was a big challenge financially to go down to one income," she said, adding that she and her husband slept in shifts to provide round-the-clock care.
Karen Sauder, vice president of sales and site lead at Google's Chicago office, and her husband took turns staying in the hospital with their son who had cancer for years. While both children are doing well today, Lechner and Sauder said those experiences were difficult.
"I run a company and the challenges of a medically challenging child (are) extremely comprehensive. It's not something the average person can do without a lot of extra resources," said Sauder.
A coalition of health care advocates and professionals hope to address that through a new statewide initiative that seeks to holistically address child and adolescent health and wellness. They've been meeting since last September, but officially launched Wednesday as the Collaborative for Children's Health Policy.
"Many child health policies fail because they lack the whole child. They don't deal with the family, economic or social circumstances of the child," said Jill Fraggos, executive director of the group. "They don't take a long view and instead work in fits and starts, and often one year at a time."
The collaborative aims to reduce competition for scarce state resources by bringing advocates together and strategically aligning efforts to address "tough policy issues that have been shown to be resistant to change," Fraggos said. "We are chiefly aware of the needs for child health in this state. … The reason we are coming together is we want to move the dial on child health policy in Illinois."
Among the issues the collaborative plans to address are children's health insurance coverage, infant mortality and the socioemotional health of youth. "We have a lot of work to do in Illinois around infant mortality," said Fraggos. Illinois ranks 31st in the nation in infant mortality, with a rate of 6.3 per 1,000 live births. Racial disparities in infant mortality persist, with infants born to black women two to three times more likely to die than infants born to white women.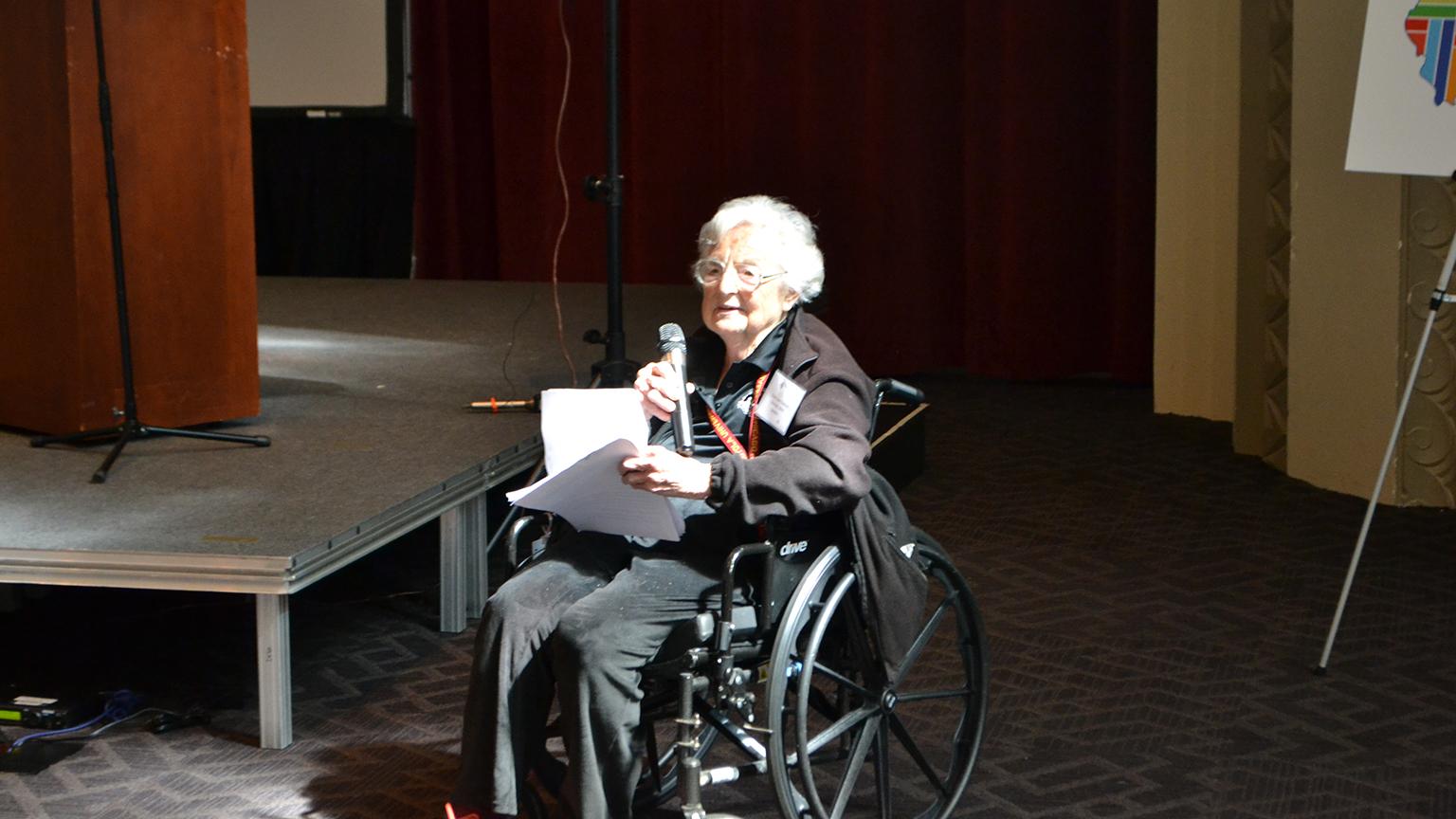 Sister Jean Dolores Schmidt talks Wednesday about her career working with youth and young adults. (Kristen Thometz / Chicago Tonight)
Loyola University Chicago Sister Jean Dolores Schmidt, who served as the keynote speaker Wednesday, discussed the work she's done with children and youth throughout her career, from her days as an elementary school teacher, coach and principal in California to mentoring students at Loyola and her work as the men's basketball team chaplain.
Speaking from her "heart" and "gut," Schmidt said the needs of youth today are many, and the ubiquity of digital media have led youth to become more introverted.
"I believe many youth have suffered greatly because they know violence and nonconformity in society today," she said. "There's always been nonconformity and some kinds of violence, but because of (today's) media they have it all the time now. I also think the kind of violence today is more premediated and more pre-anger based."
Sister Jean said she is "greatly impressed" with the collaborative's mission to transform child and adolescent health and well-being. She emphasized the need to work together and get stakeholders to "buy into the entire process."
"Each one of us has something special to bring to this collaborative," she said.
The collaborative seeks to consult a diverse range of voices to inform their policies.
"We are working really hard to get the word out to get parents engaged in our collaborative becaue their voice is critically important," said Fraggos. "And we'll do the same for different sectors: business, government, advocates (and health care) providers – all voices are important."
Founding organizations of the collaborative are Ann & Robert L. Lurie Children's Hospital, EverThrive Illinois, Illinois Chapter of the American Academy of Pediatrics, Illinois Children's Healthcare Foundation, Ounce of Prevention Fund and Voices for Illinois Children. 
Contact Kristen Thometz: @kristenthometz | [email protected] | (773) 509-5452
---
Related stories
5 Things to Know About Smoke-Free Public Housing Rule
West Side United Aims to Improve Health, Life Expectancy of Residents
UIC Creates Health Equity Research Center
---