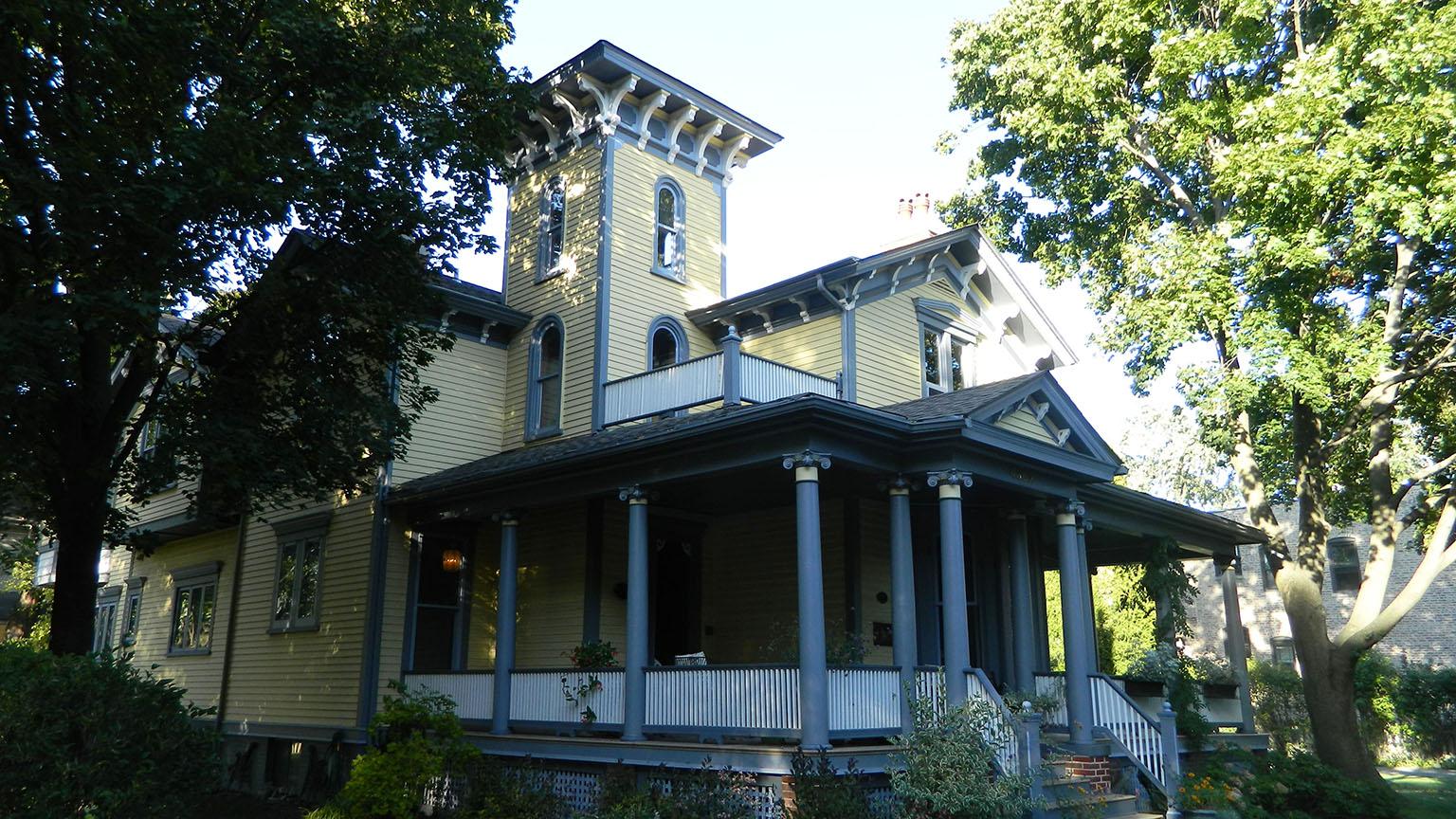 The Gray-Cloud house in 2017. (Courtesy of David Cloud)
Archaeologists unearthed a bit of history this week as they began to excavate the property of an Old Irving Park home rumored to have once been a stop on the Underground Railroad.
"We've found a couple of pieces of yellow ware, which is ceramic manufactured between 1880 and 1940," said archaeologist Rebecca Graff, a professor at Lake Forest College who is leading the dig. "(Yellow ware) is a common 19th century-type product to find and was used usually more in mixing bowls than for serving dishes. It was nice to see something that indexed food prep and consumption."
Graff, along with a team of seven students and a handful of professional archaeologists who are volunteering on the project, began excavations this week at the property belonging to David and Kris Cloud, who bought the home three years ago.
More: Archaeological Dig at Gray-Cloud Home Attracts Neighbors, History Buffs
Originally built in 1856 by Republican John Gray, who would later hold the post of Cook County sheriff, the home sat on 320 acres of farmland that was known as the Gray subdivision. Gray was described in his obituary and well-known throughout the community as an "ardent anti-slavery man."
Neighborhood lore speculates that a tunnel running underneath the property connects to a well on a neighbor's property.
"We're really excited to have the opportunity to look at an early part of Chicago history and find things to allow us to interpret the rumors of the Underground Railroad," Graff said. "We know we'll find things to understand the way people lived and used the site from 1856 to present."
In addition to yellow ware, archaeologists have unearthed shards of window glass, as well as pieces of table glass that Graff says could have come from "a dish with fancy trim" or a lighting fixture like a glass cover for a lamp.
Image: Move the slider to the left or right to see how the house looked in the 1970s, left, and how it looked in 2017, right. (Courtesy of David Cloud)
"I'm not sure how to explain it, but it seems in any place you stick a shovel, you run into gravel or cement," said David Cloud. "I went to plant a little tree a week ago before the crew came out and I picked a spot where I thought there wouldn't be anything. On the second stroke of the shovel I ran into something solid … a piece of pottery with red glaze and a white background."
While artifacts appear to be "all over the place," Graff said her team is hoping to find a central depository of materials, such as the type of garbage pit common among homes built in the 19th century.
Researchers will spend the rest of the month excavating a series of sites on the property they've identified as areas of interest based on historic maps and a geophysical survey of the property.
One of those areas was made possible by David Cloud, who recently had a deteriorating fence removed. Rather than fill in the fence's post holes, he left them for the archaeologists to examine. "We thought we'd apply science to it before we apply dirt," he said. His decision resulted in archaeologists finding pieces of table glass, ceramics and bricks.
"On the west side, we're looking to see if there's any connection with the neighborhood lore of where a tunnel or space where people would've been hidden could've been," Graff said. But she admits finding evidence of an Underground Railroad stop could be difficult. "The Underground Railroad was clandestine and there may not be a big material impact," she said.
Archaeologists are also continuing to excavate a room found in the Cloud's basement that has been rumored to be connected to the Underground Railroad. Last summer Graff and team removed a ton of debris from the space.
Regardless of whether evidence surfaces of an underground tunnel or space, Graff is confident the dig will unearth knowledge.
"The wonderful thing about people is that we are messy and we leave remnants of things and our experiences of a site even if we're not conscious of it," she said.
Contact Kristen Thometz: @kristenthometz | [email protected] | (773) 509-5452
---
Related stories 
Rumors of Underground Railroad in Irving Park Prompt Archaeological Dig
'Forgotten Chicago' Uncovers History Worth Remembering
Field Museum Archaeologist Solves Clues to 12th Century Shipwreck
---