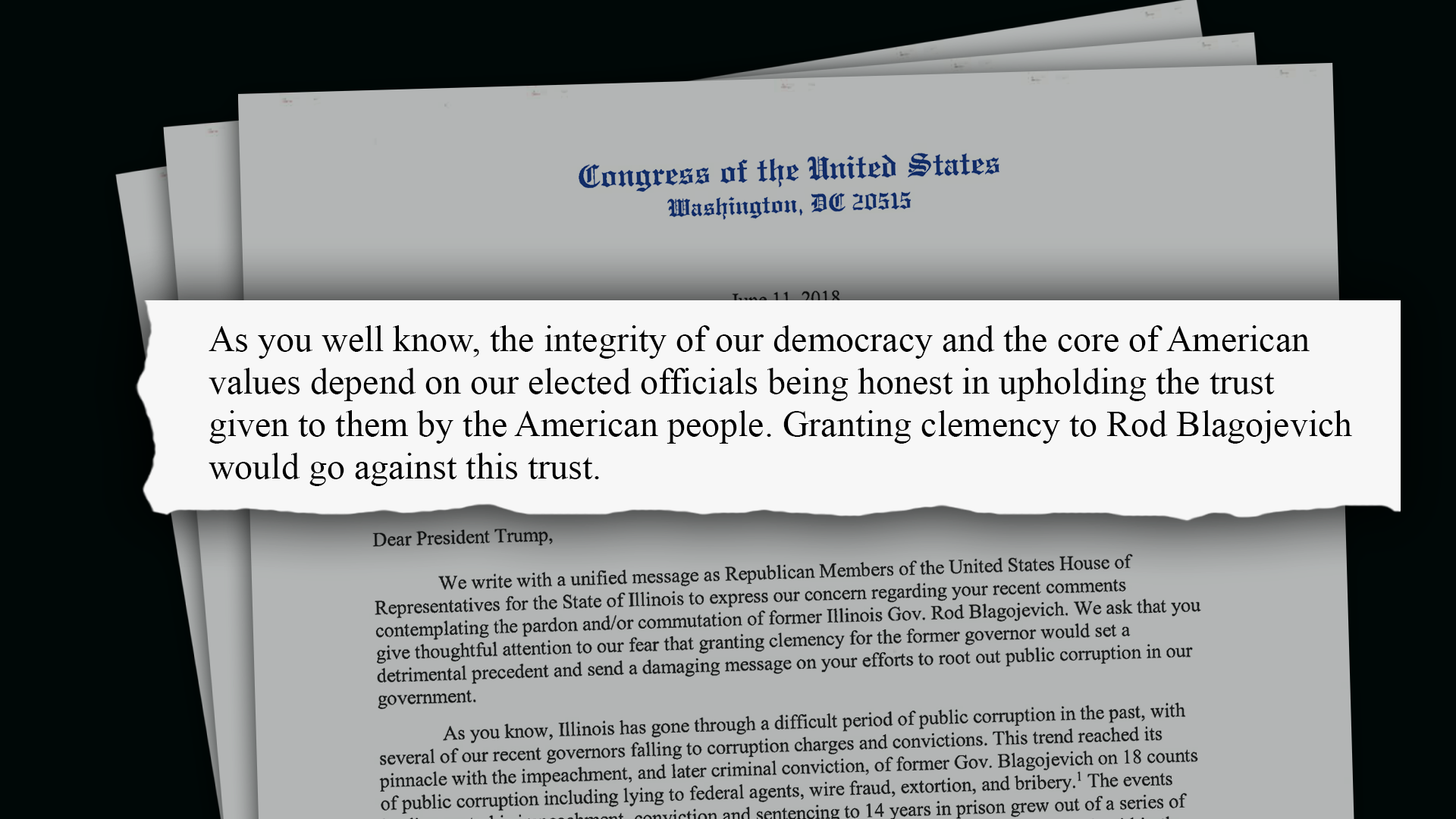 Document: Read the letter
Illinois' Republican members of Congress have an ask for the president: Don't commute Rod Blagojevich's sentence.  
In a letter sent Monday to President Donald Trump, the delegation says that granting clemency to the former governor would "set a detrimental precedent" and send a "damaging message" on efforts to root out public corruption.
The letter, signed by U.S. Reps. Darin LaHood, John Shimkus, Peter Roskam, Randy Hultgren, Adam Kinzinger, Rodney Davis and Mike Bost, goes on to summarize Blagojevich's series of wrongdoings, and says that releasing him from prison now would ensure that Blagojevich served on the low end of the sentencing range.
In closing, the letter reads: "As you well know, the integrity of our democracy and the core of American values depend on our elected officials being honest in upholding the trust given to them by the American people. Granting clemency to Rod Blagojevich would go against this trust."
Blagojevich's lawyers last week filed paperwork seeking executive clemency for their client, after Trump told reporters on Air Force One late last month he was considering a commutation for Blagojevich.
"There was a lot of bravado," Trump said. "Plenty of other politicians have said a lot worse … he shouldn't have been put in jail. And he's a Democrat. He's not my party. But I thought that he was treated unfairly."
Blagojevich has been in prison since 2012, and is set to be released in 2024.
No word on whether Blagojevich's fellow Democrats have plans for a similar letter. But Democratic U.S. Sen. Dick Durbin has come out in favor of reducing what he's called Blagojevich's "outrageous" sentence.
Follow Amanda Vinicky on Twitter: @AmandaVinicky
---
Related stories:
Trump Ponders Commutation for Blagojevich, Pardon for Himself
US Supreme Court Won't Hear Blagojevich Appeal
Former Gov. Rod Blagojevich Grants First Prison Interviews
---