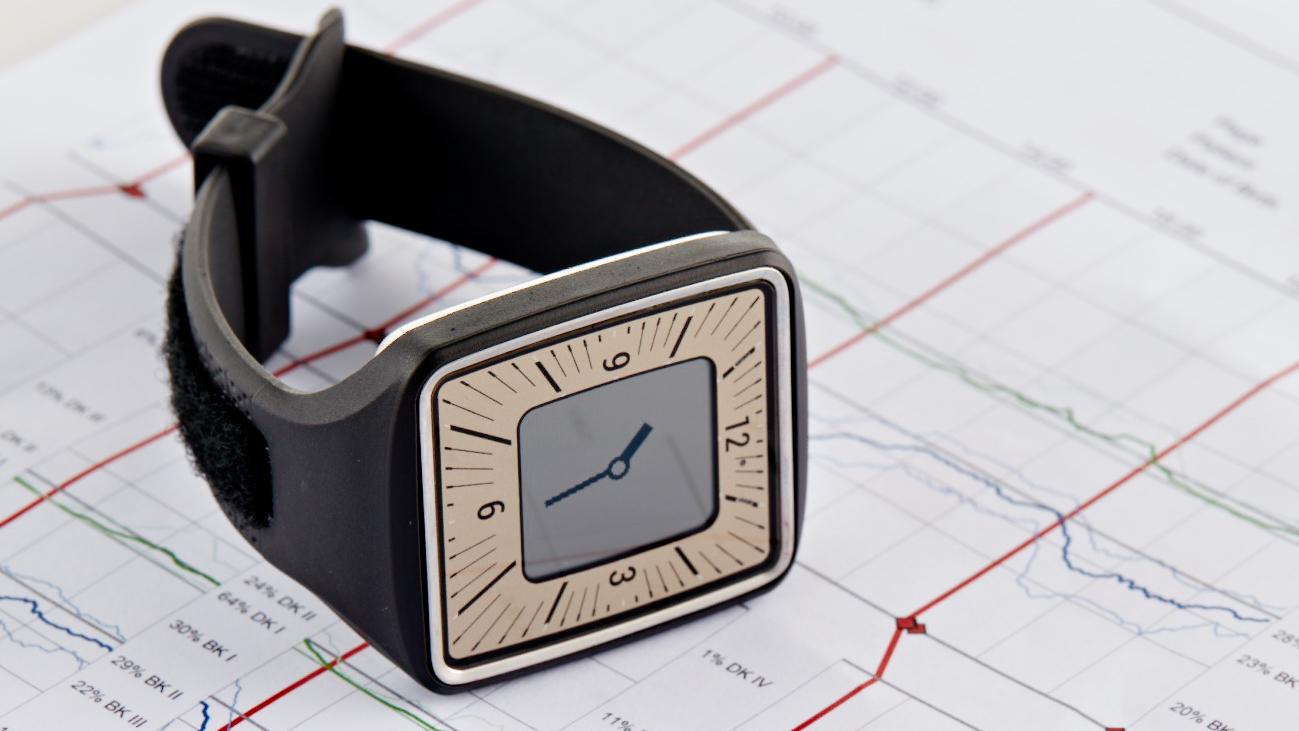 The PKG provides clinicians with objective measurements of Parkinson's symptoms. (Courtesy of Global Kinetics Corporation)
In addition to reviewing a patient's medical history and conducting in-person assessments, clinicians who treat Parkinson's disease rely on patients' accounts of their symptoms. But sometimes, those symptoms are difficult to distinguish. Tremors and dyskinesia, for example, are both types of involuntary movement, but indicate different treatment regimens, says Dr. Aikaterini Markopoulou, a movement disorder specialist at NorthShore University HealthSystem. "Having an objective means that could help distinguish between the two would be very helpful," she said.
Researchers are hoping a wearable medical device, called the Personal KinetiGraph, or PKG, can provide clinicians with objective measures of symptoms, including tremor, dyskinesia and bradykinesia (the slowness of movement).  
"It's often been a challenge, particularly as the disease progresses, for clinicians to understand what is happening with patients when the patients aren't in front of them," said John Schellhorn, CEO of Global Kinetics Corporation, an Australian-based digital health company. "Every Parkinson's patient deserves an objective measurement for when they sit down with their specialist. This is supplemental to the examination."
The PKG watch is designed to be worn continuously by a patient for a week and tracks all of their movements. The device can also be programmed to remind a patient when to take their medications, and require them to swipe the face of the watch after they've done so, according to Schellhorn.
At the end of the week, the patient returns the device to their clinician, who receives an hourly report of the patient's symptoms over the past week.
"What a PKG could do is show the physician exactly what is happening relative to the patient's bradykinesia relative to when they take their drugs and how often," he said. In other words, clinicians can see exactly when a patient's medication is reducing a specific symptom, as well as when medication wears off and another symptom begins.
Markopoulou says the PKG allowed her to distinguish between the tremors and dyskinesia experienced by her patient Maria-Paz Salas. "With repeated wearing of the device and frequent clinic visits, I've been able to significantly decrease her (medication) requirement and better control her symptoms," she said.
Salas, 54, who lives in Rogers Park and teaches social justice and global education classes at Sacred Heart School, was diagnosed with Parkinson's disease at age 45. She says the device provides a better "snapshot" of her symptoms than her visits to the doctor every three months which focus on how she's doing that day.
"What if I had a bad day, a bad hour? Or what if I've been great?" she said.
Markopoulou says she's used the device about 40 times with various patients – some of whom have used the device multiple times – in addition to regular clinical visits.
"In my opinion, (the PKG) would help significantly improve the treatment of Parkinson's in addition to the other means of standard assessment that we use as of now," she said, but adds there needs to be a "more longitudinal assessment over months or even years, given how the disease progresses, to help figure out how effective (the PKG) is in comparison to the classic way of history taking and assessment in the office."
Researchers have collected more than 3 million hours of continuous Parkinson's measurements from more than 25,000 Parkinson's patients globally, according to Schellhorn. 
Last month, Global Kinetics Corporation received funding from The Michael J. Fox Foundation for Parkinson's Research, Shake It Up Australia Foundation and Parkinson's Victoria to support a global clinical trial of 225 patients with Parkinson's disease.
The trial will be open to patients who are under age 75, have had Parkinson's disease for more than three years and/or are currently taking at least three daily doses of levodopa. Researchers are still determining U.S. recruitment sites, which will be listed on the MJFF Fox Trial Finder website.
Contact Kristen Thometz: @kristenthometz | [email protected] | (773) 509-5452
---
Related stories
Wilmette Man Completes Walk Across US for Parkinson's Disease
New Type of Wearable Electronics Could Boost Stroke Patients' Recovery
Study: High-Intensity Exercise Delays Parkinson's Disease Progression
Forgotten, But Not Gone: Sea Slug Brains Show Traces of Lost Memories
---