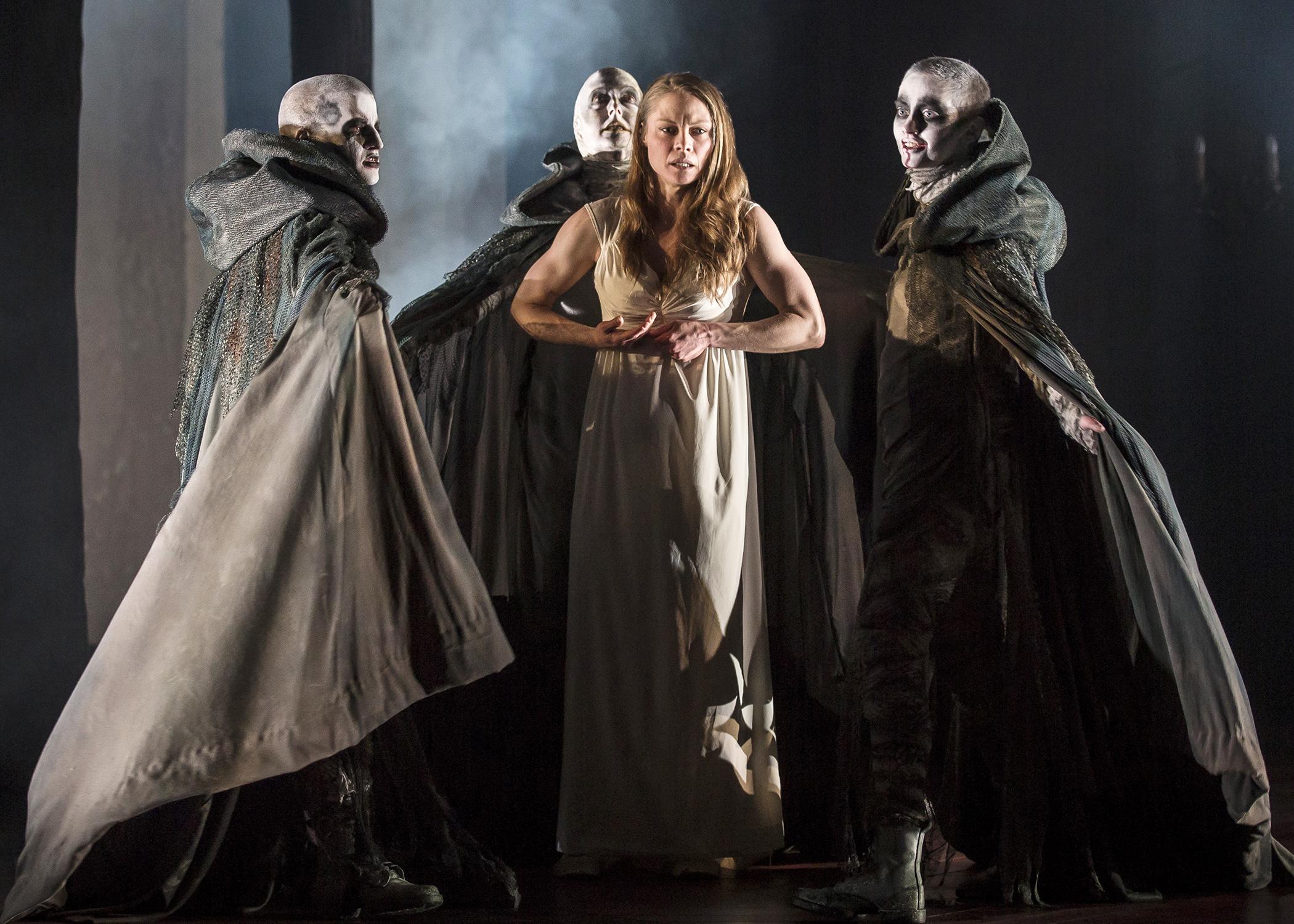 Lady Macbeth (Chaon Cross) is taunted by the unseen Weird Sisters in Chicago Shakespeare Theater's production of "Macbeth." (Photo by Liz Lauren)
If you invite playwright Aaron Posner and the magician Teller to collaborate as adapter/directors on a production of "Macbeth" you can bet your blood-stained hands that something wickedly fresh, modern and insightful will this way come. And so it does with the pair's new production of "Macbeth" for Chicago Shakespeare Theater, which is receiving a memorable staging in its newest venue, The Yard.
Did Posner and Teller (who previously collaborated on "The Tempest" for CST), take their cue from Edward Albee's incendiary look at marriage in "Who's Afraid of Virginia Woolf?" Or did Shakespeare provide all the inspiration and information they needed? Whatever their sources, the result is a blistering look at how a poisonous brew of feelings about the end of fertility in a woman, and the impotence of a man with no hope of an heir, can wreak havoc at home, and beyond. At least that is how I read this immensely compelling production that is filled with a full array of sensory treats, including illusions devised by Johnny Thompson.
The key to the storytelling comes very early on as the beautiful and restless Lady Macbeth (Chaon Cross), dressed in a flowing white silk gown, kneels beside the tiny casket that holds the body of the baby she has nursed but who is now dead.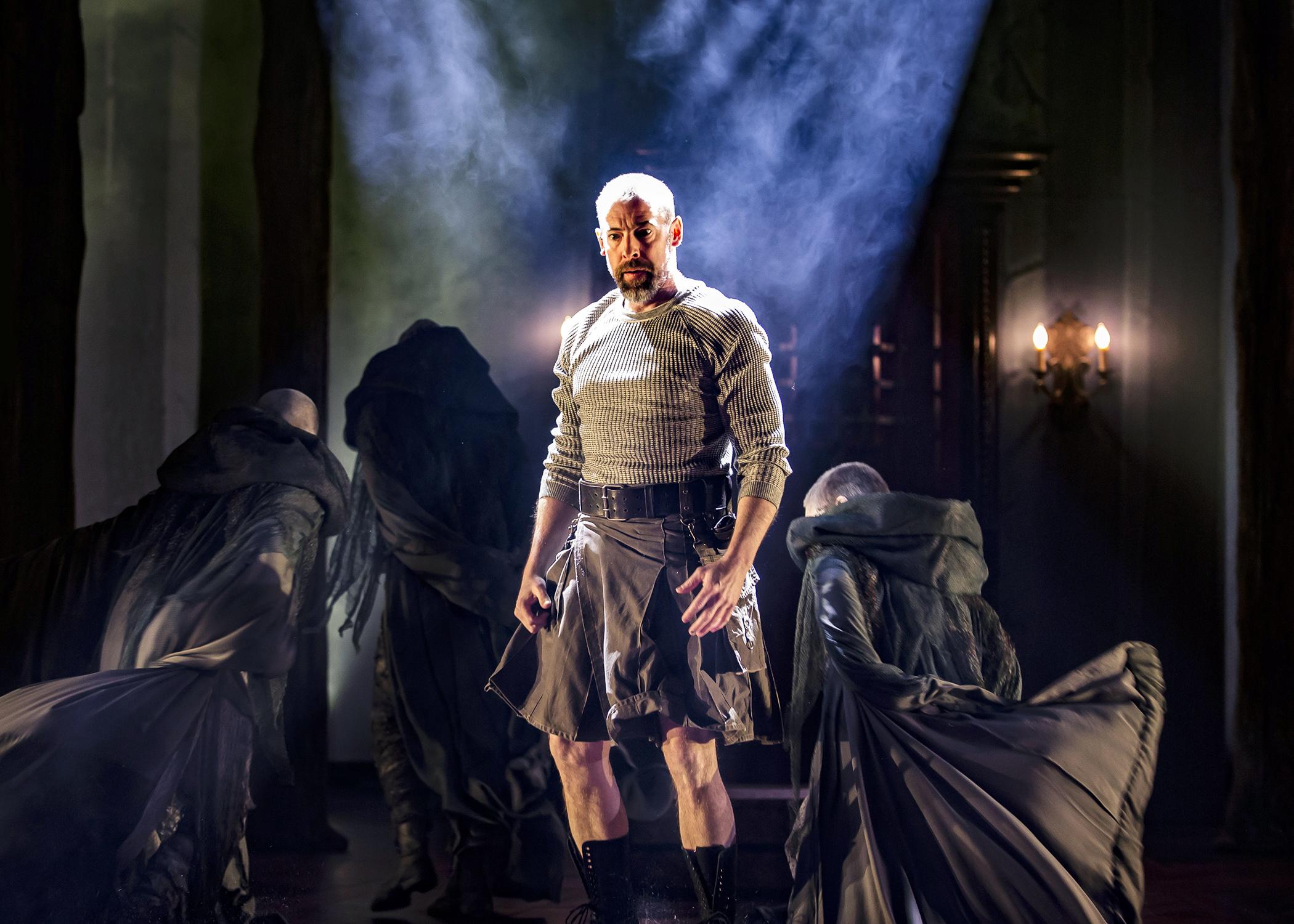 Ian Merrill Peakes as Macbeth. (Photo by Liz Lauren)
Clearly she is in a state of upheaval. And then her husband, Macbeth (Ian Merrill Peakes), returns home. A general newly heralded for his success in battle, he arrives filled with the prophecies made during his encounter with a trio of witches, the Weird Sisters (McKinley Carter, Theo Germaine and Emily Ann Nichelson, who form a remarkable triumvirate of spectral voices). The Sisters have triggered thoughts of greater grandeur, including the possibility of kingship – thoughts that both trouble and excite him. And Lady Macbeth uses both her seductive wiles and emasculating challenges to goad him into doing what is necessary to realize the prophecy of gaining the crown. It will involve a series of heinous crimes that destroy many lives, including his own.
Posner and Teller, along with their cast and design team, infuse the play with much "magic" – from composer Andre Pluess' overall soundscape and haunted and haunting harmonies for the Weird Sisters, to the clever use of trap doors and blood-letting. But the real sleight-of-hand here has to do with the way they make the play feel so immediate and eerily contemporary in both the way it is spoken and in its exploration of the lust for power, and the cycle of corruption and cover-ups it can propagate. (That said, several moments of black humor and breaches of the fourth wall feel like unnecessary comic relief.)
Peakes is especially good at capturing the moments of foreboding, doubt and guilt that come with his compulsion to live out the Sisters' prophesy and satisfy his wife. And Cross, whose beauty is matched by her ferocity and drive, suggests a tornado of misplaced energy and desire. (She also knows exactly how to use the couture-like gowns in white, black and crimson red designed by Mara Blumenfeld, who has put the men in subtle variations on the Scottish kilt.)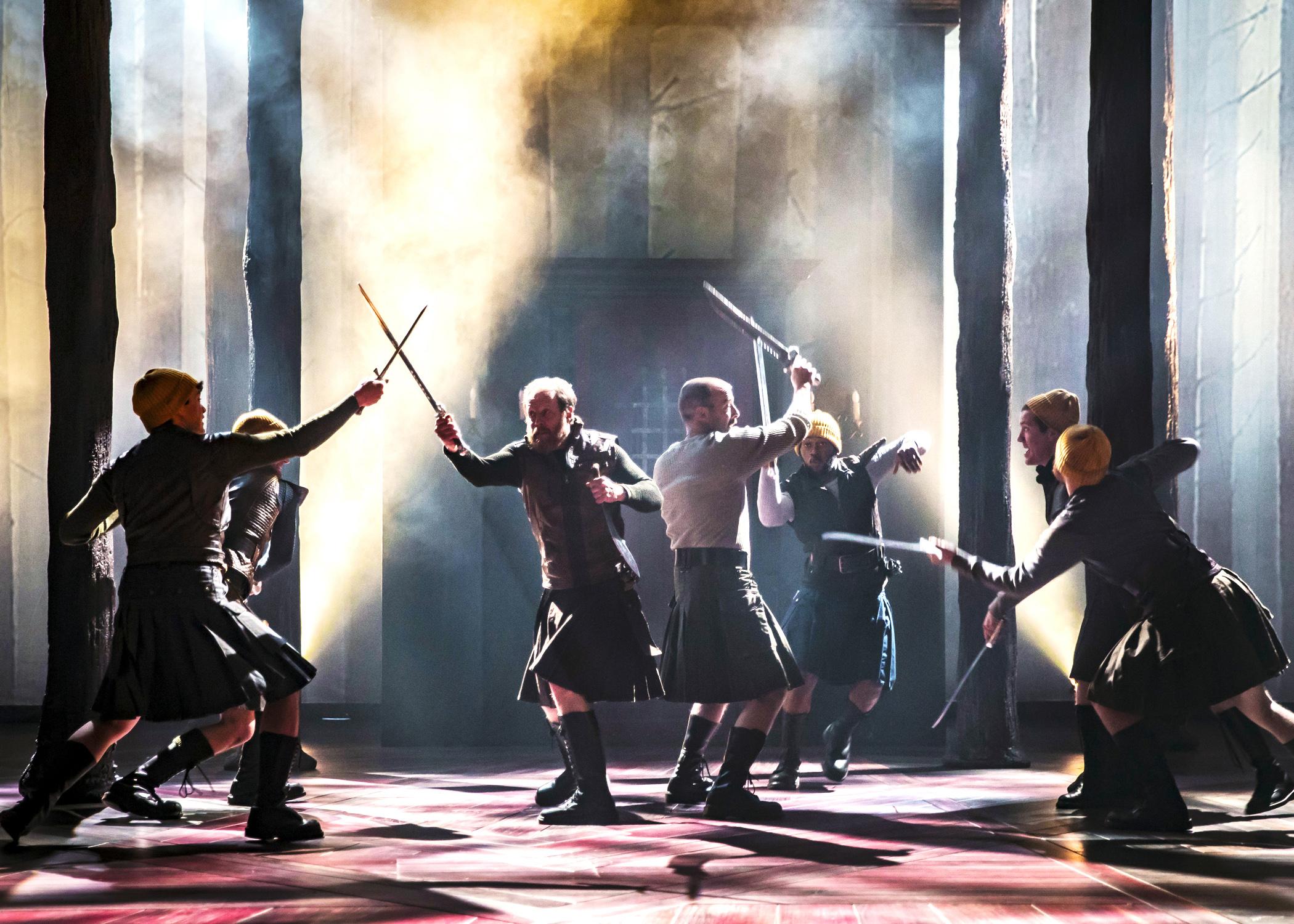 Macbeth (Ian Merrill Peakes, right center) and Banquo (Andrew White, left center) engage in the battle for Scotland in "Macbeth." (Photo by Liz Lauren)
There are fine performances by Andrew White as Banquo, the fellow general Macbeth betrays, and by Timothy D. Stickney as Macduff, Thane of Scotland, the man who leaves his wife (expertly played by Jennifer Latimore) and young children vulnerable to Macbeth's murderous thugs-for-hire (played by Cage Sebastian Pierre and Bret Tuomi). Christopher Donahue is the good-hearted Duncan, King of Scotland (and also works a deft turn as Lady Macbeth's terrified doctor), with Adam Wesley Brown as Duncan's son, Malcolm, who will inherit the crown and promise his kingdom a better future.
There is some thrilling combat with silvery daggers courtesy of fight director Matt Hawkins. And Daniel Conway's muscular set (lit by Thom Weaver), with its dark teal walls and heavy blood-red doors has an almost Chinese aura, with a suspended "room" pitched above the stage for the Sisters. Look closely at that room and you will detect old furniture forming its roof – a suggestion, perhaps, that both the Macbeth household, and the "house of the nation" are in a state of chaos.
"Macbeth" runs through June 24 at The Yard at Chicago Shakespeare Theater, 800 E. Grand Ave. on Navy Pier. For tickets ($48-$88) call (312) 595-5600 or visit www.chicagoshakes.com.
---
Related stories:
Teller Brings Dark Magic to 'Macbeth'
Brilliant Cast Rocks Buddy Holly Back to Life
Healing Powers of Music and Love Drive Beguiling Musical 'Once'
Teller Talks Magic Motives in Shakespeare Theater's 'Tempest'
All The World's a Stage for Chicago Shakespeare's 2018-19 Season
---