Illinois has won long sought-after permission from the federal government to take a more flexible approach to treating opioid disorders, drug abuse and other behavioral health issues experienced by an estimated quarter of the state's roughly 3 million Medicaid recipients.
Gov. Bruce Rauner on Monday announced that the federal government approved the state's 1115 Medicaid waiver – a bureaucratic way of saying that Illinois has been cleared from regular Medicaid restrictions, enabling it to use $2 billion on a series of 10 pilot programs over the next five years, each focused on linking behavioral health treatment with physical health treatment for enrollees in the government-backed health care program for low income individuals and families.
"Now mental health treatment will be integrated in the whole continuum of care. Mental health issues drive so much of overall health, outcomes for the people of Illinios. It also drives other issues in terms of workforce readiness or criminal justice or so many impacts in our society and the quality of life driven by mental health needs," Rauner said. "This change, this transformation, for the state of Illinois, will help make us a national leader for providing better outcomes."
While it's early, optimistic observers say it could be a game-changer in tackling skyrocketing opioid use.  
The press conference was held at A Safe Haven Foundation, a nonprofit in Lawndale that takes a holistic approach to homelessness and substance abuse.
Co-founder Neli Vasquez Rowland says previously, the approach has been siloed, such that people "that were really sick" have been "at the mercy of the criminal justice system, at the emergency health care system, which basically was a revolving door that basically once you had this problem you literally fell through the cracks and ended up either living on the streets, ending up in the criminal justice system or dying. Today with this 1115 waiver is the answer to our prayers."
Some of the pilots will begin as soon as July; others will be rolled out over time and may be carried out only in certain, as-yet-unidentified regions of the state.
Among them:
• Medicaid will pay for peer recovery counseling for people with substance abuse disorder, to help prevent relapses.
• Intervention services for someone going through a psychiatric crisis.
• Medicaid will cover two-months of postpartum visits to moms who used opioids while they were pregnant, and home visits for a baby born with withdrawal symptoms until they're five years old.
• Connecting Medicaid recipients to social service agencies, and to help them work out a plan to get housing.
• A statewide pilot lifts restrictions on the type of mental health and substance abuse disorder care covered by Medicaid.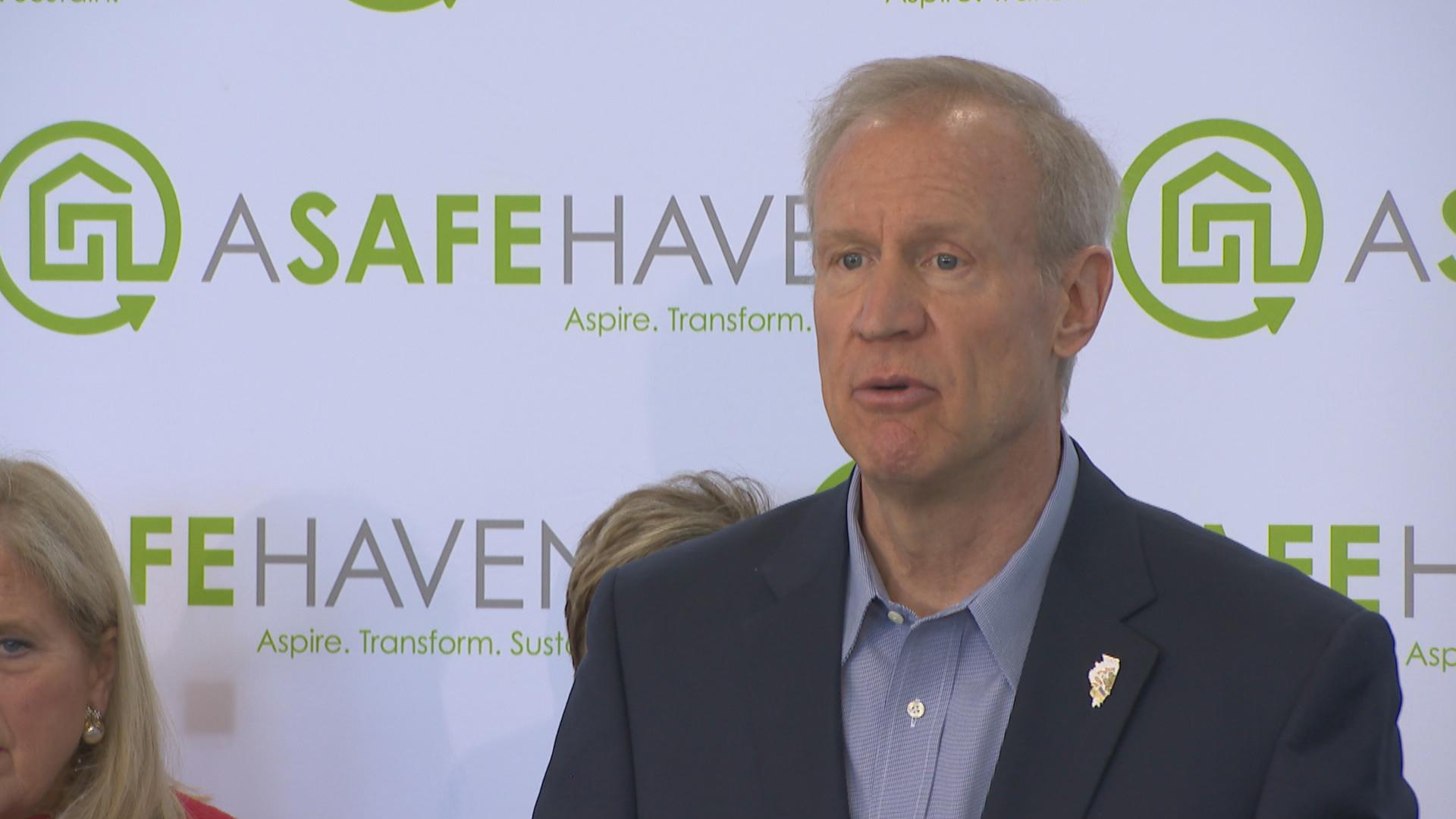 Meanwhile, a House panel on Monday debated ratification of the federal Equal Rights Amendment. A proposal already won ratification in the state Senate, and a vote may come soon in the House, despite concerns that as it's long past a federal deadline, any action is merely symbolic.
Rauner plays no technical role – he can't sign or veto it, as with a regular bill – and walked a fine line when asked to weigh in on the amendment, saying generally that he supports equal rights.
"It's obviously up to the General Assembly, it doesn't come to my desk, it doesn't come to my office, but … I've indicated that I support equal rights."
The ERA is a subject of discord within Rauner's Republican Party.
As is the question over who will be the party's next leader.
Rauner's hand-selected chairman, Cook County Commissioner Tim Schneider, faces a challenge from Lake County GOP Chairman Mark Shaw, who has won the endorsement of state Rep. Jeanne Ives, who narrowly lost the gubernatorial nomination to Rauner.
Ives in a statement said Schneider's "tenure has been an unmitigated disgrace" and lauds Shaw's credentials as a "common sense conservative."
Rauner on Monday said Schneider is a "great chairman" and that he supports his re-election by the Republican State Central Committee on May 19.
But the governor said, "I also don't spend any time really thinking about that."
Rauner pushed back against the suggestion that the intra-party divide is a reflection of his own leadership.
"Going back as far as I know, and I've lived in Illinois my whole life … there have been fights and disagreement and challenges many times over the years. It's … part of the process," Rauner said.
Follow Amanda Vinicky on Twitter: @AmandaVinicky
---
Related stories:
Cook County Jail Warden On Her Way Out
Heartland Alliance Uses Medication to Make Progress with Opioid Addicts
Florida School Shooting Spotlights Need for Mental Health Services
---