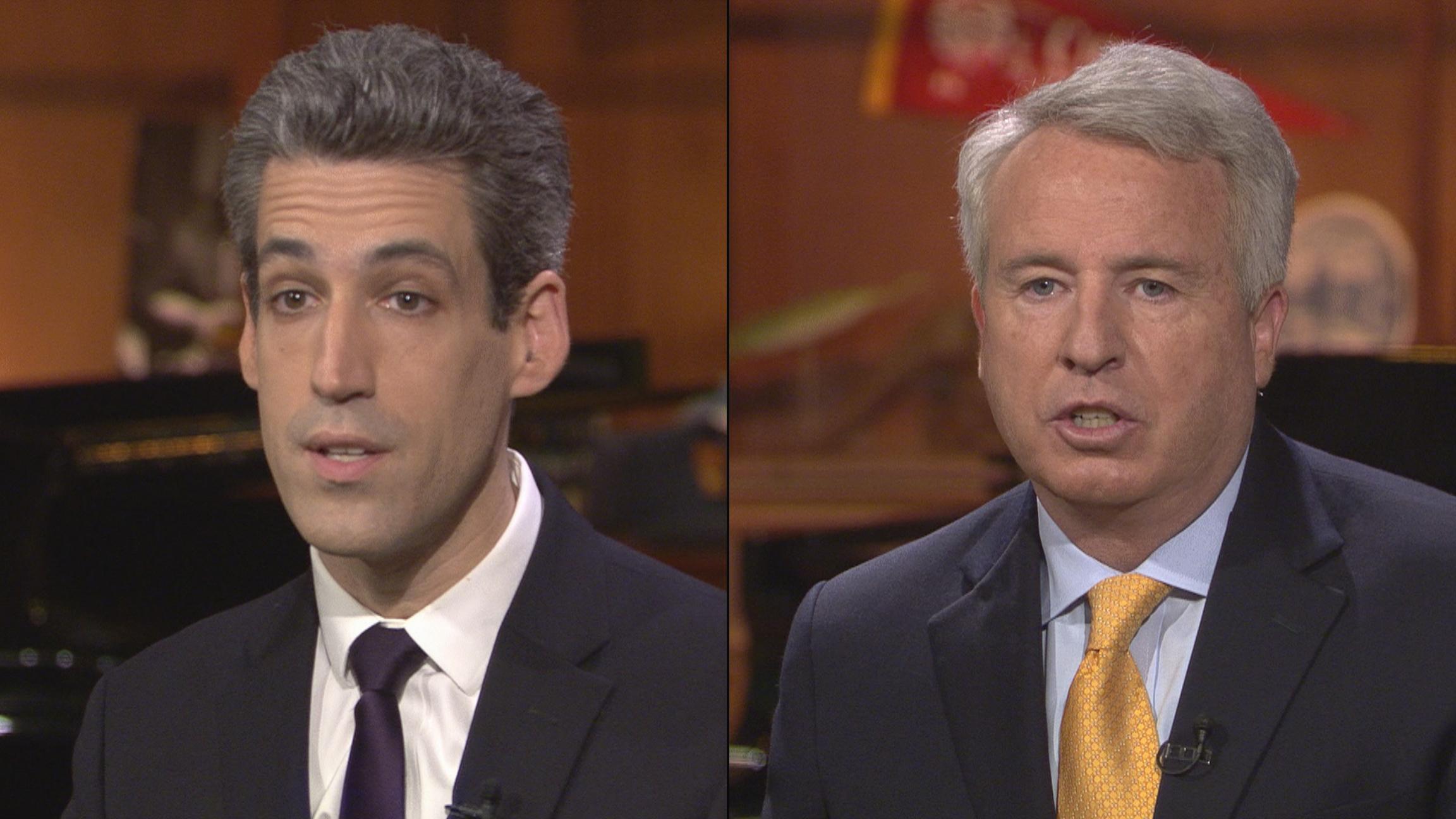 Democratic candidates for governor Daniel Biss, left, and Chris Kennedy participate in a candidate forum at WTTW on Monday.
Republicans led by Gov. Bruce Rauner have spent years trying to thwart House Speaker Michael Madigan.
As allegations of sexual harassment by those in Madigan's inner circle continue to swirl, leading Democrats – namely, some of those running to be the party's nominee for governor – are joining that chorus.
At least two, state Sen. Daniel Biss of Evanston and businessman Chris Kennedy, have called for Madigan to step down from his dual position as chairman of the Democratic Party of Illinois.
"Madigan isn't trying to solve (the sexual harassment) problem, he's trying to do political damage control," Biss said during a press availability following a "Chicago Tonight" gubernatorial forum with the six Democratic candidates for governor.
Biss hinted that other Democratic legislators may soon follow suit.
Kennedy questioned why Biss hadn't spoken out earlier, given that Kennedy last week called for Madigan to temporarily step down pending an investigation.
"If it is found that Speaker Madigan knew about these allegations and chose to protect his machine political allies instead of the women who were abused by them, he no longer can lead our party. We must be a party that stands up for the victims of sexual harassment and not protect the abusers," Kennedy said in a statement last Tuesday, when former Madigan campaign worker Alaina Hampton first publicly accused a top Madigan political operative, Kevin Quinn, of sexual harassment.
When pressed by the media, the presumed front-runner for the Democratic nomination, Hyatt heir J.B. Pritzker, did not say Madigan's name.
"More needs to be done, there needs to be an independent investigation to look into allegations," he said.
Hampton accuses Madigan's political operation of retaliation in an Equal Employment Opportunity Commission case filed last week.
Madigan says Quinn, the brother of Ald. Marty Quinn, 13rd Ward, no longer works for Madigan as a state employee or on the political side, following an investigation by Madigan attorney Heather Wier Vaught into Hampton's accusations.
But the fallout continues, with Madigan on Monday addressing news that another "volunteer" had been let go from his campaign operations upon Madigan's learning of the individual's "inappropriate behavior" during the 2016 election cycle.
"I offered to refer the matter to outside counsel and that offer was declined. The complainant and I met with the individual and the complainant assured me that the situation had been appropriately resolved. The individual will no longer be involved with any activities of my political committees. I reaffirm my commitment to change the culture," Madigan's statement says. "I do not tolerate inappropriate behavior or abuse of any kind and remain committed to ensuring all individuals can do their work without fear of harassment, abuse, or retaliation."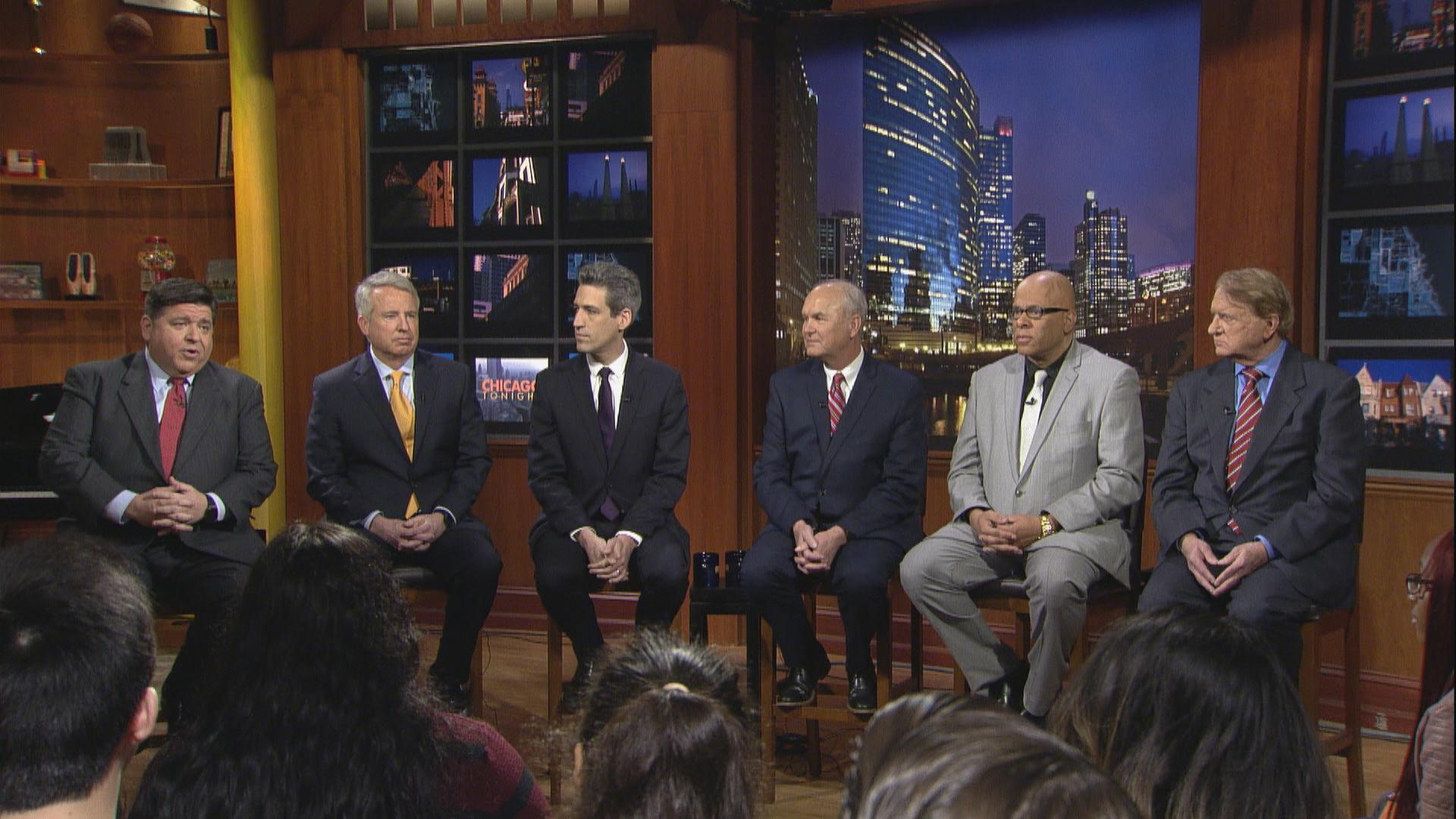 Democratic candidates for governor (seated in the order they appear on the ballot, from left): J.B. Pritzker, Chris Kennedy, Daniel Biss, Bob Daiber, Tio Hardiman and Robert Marshall.
The "Chicago Tonight" forum featured questions submitted by students from the Mikva Challenge, a program that helps young people get involved in politics and community leadership.
During it, Kennedy said he favors lowering the voting age, which currently stands at 18, although Illinois law permits 17-year-olds to vote in the primary race if they will turn 18 by the general election.
Kennedy, but no other candidate, was asked by Juarez Community Academy student Cecilia Ruiz whether he would support a voting age of 16.
"You can't do any worse for the country than what older people did when they elected Donald Trump. I don't, I don't see any reason why not to," Kennedy said, with a chuckle. "Yes."
While the Democratic candidates will participate in a more traditional forum March 14 on "Chicago Tonight," there will be no televised debate between the Democratic candidates downstate.
Pritkzer's refusal to take part prompted Nexstar-owned WCIA-TV of Champaign to cancel the event entirely.
The other five candidates were set to be part of the debate, and online petitions circulated in an attempt to pressure Pritzker to change his mind.
Critics say the decision gives an edge to Pritkzer, a billionaire who is self-funding his campaign, with regular installments of $7 million, much of which has gone toward paid TV advertising. 
Follow Amanda Vinicky on Twitter: @AmandaVinicky
---
Related stories: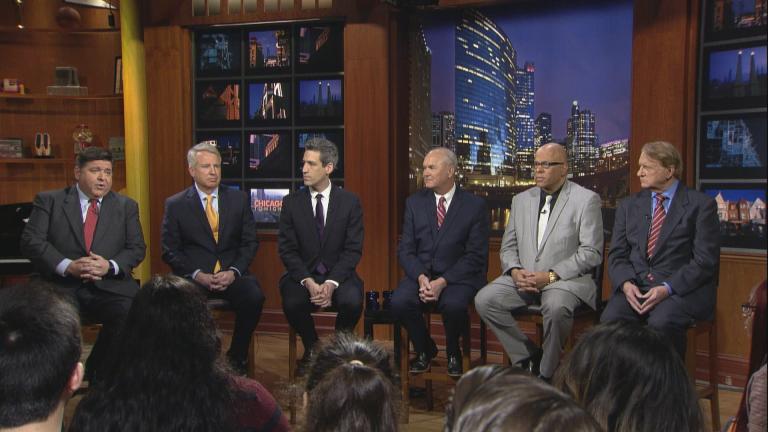 2018 Governor's Race: Democratic Candidates Face High School Students
Feb. 19: During a special edition of Chicago Tonight, all six Democratic candidates for governor join us to answer questions from an audience of 50 high school students and discuss issues facing Illinois' young people.
---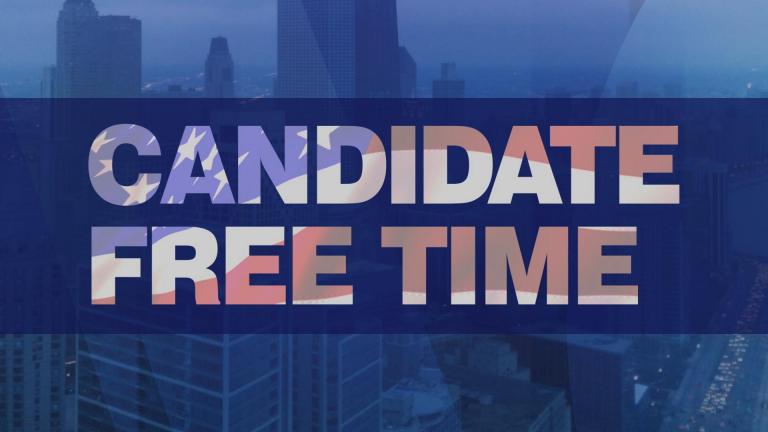 2018 Voters' Guide to the Cook County Primary
WTTW's 2018 Voters' Guide to the Cook County Primary is an online resource designed to inform voters about the candidates running for office in the March 20 election. Learn more.
---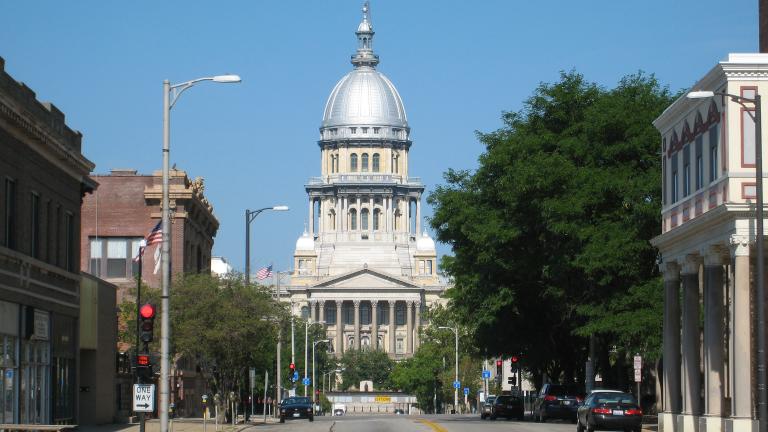 2018 Governor's Race: Political Battles Turn Bitter
Feb. 7: J.B. Pritzker apologizes for remarks he made on FBI wiretaps about black politicians. But will the apology undo the damage? We discuss the March 20 primary with political reporters Greg Hinz, Natasha Korecki and Laura Washington.
---