(Photo courtesy Andy Thayer)
Freed after spending more than two decades behind bars for a crime he didn't commit, a Chicago man is now suing the city and the Chicago police detective he claims fabricated evidence to get him locked away.
Thomas Sierra was 19 years old when he was arrested and later convicted in the 1995 shooting death of Noel Andujar. Sierra's attorneys say there was no evidence connecting him to Andujar's death, save for eyewitness testimony they claim former Chicago police Detective Reynaldo Guevara fabricated in order to implicate their client.
Sierra spent more than half his life in prison before his release last November, but in January, the Cook County State's Attorney's office announced it was dropping all charges against him, saying it was "unable to meet (its) burden so we dismissed the case."
Now Guevara, the city and a half dozen other former Chicago Police Department employees are the subject of a federal civil suit claiming they framed Sierra and suppressed evidence that would have proved his innocence.
"It's more people like me who are still incarcerated," Sierra, surrounded by family and friends, said during a press conference Monday. "At the end of the day, I mean, something's got to be done about it ... It's just not right, it's not right."
Andujar, 24, was in a vehicle traveling on North Kedzie Avenue in Logan Square when he was killed in what police believed to be a gang-related shooting in May 1995. Two witnesses riding in the vehicle with Andujar told officers on the scene they didn't get a good look at the shooter.
But even so, they were brought in to view a photo lineup and picked out Sierra's photo after Guevara told them he was the one responsible for the shooting, according to the complaint.
Sierra was convicted and sentenced to 45 years in prison. He was later paroled last November after serving 22 years. That sentence not only cost him countless time with his family, but he also missed the birth of his daughter and her entire childhood.
"The damage that was done to his life is almost incalculable," one of Sierra's attorneys, Jon Loevy, said Monday. "Life is not easy when something like this has happened."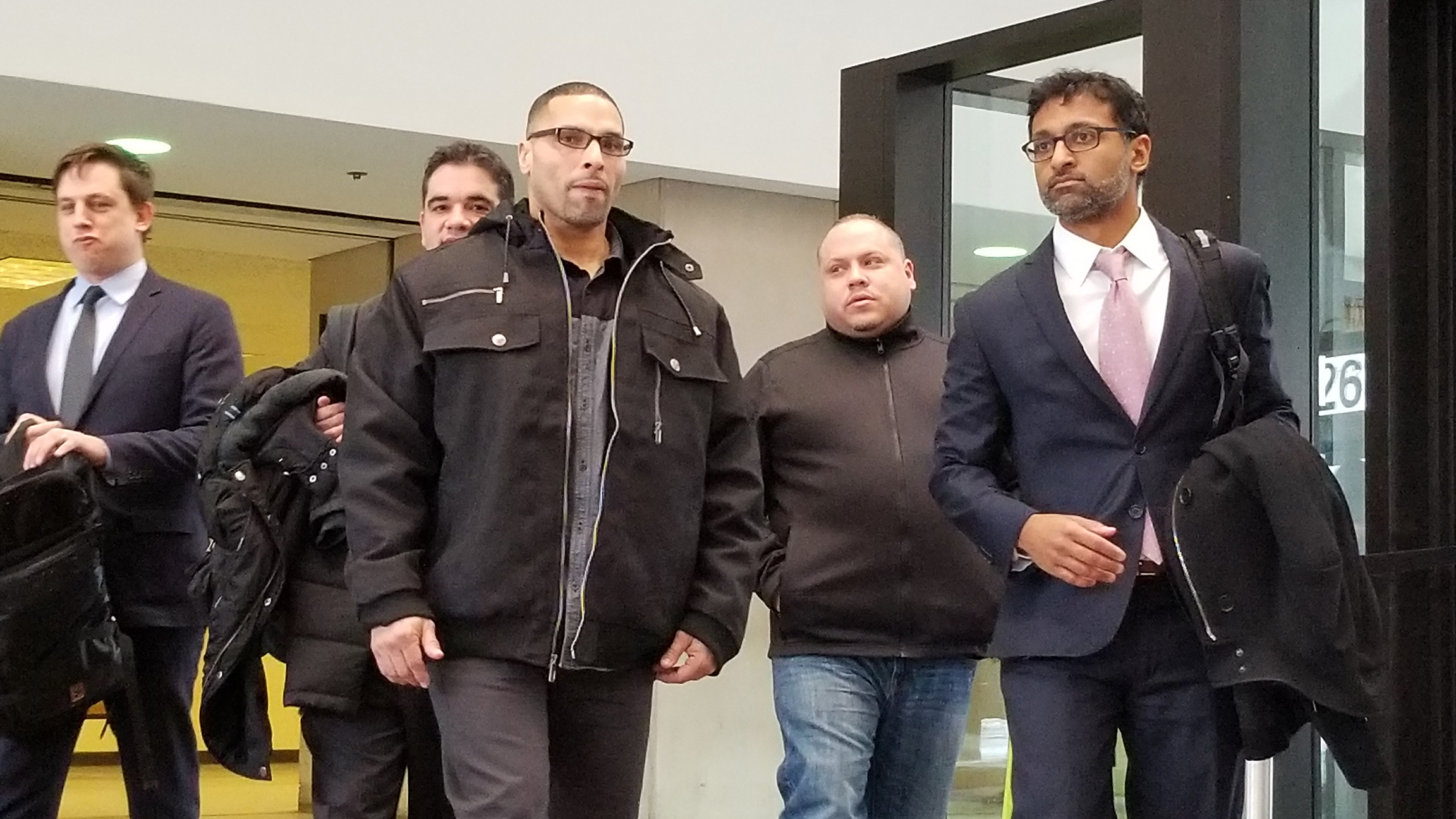 Thomas Sierra, center, exits the George N. Leighton Criminal Courthouse on Jan. 9, 2018. (Matt Masterson / Chicago Tonight)
Sierra is still adjusting to life outside of prison. His attorneys say their client is one of 18 men who have had convictions tossed out as a result of similar misconduct from Guevara, who they claim was "truly on a rampage of wrongful convictions."
Guevara has since been called to testify about his actions in these cases multiple times, but has repeatedly invoked his Fifth Amendment right on the witness stand.
On top of the civil suit, Sierra's attorneys are also calling for an immediate criminal investigation into Guevara's alleged misconduct.
"It's time for the State's Attorney to look into Mr. Guevara. Why is there no criminal accountability for the officer who caused so much harm?" Loevy said. "We're talking about hundreds and hundreds of years of wrongful convictions."
Contact Matt Masterson: @ByMattMasterson | [email protected] | (773) 509-5431
---
Related stories: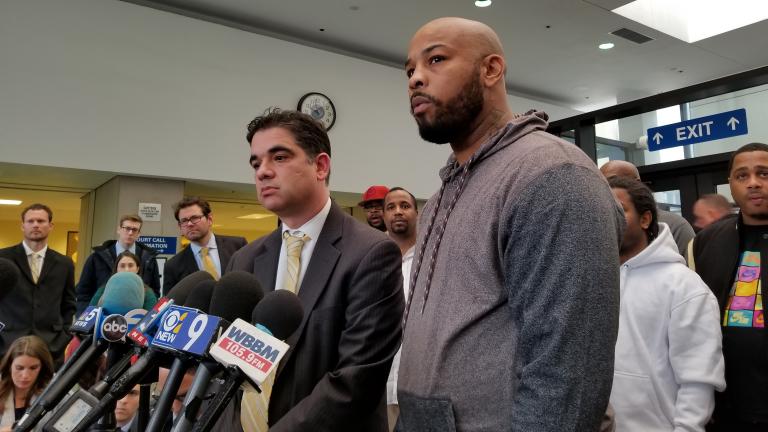 15 Men Cleared in First-Ever Mass Exoneration in Cook County
Nov. 16: "It's a brand new beginning for me," said Leonard Gipson, one of 15 men who had drug convictions vacated by a judge Thursday. The convictions stemmed from arrests made more than a decade ago by disgraced former Chicago Police Sgt. Ronald Watts.
---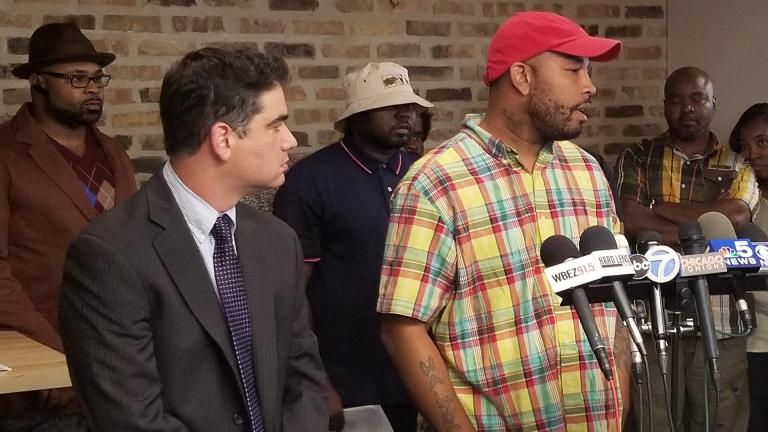 15 Men Seek Exoneration in Lawsuit Claiming Chicago Police Corruption
Sept. 13: More than a dozen residents of the former Ida B. Wells housing project say they were framed and intimidated by a former Chicago Police Department sergeant. Now they are seeking to have their convictions overturned.
---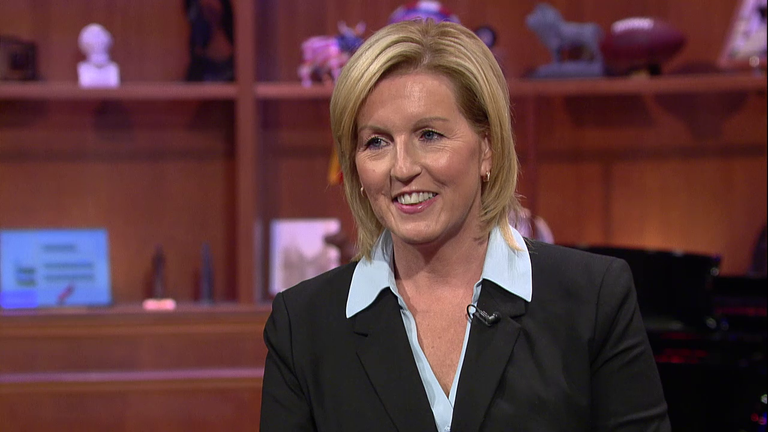 Whistleblower Cop On Ending Police 'Code of Silence'
June 20, 2016: Meet a Chicago police officer who says she faced retaliation after investigating corrupt cops, and find out how she hopes to help other whistleblowers.
---