Is there anything Chicagoans love more than hometown foods? Take, for instance, the beloved Chicago-style hot dog. On an average day at Wolfy's in Rogers Park, co-owner Gus Romas says they sell between 150 and 250 hot dogs. And while not all of those hot dogs get the Chicago-style treatment, the poppy seed bun is the undisputed choice of stage for that garden of delights. Aficionados say it adds a subtle nutty flavor to the dog.
"As far as I can tell it's the only way to serve a Chicago hot dog, it's always been a poppy seed bun," Romas said.
Like many other Chicago stands, Wolfy's nestles its hot dogs in S. Rosen's poppy seed buns baked by the Alpha Baking Company in the Hermosa neighborhood. Alpha says more than 90 percent of Chicago-area stands use their buns. "There's competitors out there, but I really think I have the Cadillac of hot dog buns," said sales manager Jim Deere.
Every day, the ovens in Alpha Baking's compact facility produce more than 150,000 poppy seed hot dog buns.
"A typical dough mass that we make weighs around roughly 2,000 pounds, and out of that we get roughly 14,000 hot dog buns," said production manager Michael Thornberg. "Two-thousand pound dough, 900 pieces a minute."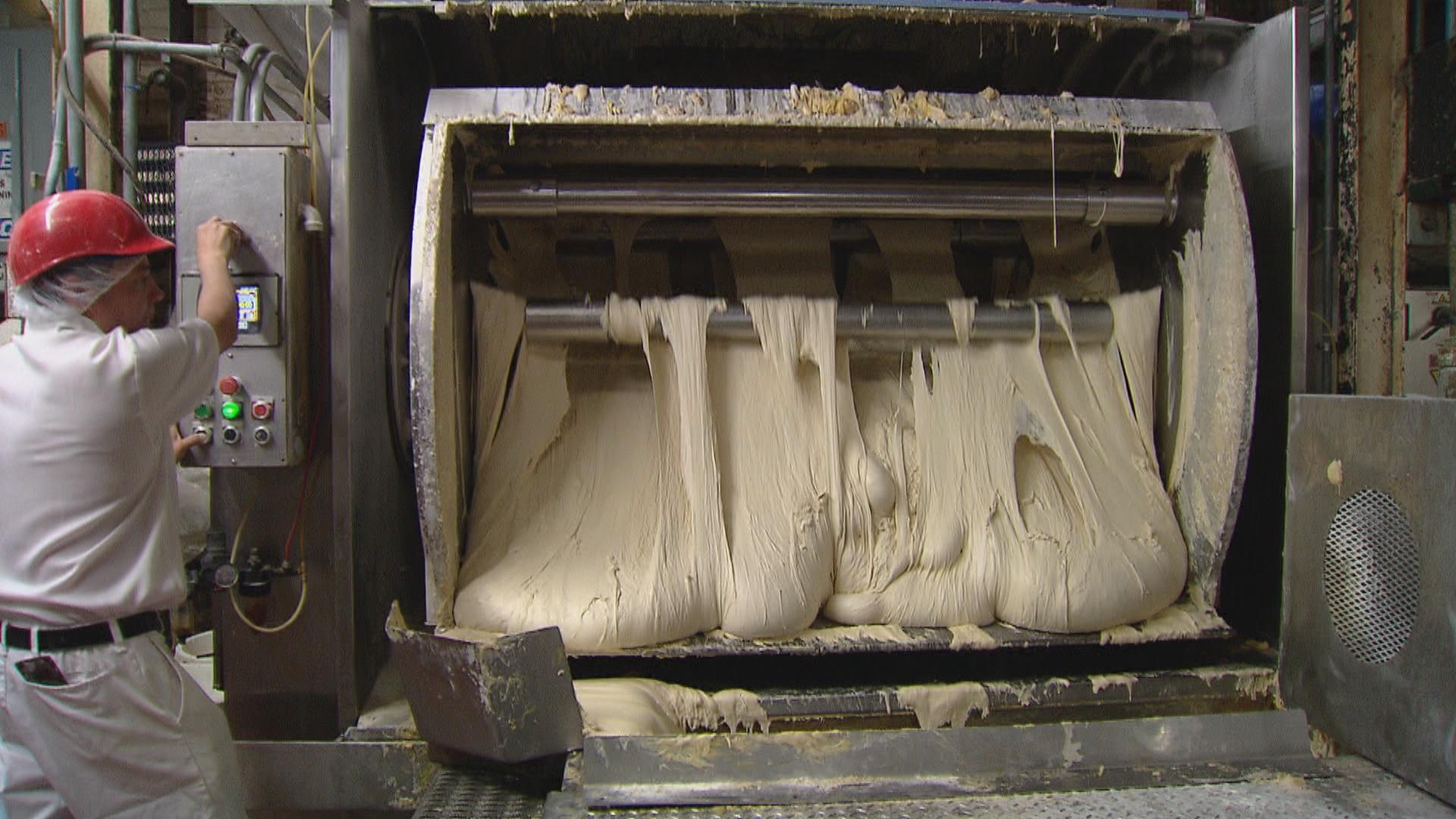 The whopping blob of dough gets portioned, shaped and plopped into baking trays. A steamy journey through a proofing box puffs them up before they get a generous shower of poppy seeds.
"The going joke is that back in the day, we used to have an individual who used to place the poppy seeds on by hand and then we would count the poppy seeds by hand," Thornberg said.
The seeded buns are baked for seven minutes and circle the bakery's ceiling on racks to cool. Then the buns are sliced and packaged in a variety of ways, including boxes designed especially for Chicago hot dog stands, where buns get a sauna treatment before they're loaded up. Deere says the boxes are specially made for steam tables, so "the bun steams up beautiful and you get that … nice soft bun."
S. Rosen's, started in 1909, is the primary retail brand of Alpha Baking, which operates multiple bakeries in the Chicago area. Chicago's years as a grain milling powerhouse and turn-of-the-century immigrant boom created an ideal environment for the commercial baking industry to rise.
Among the oldest bakeries still operating today in the Chicago area is the Gonnella Baking Company, which started as a small bakery on DeKoven Street in 1886. One Chicago favorite often served on Gonnella bread has developed its own ordering vocabulary – one can order a beef dipped, dry, hot, sweet, or cheesy.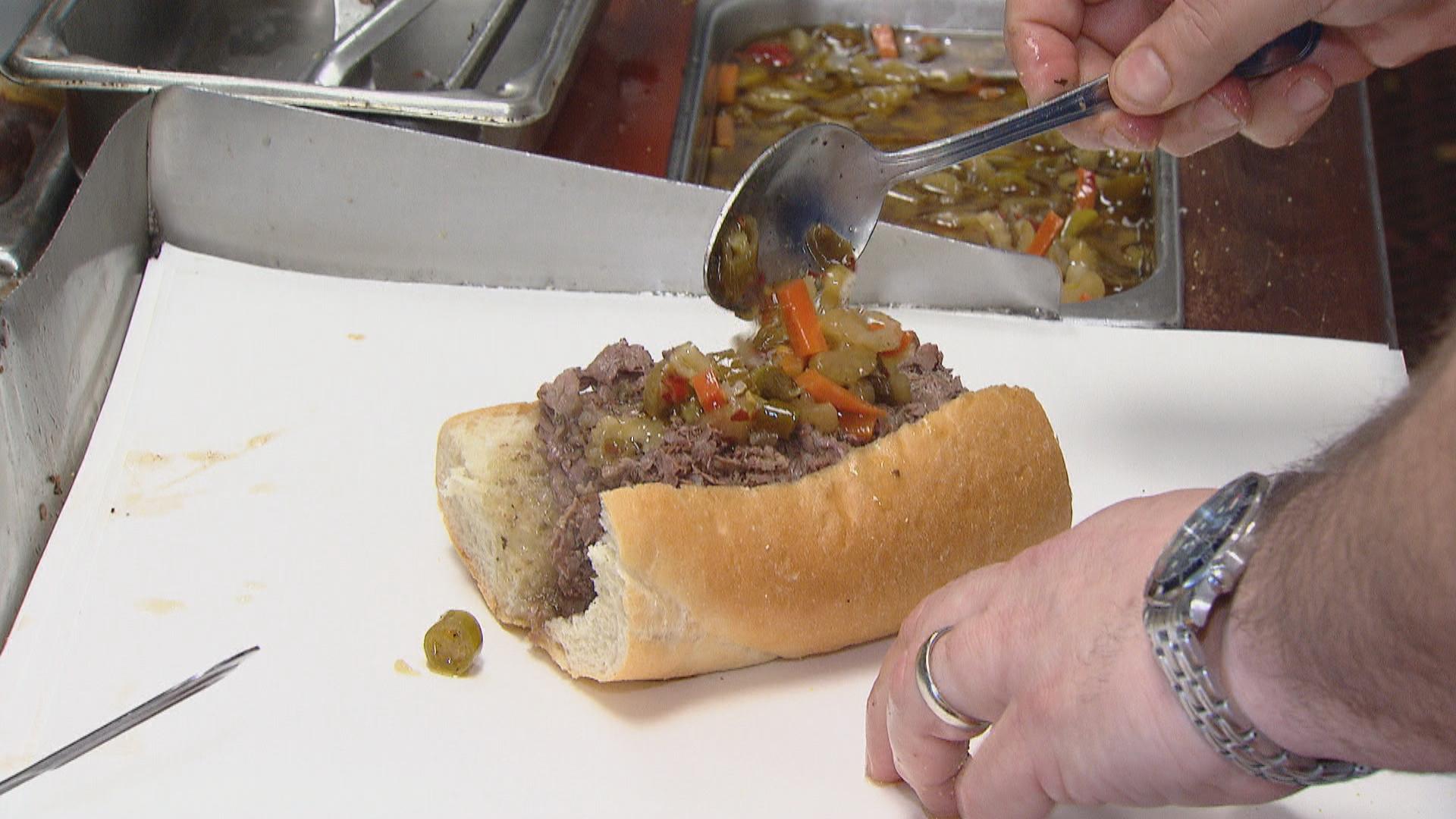 The Italian beef at Roma's rides inside in 6-inch portions of Gonnella loaves that start out 3 feet long. Restaurants like Roma's prefer the unusual length for easy and consistent portioning, and Gonnella Baking's Tom Marcucci points out that the loaves' sturdy crust allows the sandwiches to survive a gravy dunk. "A lot of Chicagoans like their Italian beef wet, so you want a nice crispy crust there to begin with so it'll hold up to that dipping process," he said.
Roma's co-owner Fred Rafidi says he relies on that hearty crust to support the 170 or so beefs his restaurant serves up each day. "It holds the beef, you can dip it, it's got wonderful flavor. We've been here since 1968 and always used Gonnella ever since," he said.
Despite the name, Italian beefs are Chicago originals. They're an invention of the city's Italian immigrants, who worked in the stockyards and brought home cheap cuts of beef that they simmered in spiced gravy, sliced thinly, and served on crusty rolls. Since then, the Italian beef sandwich has become a Chicago staple, and for the most part, a sandwich you can only get in the Chicago area.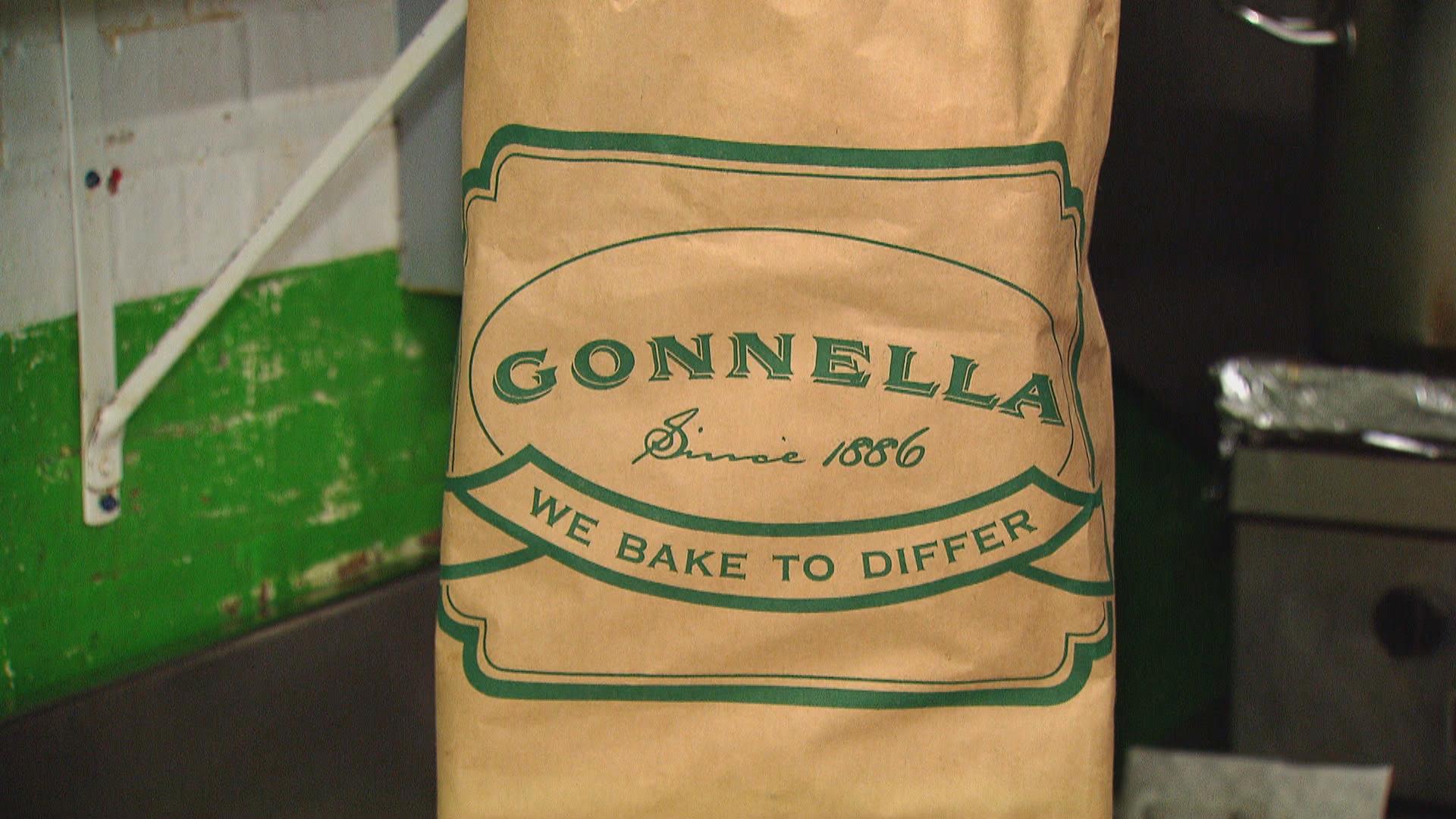 Gonnella's history in Chicago is as long as these loaves thanks in large part to Italian beefs. "Our customers have been buying the same product from us in basically the same form since they opened their doors, and some of those situations go back to the 1930s, 1940s," Marcucci said.
At their bakery in Aurora, Gonnella produces 2,800 of what they call the extra-long French loaf every hour and delivers them fresh to restaurants in the wee hours of the morning.
Even though the process has become significantly more modern, Gonnella still does some things the old way: The loaves are portioned and stretched mechanically before they're laid onto a bed of cornmeal scattered over wooden peels and put into line with one final stretch, done by hand.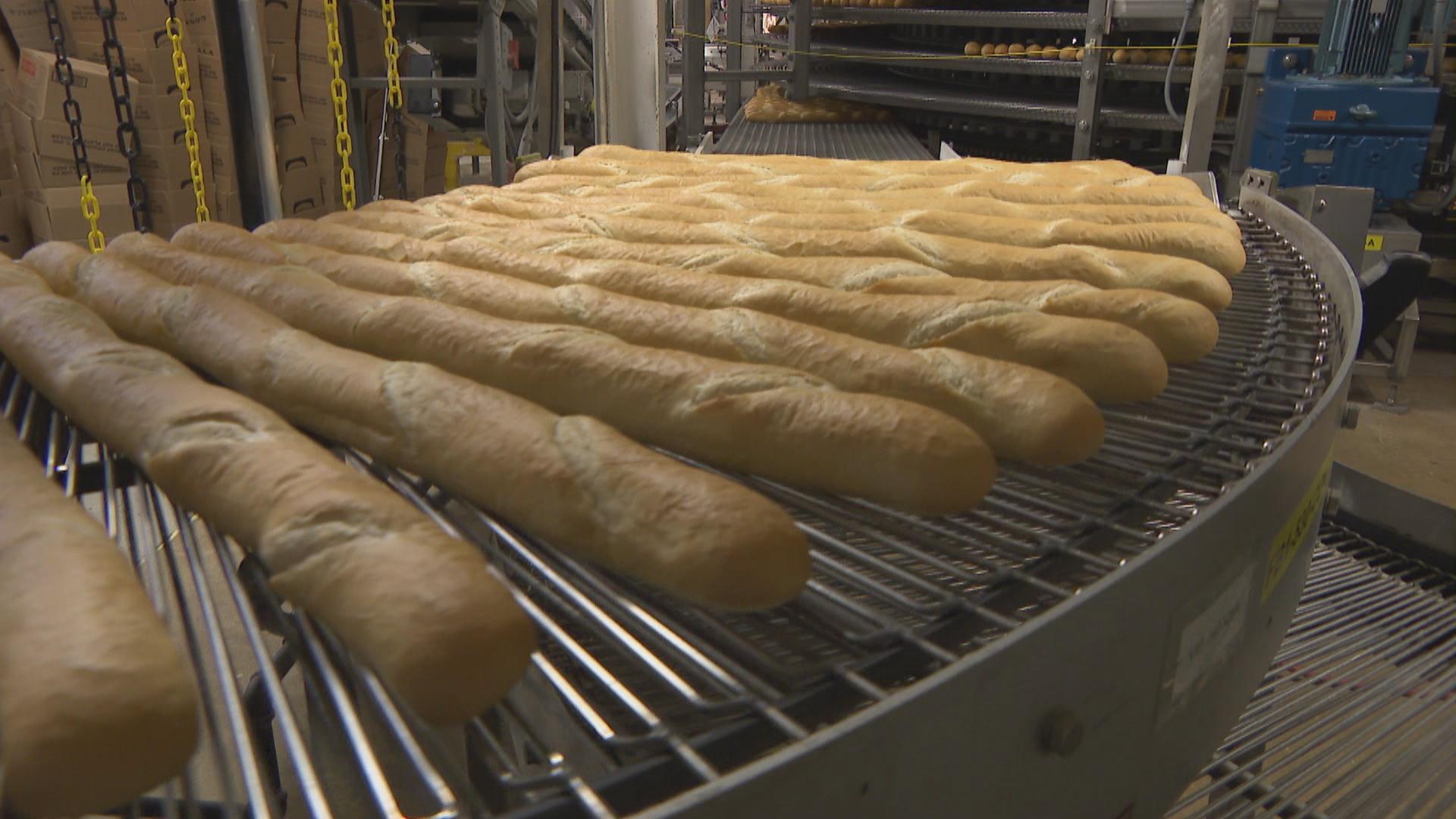 Like the poppy seed buns, the long loaves are particular to the Chicago market, and they too get special packaging – an old fashioned brown paper bag. "It allows the bread to continue to cool. We want to attain a crispy crust for our French bread so that's why we don't put it in plastic," Marcucci said.
So the next time you dive into one of Chicago's messy, meaty treats, spare a thought for their Chicago-bred vehicles that make them so neat to eat. 
---
Related stories: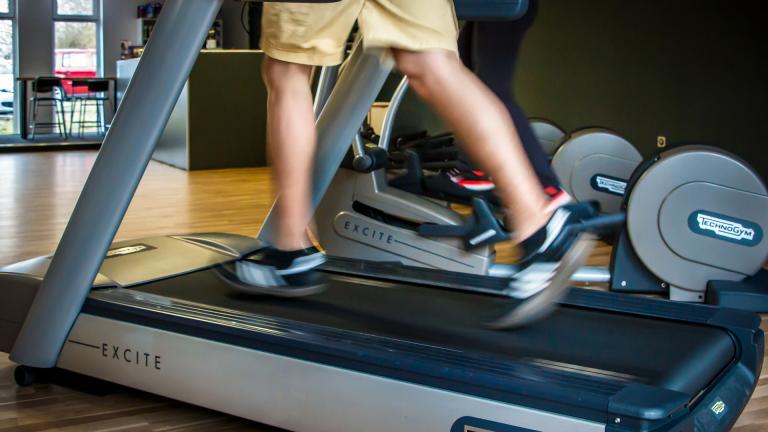 Struggling to Lose Weight? These 5 Myths Could be to Blame
Jan. 22: If you're looking to shed pounds, you've likely done some Googling. But beware: Not everything you read online will help you reach your beach bod goals. Local dietitians debunk diet and exercise myths and share tips.
---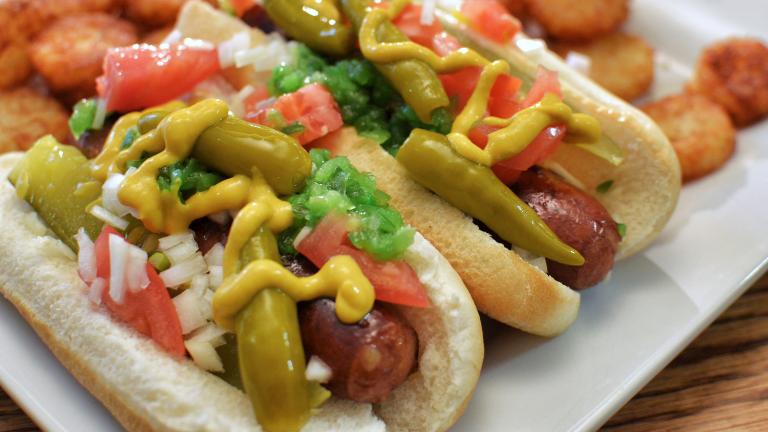 'Chicago Food Encyclopedia' Digs into City's Culinary Quirks
Aug. 30, 2017: A new book examines the city's history and culture through a culinary lens, from Chicago originals to products and companies, restaurants, trends and beyond.
---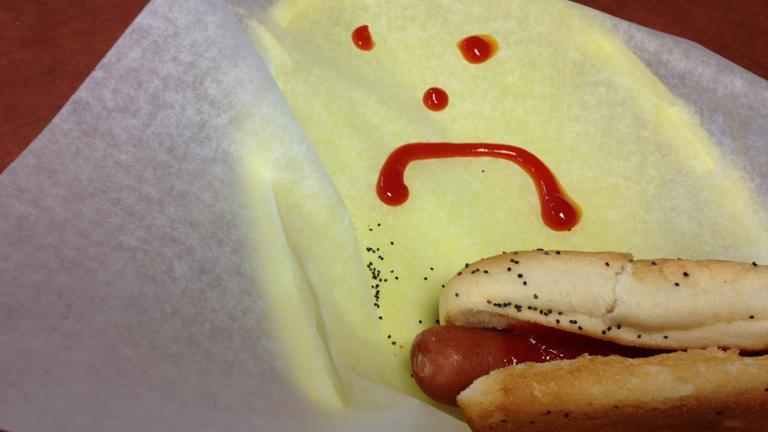 Ask Geoffrey: Why No Ketchup on Hot Dogs, Chicago?
Aug. 23, 2017: Geoffrey Baer explores why hot dogs and ketchup don't mix in Chicago in this encore edition of "Ask Geoffrey."
---