It's hard to believe now, but Chicago was once a hive of clothing manufacturers that kept sewing machines humming and immigrants employed into the early 1920s.
Over the last century, however, those apparel factories – and jobs – have largely been offshored to places where labor is cheaper.
Chicago Tonight visited a small company on the West Side of the city that is hoping to revive the Chicago apparel industry with a combination of American materials and immigrant know-how. 
Tonight: A look at Dearborn Denim and Apparel.
TRANSCRIPT
Jay Shefsky: In a former industrial laundry in Garfield Park, a fledgling jeans manufacturer is stitching together an American revolution.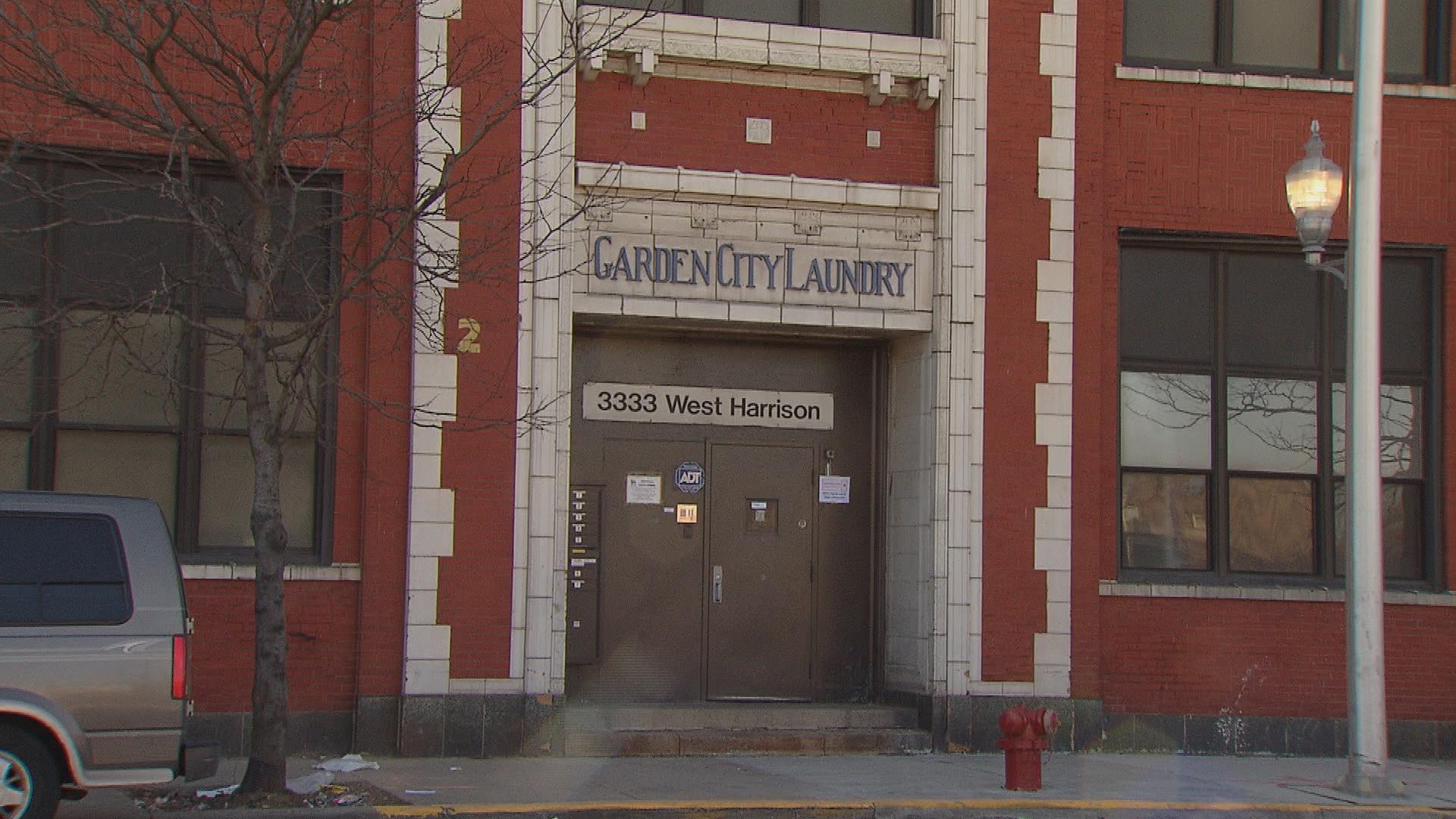 Rob McMillan, founder of Dearborn Denim: Start to finish it takes us about an hour from a roll to packaging a pair of jeans and sending it out the door
Shefsky: Rob McMillan, founder of Dearborn Denim, makes it sound easy.
McMillan: We make blue jeans and we sell 'em directly to customers online just straight from the manufacturer.
Shefsky: It's a simple concept, but like a pair of jeans, there are a lot of pieces that go into the business.
The most American of wardrobe staples starts, of course, with denim.
McMillan:  We use west Texas long staple cotton. It's loomed in Georgia in America's most technologically advanced denim mill.
Shefsky: Everything else that goes into the jeans – the thread, the rivets, the zippers – is made in America too.
The fabric is laid out on a table with a pattern and cut into the 15 pieces – from pockets to belt loops – that make up a pair of jeans.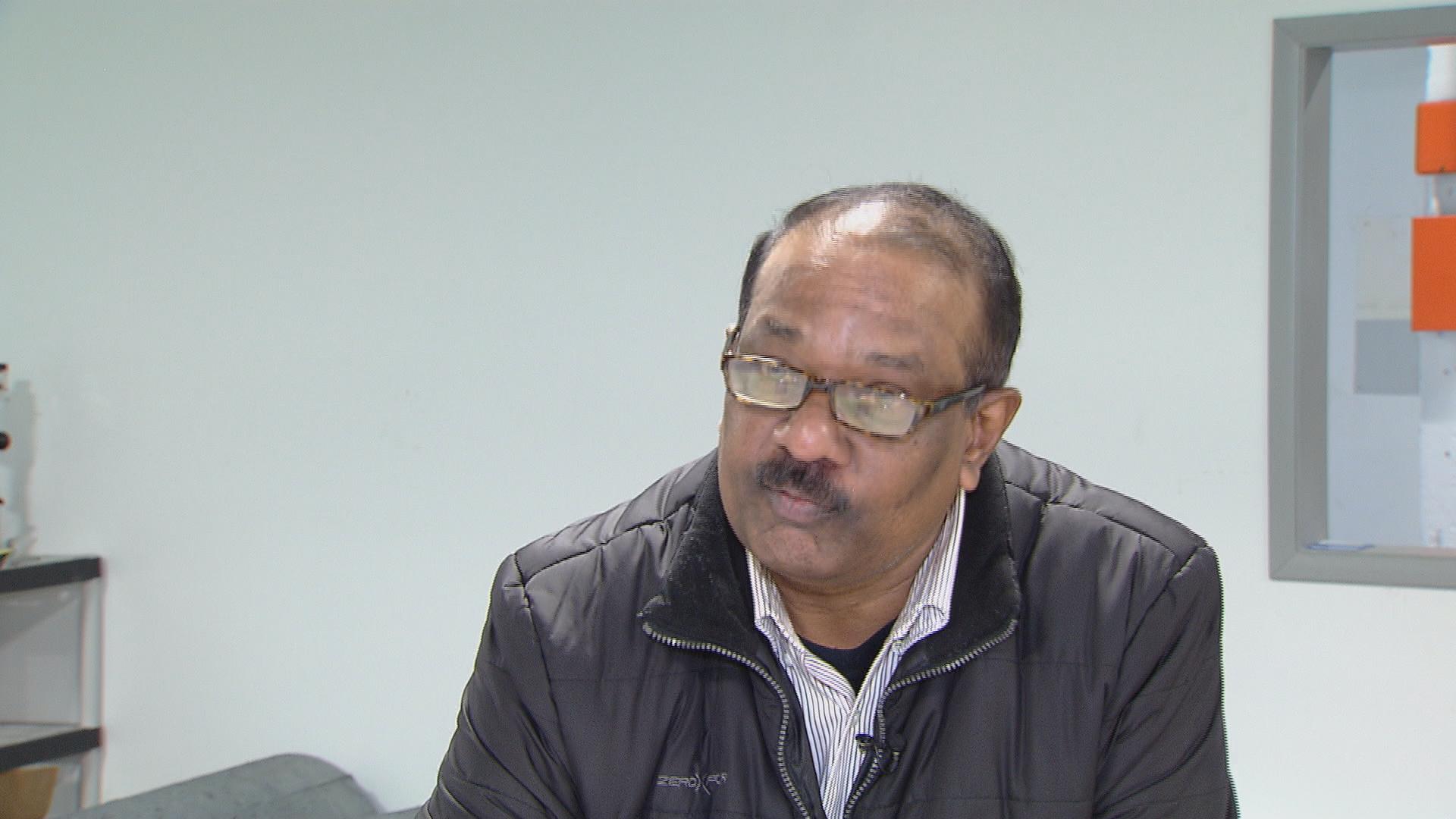 Vick Rajagopal Vick Rajagopal, Dearborn Denim production manager: We lay 15 layers in one cutting. (So once the cutting is done, we do the bundling, and then send them to sewing.)
Shefsky: That's production manager Vick Rajagopal. Before immigrating to Chicago, Vick spent years working in garment factories overseas. He now oversees the process as about 50 pairs of jeans a day get washed, pressed, checked for quality and shipped to customers.
Other companies are making jeans in America, but they're charging as much as three or four times the price. All of Dearborn Denim's jeans are $49 a pair and they say the people that make them get paid fair wages.
McMillan: We try and pay as much as we possibly can. The national average, I believe, for a seamstress is about $12 an hour and we're up at $15 and hopefully as our production increases we can pay more. At the same time we're competing with labor costs from overseas and those are a $1, $2 an hour.
Shefsky: McMillan says that online marketing and no retail overhead make the pricing math simple.
McMillan: What is the lowest possible price that we can get these out the door without having to turn off the lights? When I realized that we could make them here paying good wages and using great materials and selling directly to customers for 49 bucks, I said I want those, I bet other people want those too.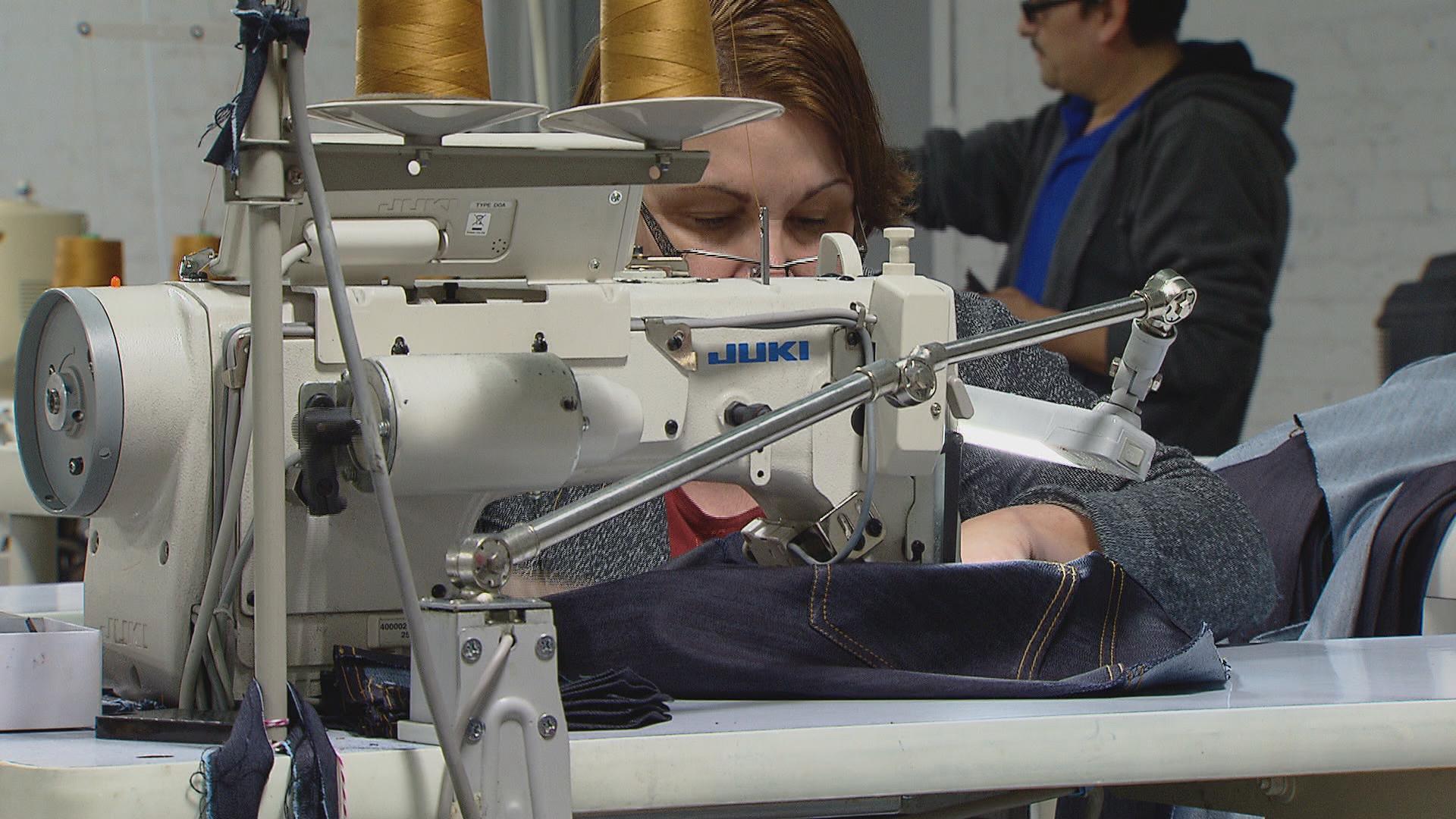 Dearborn Denim and Apparel (Chicago Tonight)
Shefsky: And a good deal is something that McMillan had some experience with in his former career.
McMillan: I was bond trader, so I traded U.S. treasuries, euro dollars, fixed income assets. My heart wasn't in it and I wanted to transition out of it. Originally, I was just looking to start a company.
Shefsky: But he didn't know what company he wanted to start until his wife complained that the jeans she was buying weren't holding up after a few washes.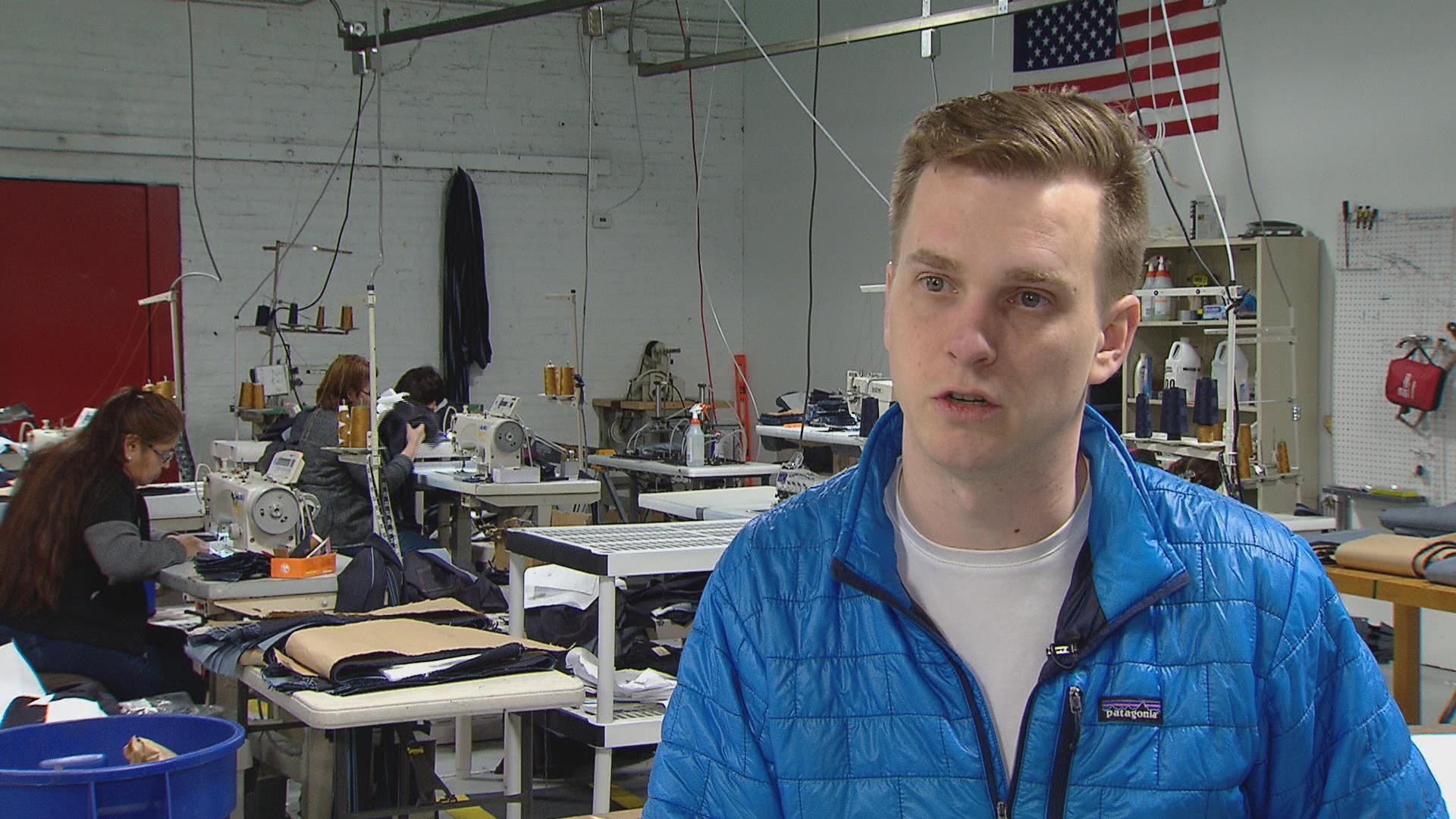 Rob McMillan McMillan: I said, OK, what if we started making jeans in Chicago, what would that look like? So I started researching on the internet, visiting apparel manufacturers and putting it together.
Shefsky: As he developed styles, he looked to his wife to be the tastemaker, too.
McMillan: When we made the sample for what we make now, I had my wife try on the ladies' pair. She put 'em on and said "These are perfect. We're making these."
Shefsky: Most of Dearborn Denim's customers are in the Chicago area for now, but their e-commerce business model means they can sell to anyone willing to buy jeans online.
McMillan: We're a manufacturer designed for e-commerce. That central geographic location gives us a leg up on distribution.
Shefsky: And, if you're curious to see what goes into making a pair of jeans, Dearborn Denim hosts factory tours about once a month.
McMillan: Not a lot of people have gone on a factory tour of apparel manufacturing cause there's not a lot of it. You get to see how it's made, where everything comes from, you know, it's fun.
---
Related stories: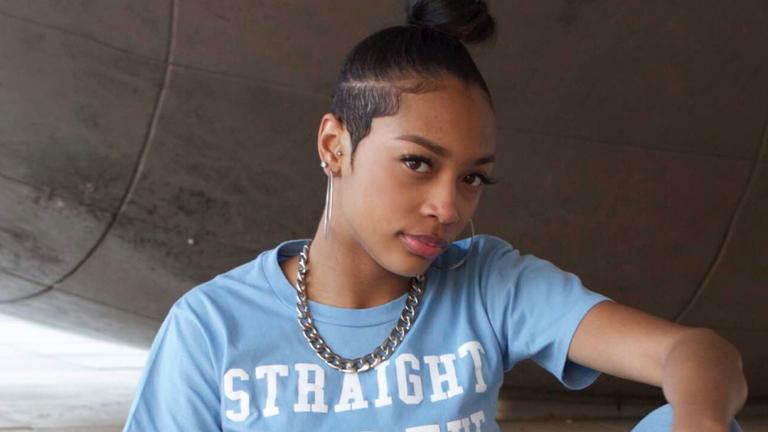 Chicago Neighborhood Development Awards Highlight Progress, Positivity
Feb. 28: The 18-year-old founder of a Chicago clothing line will be the youngest recipient of a leadership award at the Chicago Neighborhood Development Awards on Tuesday. Meet Raven Smith and learn about her brand, Straight From The Go.
---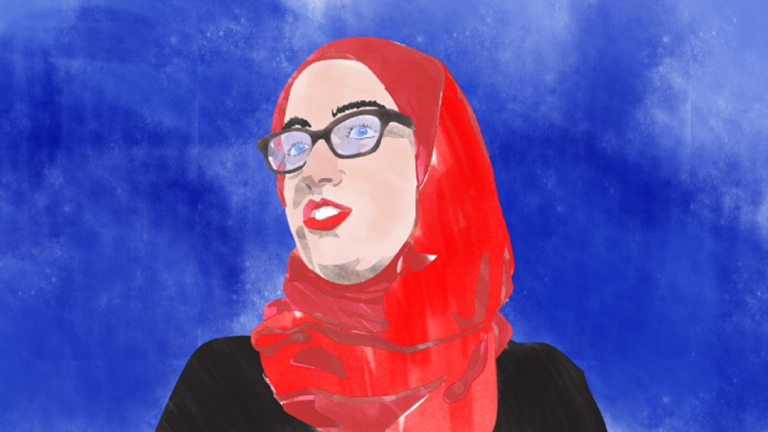 '90 Days, 90 Voices' Shares Stories of Immigrants, Refugees in Chicago
Feb. 24: Inspired by President Donald Trump's executive order on immigration, a team of local journalists launched a website this week to tell the stories of immigrants and refugees living in Chicago.
---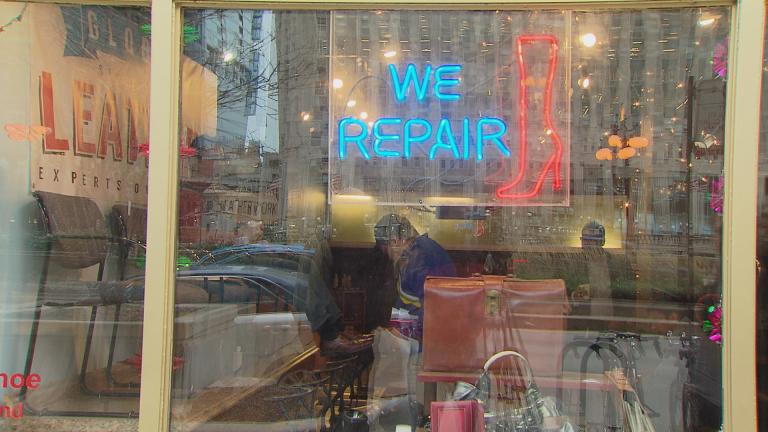 Shoe Repair Dynasty: A Dozen Cobblers Across 3 Generations
Jan. 4: An 83-year-old cobbler inspires a shoe repair dynasty that spans three generations.
---