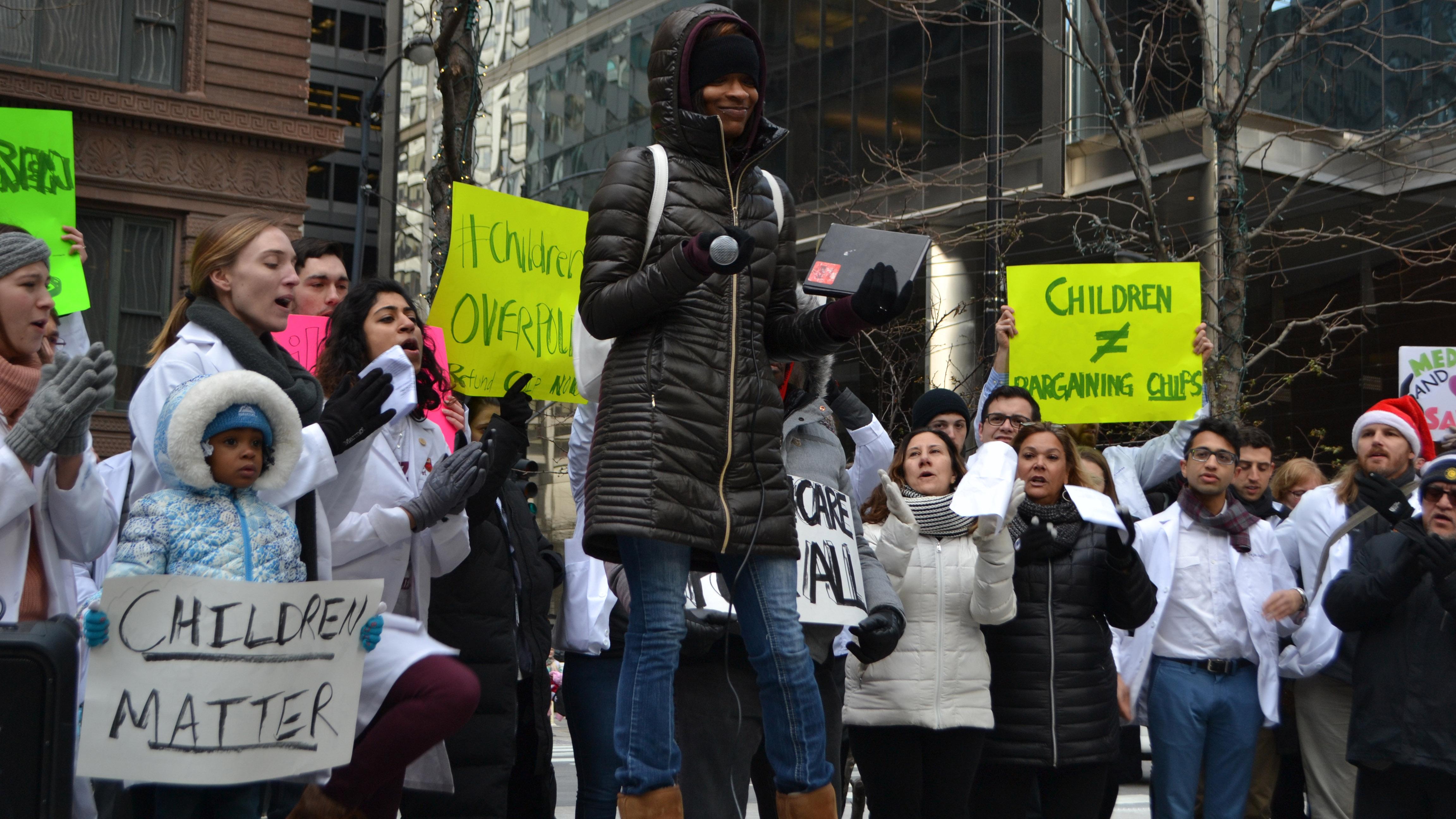 (Kristen Thometz / Chicago Tonight)
Dozens of health care providers and medical students on Thursday called on Congress to reauthorize federal funding for the Children's Health Insurance Program (CHIP) that expired Sept. 30.
"Babies can't wait," said Ireta Gasner, assistant director of the Ounce of Prevention Fund, at a lunchtime rally at Federal Plaza. "This delay hurts children and families. It hurts all of us when our kids don't get that chance for a good start, so together we're calling on Congress to act now."
Nationwide, CHIP covers nearly 9 million children of working families who earn too much to qualify for Medicaid but can't afford or access private coverage. By the end of January, 16 states will run out of funds, according to the Kaiser Family Foundation, and three-quarters of states expect to run out of funds by the end of March. (The Illinois Department of Healthcare and Family Services estimates CHIP could continue to operate fully through September 2018 with no additional federal funding.)
Melanie Lockridge, a single mother with two daughters, says the risk of the program running out of money is "scary" and that without it, she wouldn't be able to pay for the medical needs of her 1-year-old daughter Zamarii.
Zamarii was born premature on Sept. 5, 2016, weighing 1 pound, 9 ounces. "She was hospitalized the first three months of her life," Lockridge said. Zamarii had a tracheostomy and uses a gastronomy tube to eat. "Since Sept. 5, 2016 she's shown nothing but signs of a fighter from having surgery, fighting battles I know wasn't fair," she said. "As much as I love my daughter, I know there is no way she would survive without the help and support of this program."
In Illinois, approximately 1.5 million children of middle-income families received health care in 2016 through the All Kids Program, with CHIP providing nearly $497 million in federal funding for health care coverage for an estimated 326,000 children in the state, according to the Ounce of Prevention Fund.
For fiscal year 2017, Illinois' CHIP federal share was $312.6 million on total spending of $347.7 million, according to The Illinois Department of Healthcare and Family Services.
Up to 132,000 CHIP beneficiaries' coverage may eventually be affected by the reauthorization debate before Congress, according the department, which said it estimates an additional 123,000 would continue to receive Medicaid services regardless.
"I'm old enough to have known the world of health care before CHIP and it didn't look as good as it does today," said Dr. Matt Davis, division head of Academic General Pediatrics and Primary Care at Ann & Robert H. Lurie Children's Hospital of Chicago. Thanks in part to CHIP, 97.5 percent of Illinois children are insured. "CHIP is an essential investment for our children and compassionate support for our families."
Historically, CHIP has received bipartisan support from both chambers of Congress, which is why it "makes no sense" that the program has yet to be reauthorized, said Dr. Philip Verhoef, an intensive care physician at the University of Chicago who treats both children and adults.
"This is a nonpartisan issue. This is nonnegotiable," Verhoef said. "This is not an entitlement. This is a lifeline. This is a lifeline that without it children die. Until Congress deploys this lifeline, all we're going to see is more and more children suffer and that for me as a pediatrician is absolutely unacceptable."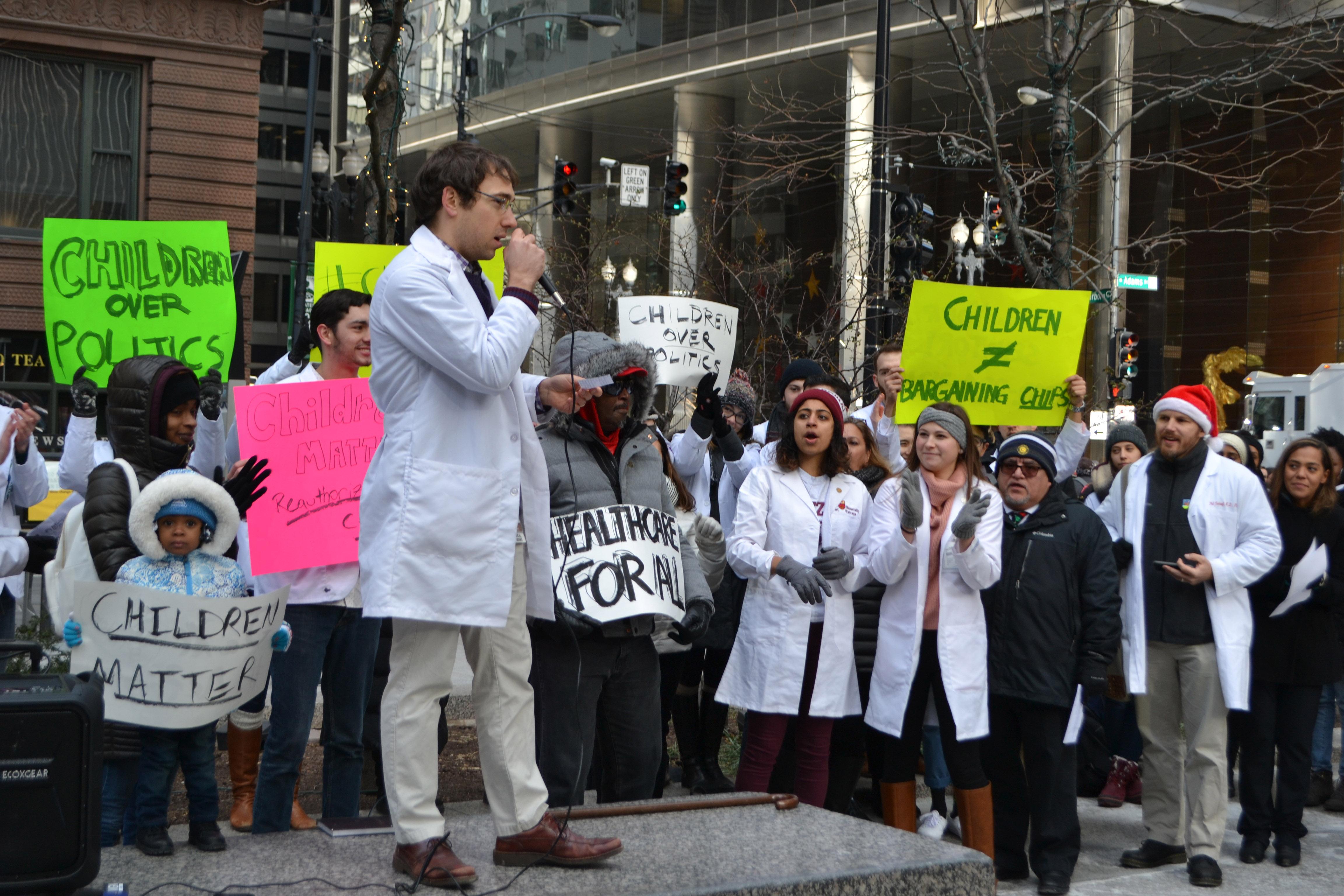 (Kristen Thometz / Chicago Tonight)
For the dozens of medical students at Thursday's rally, advocating for CHIP funding is among their duties as caregivers. "The oath we take when we're given these white coats obligates us to advocate on behalf of our current and future patients," said University of Chicago medical student Eric Sullivan. "And as medical students, the kids that aren't getting care today are going to be the patients that we're seeing in 10, 20, 30 years with health problems, and we're going to be saying, what if? As new members of the medical community, we're unwilling to take that risk and we're demanding our legislators do the same."
In addition to CHIP funds expiring, Sept. 30 marked the expiration of funding for the Maternal, Infant, Early Childhood Home Visiting (MIECHV). Started in 2010 with the approval of the Affordable Care Act, MIECHV supports children and their families, particularly at-risk and low-income families, through evidence-based voluntary home visiting programs.
Nurses or paraprofessionals visit families in their homes on a regular basis to educate them on appropriate parenting, nutrition and the social-emotional development of children, among other things. More than 1,000 families in 32 different communities across the state take advantage of MIECHV, said Gasner.
"Like CHIP, we can't lose ground. The stakes are too high. I'm mad. I don't know why we're letting these programs expire," she said. "I don't know why parents across the country are wondering whether their kids are going to have health care, whether their family coach or supporter that's been there with them can continue to do that work, especially when lawmakers on both sides of the aisle know these programs work and say they want them to continue. Let's get it done."
Contact Kristen Thometz: @kristenthometz | [email protected] | (773) 509-5452
---
Related stories: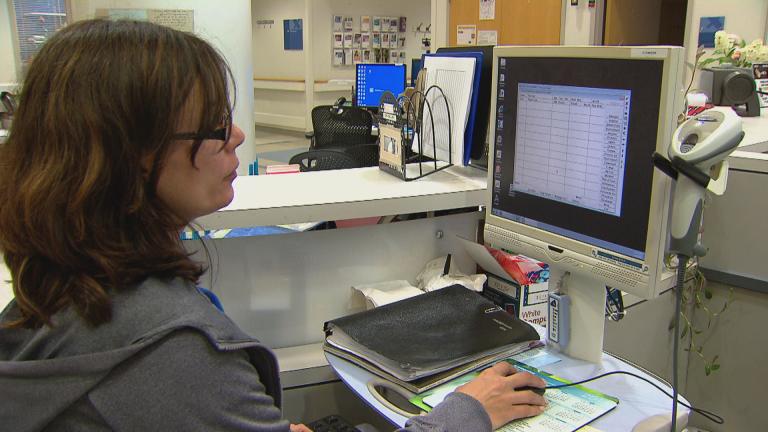 Despite Uncertainty Over Obamacare, Illinoisans Rush for Coverage
Nov. 29: While the Trump administration has repeatedly tried to repeal Obamacare, Illinois residents are still taking advantage of it in droves.
---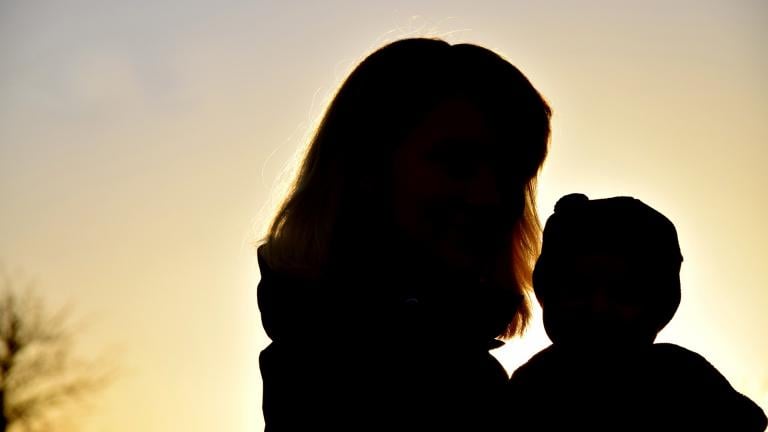 Letter: Extend Federal Funds for Children's Health Insurance Program
Nov. 16: More than 50 organizations are urging the Illinois congressional delegation to reauthorize funding for programs that provide health insurance to children and support for low-income and at-risk families, before it becomes a crisis in the state.
---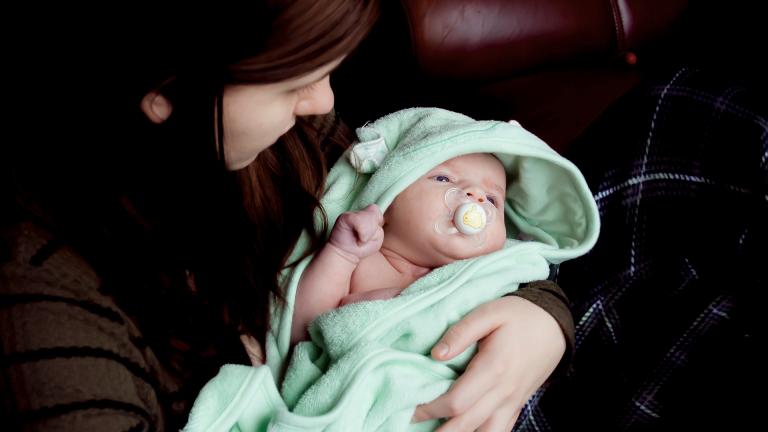 Chicago Teen Birth Rate Drops to New Low
Nov. 13: Teen birth rates in Chicago have reached a new low, according to city officials. In 2015, there were 27.5 births per 1,000 girls ages 15-19, a 67-percent drop from 1999.
---