Forty years ago, the Goodman Theatre began offering "A Christmas Carol" to Chicago audiences. The move was a risk: It would be an expensive production that wouldn't pay off immediately, and if audiences didn't embrace it as a tradition it would be an economic disaster.
But audiences did come, and come back each year. The show has endured amid a lot of change—at the Goodman and in the world.
Goodman Theatre's "A Christmas Carol" has been performed in three different theaters: the original home of the Goodman Theatre on Columbus Drive, the Auditorium Theater and at the Goodman's current home on Dearborn Street, in the Albert Theater. During that time, eight different actors have played Scrooge, with Larry Yando currently entering his 10th year in that role, originated in 1978 by William Norris.
There have likewise been 10 directors, including one who had himself played Scrooge, William Brown. And there have been three scripts, the first by Barbara Field, the second by Larry Sloan and the current script by Tom Creamer.
Video: Director Henry Wishcamper gives WTTW's camera crew a behind-the-scenes view of Old Joe's Cart, a rolling pawnshop seen in Act 2 of "A Christmas Carol."
---
Sets have changed, costumes have changed. Of course, Tiny Tims have changed too. ("There's a 50-pound limit!" says actor Ron E. Rains, the current Bob Cratchit.) But the desire to consistently surprise audiences returning year after year—and delight those coming for the first time—means that in this show, the tradition is change.
This year, 10-year-old actor Paris Strickland is the first girl to play Tiny Tim. Actor Molly Brennan is the Ghost of Christmas Past—her pink tutu and handheld flashlights are a testament to director Henry Wishcamper's desire to draw on Brennan's past as the clown Kevin, a persona she had for 12 years as a member of the physical theater ensemble 500 Clown. Actor Ali Burch returns as Frida, Scrooge's niece, a change from Scrooge's nephew Fred in Dickens text.
Goodman's tradition of color-blind and inclusive casting continues, meaning the Cratchit family often includes people of many different ethnic backgrounds, and a young Scrooge could be played, as it is this year, by an African-American actor. And as always, how, when and where the Ghost of Jacob Marley will appear from, and disappear to, is new.
Whether it will last another 40 years remains to be seen, but count on this: Scrooge will say "Bah, Humbug," Tiny Tim will proclaim "God bless us, every one!" and the Goodman will keep changing its presentation of what has become a Chicago holiday theater-going tradition.
More on this story
"A Christmas Carol" is on stage at the Goodman Theatre through Dec. 31. For more information, visit the Goodman's website.
---
Related stories: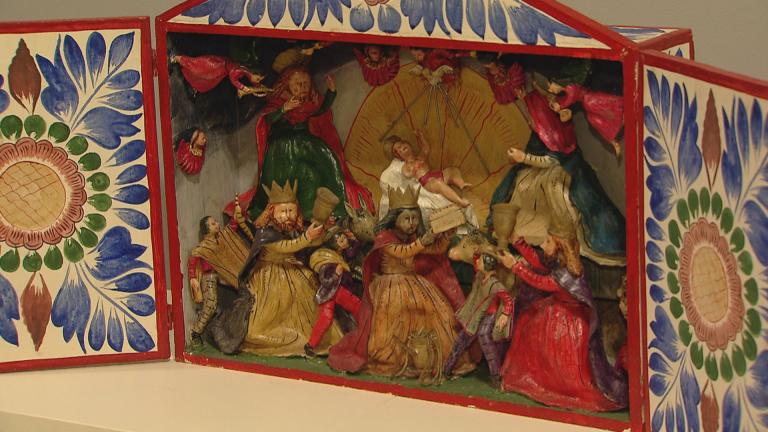 100 Nativity Scenes Highlight Variety of Interpretations
Dec. 13: From ostrich eggs to walnut shells: We explore a collection of unusual and traditional Nativity sets from around the world.
---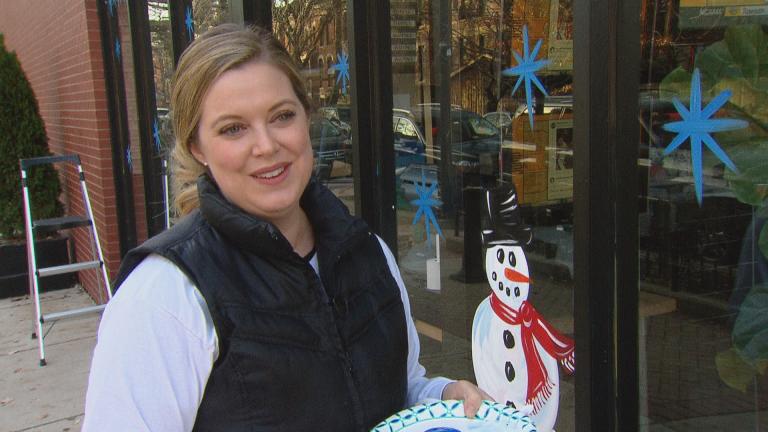 Chicago Gets Dressed Up For the Holidays
Dec. 12: Around Chicago, windows decorated for the holidays are a sure sign that Christmas is on its way. Meet a local artist whose festive fancies could be swirling across a storefront in your neighborhood.
---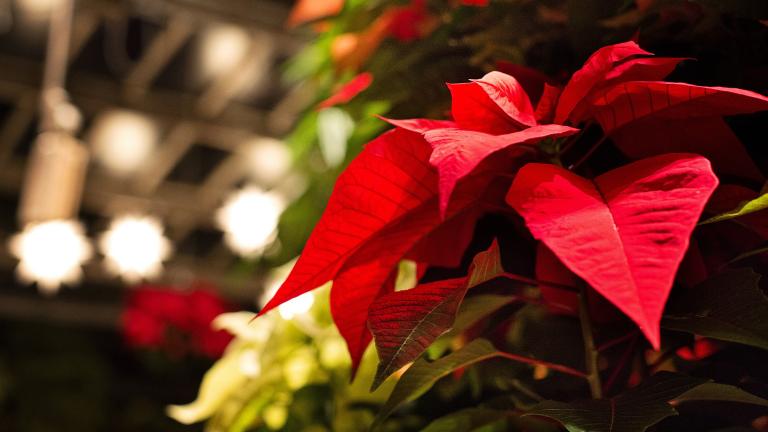 Holiday Cheer Takes Root at Poinsettia Farm in Woodstock
Dec. 7: They appear to be marbled, speckled, dipped and dyed, with names like "Red Glitter" and "Jingle Bell Rock." We visit a poinsettia farm and learn what it takes to cultivate the crop in time for the holidays.
---