Poinsettias are nearly as common as Christmas trees this time of year.
The holiday flowers are actually shrubs that are native to Mexico. Most of the ones we see come from California, but there are some greenhouses in Illinois that cultivate them, as we found out when we visited a poinsettia farm in Woodstock. 
---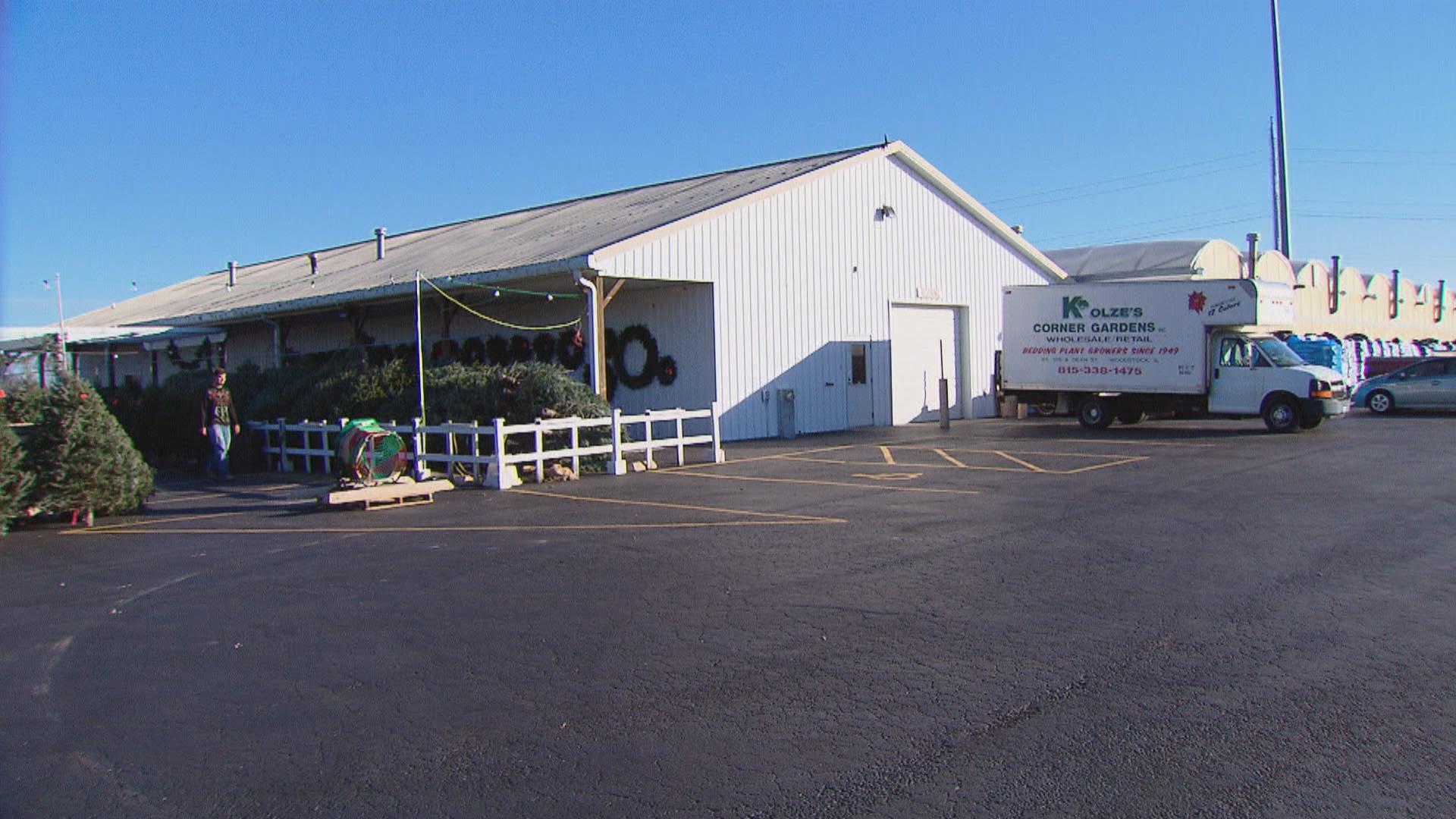 Bob Kolze fashions wreaths with the dexterity of someone who has spent a lifetime working with evergreens.
Kolze's dad actually got his start in 1949, selling lilacs from a farm stand in Palatine. The family has sold vegetables and flowers, then Christmas trees, ever since. Together, they built a greenhouse in Woodstock, which opened in 1997, from scratch. 
But it wasn't until 2003 that Kolze's Corner Garden began to grow poinsettias. And not just your run-of-the-mill reds.
"These here winter rose, right here, I think are one of the most unique because it's actually a poinsettia that has a double bract," Kolze says as he points to a table of potted poinsettias that are deep red in color, with "bracts" that look more like a clusters of rose petals than the plant's trademarked spear-shaped plumes. "I think people like them because they're different."
(The colorful part of a poinsettia is actually the "bract," which surrounds a centerpiece yellow flower.)
Other plants in the 5,000-strong sea of poinsettias filling the half-acre building appear marbled, speckled, dipped or dyed. There's "Ruby Frost," "Green Envy," "Ice Punch," "Pink Ruffles," "Jingle Bell Rock," "Poly Pink," and – Kolze's favorite – "Red Glitter," which "looks like God has just sprinkled it with white paint."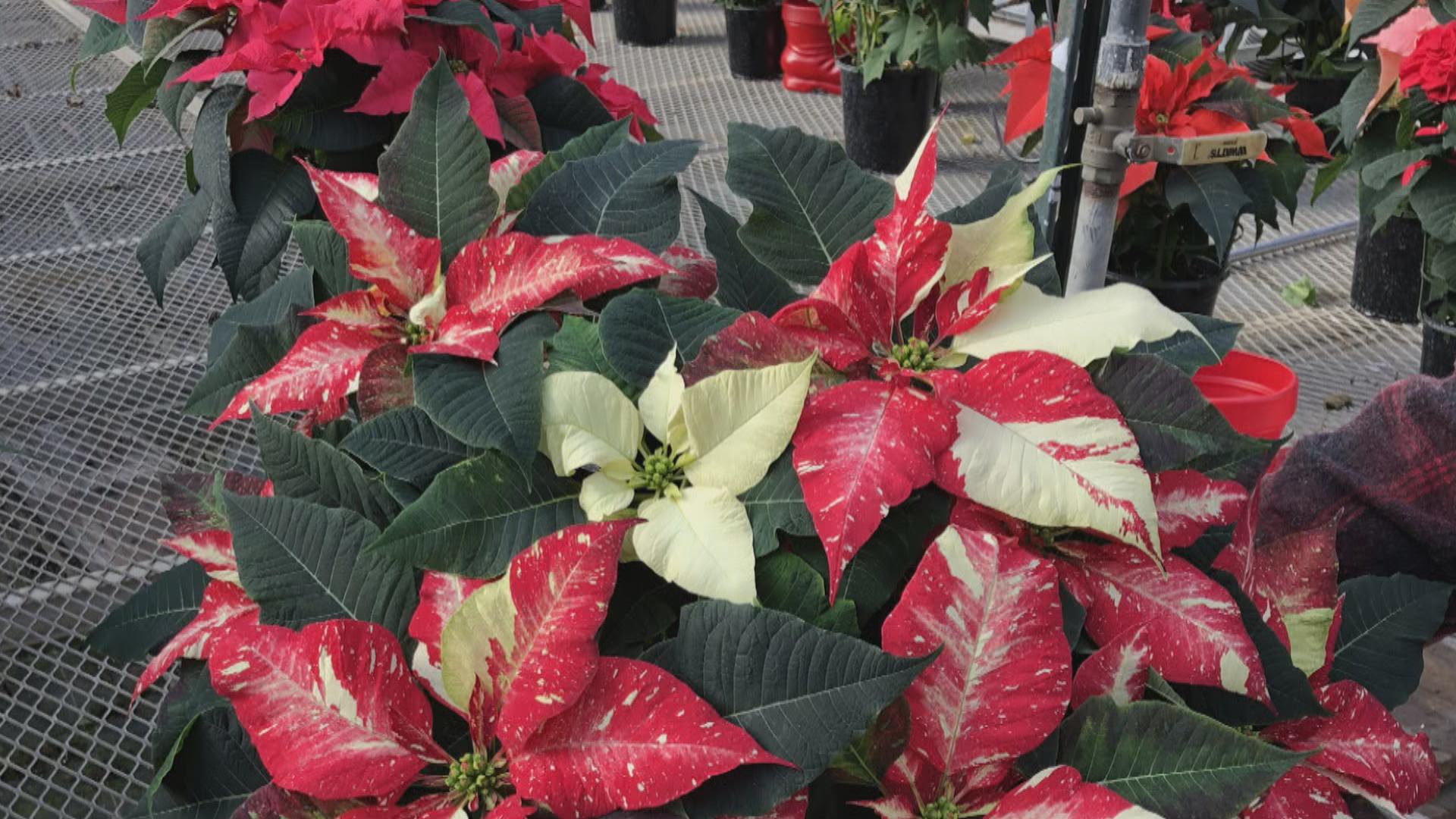 While poinsettias are common everywhere from garden centers to grocery stores this time of year, most have likely been shipped, perhaps from as far as California. Kolze says a store-bought plant may be fine, but if it was left in a warehouse for more than 12 hours it has likely begun degrading.
Kolze's used to ship them in to his garden center to sell to customers.
"We decided the quality wasn't quite good enough for what we wanted to do for our customers. So we decided we're going to tackle a new crop with the poinsettias. We had to teach ourselves how to grow them," says head grower and greenhouse manager Brian Moxley.
Poll: How do you pronounce "poinsettia"?
Each July, Kolze orders cuttings (many from a greenhouse in downstate Milstadt that's a behemoth in the Poinsettia world; others from a grower in Montgomery), each about two inches tall.
Come Christmas, they'll be big enough they fill the entire greenhouse, but at this point they're small enough that they take up a table or two in his greenhouse, leaving the rest of the space for summer flowers, plants and hanging baskets.
He and his crew spend from summer through Thanksgiving tending them.
That's no easy chore, and Kolze says "it is a chore." They're the most demanding plant he grows.
"We got to trim 'em, we gotta pinch 'em, we gotta space 'em. We gotta speed 'em up, we gotta slow 'em down. We gotta turn up the heat, oh turn down the heat! Oh! The bugs are attacking 'em. They don't be like 'Oh we can wait a couple days and do that.' No. We need to be after it," he says. "We're like tending 'em. It's like sheep and we're the shepherds."
The trick isn't just keeping them alive; the team has to cultivate the crop so it is at its fullest, brightest and boldest around the holidays.
All so customers like Bev Tychsen will be stunned.
"It's like a rainbow of holiday out there," says Tychsen, who brought her family to see the display on Black Friday, after they'd cut down a Christmas tree in nearby Harvard.  "It gets you in the spirit right away."
Tychsen went home with a poinsettia for her family's great room, plus one each for her mom and neighbor.
Reaching this point requires getting the temperature just right; Kolze hangs thermometers from a toggle system, so they can rise with the poinsettias as they grow.
And they're watered from underneath so their growth isn't disturbed.
"There's a lot of similarities between plants and people. If you give a person everything they want, or if you give a plant everything he wants, he kinda grows wild and he doesn't have discipline. If you take away his water he might stay a little shorter, a little stockier. I turn down your temperature," Kolze says. "I think people, if they're put through some trials and tribulations, I think that it builds their character. And that's how I build these plants: I build 'em and I grow 'em and I look at 'em. 'You're too short, I'm going to make you bigger. You're too tall, I'm going to chill you out.' I grow the plants. Like I think life can be."
For all of that, Kolze promises they're easy enough to tend once you get one home.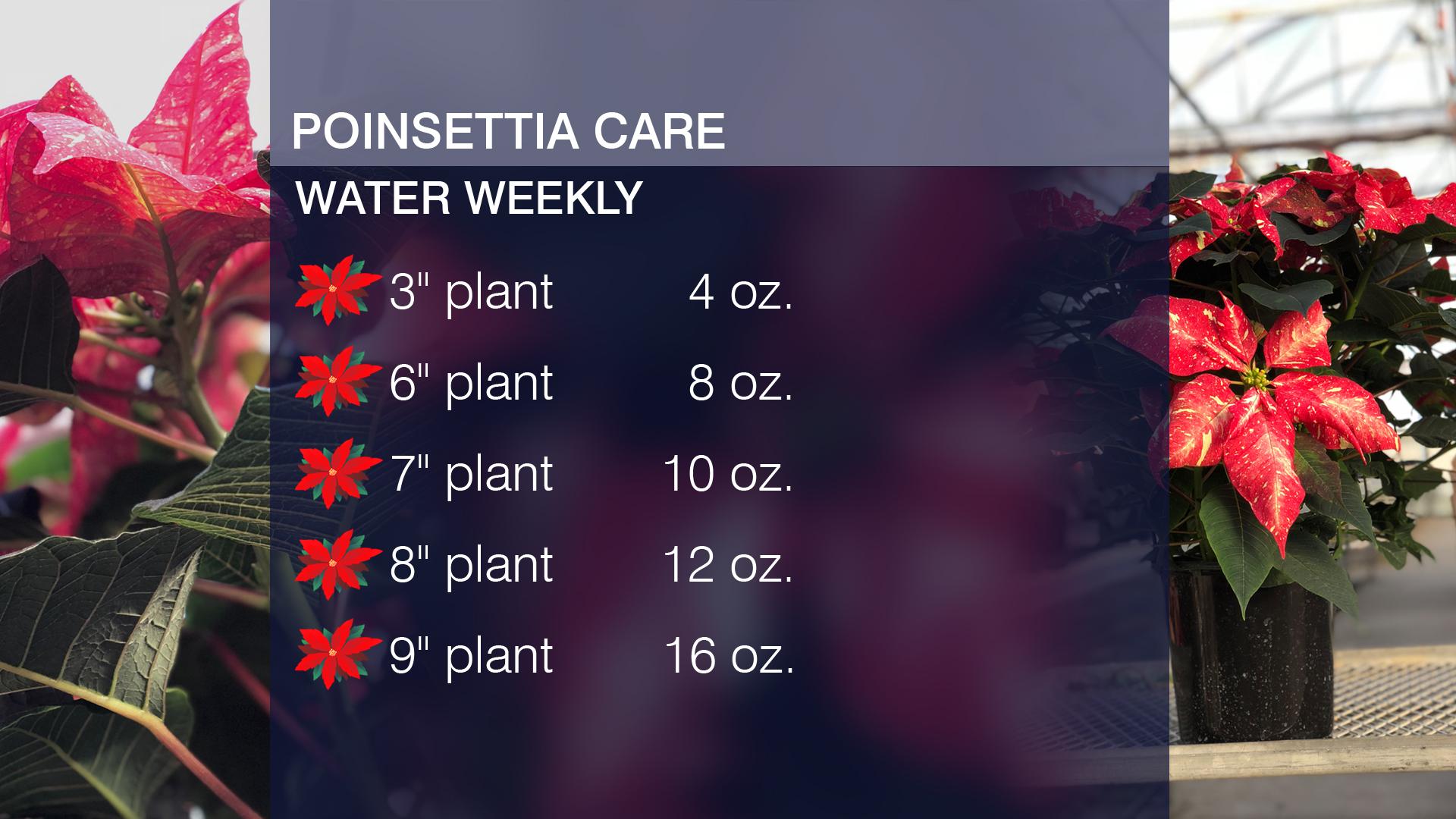 Kolze's gives customers a tip sheet that recommends:
• Watering your poinsettia weekly (see image, above)
• Placing them in natural or artificial light
• Somewhere where it's between 60 and 70 degrees, ideally
• And away from any draft, hot or cold
• Keep disturbance to a minimum
"What it means to you, if you brought a poinsettia home: Set it, make sure it's the way you like it, leave it. Its job is just to sit and look pretty," he says.
Some customers return to the greenhouse in the spring, proud their poinsettias are still full of life and color; some want to keep, and revive them, for next holiday season. 
But if that doesn't work out, don't fret. "I want them to forgive themselves," Kolze says. "If that plant went green and it's too much work … you can throw out your plant. I've never heard one scream. I've listened. I've never heard one scream. You know, you try, but have fun with it. And I think you need another one."
(He's not ashamed to be upfront about what that means: Return buyers keep him in business.)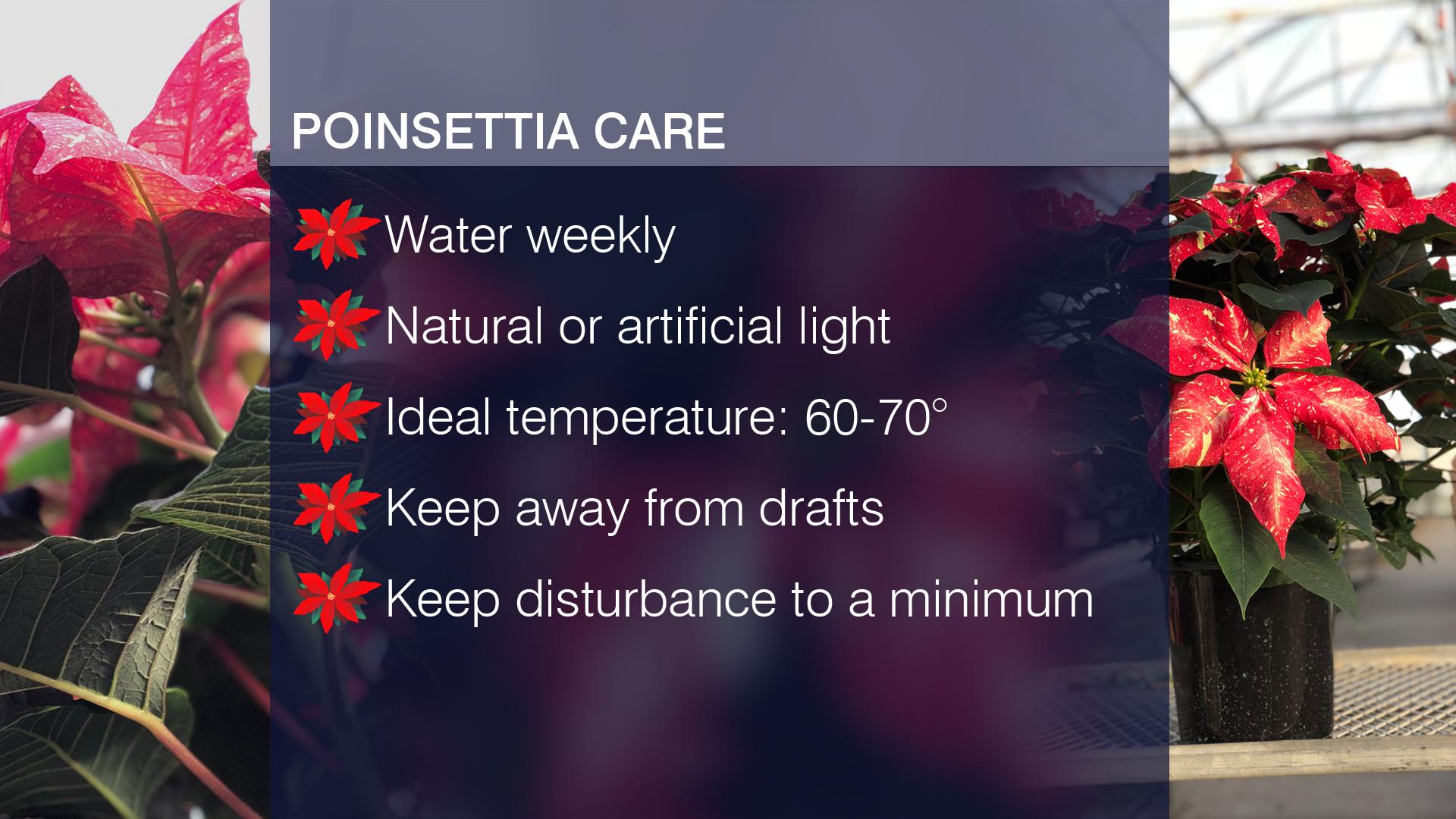 Kolze isn't the only poinsettia expert to dispense with an urban legend that may have deterred pet owners from making poinsettias a part of their holiday tradition. (Check the University of Illinois Extension "Poinsettia Pages" for more.)
A cat would have to eat 50 pounds of the leaves, a dog 100 pounds, in order for it to be poisonous.
As for the other great poinsettia debate – how to properly pronounce the plant name – Kolze says the appropriate way is however the customer wants. (But he generally goes with "poin-set-uh," so now we do, too – but we'd like you to weigh in.)
Come January, Kolze will clear out vestiges of the holiday from his greenhouse. And any remaining poinsettias will become compost. 
In July, a new batch of poinsettia cuttings will arrive and a little bit of holiday cheer will once again take root. 
Follow Amanda Vinicky on Twitter: @AmandaVinicky
Note: This story was first published Dec. 7, 2017. It has been updated.
---
Related stories:
'Shop Early': US Christmas Trees Supplies Tight, Prices Up
Holiday Gift Guide: Chicago-Style Picks
A Radiant Moment in Chicago History Key to Magic of Joffrey's 'Nutcracker'
---