Amid forecasts that Illinois' race for governor next year could break national spending records, two of the leading Democratic candidates have released information that begins to show just how much money each has to help fund their campaigns.
Partial tax returns released Monday by their respective campaigns show that J.B. Pritzker, heir to the Hyatt hotel chain, had an adjusted gross income of nearly $15 million last year; Chris Kennedy, the latest member of the Kennedy dynasty to make a run for public office, had an adjusted federal income of more than $1.2 million.
Neither Kennedy nor Pritzker included attachments with their tax return cover sheets, leading another leading Democratic contender, state Sen. Daniel Biss, D-Evanston, to compare both to President Donald Trump.
Biss released five years of his tax returns in July. Last year's return showed Biss and his wife had an adjusted gross income of $32,568.
"Nearly eight months ago, J.B. Pritzker and Chris Kennedy pledged to release their tax returns, acknowledging that voters have a right to know how candidates make their money, what financial entanglements they may have, and how much they pay in taxes," Biss said in a statement. "A short summary from only a year or two doesn't give a full picture—it only raises more questions. Voters deserve an explanation of why it took so long to release so little, and what Pritzker and Kennedy are hiding from the people whose trust they are asking for."
Illinois law does not require candidates to make their tax information public. Candidates are required to submit financial disclosures when they file to run for office, and state elected officials must turn in economic interest statements, though critics have long derided the forms as inadequate.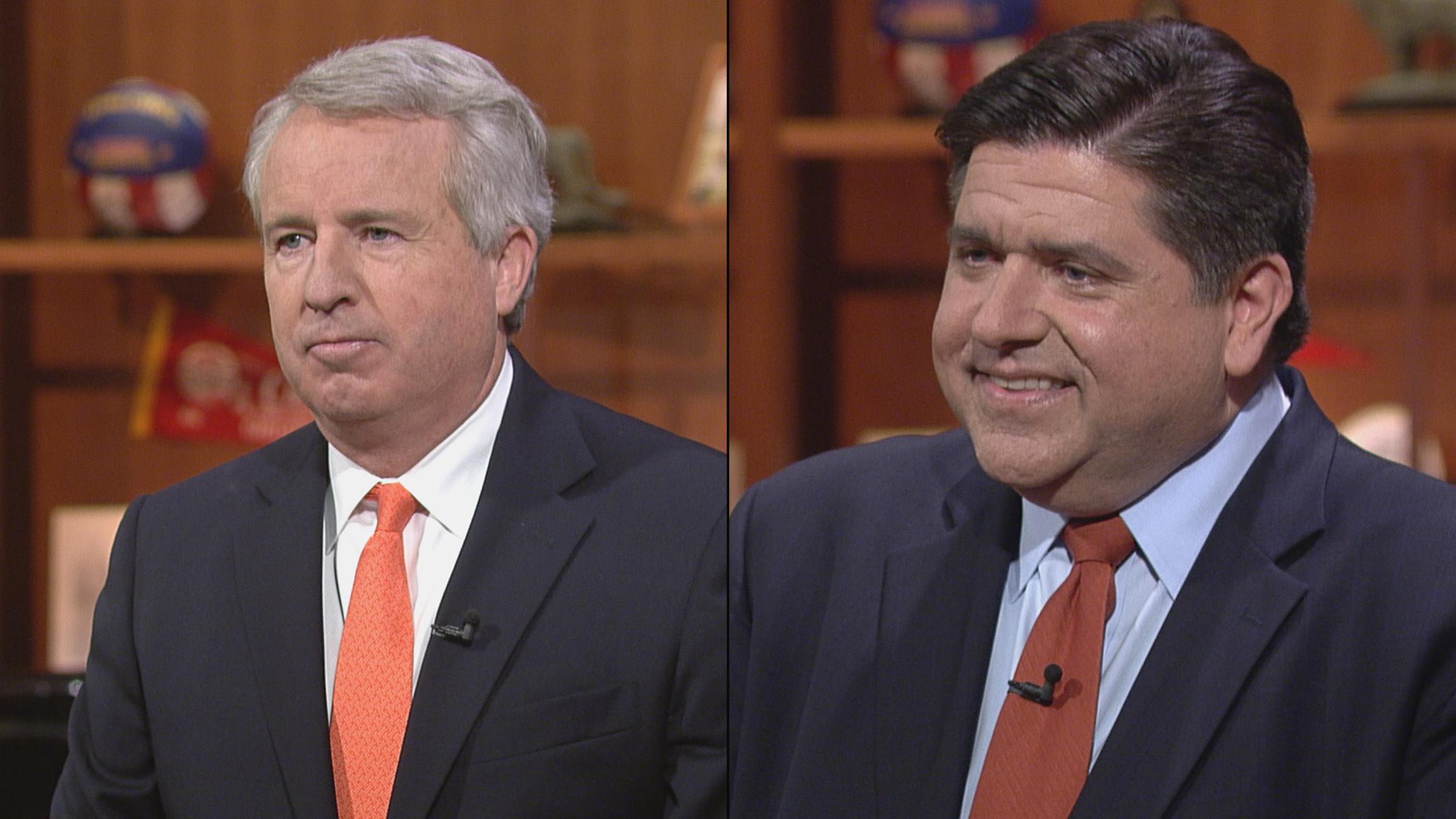 Candidates for Illinois governor Chris Kennedy, left, and J.B. Pritzker appear on "Chicago Tonight" on June 22 and June 15, respectively.
The income listed on Pritzker's returns belies his overall wealth, which Forbes in March estimated to be $3.4 billion—enough to land him the 219th  spot on the magazine's list of the wealthiest people in America in 2017.
That makes Pritkzer the third wealthiest Illinois resident, behind Citadel's Ken Griffin and real estate mogul Sam Zell.
Gov. Bruce Rauner, a former venture capitalist, was not among those who made Forbes' wealthiest list, despite having a higher income last year than Pritkzer.
Rauner's tax returns show that in 2016 he earned $91 million, much of it through capital gains.
A Chicago tax attorney warns that it's hard to extrapolate much information from just the tax cover sheets released by Pritkzer and Kennedy.
"You're short on detail and long on conjecture," said the attorney, who works for a top Chicago firm and asked for his name to be withheld for lack of specifics on the candidates' financial situations. "There's nothing about an income tax return really that tells about (an individuals') net worth."
Illinois income tax rate for individuals jumped in July from 3.75 percent to 4.95 percent.
Cook County Clerk David Orr, who is not running for re-election, says the vast amount of money spent on campaigning is the single most important issue in politics today.
Orr says that while Illinois has done a commendable job of passing laws that make it easier for citizens to vote, including automatic voter registration, Election Day voter registration and extended early voting windows, "we're losing people because of the money in politics."
"If our speech is really determined by the amount of money you have, which it is now unfortunately, and then the campaigns get longer, and the harder the campaigns air distrustful, negative ads, that is having an enormous impact on think on the democracy."
Orr says the personal fortunes of Rauner and Pritzker, coupled with a lack of spending limits, allowed them to begin airing campaign ads on television months ago.
"The billionaires, no offense to either one of them, can start campaigning 15 months ahead, 18 months ahead and that is very undemocratic. It also ties people to big funders, discourages good candidates, turns off the public," Orr said, as he warned that the feel-good, "fuzzy" ads will undoubtedly turn negative after the start of the new year. He says it's hard for the public to discern the truth of those ads, and that wreaks havoc on democracy.
Follow Amanda Vinicky on Twitter: @AmandaVinicky
---
Related stories: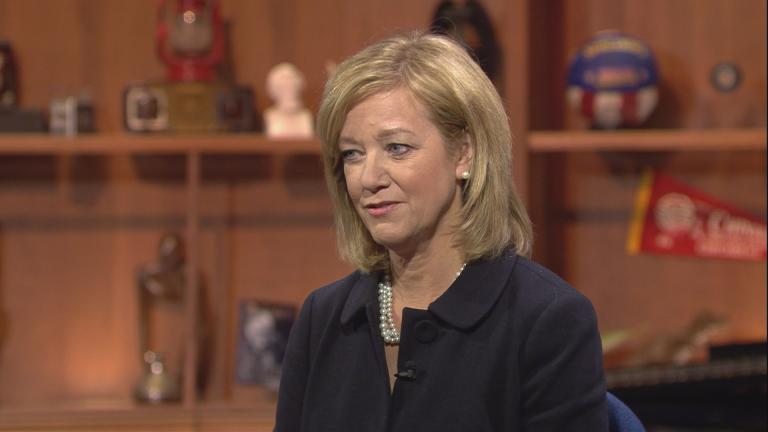 State Rep. Jeanne Ives Confirms: She's Running for Governor
Oct. 31: Up to this point, it wasn't certain that a challenger would emerge from the intraparty revolution Gov. Bruce Rauner ignited when he signed an abortion law in late September. There's no ambiguity now.
---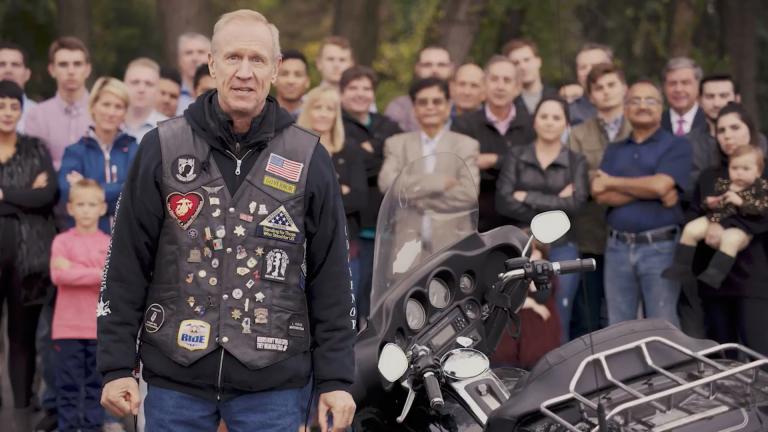 Rauner Announces Re-election Bid on Brink of Veto Session
Oct. 23: After publicly equivocating of late, Gov. Bruce Rauner on Monday officially launched his bid for a second term in a highly produced two-minute video.
---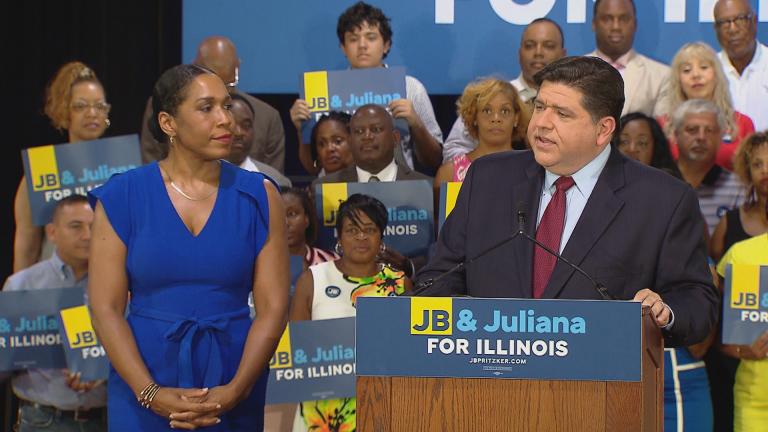 Is Spending on Statewide Elections Going Too Far?
Oct. 18: With more than a year to go, the three richest candidates for governor have raised a combined total of more than $102 million. Have we reached a point where only millionaires and billionaires need apply when running for statewide office?
---