After publicly equivocating of late, Gov. Bruce Rauner on Monday officially launched his bid for a second term in a highly produced two-minute video that portrays him as a Harley-riding biker who is battle-worn but not weary, ready to rescue a grim, gray, abandoned state—a state that Rauner, as narrator, says "they" describe as a place where "it couldn't be done. That it was crazy. To think this place could be saved."
"Now we have a choice. We can throw in the towel, walk away and leave our future to the same corrupt, career politicians. Or we can fight. I choose to fight," he says in the video, as a choir holds the final, triumphant note that wouldn't be out of place on the "Braveheart" soundtrack.
With some $65 million in his campaign account, Rauner's got the money for slick productions, but the announcement comes as his path to the Republican nomination stands in question.
The first-term governor's signature of a law that allows Medicaid recipients and state employees to get abortions using government-backed insurance (and therefore taxpayer dollars) has so infuriated members of his party that conservative firebrand state Rep. Jeanne Ives, R-Wheaton, is exploring a primary run against him.
Whether rank-and-file Republican lawmakers will vent their anger at Rauner by deserting him on his legislative priorities will begin to become apparent Tuesday, when lawmakers return to Springfield.
The fall veto session is currently scheduled to run through Thursday, with the General Assembly continuing that work Nov. 7-9. 
Follow Amanda Vinicky on Twitter: @AmandaVinicky
---
Related stories: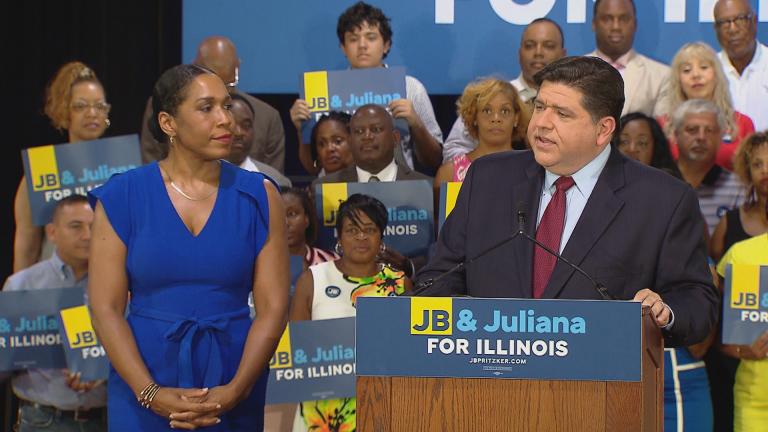 Is Spending on Statewide Elections Going Too Far?
Oct. 18: With more than a year to go, the three richest candidates for governor have raised a combined total of more than $102 million. Have we reached a point where only millionaires and billionaires need apply when running for statewide office?
---
Gov. Bruce Rauner Earned $91 Million in 2016, Tax Returns Show
Oct. 17: The 1040 tax return forms Gov. Bruce Rauner released Tuesday show his effective tax rate was 26.6 percent, and that he, his wife, and their foundation gave $6.6 million to charity.
---
How Ameya Pawar Plans to Stay Involved in State Politics
Oct. 16: Chicago's 47th Ward alderman has ended his bid for Illinois governor after failing to raise enough money. "I'm a regular person," he said. "If people like me get essentially priced out of the Democratic process, I believe we're headed to a really scary place."
---