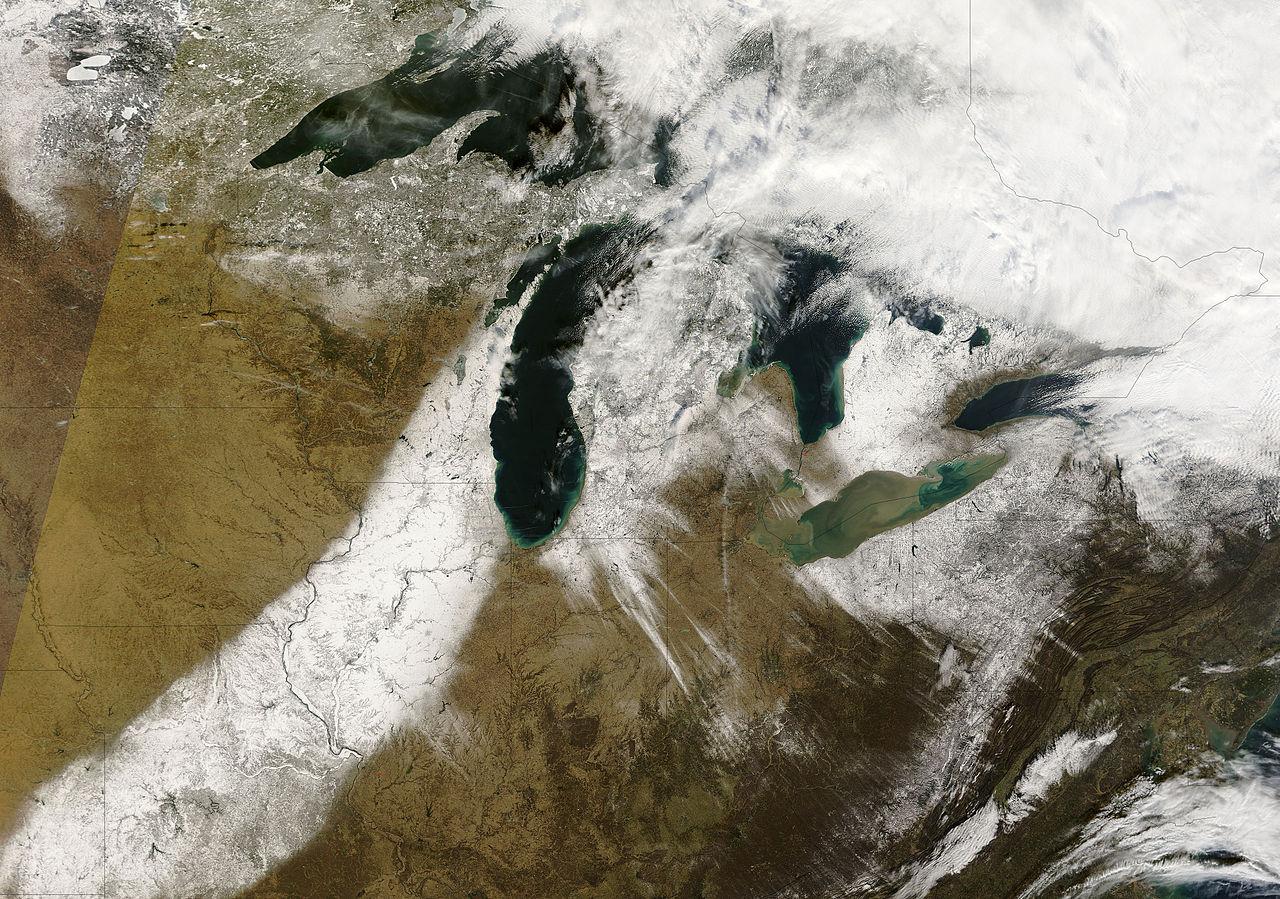 Streaks of snow stretching across the Great Lakes captured by a NASA satellite on Dec. 9, 2006. (NASA)
Lake Michigan is getting warmer, and eventually it will mean winters with less snow in Chicago. But don't plan yet for winters free of the white stuff.
According to a recent study by climate scientists at the University of Wisconsin-Madison's Nelson Institute Center for Climactic Research, lake effect snow will continue to make modest increases over the next few decades. But in the late 21st century, as the air continues to warm, the amount of lake effect snow from the Great Lakes is expected to decrease, with more of the precipitation falling as rain.
Like other weather events, lake effect snow has been impacted by the warming of the planet from an increase in greenhouse gases. Rising global temperatures have made lakes warmer, too, causing more evaporation into the atmosphere during the winter. The result has been an increase in the amount of lake effect snow, which in this region occurs when cold arctic air blows across the relatively milder water of the Great Lakes.
"The lakes will be largely open without ice, and it will be too warm to [cause] lake effect snow," said Michael Notaro, associate director at the Nelson Institute Center and one of the lead authors of the study published in the American Meteorological Society's Journal of Climate.
Lake effect snowfalls can be intense, but they are often localized, with several inches of snow falling a few miles from a place that gets only flurries.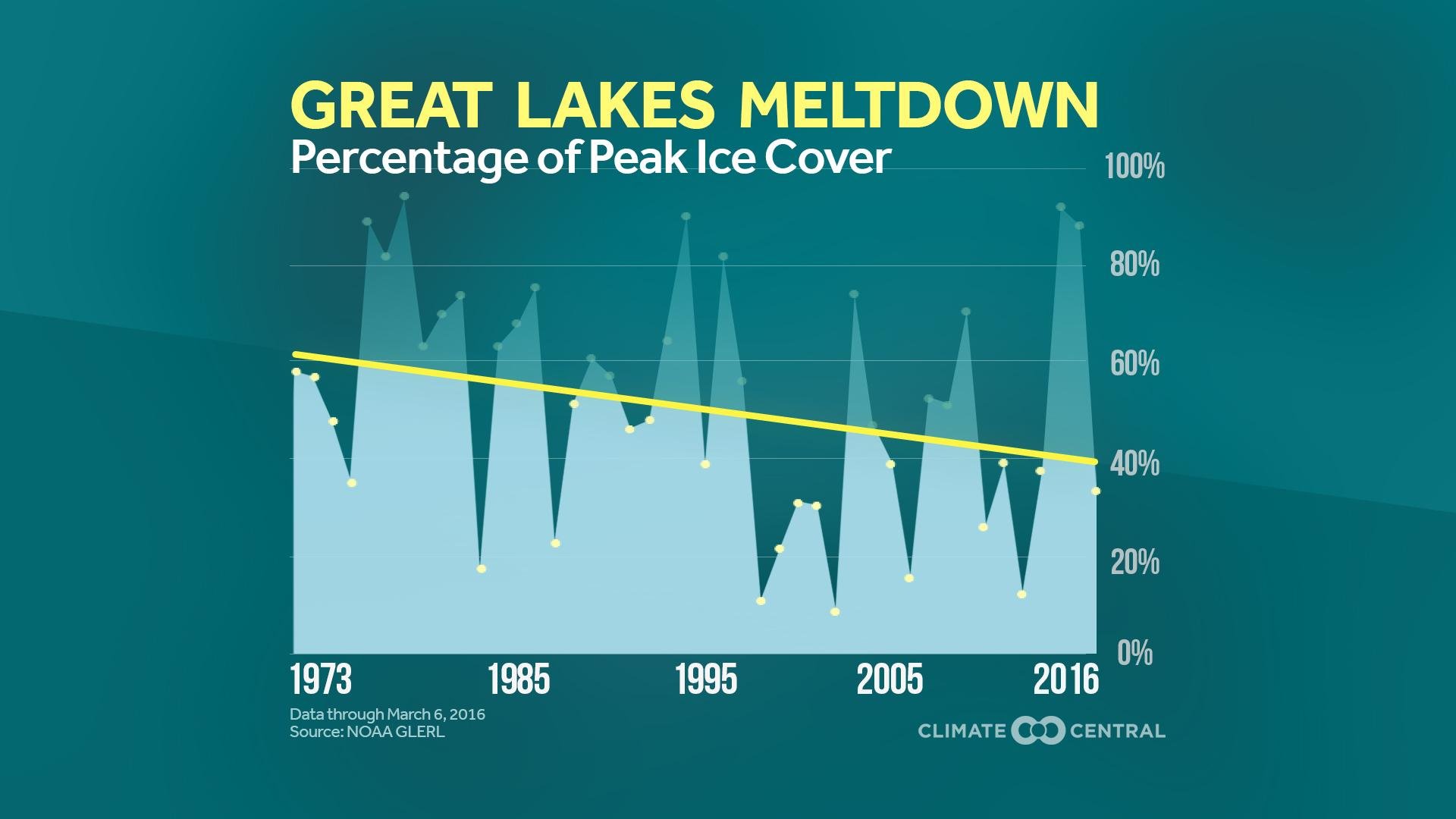 Increasing water temperatures in the Great Lakes will decrease the amount of lake effect snow by the end of the century, according to a recent study. (Courtesy Climate Central)
In their study, Notaro and two other researchers used a regional climate model to investigate changes in lake effect snow if the world's current rate of greenhouse gas emissions continues.
"I was expecting a boring story of declining [snow totals] throughout the entire period," said Notaro, adding that he wasn't sure how well the researchers' climate model would work. "I was pleasantly surprised at its performance. It did quite well."
According to the study, lake effect snow will still occur even as the planet warms. But by late this century, residents near the Great Lakes can expect a shortened season of lake effect snow. Instead of peaking in fall and early winter, heavy lake effect snow will likely take place later in the season, from January to March.
The changes could impact how cities plan for colder months, where wildlife is able to survive and when certain species migrate for the winter, Notaro said.
"If you have mostly rain falling, that can actually [lead to] summer drought conditions because it makes the soil drier," Notaro said, adding that melted snow provides large amounts of moisture that help plants grow.
Notaro and his colleagues are now working on a NASA-funded project to develop a more complex, three-dimensional climate model for the Great Lakes region. Because water in the lakes is warming much faster than air temperatures, Notaro said the region is experiencing shifts in certain weather patterns (such as lake effect snow) faster than many other places.
"The Great Lakes is an area where these changes are pretty pronounced," he said.
Contact Alex Ruppenthal: @arupp | [email protected] | (773) 509-5623
---
Related stories: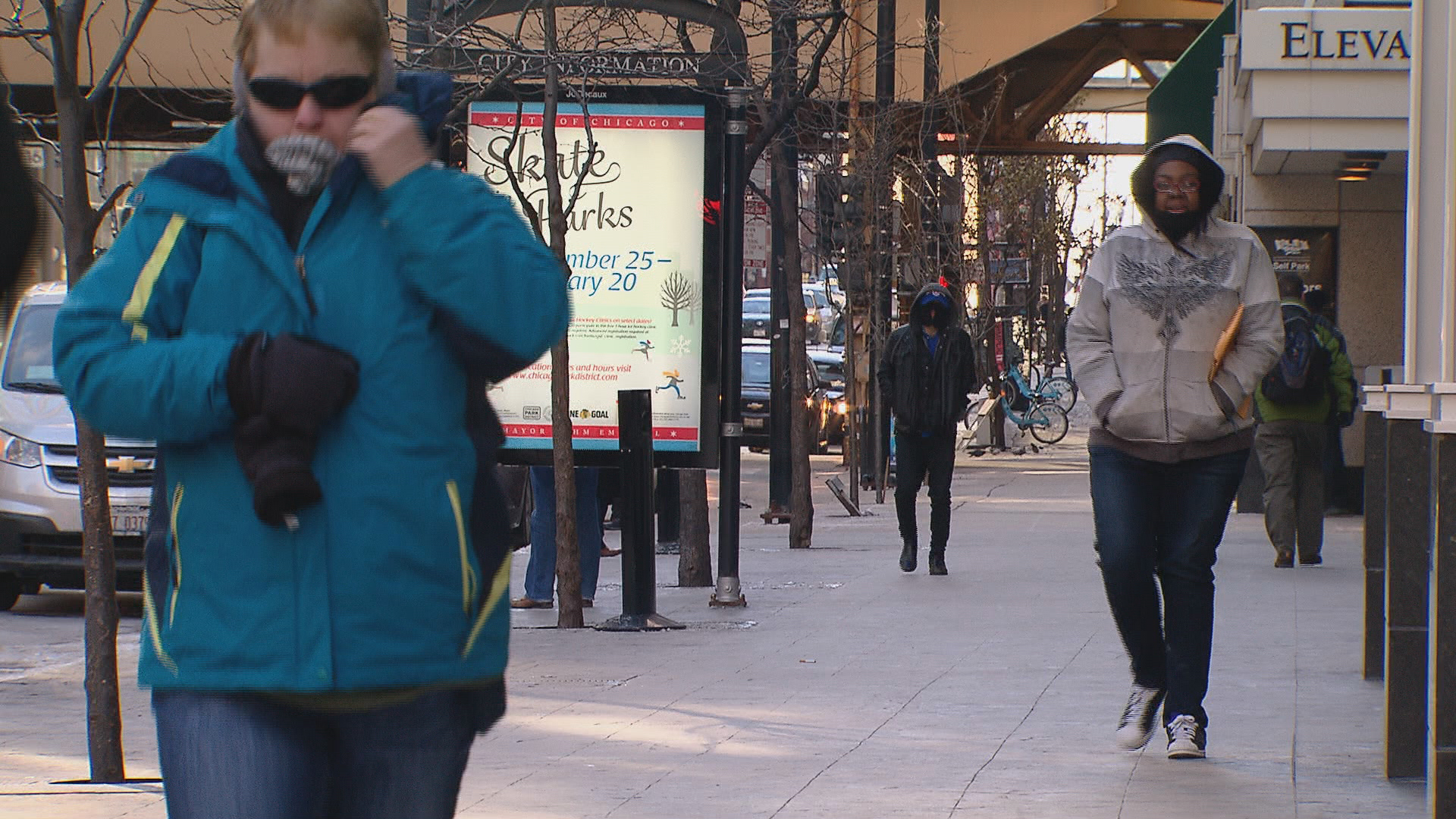 Chicago Winter Could Be Mild, Wet … or Neither
Oct. 24: Weather forecasts say Chicago might see a third straight mild winter. Will that prediction pan out?
---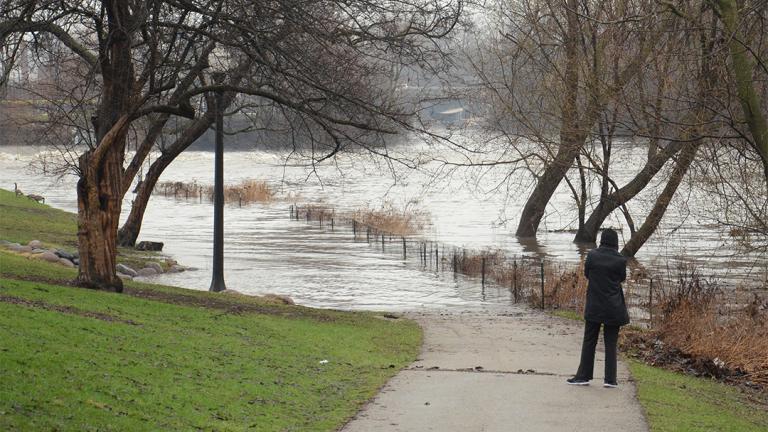 Tips for Conserving Water to Prevent Flooding in Chicago
Oct. 24: There are more soggy days ahead. Find out how you can help ease the burden on the Chicago River and reduce the risk of flooding.
---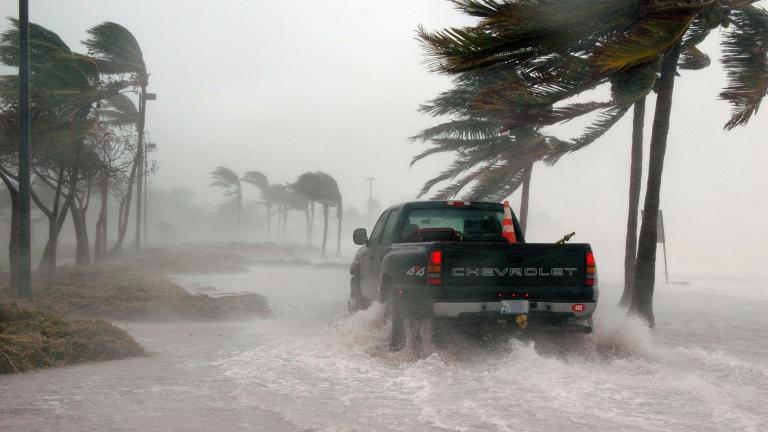 Climate Change and Infrastructure Failings in Extreme Weather
Sept. 11: What part – if any – does global warming play in the intensity of hurricanes? And what infrastructure failures contribute to the utter loss and destruction during extreme weather?
---