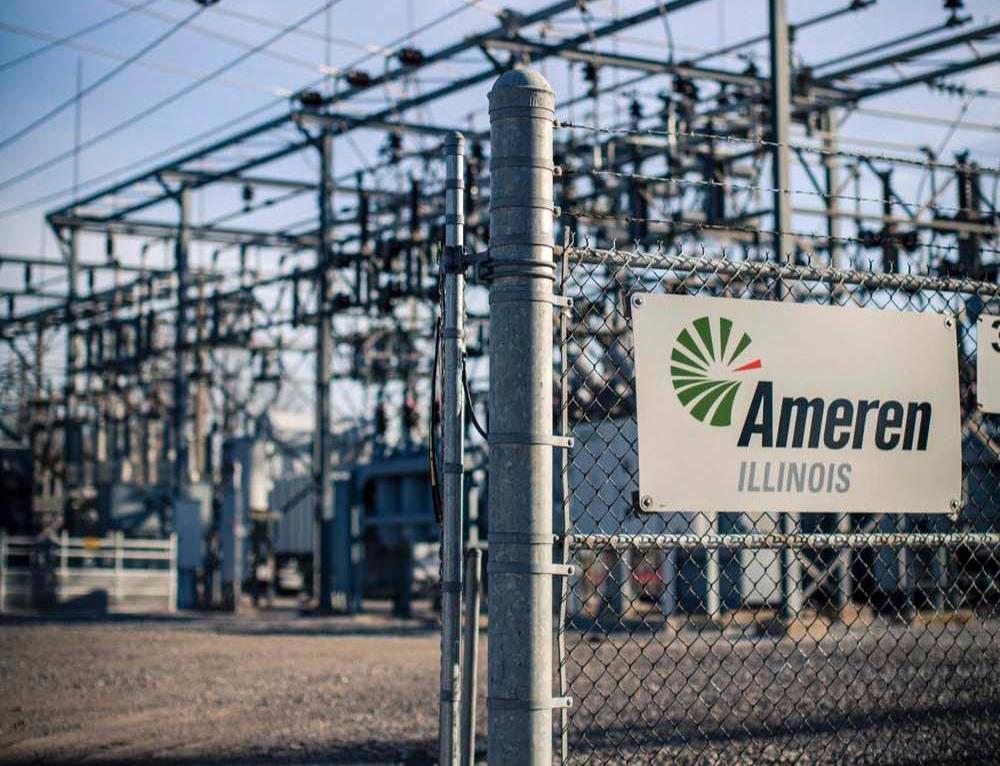 (Ameren Illinois / Facebook)
Utility company Ameren Illinois should not be allowed to lower its energy savings target set by the state's new clean energy law, according to a recommendation filed Tuesday by an administrative law judge at the Illinois Commerce Commission.
The downstate electric and gas utility provider filed a petition in June asking the commission to sign off on a revised energy-efficiency plan that fails to meet annual savings targets required under the Illinois Future Energy Jobs Act, which took effect in January.
Under Ameren's proposal, environmental and consumer advocates say residents in central and southern Illinois would pay nearly 30 percent more than projected on utility bills while Ameren takes in millions of dollars in incentives outlined in the new law. 
In a proposed order issued Tuesday, Administrative Law Judge Jan Von Qualen recommended that the commission deny Ameren's request to reduce its current energy-savings goals, which the company has said would require it to spend more than fellow utility ComEd. Von Qualen cited testimony from the office of Illinois Attorney General Lisa Madigan, stating that the company's request "is based on an overestimation of the cost it will incur" to achieve its target.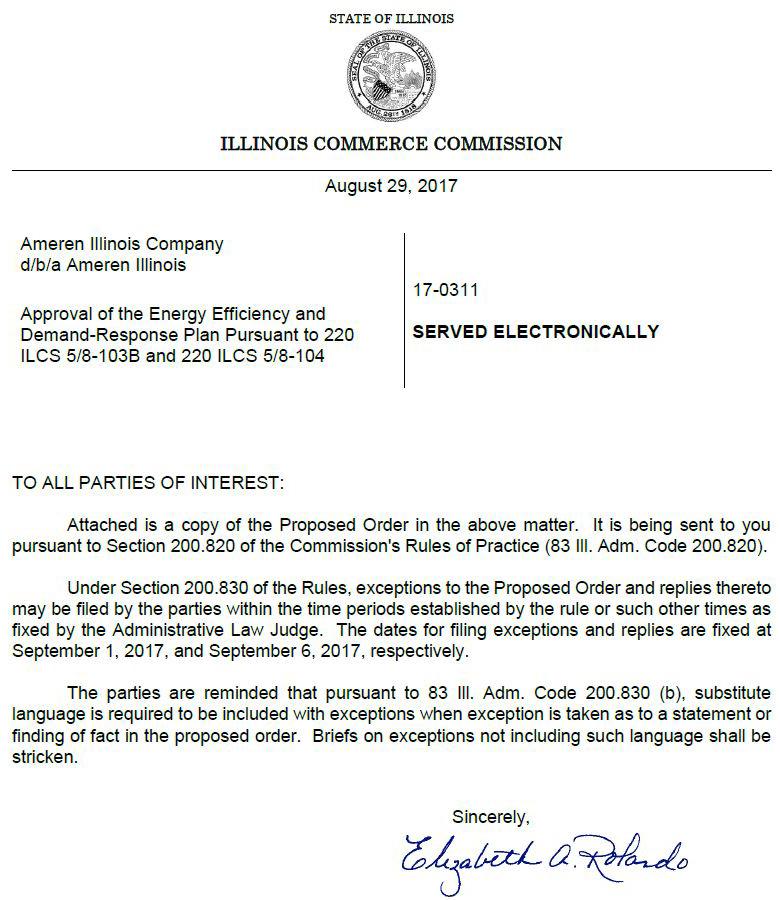 Document: Illinois Commerce Commission Proposed Order to Ameren Illinois (ICC) The recommendation represents a victory for environmental and consumer advocates who have battled with Ameren since the company requested permission to lower its energy-savings target in late June. Over the past two months, both sides have submitted dozens of reports and testimonies with the commission, which has until mid-September to decide whether to accept Ameren's revised plan.
The commission is not required to follow the judge's recommendation in its ruling.
"Ameren should be able to deliver energy efficiency programs that serve low-income communities and at the same time achieve the energy efficiency targets that the company agreed to under FEJA," said Billy Weinberg, spokesperson for the Illinois Clean Jobs Coalition, in a statement. "We are hopeful that members of the Illinois Commerce Commission will agree with the judge in this case, and we look forward to working with Ameren on a plan that meets the goals set forth in FEJA."
Under the new clean energy law, Ameren Illinois is required to achieve 16 percent annual savings by 2030 relative to average annual electricity sales over the past three years. But the company has asked the state to allow a 27-percent reduction of its target compared to the target that was just agreed to under the new law.
That target was already lower than ComEd's, thanks to Ameren's negotiations with Illinois lawmakers. Unlike Ameren, ComEd has not requested an adjustment of its savings goals.
Approval of Ameren's plan would cost downstate residents nearly 30 percent in savings on utility bills and also jeopardize 7,000 jobs that could be created by the new law, according to the Natural Resources Defense Council.
But Ameren says that without a lower target, it would need to spend 44 percent more per kilowatt hour of energy saved than ComEd because of "unique circumstances" of Ameren's service territory, which covers much of rural Illinois.
"Ameren Illinois customers are quite different from Northern Illinois customers: they are more spread out, reside in multiple media markets, have less discretionary funding for energy efficiency and lower education levels," said Ingrid Rohmund of consultant Applied Energy Group in testimony filed on behalf of Ameren. "The combination of these differences makes recruiting for program participation more difficult and more expensive. Less program participation derives fewer savings and therefore makes achieving the current unmodified savings goals on the aggregate that much more unrealistic."
But Madigan's office said Ameren's calculation was an "unusually expensive" and "indefensible" forecast of projected costs associated with energy savings, according to documents filed with the commission.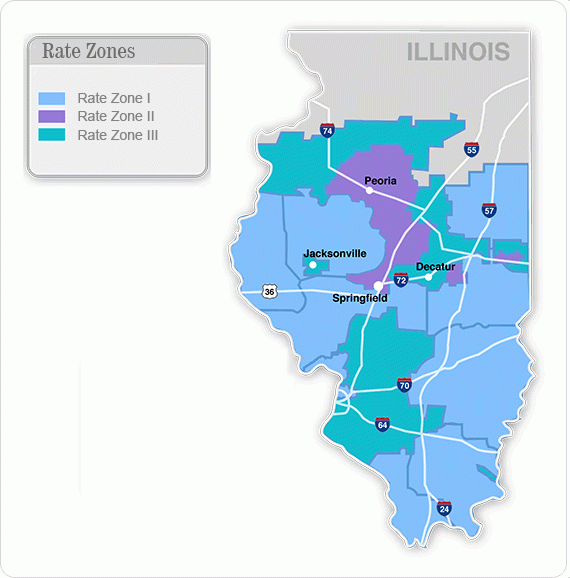 Ameren Illinois serves 1.2 million electric and 816,000 natural gas customers in central and southern Illinois. (Ameren Illinois) The attorney general's opinion is shared by NRDC, the Environmental Defense Fund and Citizens' Utility Board, which said Ameren could achieve both its required savings targets and other financial objectives by budgeting more effectively, according to filings with the commission.
"Ameren casts itself as a principled advocate for social welfare, accusing the intervenors of wanting to 'deny measures to those customers who need access to energy efficiency the most,'" the organizations wrote in a brief filed with the commission. "In reality, however, Ameren is needlessly diminishing the quantity of savings benefits that could otherwise be made available to low-income customers."
Peoria-based Ameren Illinois serves 1.2 million electric and 816,000 natural gas customers in central and southern Illinois. The company is owned by St. Louis-based Ameren Corporation.
Advocates from NRDC and the Citizens Utility Board said Ameren has launched an intense lobbying effort to encourage legislators to speak up for the company with the commission.
Over the past five years, Ameren has contributed nearly $3.5 million to state politicians and political parties, according to campaign contribution data from the Illinois Comptroller's Office.
Ameren has until Friday to respond to the judge's proposed order. 
"We have put forth the right plan to help working families in our territory to save energy, and we look forward to making our case with the Illinois Commerce Commission," said Ameren Illinois spokesperson Marcelyn Love. 
The five-member commission has until Sept. 14 to rule on the company's plan. Three commissioners, including the chairman, were appointed by Gov. Bruce Rauner. The other two commissioners were appointed by former Gov. Pat Quinn.
Contact Alex Ruppenthal: @arupp | [email protected] | (773) 509-5623
---
Related stories: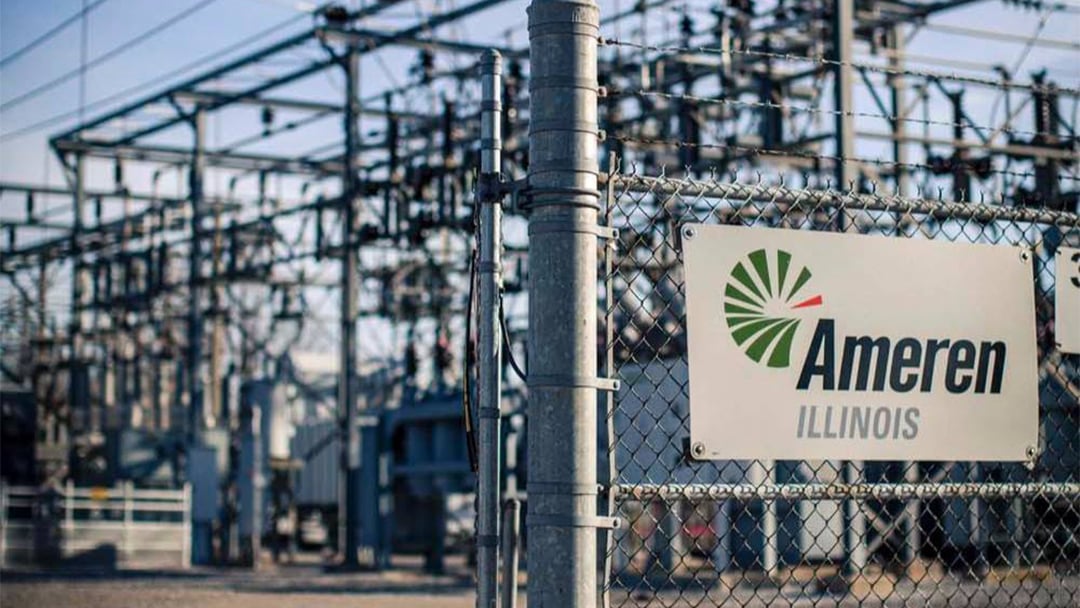 Advocates Blast Ameren for Bucking Illinois Energy Savings Target
Aug. 10: Residents in central and southern Illinois will pay nearly 30 percent more on utility bills than projected if Ameren is allowed to lower its energy savings target, environmental and consumer advocates said Wednesday.
---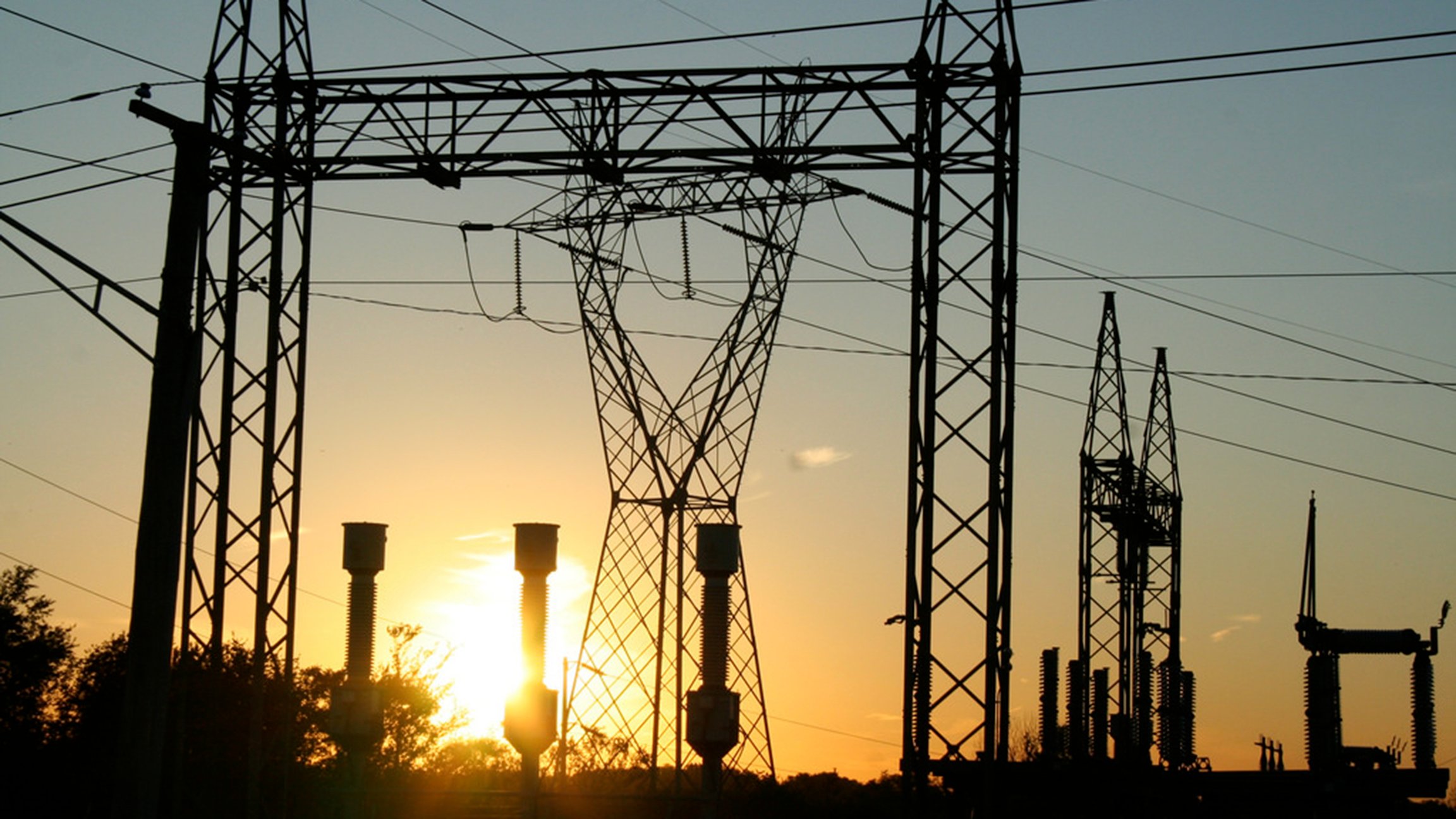 Report: Ameren Looking to Circumvent New Illinois Energy Law
July 18: Efficiency plans filed by Ameren Illinois fail to comply with the state's new energy law and could prevent the creation of additional jobs, according to a new report.
---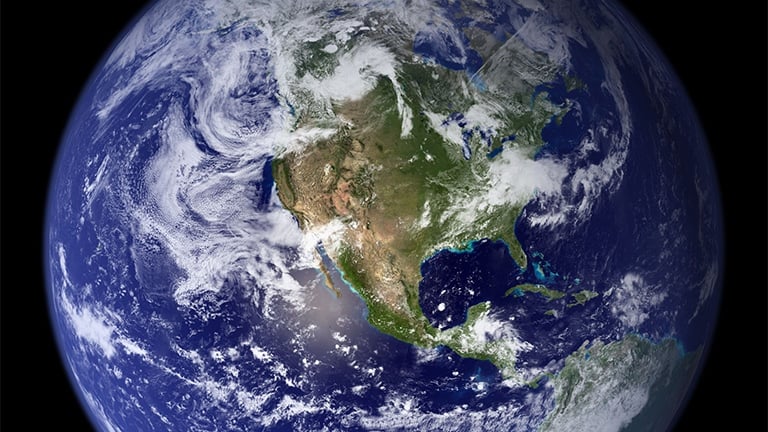 Lead Testing, Energy Jobs Highlight Illinois' 2016 Environmental Scorecard
Jan. 26: On Thursday, the Illinois Environmental Council released its Environmental Scorecard, highlighting the top pieces of environmental legislation (and legislators) from 2016.
---