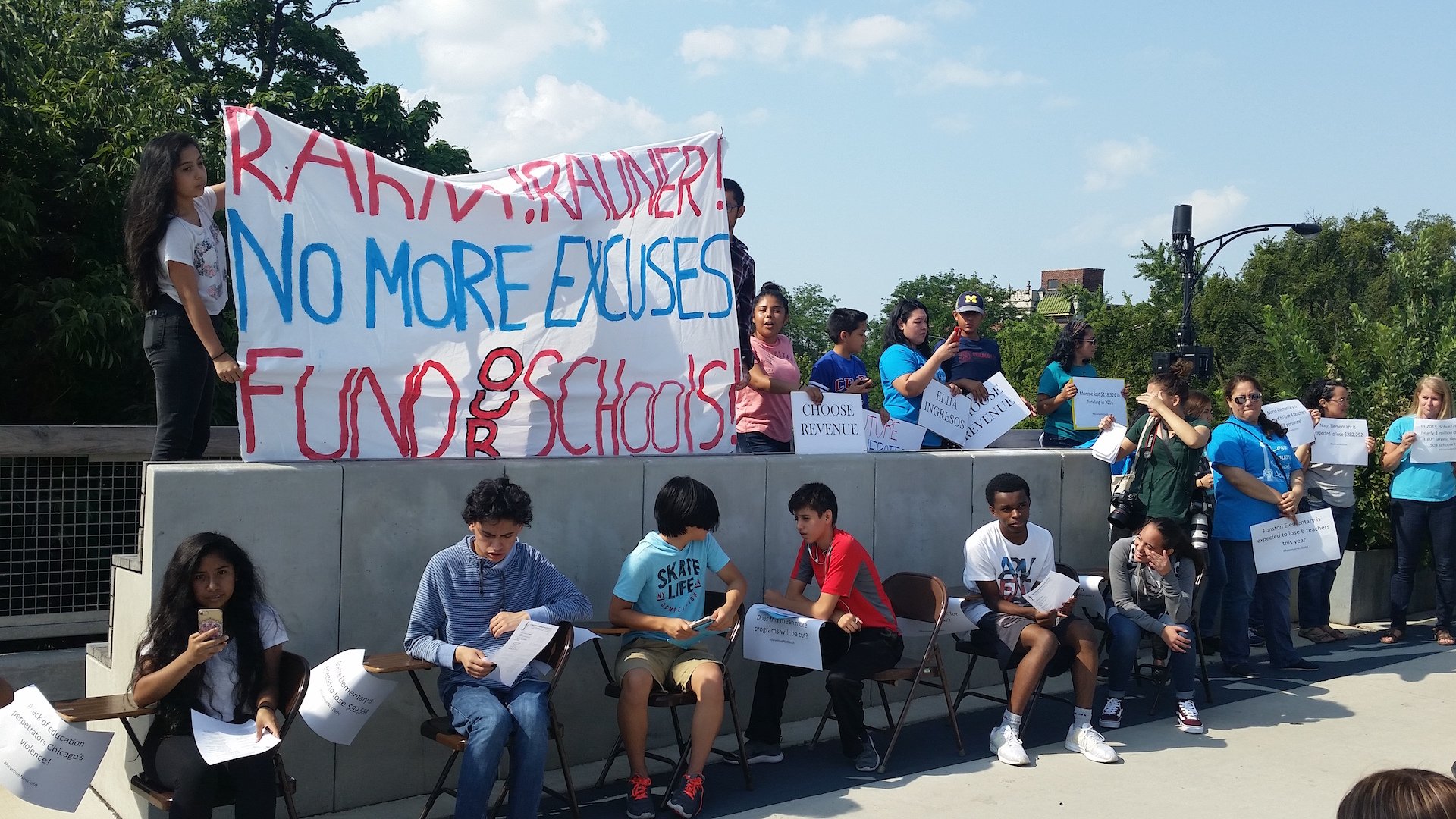 Students lined the 606 trail Thursday in protest of staff and funding cuts affecting Chicago Public Schools. (Matt Masterson / Chicago Tonight)
As Chicago, Springfield and the rest of the state butt heads over education funding, local students and teachers hope to see the cuts affecting their schools come to an end.
Logan Square neighborhood students set up two dozen desks and seats Thursday morning along the 606 trail in protest of Chicago Public Schools' latest staffing cuts and Gov. Bruce Rauner's amendatory veto of Senate Bill 1.
"We hope that (people) see that this is happening, it's here, it's not just on the TVs," said Prisilla Tito, a rising junior at Schurz High School who helped organize the event. "There are actual people upset, so we want them to see the faces of the people who are getting affected – the students, the parents and the teachers."
Members of the Logan Square Neighborhood Association joined students from Monroe Elementary and Schurz and Kelvyn Park high schools in lining the 606 over Humboldt Boulevard, calling on Mayor Rahm Emanuel to fund CPS with progressive revenue streams rather than "reckless" long-term borrowing.
CPS on Monday announced it is laying off more than 350 teachers and 600 support staff personnel, while Rauner's veto could cost the cash-strapped school district nearly $150 million in pension funding it would have received under an earlier version of SB1.
"It's sad because it's not just a number on the computer you see, 'Oh yeah we lost a certain amount of people,'" Tito said. "It's like actual people with families that they have to support and it's not fair that you can just take these people's jobs away just like that."
CPS said the cuts were made in response to declining enrollment and program changes. The protestors also referenced a recent Chicago Tribune article which detailed how CPS' latest $500 million loan will cost an additional $850 million in interest payments and take the district decades to pay off.
Students held signs with slogans such as "Choose Revenue" and "Revenue Not Debt," while many of the desks had messages attached detailing the impact of recent cuts on area schools.
Jhoanna Maldonado, a teacher at Yates Elementary, said she works just down the street from the 606 where budget cuts prevent students from accessing adequate services. Kelvyn Park senior Monica Barrera added that her school has seen more than $10 million in cuts since 2010.
"We have lost programs, staff, teachers, sports, clubs, extracurriculars, electives, our librarian and counselors," Barrera said. "This year we are losing seven teachers and four support staff. Losing more teachers not only hurts my education, but my human relationships with staff and teachers."
Follow Matt Masterson on Twitter: @ByMattMasterson
---
Related stories: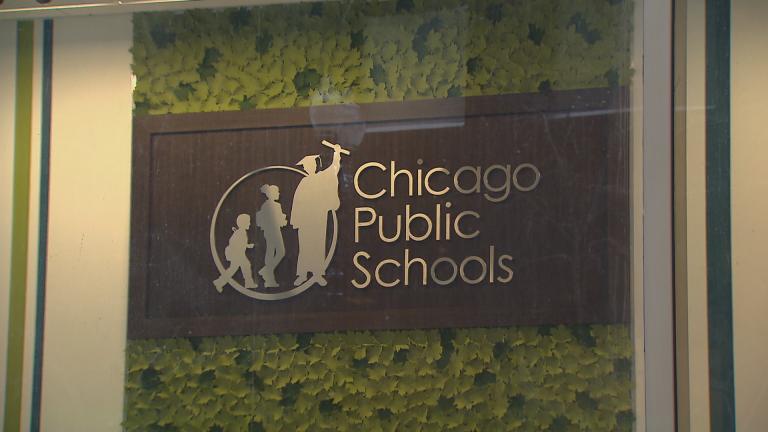 CPS Delays Budget Vote, Announces Hundreds of Staffing Cuts
Aug. 7: CPS had planned to release its FY18 operating budget Monday, but will instead wait in order to allow Gov. Bruce Rauner and Springfield "more time to resolve the statewide education funding crisis."
---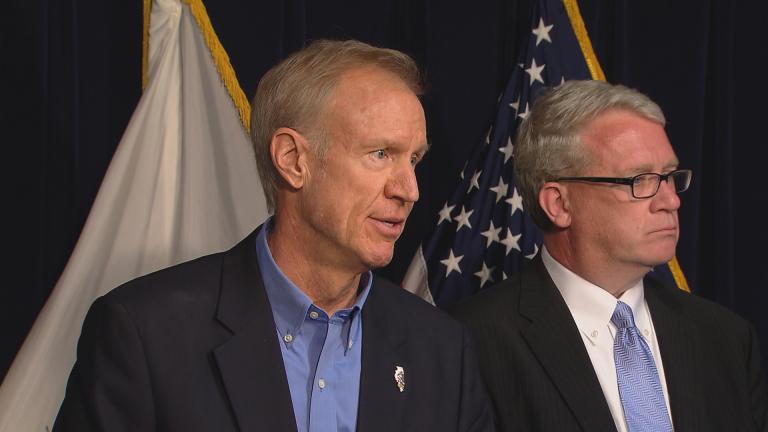 Rauner Issues Amendatory Veto of Education Funding Bill
Aug. 1: Gov. Bruce Rauner made generous use of his veto pen to redline money for Chicago Public Schools and to make other sweeping changes to a major revamp of education funding.
---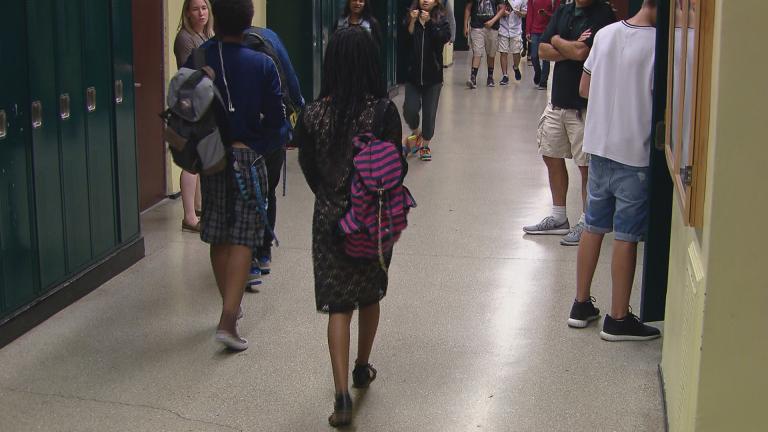 Enrollment Down, Per-Pupil Spending Inches Up in New CPS Budgets
July 20: Despite the fight in Springfield over education funding, Chicago Public Schools leaders say they will open to students in the fall—but with fewer students.
---