With a crowded field of Democrats seeking the party's nomination for governor, candidates need to do whatever they can to separate themselves from the pack.
One of them got a lift Wednesday: J.B. Pritzker, who sealed the endorsements of 14 unions (the boilermakers, carpenters, elevator constructors, operating engineers, plumbers and several other trades).
Endorsements will keep rolling in as the primary approaches – it's still nearly a year away – but with six candidates in the race, early nods carry weight.
Unions are traditionally staunch Democratic allies, and the labor movement is particularly keyed up for this race.
"Working families and union households all across this state are under attack by Gov. Bruce Rauner," said Brian Hickey, president of the International Union of Operating Engineers Local 399, to boos. "He wants to take away rights to bargain on behalf of our members. We know he wants to slash our wages. And we know he wants to come after everything we have fought for. I think it's time for a change."
Pritzker seized on that. He says unions "won't survive" another term of Rauner as governor.
"Bruce Rauner is waging a multi-front war against labor unions, attacking your very right to exist," Pritzker said during the endorsement announcement. "He insists on limiting our collective bargaining rights. He insists on tearing down the prevailing wage laws in this state. He refuses to even sit at the bargaining table with our state employees. And he wants a lower minimum wage."
In his role as governor, Rauner has not called for rolling back the minimum wage; rather, Rauner has said he would agree to a higher minimum wage if it's in tandem with other changes that will ease businesses' costs.
That's folded into his prescription for growing the state's economy – a plan that Democrats oppose and one that has held up a budget for nearly two years – such as overhauling the workers' compensation system (business groups say Illinois' costs are exorbitant and are chasing away manufacturers) and freeing up municipalities from having to pay a prevailing wage on construction projects.
Pritzker's claim that Rauner is refusing sit at the bargaining table with state employees is accurate in that the governor has authorization following an unanimous vote from the Illinois State Labor Relations Board that he no longer has to negotiate because the two sides are at impasse, after AFSCME and the administration failed to reach a new contract deal after dozens of talks. Rauner's ability to implement his "last, best offer" contract terms, as well as AFSCME's ability to strike after its members authorized leadership to call one, are both stalled as a court battle continues.
Rauner early in his term called for local right-to-work zones, though he has since dropped that from his agenda. The governor does back a lawsuit brought by state employees who seek to eliminate so-called "fair share" mandatory union dues.
Each of the other Democratic candidates for governor would surely have appreciated the trade unions' monetary support as well as their campaign volunteer manpower – particularly when that base is so motivated.
The campaign of state Sen. Daniel Biss, D-Evanston, hinted that the unions' early action was the handiwork of House Speaker Michael Madigan.
"The fact that these endorsements were given out to a candidate who is only weeks into his public life, who has no voting record on union issues, but does have a family business with a history of anti-union behavior – and without so much as an endorsement questionnaire or interview – tells you all you need to know about these announcements," Biss campaign manager Abby Witt said. "While this is the way business is done in Springfield, the working men and women of Illinois deserve better."
Chicago Ald. Ameya Pawar's campaign said that Pawar steadfastly supports organized labor, and endorsements – or the lack of them – won't change that commitment.
Businessman Chris Kennedy's media team emailed a reaction showing a screenshot of a Google search for "Hyatt hotels union boycott."
Pritzker is heir to the Hyatt hotel fortune.
A Google search turns up a history of Hyatt hotel labor dispute and worker strikes.
Pritzker does still have an ownership stake in Hyatt though it's relatively small, and his campaign says he has no management role.
Pritzker didn't take questions from the media; he mingled and took pictures with supporters before his spokeswoman said he had to attend another event.
But one union leader said the reason to back Pritzker is simple: He's got the best shot at winning. (He later added that he appreciates Pritzker's record and commitment to social change.)
Though Kennedy has his family name, connections and some wealth, and Rauner in December gave $50 million to his own campaign, only Pritzker is so wealthy that he makes Forbes' list of the nation's richest.  He's already joining Rauner on TV airwaves, with a "Think Big" themed campaign commercial.
Biss, Kennedy and Pawar are each trying to win as the anti-Rauner, with an anti-establishment, grassroots effort, but some Democrats think they can only fight Rauner's money with more money.
Follow Amanda Vinicky on Twitter: @AmandaVinicky
---
Related stories: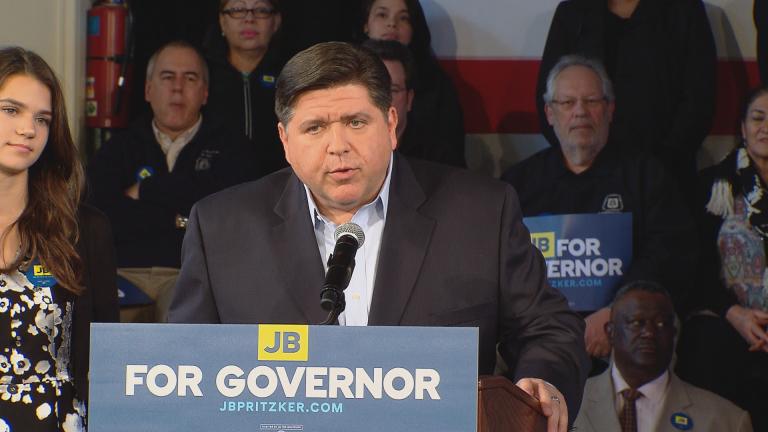 J.B. Pritzker Announces Bid for Illinois Governor
April 6: Add another name to the field of Democratic candidates for governor – one that has been long anticipated.
---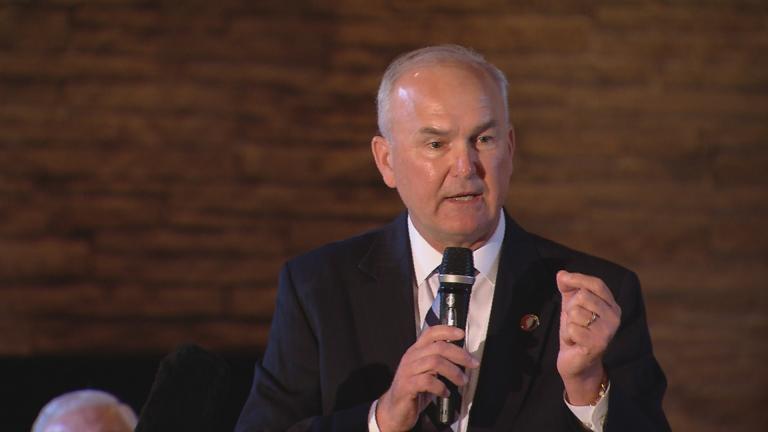 Gubernatorial Candidate Bob Daiber: 'I Can Carry Downstate Illinois'
May 2: The Madison County school superintendent joins host Eddie Arruza to discuss his run for Illinois governor.
---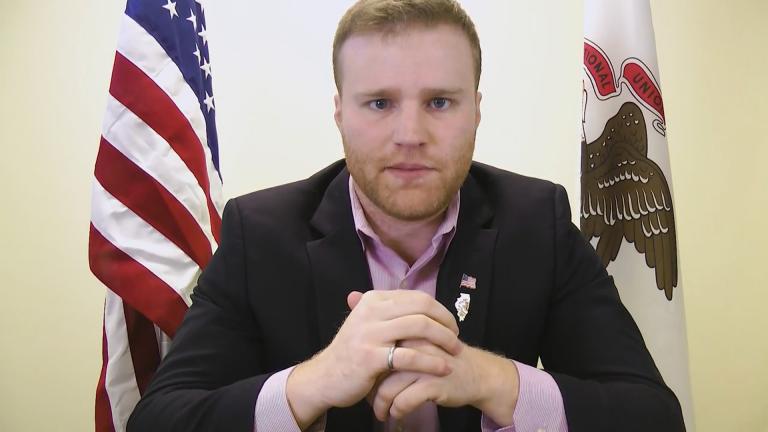 How Gubernatorial Candidate Alex Paterakis Plans to Revive the State
April 25: A long-shot candidate for governor tells us why he thinks he's got what it takes to lead the state.
---