If you've been near Soldier Field in the last few weeks, the massive, multi-peaked white tent sprawling across the south parking lot has probably caught your eye.
As Cavalia "Odysseo" resident artistic director Darren Charles put it: "We have to build a little city – you're in the artistic tent here, we have the warm up, we have to build paddocks, we have the big top."
"Odysseo" is the big show brewing under the big top, and its creators say it is the world's biggest touring show, with a cast and crew of more than 200, plus 65 horses. Its stage comprises a 10,000-ton sand and stone "mountain," a 10-ton carousel and a "lake" made of 40,000 gallons of recycled water.
Perhaps biggest of all is the show's ambition to be, as they put it, the best show ever. "Whether you go the West End or Broadway or whatever, any touring show, you won't see anything like this show. That's pretty much it," said Charles.
"Odysseo" puts horses and riders alongside aerialists and acrobats in a sweeping story that explores the connection between horses and humanity throughout history. A vast video screen creates an endless landscape where horses and performers race, flip and fly.
But creating this big spectacle requires something quiet and intimate. Cavalia uses a method called "liberty" in which trainers develop a respectful and trusting bond with the horses.
"We communicate with the horse with body language, with voice cues, and rewards," said groomer Andréanne Dumont. "Liberty allows us to work with them in a completely different way–it's very nice for us to explore those avenues because they are very sensitive animals so they can understand what we want to do with them, what we want them to accomplish, without any equipment."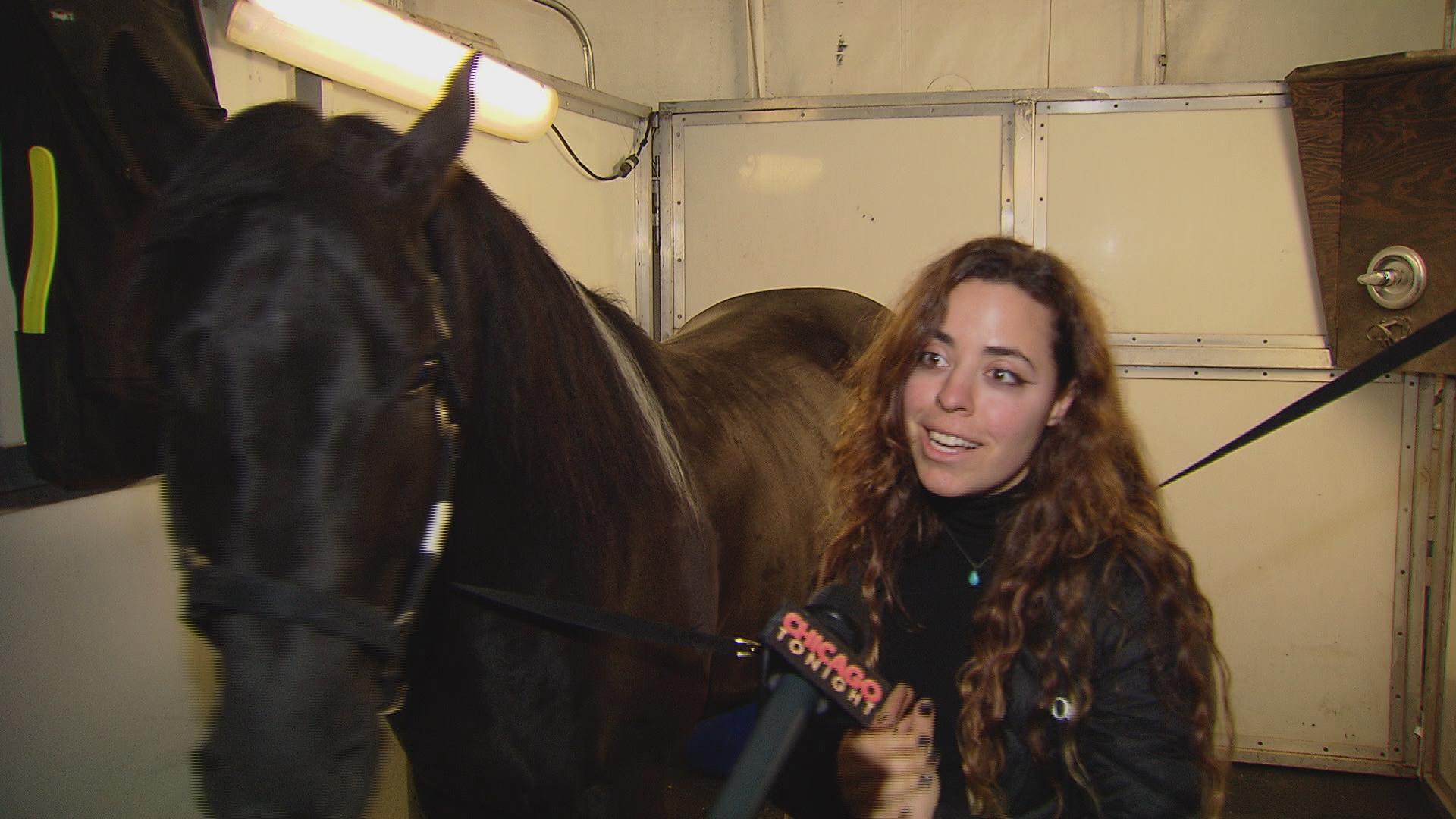 Andréanne Dumont and Dude
Dumont's charge Dude, a 4-year-old paint horse, is a relatively new performer to the show. "He's very, very curious and very, very playful and that's the quality that we love in our horses. We try to find that playfulness in every horse that we have no matter what their character because that's what allows us to play with them on stage after that," Dumont said.
For the performers, Dude and his fellow equine cast members add a dose of unpredictability to the show.
"If you're on an aerial hoop or pole, for the most part it will be in the place you expect it to be all the time, whereas now with horses, they have a mind of their own," said aerialist Julie Panus. "They can run around a lot longer than you expect them to. So it's never going to be the same, I'm always surprised."
And all that ground space for running horses also gives the aerialists plenty of airspace to fly.
"The vastness of the space, it's just enormous," said aerialist Sam Alvarez. "The first time I saw that stage, I was like, holy smokes! We just have this big opening that I think really connects the audience with everybody. The most difficult part of being on that stage, though, is keeping contact with the audience because they're so far from you and you get enveloped inside this space, there's this whole other world and you have to keep the connection with everybody. I love the hoop, I love flying around."
"My favorite to do the 'Angels' number," added Panus. "We're actually pulled along in a circle by horses and to me that number feels like a carnival ride every night."
"Not one night is there a show that's the same, because we're dealing with horses. If you combine those two things together, you're not going to see a show like it," said Charles.

Performances of Cavalia "Odysseo" continue through April 23 at Soldier Field's South Lot, 1410 Museum Campus Drive. 
---
Related stories: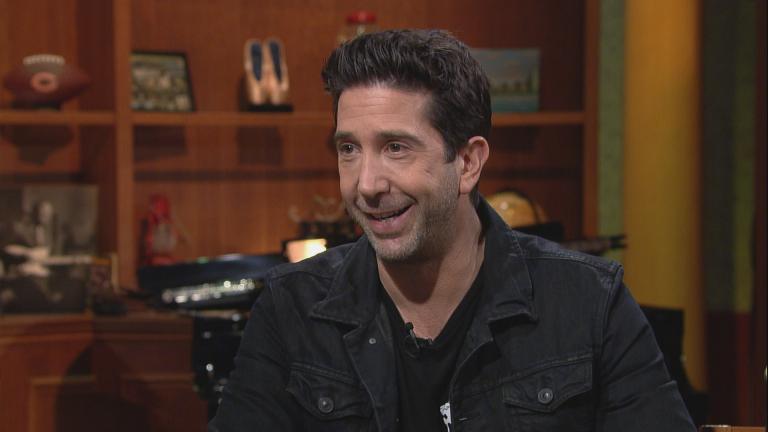 David Schwimmer on 'Beyond Caring' at Lookingglass
April 5: Actor David Schwimmer talks television, movies and the new play he brought to Lookingglass Theatre.
---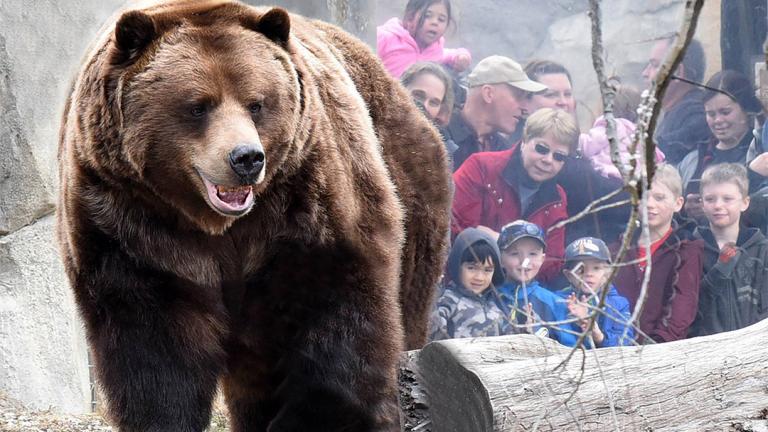 Brookfield Zoo Addresses Ethics of Animal Captivity
March 28: The ethical debate over zoos – and whether animals belong in them – has resurfaced over the past year, and now Brookfield Zoo is joining the discussion.
---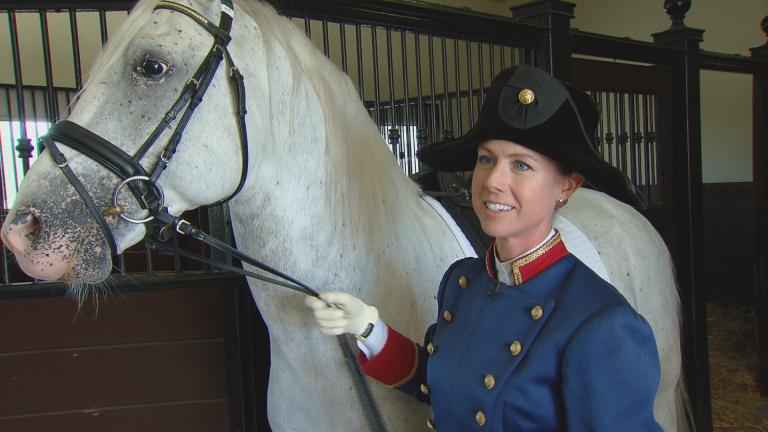 Lipizzan Horses Trained in Dressage a Noble Mix of Athlete, Artist
Aug. 11, 2016: On a horse farm north of Chicago, a European tradition combines artistry and athletic prowess. We meet some of the star athletes–and the ponies that will someday take their place.
---